Enhancing the aesthetics of your bathroom or kitchen while maintaining functionality is made wonderfully possible through the art of crafting a sink skirt.
This creative DIY project offers a clever solution to conceal unsightly plumbing and storage beneath your sink, adding a touch of elegance to your space.
In this comprehensive guide, we'll walk you through the step-by-step process of making a sink skirt that perfectly complements your decor.
From selecting the right fabric to sewing decorative piping and attaching the skirt, you'll discover how to revamp your sink area with a personalized touch.
Dive into the world of sink skirt craftsmanship and transform your space into a stylish haven where beauty meets practicality.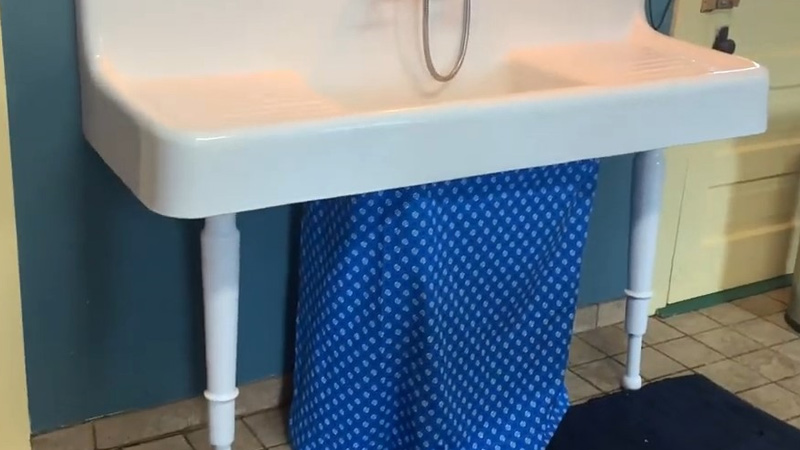 What is a Sink Skirt?
A sink skirt is a decorative fabric covering that conceals the space beneath a sink, hiding plumbing, storage, or clutter. It hangs from the sink's countertop to the floor, enhancing the room's aesthetics. Sink skirts come in various fabrics, colors, and designs, allowing customization to match the decor.
They serve the dual purpose of adding style to a bathroom or kitchen while maintaining a neat and uncluttered appearance, making them a cost-effective and easy-to-install solution for updating sink areas without major renovations.
What is the Purpose of a Sink Skirt?
The purpose of a sink skirt is to serve as a versatile and practical decorative addition to a bathroom or kitchen.
Sink skirts offer several key benefits:
Aesthetic Enhancement
Sink skirts are primarily used to enhance the visual appeal of the sink area. They can soften the starkness of a sink's exposed plumbing and storage, adding a touch of style and elegance to the space.
By choosing fabrics and designs that complement the overall decor, sink skirts contribute to the room's aesthetics and create a cohesive look.
Concealing Plumbing and Storage
One of the main functions of a sink skirt is to hide unsightly plumbing pipes and any clutter or storage items that may be stored beneath the sink.
This practical aspect helps maintain a tidy and organized appearance in the room, reducing visual distractions and promoting a clean and streamlined look.
Customization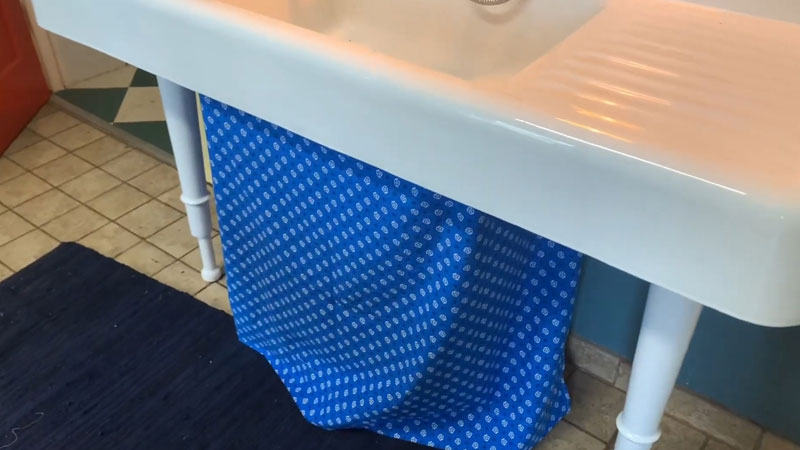 Sink skirts are highly customizable. They can be tailored to fit sinks of various sizes and styles, making them a versatile design element.
Homeowners have the flexibility to choose from a wide range of fabrics, colors, patterns, and decorative details to create a sink skirt that aligns with their personal taste and interior design preferences.
Easy Installation and Maintenance
Sink skirts are relatively easy to install and require minimal maintenance. They can be attached using methods such as adhesive hook and loop tape, clips, or a curtain rod, making them accessible to DIY enthusiasts.
In the event of spills or stains, many sink skirt fabrics are machine washable, simplifying the cleaning process.
Budget-friendly Update
Sink skirts offer an affordable way to update the look of a bathroom or kitchen without the need for extensive renovations. They provide a cost-effective means to refresh the sink area and improve its overall appearance.
How to Make a Sink Skirt?
Making a sink skirt is a creative and practical DIY project that can enhance the aesthetics of your bathroom or kitchen while providing a clever solution to hide unsightly plumbing and storage beneath your sink.
Whether you're aiming to add a touch of elegance, disguise clutter, or simply want to revamp your space.
Here's a comprehensive guide on how to make a sink skirt:
Measure Your Sink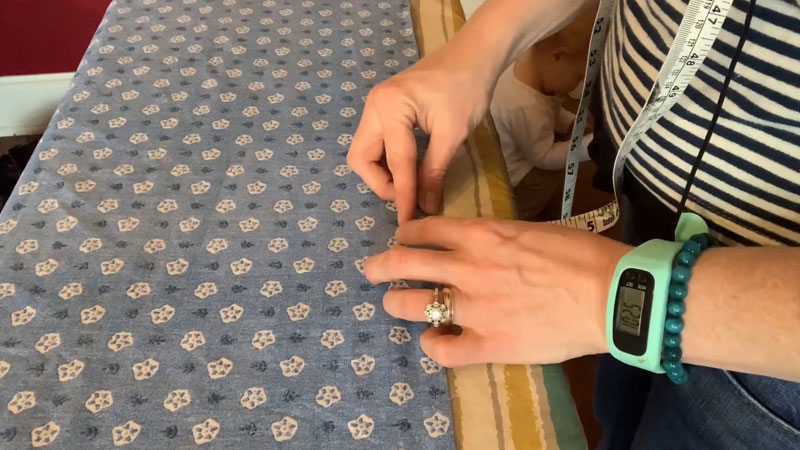 Begin your sink skirt project by measuring your sink's height, width, depth, and the distance from the top edge of the sink to where you want the skirt to end.
These precise measurements will be the foundation for your project, ensuring that the sink skirt fits perfectly and looks aesthetically pleasing.
Cut the Fabric
Next, cut three pieces of fabric according to your sink's height plus an additional 5 inches for seam allowance and hem. The fabric should be 48 inches wide.
Choosing a fabric that complements your decor is crucial, as it will serve as the main material for your sink skirt.
Sew the Fabric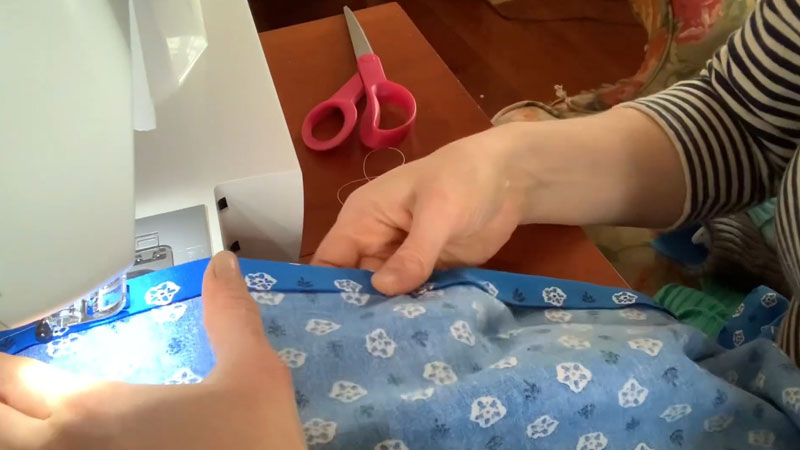 To create the main body of the skirt, take two fabric panels with their right sides together. Pin and sew along the right edge, joining them together securely.
Repeat this process for the third panel. If you plan for the sink skirt to be machine-washable, consider pre-washing the fabric to prevent any future shrinkage.
Craft the Piping
Cut a piece of cotton piping cord to match the width of your sink, adding an extra inch for seam allowance. Simultaneously, measure and cut a strip of fabric that's 2 inches wide and the same length as your sink's width plus 1 inch.
Wrap this fabric strip around the piping cord and sew it into place using a zipper foot on your sewing machine. This decorative piping will beautifully edge your skirt.
Create the Header Band
To form the header band that attaches your skirt to the sink, measure and cut a piece of fabric to match the sink's width plus an additional inch for seam allowance.
This strip should be 6-1/2 inches wide. Fold the fabric in half lengthwise and press it. Insert a piece of fusible webbing tape between the two layers, and press again to activate the adhesive.
This adds stability to the band, ensuring it hangs nicely.
Attach the Piping to the Band
Position the piping cord about two inches below the folded seam on your header band. Ensure that the raw edges of the piping and the fabric face the same direction.
Pin the piping in place and then sew it securely to the band. This decorative piping adds a polished finish to your sink skirt, making it visually appealing.
Gather and Attach the Skirt
With the right sides of the header band and skirt together, align the raw edges. Pin the right and left sides of the skirt to the band, just above the piping.
Locate the center point of the skirt and pin it to the center of the band. Gradually gather and pin the skirt from the center point outward toward each side.
Once everything is in place, sew the skirt onto the band, removing the pins as you go. Trim any excess seam allowance for a neat finish.
Hem and Press
Measure the length of your skirt and double-check it against the height of your sink. Fold the skirt under at the desired finished length, ensuring that the hem is even.
Pin it into place and then insert fusible webbing tape under the hem. Iron over the tape to activate the adhesive, securing the hem in place neatly.
Install Your Sink Skirt
Finally, attach your sink skirt to your sink using an adhesive hook and loop tape, clips, or any other suitable method. Make sure it's securely fastened and hangs neatly.
What is the Best Fabric to Use for a Sink Skirt?
Choosing the best fabric for a sink skirt is a crucial decision as it impacts both the aesthetics and functionality of the finished product. The ideal fabric should be durable, easy to maintain, and aesthetically pleasing to complement your bathroom or kitchen decor.
Here are some excellent fabric options to consider for your sink skirt:
Cotton is a popular choice for sink skirts due to its versatility and comfort. It's easy to work with, readily available in various patterns and colors, and has a soft, natural feel.
Cotton is also machine-washable, making it a practical option for a sink area that may be exposed to occasional spills and splashes.
Linen offers a timeless and sophisticated look. It has a crisp, textured appearance that adds an element of elegance to your sink area. Linen becomes softer and more comfortable with each wash, although it tends to wrinkle easily.
If you appreciate a relaxed, lived-in aesthetic, linen may be an excellent choice.
Polyester Blend
Polyester blends are known for their durability and resistance to wrinkles and stains. They are easy to maintain and can mimic the appearance of natural fabrics like cotton or linen while offering enhanced durability.
Polyester blends are a practical option for a sink skirt that needs to withstand daily wear and tear.
Canvas is a heavy and sturdy fabric, often used for utility sink skirts in kitchens and laundry rooms. Its robust nature can handle spills and splashes while maintaining a structured appearance.
Canvas sink skirts are both functional and visually appealing.
Twill fabrics feature a distinctive diagonal weave pattern, providing a subtle texture and depth to the fabric. Twill is durable and can lend a touch of sophistication to your sink area, making it suitable for both casual and more formal settings.
Cotton Duck
Cotton duck is a heavyweight, tightly woven cotton fabric that offers durability and structure. It can create a tailored and polished appearance for your sink skirt, particularly suitable for formal or traditional decor.
Cotton-polyester Blend
Blending cotton with polyester combines the natural feel of cotton with the wrinkle-resistant and easy-care properties of polyester. This blend can offer the best of both worlds in terms of comfort and practicality.
Microfiber
Microfiber fabrics are highly stain-resistant and easy to clean, making them an excellent choice for kitchen sink skirts. They are known for their practicality and resistance to spills and splashes.
Tips and Tricks for Making a Sink Skirt
Creating a sink skirt can be a delightful DIY project that adds charm and practicality to your bathroom or kitchen.
Here are some helpful tips and tricks to ensure your sink skirt turns out beautifully:
Accurate Measurements
Begin by measuring the height, width, and depth of the space beneath your sink. Precise measurements are critical to ensure a well-fitting sink skirt.
Use a measuring tape and double-check your measurements to avoid errors.
Choose the Right Fabric
Select a fabric that suits your decor, is easy to work with, and aligns with your maintenance preferences. Cotton, linen, polyester blends, and microfiber are popular choices.
Consider factors like durability, ease of cleaning, and the overall look you want to achieve.
Pre-wash Fabric
If you're using natural fabrics like cotton or linen, it's advisable to pre-wash the fabric. This step prevents future shrinkage, especially if you plan to wash the sink skirt regularly.
Follow the fabric care instructions.
Lining Consideration
Think about adding a lining to your sink skirt, depending on the fabric and your desired level of opacity. A lining can provide structure and privacy, enhancing the overall look.
Attachment Method
Select the method for attaching your sink skirt. Velcro (hook and loop tape) is a popular choice because it allows for easy removal and adjustment. Alternatively, you can use clips or curtain rods for attachment, depending on your preferences.
Hem Neatly
If your chosen fabric requires hemming, create a clean, even hem. Fold and sew the hem or use fusible webbing tape for a no-sew option. A well-done hem contributes to a polished appearance.
Incorporate Decorative Details
Enhance the sink skirt's design by adding decorative elements such as piping, trims, or a contrasting fabric. These details can match your room's decor and elevate the overall aesthetic.
Test the Fit
Before permanently attaching the sink skirt, test its fit and length. Ensure it hangs properly and conceals the sink area effectively. Make adjustments if necessary to achieve the desired look.
Secure Corners
Pay special attention to the corners of your sink skirt, as they can be challenging to secure neatly. Take your time to ensure they are well-fastened and maintain a professional finish.
Maintenance Guidelines
Follow the care instructions for your fabric to maintain your sink skirt's appearance. Some fabrics are machine washable, while others may require spot cleaning.
Proper maintenance ensures the longevity of your creation.
Personalize Your Design
Get creative with your sink skirt by choosing unique fabrics, colors, or patterns that reflect your personal style and complement your space's theme.
Personalization adds a special touch.
Maintain Functionality
While aesthetics are important, remember that the sink skirt should not impede access to plumbing or storage beneath the sink. Ensure it can be easily lifted or adjusted when needed.
Tension Rods (Optional)
Consider using tension rods for a no-sew attachment method. Thread the rod through a casing at the top of the skirt and adjust it to fit your sink area.
Patience and Precision
Take your time with each step, particularly if you're sewing the sink skirt. Patience and precision will result in a more professional-looking final product that enhances the beauty of your space.
FAQs
Is sewing skill necessary to make a sink skirt?
Sewing skills are beneficial but not mandatory. Some sink skirt designs can be created without sewing, using no-sew techniques like adhesive bonding or curtain rods.
What materials are needed to make a sink skirt?
Materials needed for a sink skirt: fabric, piping cord, measuring tape, scissors, sewing machine (optional), iron, pins, attachment method (hook and loop tape, clips, or curtain rod).
How to attach a sink skirt?
Attach a sink skirt using hook and loop tape, clips, or a curtain rod. Ensure it's securely fastened, concealing the space beneath the sink neatly.
Can I customize my sink skirt?
Yes, you can choose fabric, colors, patterns, and decorative details to match your decor and personal style.
Can I make a sink skirt for a pedestal sink or only for cabinets?
Yes, you can make a sink skirt for a pedestal sink. The process is similar; however, you'll need to adapt the design to fit the pedestal.
To Recap
Crafting a sink skirt is a rewarding DIY endeavor that can breathe new life into your bathroom or kitchen. By following the steps outlined in this guide, you have the opportunity to create a customized and stylish addition to your space while effectively concealing plumbing and storage.
The choice of fabric, the meticulous creation of decorative piping, and the careful assembly of the skirt all play a role in achieving a polished and aesthetically pleasing result.
With patience and precision, you can transform your sink area into a harmonious blend of beauty and practicality. Embrace this creative project, and enjoy the elegant transformation it brings to your home.