In American art, the depiction of black male bodies has historically been fraught with negative connotations. However, in recent years there has been a resurgence of paintings and sculptures that explore black masculinity in a more positive light.
This article will discuss some of the reasons why this shift has occurred and what it means for the way we think about black male identity in contemporary American art.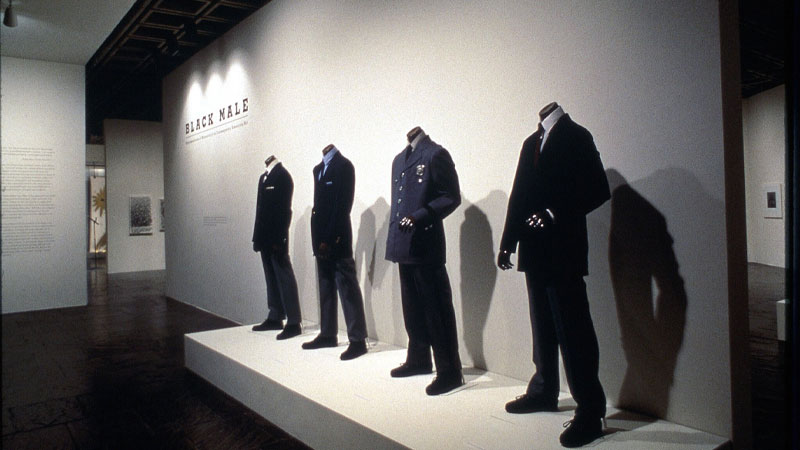 Source: fashionandrace
Black Male Representations Of Masculinity In Contemporary American Art
Contemporary American art is often criticized for its lack of diversity, with black male representation being particularly sparse. However, artists such as David Hammons and Kerry James Marshall have been working to change this trend by exploring the idea of masculinity in a more nuanced way.
Their work has helped to redefine what it means to be a strong, masculine black man in today's society, and their creations are seen as an important step in creating more realistic images of the black male identity. Therefore, their work is not only important from an artistic standpoint but also has far-reaching social implications.
Artists Such As David Hammons And Kerry James Marshall Have Explored The Idea Of Masculinity In A More Nuanced Way Than Traditional Art Forms Typically Allow.
Contemporary American art is starting to explore the idea of masculinity in a more nuanced way than traditional art forms typically allow. Artists such as David Hammons and Kerry James Marshall have explored the idea of masculinity in a way that goes beyond simply being strong and powerful.
They have shown that masculinity can be displayed in a variety of ways, some of which may be seen as unconventional. This type of exploration has led to a new level of understanding about how men see themselves and their place in society.
It has also allowed for a more open discussion about what it means to be masculine in today's society.
These types of works have helped create a more inclusive environment for all genders, regardless of their sexual orientation or gender identity.
Overall, these pieces provide an interesting perspective on the topic of masculinity and its various expressions. They are sure to stimulate thoughts and discussions among viewers, both male and female alike.
If you're interested in viewing examples of contemporary American art that explores masculinity in a more nuanced way, then these pieces are a good place to start.
So whether you're looking for something unique and different to add to your collection or just want to learn something new, take a look at some of the artists mentioned above and see what they can offer you!
Their Work Can Be Seen As An Important Step In Creating More Realistic Images Of Black Male Identity, Which Is Often Marginalized In Mainstream Culture.
Contemporary American artists are often credited with creating more realistic images of black male identities in the art world. Their work can be seen as an important step in creating more accurate portrayals of the diverse range of experiences that black males face on a daily basis.
Their creations have helped to break down some of the barriers that have been put up around representations of black masculinity in mainstream culture. The artworks of these contemporary American artists provide a unique and important perspective on black male identity and experience.
Their Work Has Helped To Redefine What It Means To Be A Strong, Masculine Black Man In Today'S Society.
Contemporary American black male artists are showing a new side of masculinity through their artwork. Their works are often bold and feature edgy subjects such as violence, drugs, and sex.
This redefinition of masculinity has helped to open up new opportunities for these artists and broaden their audience. Their work is also helping to challenge traditional notions of what it means to be a strong, black man in today's society.
These artists are paving the way for future generations of black males who will continue to redefine what it means to be masculine.
Origins Of The Concept
There is no one answer to the question of where the concept of masculinity originated, as it has evolved and changed over time. However, looking at contemporary American art can help us gain a better understanding of how the concept of masculinity has been portrayed in recent times.
In particular, we can see how black male representations have changed and developed over time. This change is evident in both painting and sculpture, which often reflect society's changing attitudes towards masculinity.
By studying these changes, we can better understand the origins and development of the concept of masculinity in contemporary America.
The Aesthetic Appeal
Contemporary American art is full of representations of masculinity, and black male representations are no exception. Black male artists often explore themes such as power and control in their work, which can be seen in their depictions of masculinity.
The use of color, light, and texture is often important to these artists, who create visually striking pieces that appeal to viewers. Some examples of a black male contemporary artists whose work has been influential include Kerry James Marshall, Alton Kelley, and David Hammons.
These artists have helped to shape the current aesthetic landscape for American art, and their works continue to be popular among collectors and fans alike.
Critical Reception
The use of black in contemporary American art has been seen as a way to represent masculinity. Many artists who use black in their work are exploring the idea of masculinity and its many facets.
Some of the ways that black is used in contemporary American art can be seen in paintings, sculptures, and installations. Critics have responded to the use of black by contemporary American artists with mixed reactions.
Some see it as a powerful tool that allows for complex and innovative artwork to be created. Other critics find it difficult to relate to the works because they don't reflect their own experiences or cultural values. However, despite some reservations, black is still considered an important element in the current landscape of American art.
It remains to be seen what impact this trend will have on future generations of artists, but for now it continues to grow in popularity.
Future Directions
In the t century, it is important to have diverse representations of masculinity in contemporary American art. Male artists who explore and portray different masculinities are making a significant impact on the art world.
Their work provides viewers with a more inclusive and nuanced understanding of what it means to be a man in today's society. There is still much work to be done when it comes to depicting all types of masculinities, but these artists are leading the way.
Their work has the potential to open up discussions about masculinity and its various expressions in our society. It is important for people of all genders and orientations to see their work and understand its importance. The future looks bright for male artists who are pushing boundaries in terms of masculine representation in art.
Their efforts are sure to make a positive impact on society as a whole, and they should be commended for that! Thank you for investing your time in exploring the works of contemporary American male artists- it is valuable.
Conclusion
There is a lack of diversity in the contemporary art world when it comes to representations of masculinity. This lack of representation can be seen in the exclusion of black men from mainstream art discourse, as well as their under-representation within certain genres and styles.