The choice between calico fabric and linen extends beyond the threads that bind them. These two materials, each possessing distinctive attributes and histories, have captured the attention of artisans, designers, and enthusiasts alike.
Calico fabric, with its raw authenticity and utilitarian charm, stands as a canvas of unprocessed potential. In contrast, linen, steeped in elegance and natural grace, weaves tales of refinement.
This exploration into their divergent characteristics unveils a world of contrasts – from their origins and treatments to their textures, applications, and aesthetics.
Embarking on a journey through these fabrics invites us to appreciate the nuanced beauty of material choices.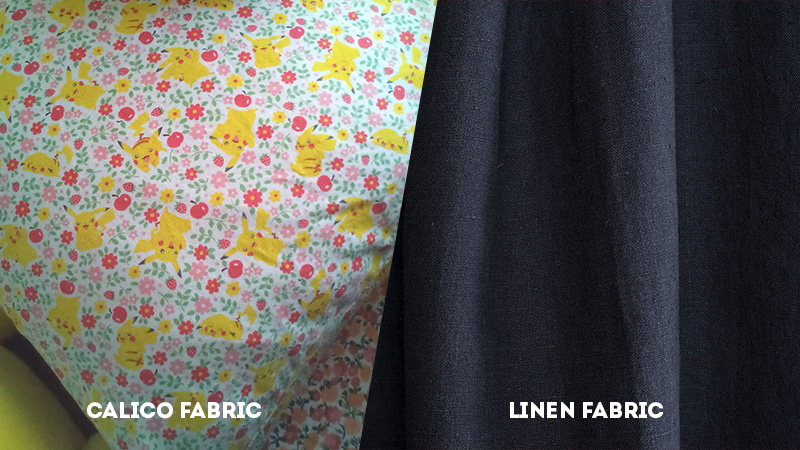 Key Differences Between Calico Fabric and Linen
Material Source
Calico Fabric: Calico fabric is crafted entirely from cotton fibers. Known for its natural appearance, calico is unbleached and undyed. This gives it a rustic charm that resonates with those seeking an organic and raw textile. The cotton bolls that grow around the seeds are utilized to create this fabric, resulting in a material that combines durability with a touch of simplicity.
Linen: Linen, on the other hand, is derived from flax fibers. These fibers are extracted from the stem of the flax plant, showcasing the versatility of natural materials. Linen boasts a long history and a distinctive character owing to its unique source. Its flax-based origin sets it apart from calico fabric, providing it with its recognizable textured appearance.
Treatment and Finish
Calico Fabric: Calico fabric is often referred to as "loomstate." This term signifies that the fabric has undergone minimal processing after leaving the loom. Unlike some textiles that undergo various treatments and finishing processes, calico remains close to its raw state. This unprocessed quality contributes to its utilitarian appeal and makes it a popular choice for crafting and prototypes.
Linen: Linen can undergo multiple treatments and finishing processes to enhance its texture and feel. While it also starts as a raw material, linen may be softened, washed, and treated to improve its overall quality. This processing can result in variations of linen, ranging from the coarser to the smoother, depending on the desired outcome.
Texture
Calico Fabric: Calico fabric tends to have a slightly rough and coarse texture due to its minimal processing. This tactile quality is appreciated in specific applications where a rugged and natural feel is desired. The texture of calico contributes to its durability, making it a reliable choice for practical uses.
Linen: Linen's texture is one of its most distinguishable features. It exhibits a natural luster and a slightly textured surface that adds depth to its appearance. The texture of linen is associated with a sense of luxury and sophistication, making it a preferred choice for high-end garments and home textiles.
Usage
Calico Fabric: Calico fabric finds its niche in various utilitarian applications. Its durability and affordability make it a favored choice for crafting, prototypes, and even some practical items like tote bags and aprons. The unprocessed look of calico also lends itself well to rustic and bohemian aesthetics.
Linen: Linen's refined texture and appearance make it ideal for a wide range of uses. From clothing to bed linens, tablecloths to upholstery, linen's versatility knows no bounds. It has a timeless elegance that complements both casual and formal settings, making it a sought-after choice for those looking to strike a balance between comfort and sophistication.
Climate Suitability
Calico Fabric: Calico fabric doesn't have specific climate suitability in the same way that linen does. Its raw and unprocessed nature allows it to adapt to various conditions, making it a versatile option.
Linen: Linen's exceptional ability to wick moisture and its breathability make it particularly suitable for hot and humid climates. It keeps the wearer cool by allowing air to flow freely, making it a staple in regions where high temperatures are the norm.
Comfort
Calico Fabric: Calico fabric can have a slightly coarser texture due to its minimal processing. While it may not offer the same level of softness as more refined fabrics, its durability and natural feel can still provide comfort in various applications. It's often chosen for items like aprons and tote bags where a rugged texture is desirable.
Linen: Linen is prized for its comfort, particularly in warm weather. Its natural breathability and moisture-wicking properties make it a go-to choice for garments worn in hot and humid climates. As linen ages, it tends to become softer, further enhancing its comfort over time.
Appearance
Calico Fabric: The appearance of calico fabric is characterized by its unbleached, undyed, and untreated nature. This gives it a wholesome, rustic charm that appeals to those who appreciate a raw and organic aesthetic. Calico's appearance is often associated with a more casual and down-to-earth style.
Linen: Linen's appearance is marked by its natural luster and subtle texture. It exudes an air of sophistication and elegance that lends itself well to a range of settings, from everyday clothing to formal occasions. Linen's refined appearance is often considered timeless and classic.
Absorbency
Calico Fabric: Calico fabric is not particularly known for its absorbency. Due to its untreated nature, it might not efficiently absorb moisture and liquids, which could limit its use in certain applications where absorbency is required.
Linen: Linen stands out for its excellent absorbency. It can absorb a significant amount of moisture without feeling damp, making it a practical choice for items like towels and bathrobes. Its ability to wick moisture away from the body contributes to its comfort, especially in humid conditions.
Durability
Calico Fabric: Calico fabric is durable, thanks to its cotton composition. It can withstand regular use and washing, making it suitable for items that need to endure wear and tear. Its ruggedness often makes it a reliable choice for functional and practical items.
Linen: Linen is also known for its durability. Flax fibers are inherently strong, contributing to the long lifespan of linen textiles. With proper care, linen garments and linens can maintain their quality over time, often softening with use while retaining their structural integrity.
Price
Calico Fabric: Calico fabric is generally more affordable compared to premium textiles. Its simplicity, minimal processing, and widespread availability contribute to its budget-friendly nature, making it accessible to a wide range of consumers.
Linen: Linen is often considered a more luxurious fabric and tends to be priced higher. The labor-intensive process of extracting flax fibers and the various treatments linen can undergo contribute to its premium cost. While more expensive, many view the investment in linen as a testament to its quality and longevity.
Weave
Calico Fabric: Calico fabric is commonly woven in a plain weave, which is a simple and straightforward pattern. This weave contributes to its utilitarian and straightforward appearance. The plain weave also enhances its durability, making it suitable for practical uses.
Linen: Linen can be woven in various patterns and weaves, including plain, twill, and herringbone. Different weaves impart distinct textures and visual effects to linen fabrics, allowing for a wide range of design possibilities. The choice of weave can affect linen's drape, feel, and overall appearance.
Color
Calico Fabric: Calico fabric is typically unbleached and undyed, resulting in a natural, off-white or creamy color. This neutral color palette adds to its organic and raw aesthetic. It serves as a blank canvas for various crafting projects where artists can add their own colors.
Linen: Linen comes in a broad spectrum of colors, from soft neutrals to vibrant hues. It can be dyed easily and holds color well due to its absorbent nature. Linen's ability to take on a range of colors contributes to its versatility in fashion and interior design.
Shrinkage
Calico Fabric: Calico fabric usually experiences minimal shrinkage after washing, especially if it has not been heavily processed. Its cotton fibers have a tendency to shrink slightly, but this can often be managed with pre-washing before sewing or crafting.
Linen: Linen is known for its tendency to shrink more significantly than other fabrics, particularly if it hasn't been pre-washed. This is due to the natural characteristics of flax fibers. To mitigate excessive shrinkage, pre-washing and following care instructions are crucial when working with linen.
Maintenance
Calico Fabric: Calico fabric is generally easy to care for. It can be machine washed and is durable enough to withstand regular laundering. However, being a raw fabric, it might wrinkle easily and might require ironing if a smooth appearance is desired.
Linen: Linen requires a bit more care due to its tendency to wrinkle. It can be machine washed but is prone to creasing, especially if not properly folded or hung after washing. Ironing or steaming is often necessary to achieve a crisp look.
Historical Use
Calico Fabric: Calico fabric has a history rooted in practicality. Historically, it was utilized for various utilitarian purposes such as aprons, work clothes, and basic household items. Its affordability and durability made it a common choice among different social strata.
Linen: Linen has a rich historical significance that dates back centuries. In ancient times, linen was associated with wealth and royalty due to the labor-intensive process of producing flax fibers. Throughout history, linen has been used for luxurious garments, undergarments, and household textiles. It carries a sense of prestige and has maintained its reputation as a refined fabric.
Weight
Calico Fabric: Calico fabric can vary in weight based on the density of the weave and the specific type of cotton used. Generally, it falls within the mid-range of fabric weights. Its weight is often suitable for items that require a balance between sturdiness and drape.
Linen: Linen tends to be relatively lightweight, especially compared to some denser cotton fabrics. This characteristic contributes to its comfortable feel, making it an excellent choice for clothing and accessories worn in warm climates.
Versatility
Calico Fabric: Calico fabric is versatile in its own right, finding application in crafting, sewing projects, and functional items like aprons or tote bags. Its affordability and durability make it a versatile choice for various utilitarian purposes.
Linen: Linen's versatility spans across a wide spectrum, from clothing to home textiles. Its adaptability to different climates, its ability to take on various colors and patterns, and its refined appearance make it a fabric of choice for both practical and luxurious applications.
Aesthetic
Calico Fabric: Calico fabric embodies a rustic, raw aesthetic. Its unbleached and undyed appearance, along with its slightly coarse texture, lends itself well to a natural, down-to-earth vibe. This aesthetic is often embraced in casual and bohemian styles.
Linen: Linen offers an aesthetic that is simultaneously elegant and relaxed. Its subtle luster, refined texture, and timeless appeal make it suitable for both casual and formal settings. Linen's aesthetic versatility is one of its defining features.
Crafting Use
Calico Fabric: Calico fabric is a popular choice among crafters due to its affordability, durability, and easy availability. It's commonly used for sewing practice, prototypes, quilting, and creating functional items. Its unprocessed appearance adds a unique touch to crafting projects.
Linen: While linen is less commonly associated with crafting due to its higher cost, it can be used to create beautifully textured and sophisticated crafts. Its natural elegance adds an element of luxury to craft projects, and its versatility allows for a range of creative applications.
Natural Qualities
Calico Fabric: Calico fabric's primary natural quality lies in its minimal processing. Its unbleached, undyed, and untreated state showcases the purity of cotton fibers. This quality appeals to those seeking authenticity and a connection to natural materials.
Linen: Linen's natural qualities extend to its breathability, moisture-wicking ability, and hypoallergenic properties. Flax fibers, from which linen is derived, contain natural oils that contribute to its moisture management and resistance to allergens, making it a choice for those with sensitivities.
Calico Fabric Vs Linen: Comparison Table
| Aspect | Calico Fabric | Linen |
| --- | --- | --- |
| Material Source | 100% cotton fibers | Flax fibers from the flax plant |
| Treatment and Finish | Loomstate, unbleached, untreated | May undergo washing and finishing processes |
| Texture | Slightly rough and coarse | Natural luster, slightly textured |
| Usage | Crafting, prototypes, quilting | Clothing, bed linens, tablecloths, upholstery |
| Climate Suitability | Versatile, not climate-specific | Ideal for hot and humid climates |
| Comfort | Can be coarser, less soft | Breathable and comfortable |
| Appearance | Raw, natural, unprocessed | Polished, elegant appearance |
| Absorbency | Less absorbent | High moisture-wicking ability |
| Durability | Generally durable due to cotton's strength | Durable and long-lasting |
| Price | Usually more affordable | Often considered a premium fabric |
| Weave | Generally plain weave | Various weaves and patterns |
| Color | Unbleached and undyed, natural color | Comes in various colors and shades |
| Shrinkage | Minimal shrinkage after washing | Moderate to high shrinkage |
| Maintenance | Easy to care for | May require careful washing and care |
| Historical Use | Used historically for various practical uses | Often associated with luxury and elegance |
| Weight | Can vary in weight | Lightweight and breathable |
| Versatility | Often used for utilitarian purposes | Used in a wide range of applications |
| Aesthetic | Utilitarian and raw aesthetic | Elegance and sophistication |
| Crafting Use | Popular for crafting due to affordability | Less commonly used in crafting |
| Natural Qualities | Minimal processing, retains cotton's properties | Natural texture and drape of flax fibers |
Frequently Asked Questions
Can calico fabric be dyed to achieve different colors?
Yes, calico fabric can be dyed to achieve different colors. While it is often associated with its natural, unbleached appearance, calico can take on various dye colors, though the results might be slightly muted due to its original color.
Is there a specific way to minimize linen shrinkage?
To minimize linen shrinkage, it's recommended to pre-wash the fabric before sewing or using it in a project. Washing and drying linen before cutting and sewing will help remove excess shrinkage and prevent surprises after your project is complete.
Can calico fabric be used for garments other than practical items?
While calico fabric is commonly used for practical items like aprons and tote bags, it can also be used for garments depending on the desired aesthetic. Its raw and rustic texture could lend itself well to certain casual clothing styles.
Is linen always more expensive than calico fabric?
Yes, in general, linen tends to be more expensive than calico fabric. The process of cultivating flax and the additional treatments linen can undergo contribute to its higher cost compared to the relatively straightforward production of calico fabric.
How can I take care of linen to prevent excessive wrinkling?
To prevent excessive wrinkling in linen, it's important to hang or fold the fabric neatly after washing. You can also consider using a fabric conditioner designed for linen to help relax the fibers and minimize creasing. Ironing or steaming the fabric before use can also help achieve a smoother appearance.
To Recap
The juxtaposition of calico fabric and linen paints a vivid picture of the dynamic choices that textile enthusiasts and creators navigate. From calico's unpretentious, raw allure to linen's timeless elegance, these fabrics epitomize versatility and cater to a spectrum of tastes and needs.
While calico thrives in its simplicity, linen flourishes through its refined textures and adaptability. As we embrace the divergent paths woven by these materials, we celebrate not only their intrinsic qualities but also the creative narratives they enable.
In the tapestry of textiles, both calico fabric and linen find their threads interwoven with history, artistry, and the ever-evolving realm of design.