Embroidery design is an art form that allows you to transform plain fabrics into personalized works of art. Whether you're an experienced embroiderer or a beginner eager to explore this creative realm, learning how to create embroidery designs is an exciting journey.
These designs can range from intricate florals and detailed landscapes to whimsical animals or elegant monograms. Each design reflects your unique vision and craftsmanship, making embroidery a deeply rewarding endeavor.
In this guide, we'll delve into how to create embroidery design, and tools to help you bring your ideas to life. From hand-drawn sketches to digital software, the possibilities are as vast as your imagination.
Let's embark on this artistic voyage and unlock the secrets to crafting stunning embroidery designs.
How To Create Embroidery Design?
Creating an embroidery design is a creative and rewarding process. Here are seven simple methods to help you get started:
Hand Drawing:
Begin by sketching your design on paper using pencils or pens. Once you're satisfied with the design, transfer it to your embroidery fabric by tracing or using transfer paper.
Stencil Use:
Stencils offer a quick and easy way to create precise designs. Place the stencil on your fabric and use fabric markers or chalk to trace the pattern. This method is especially useful for repetitive or intricate designs.
Freehand Embroidery:
Embrace your artistic flair by directly stitching your design without a pre-drawn pattern. Start with a rough outline and build your design as you go, adding details and colors as you progress.
Computer Software:
Utilize embroidery design software to create custom designs. These programs allow you to digitize and edit patterns, adjust colors, and even add text. Once your design is complete, transfer it to your embroidery machine for stitching.
Image Transfer:
Print or photocopy an image onto transfer paper, and then iron it onto your fabric. The image will transfer to the fabric, creating an outline for your embroidery work.
Appliqué Technique:
Create a design by layering fabric shapes onto your base fabric. Stitch around the edges of the fabric pieces to secure them in place and add embroidery details for dimension and texture.
Templates and Tracing:
Use pre-made templates or printed designs to trace onto your fabric. This method is helpful for precision work and allows you to reproduce existing designs or patterns.
Experiment with these methods to find the one that best suits your project and personal style. Whether you're a beginner or an experienced embroiderer, creating your own embroidery designs can be a fulfilling and artistic journey.
7 Design Ideas To Create Your Own Custom Embroidery Patterns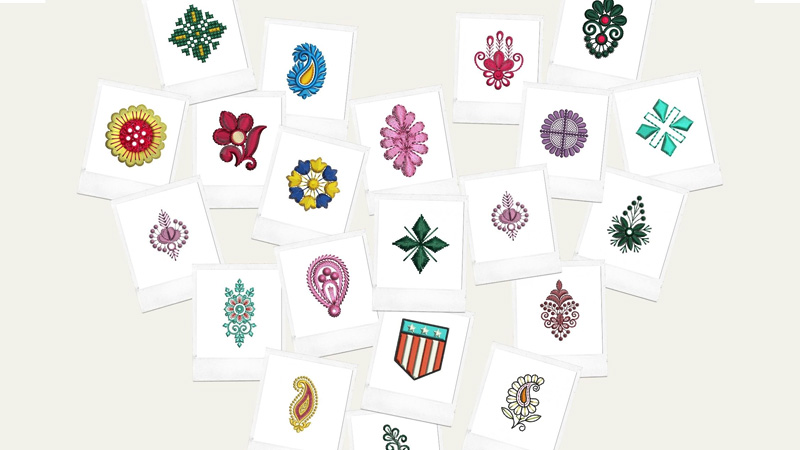 Creating custom embroidery patterns offers endless creative possibilities. Here are seven design ideas to inspire your own unique embroidery patterns:
Botanical Beauties:
Draw inspiration from nature by crafting embroidery patterns featuring flowers, leaves, or trees. Create intricate floral arrangements, delicate blossoms, or lush forest scenes.
Botanical designs offer a timeless and elegant touch to your embroidery projects.
Whimsical Animals:
Bring charming creatures to life with whimsical animal-themed patterns. Craft adorable animals like owls, rabbits, or cats, or let your imagination soar with fantastical beasts. These designs add personality and a touch of playfulness to your embroidery work.
Geometric Brilliance:
Embrace the precision of geometric shapes and patterns. Create intricate mandalas, tessellations, or modern abstract designs. Geometric embroidery patterns showcase symmetry and precision, making them visually striking and satisfying to stitch.
Personalized Monograms:
Craft elegant monogram patterns by combining initials or names with decorative elements. Monograms are perfect for adding a personalized and sophisticated touch to gifts, linens, or accessories.
Travel-Inspired Landscapes:
Recreate your favorite travel destinations through embroidery. Capture the essence of cities, landscapes, or landmarks in your embroidery patterns. These designs allow you to reminisce about your adventures and add a unique touch to the decor.
Intricate Lacework:
Mimic the delicate beauty of lace with intricate embroidery patterns. Craft lace-inspired designs with fine stitches, openwork, and scalloped edges. Lace patterns add an air of elegance and femininity to your embroidery projects.
Inspiring Quotes and Typography:
Combine powerful quotes or typography with decorative elements to create inspirational embroidery patterns. Whether it's a motivational message or a favorite literary quote, these patterns convey sentiments and make meaningful gifts.
When designing your own embroidery patterns, consider the complexity of the design, color choices, and the type of stitches you plan to use. Sketch your ideas on paper or use digital tools to refine your designs before transferring them to your embroidery fabric.
Let your creativity flourish as you bring your unique embroidery patterns to life.
Why Choose Printify for Selling Embroidery Products?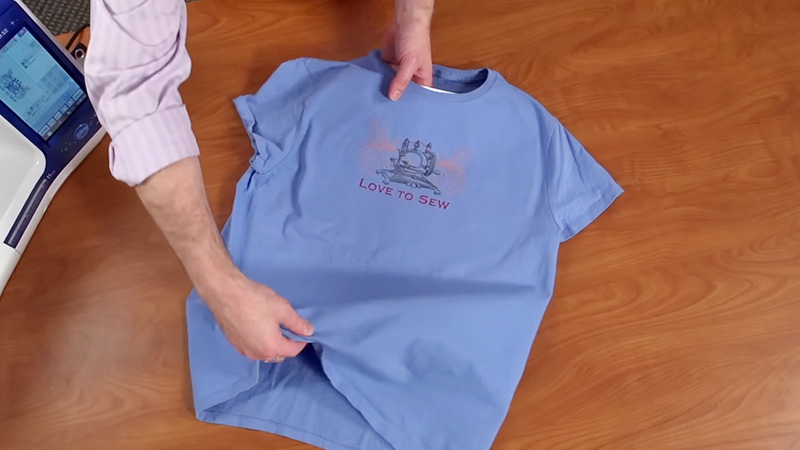 Printify is a popular platform for selling embroidery products, and there are several compelling reasons to choose it for your embroidery business.
Here are the key reasons:
Wide Range of Products:
Printify offers a vast selection of products to embroider, from apparel like hats, t-shirts, and hoodies to home decor items such as pillows and towels. This diversity allows you to cater to various customer preferences.
High-Quality Embroidery:
Printify partners with top-notch embroidery manufacturers to ensure that your designs are meticulously embroidered with precision and quality. Your customers will receive products that meet their expectations.
Easy Integration:
Printify seamlessly integrates with popular eCommerce platforms like Shopify, WooCommerce, and Etsy. You can set up your online store quickly and manage your orders efficiently.
Global Fulfillment Network:
Printify has a vast network of printing and embroidery partners around the world, allowing for fast and cost-effective shipping to customers globally. This minimizes shipping costs and delivery times.
No Upfront Costs:
You don't need to invest in equipment or hold inventory. Printify follows a print-on-demand model, meaning products are created and shipped as orders come in, reducing upfront expenses.
Customization Options:
You have full control over your embroidery designs, enabling you to offer customization options to your customers. They can personalize products with names, initials, or unique designs.
Competitive Pricing:
Printify offers competitive pricing, enabling you to set your own profit margins. You can adjust prices to align with your business goals and market demands.
Responsive Customer Support:
Printify's customer support team is known for its responsiveness and helpfulness. They are available to assist with any questions or concerns you may have along the way.
Regular Updates and Features:
Printify continually updates its platform and introduces new features to improve the seller experience. This commitment to innovation keeps your business competitive and adaptable to changing market trends.
Overall, Printify offers a user-friendly, cost-effective, and reliable solution for selling embroidery products online. It empowers entrepreneurs and businesses to enter the embroidery market with ease while providing customers with high-quality, customizable products.
FAQ
How can I start creating my own embroidery designs?
Begin by sketching your design on paper or using design software. Determine your preferred method, whether hand embroidery or digital machine embroidery and gather the necessary materials.
Do I need specialized software to create embroidery designs?
Specialized embroidery design software, like Embird or Wilcom, is helpful for digital embroidery machine designs. However, hand-embroidery designs can be created with basic drawing tools.
What are the key elements of a successful embroidery design?
A successful embroidery design includes factors like stitch density, color choices, and suitable thread types. It should also consider the fabric's texture and the final placement of the design.
Can I digitize my own designs for machine embroidery?
Yes, you can digitize your designs using embroidery digitizing software. However, it requires practice and knowledge of the software's features to create high-quality digitized designs.
Are there copyright considerations when creating embroidery designs?
Yes, it's essential to respect copyright laws when creating embroidery designs. Avoid using copyrighted images or designs without permission. Instead, focus on original or licensed artwork to ensure legal compliance.
Conclusion
Creating embroidery designs is a blend of artistic expression and technical skill. As you've discovered in this exploration, there are multiple avenues to bring your visions to life, whether through hand drawing, digital software, or innovative techniques.
The world of embroidery design offers endless opportunities for self-expression, personalization, and crafting unique, cherished pieces. It's a journey that encourages creativity, patience, and attention to detail.
Whether you're designing for your own pleasure or to share your artistry with others, the joy of seeing your embroidered creations come to life is a reward in itself.
So, embrace this timeless craft, continue to refine your skills, and let your embroidery designs weave stories and beauty into the fabrics of our lives.