You can't bring perfection to your stitch without knowing the right crochet hook size. The crochet hook size chart can help you A LOT!
We understand how the proper crochet hook can add efficiency and improve the details of your crochet project. You can select the appropriate hook size for your projects by the end of our article.
Yes! Today, we will walk you through the significance of a crochet hook size chart and how to select the right one for your projects.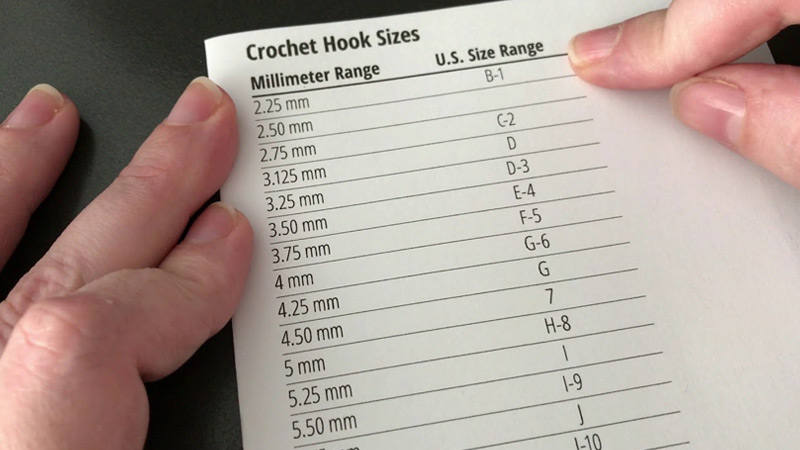 The Basics of Crochet Hook Size
For many, understanding the right crochet hook can become confusing! With worldwide systems available around us, crochet hook size is labeled differently.
We commonly see two different label systems around us! They are (1) the US Lettering System and (2) the Numerical System. Here's a brief on them,
US Lettering System: Usually in the United States, crochet hooks are often labeled with letter sizes ranging from B (smallest) to Q (largest). The US sizes start at B-1 (2.25 mm) while the UK/metric sizes start at 2mm.

However, it's important to note that not all brands use this lettering system consistently. There can be slight variations in sizing between different manufacturers.

Metric System: It is one of the most popular & widely used systems in measuring crochet hooks. In the metric system, the size of the crochet hook comes in millimeters (mm).

The range typically starts from 2mm for very fine hooks and goes up to larger sizes like 25mm or more.
Also, note that steel crochet hooks are the smallest hooks and usually don't show up on the standard US Crochet Hook Size Conversion chart.
Here's the Crochet Hook Size Chart Conversion
Is there a number, letter, or metric value (or all three) on your crochet hook? It is set by the manufacturers to identify the hook size.
The values are used by manufacturers and the letter/number sizing can vary from company to company. Suppose you have brought a crochet hook that has a J on it. What does it mean?
To make things simply easier, here's a Crochet Hook Size Conversion Chart to help you familiarize yourself with crochet hook sizes in both US and metric terms.
Hop in with us!
Generally, two types of crochet hooks are available. They are (1) Yarn Hook and (2) Thread Hook.
Regular hooks are known as Yarn Hooks. It is usually 2 mm or larger in diameter. Most often aluminum is used to build the yarn hooks. But it's not uncommon to use bamboo, wood, and plastic as well for lighter weight.
On the other hand, thread hooks are also the steel hooks. And you will merely find them in the Hook Size Chart Conversion. Steel crochet hooks are generally used for crochet lace or doilies and mostly with threads like Curio #10.

They are usually, stronger than yarn hooks and made of steel. It prevents the tiny hooks from bending while the crochet goes on.
Yarn Hook
Thread Hooks
Available Crochet Hook Size in US Lettering System
Conversion in Millimeter
Measurement in the UK (If Available)
Available Crochet Hook Size in US System
Conversion in Millimeter
B/1
2.25 mm
13
00
3.5 mm
C/2
2.75 mm
—
0
3.25 mm
D/3
3.25 mm
10
1
2.75 mm
E/4
3.5 mm
9
2
2.25 mm
F/5
3.75 mm
—
3
2.1 mm
G/6
4 mm
8
4
2 mm
—
4.5 mm
7
5
1.9 mm
H/8
5 mm
6
6
1.8 mm
I/9
5.5 mm
5
7
1.65 mm
J/10
6 mm
4
8
1.5 mm
K/10.5
6.5 mm
3
9
1.4 mm
L/11
8 mm
0
10
1.3 mm
M/13
9 mm
00
11
1.1 mm
N/15
10 mm
000
12
1 mm
P/Q
15 mm
—
13
0.85 mm
Q
16 mm
—
14
0.75 mm
How Do You Know What Size Crochet Hook To Use?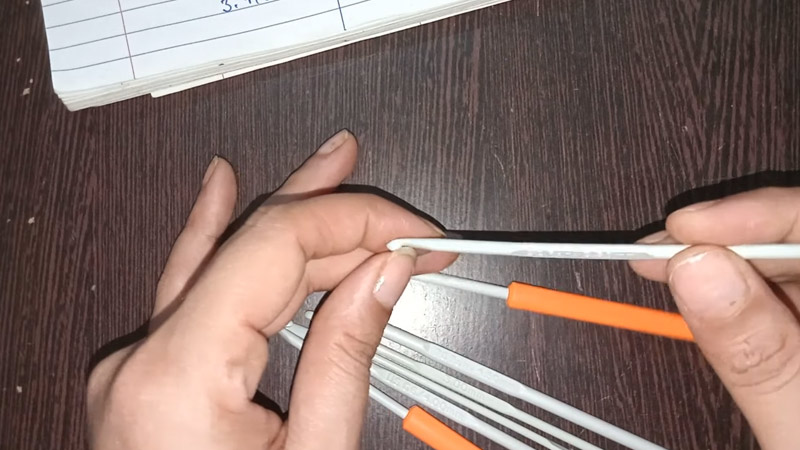 It depends on two factors (1) the Type of Yarn you are using and (2) your project type.
Thicker yarns generally require larger hooks, while finer yarns work smoothly with smaller hooks. In case you are following a pattern, a designer will help you to specify the hook size.
However, if you're designing your own project, consider creating a gauge swatch by using different hook sizes and determining the best fit for the stitches per inch.
Remember that, using the wrong hook size can lead to serious issues such as uneven stitches, too-tight or too-loose tension, and ill-fitting end clothes.
Any Recommendations for Beginners?
Most people love to use Aluminum yard crochet hooks. They come in optimum diameter and offer more flexibility over the sewing.
But for beginners who are just stepping into the crochet world, it is wise to start with ergonomic crochet hooks. They have more ergonomic features like rubber handles and are way safer.
Additionally, the ergonomic crochet hooks can save you from hours of tiredness and stress on your palm with that extra cushion.

The 4.5 mm hook is not so bad to start as a beginner. However, it's not regularly available, especially not in the US lettering system.
Alternatively, you can use the H/8 5 mm crochet hook. That's also a better selection to start as a beginner.
Last But Not Least
To many, the crochet hook size may not be too significant at all! But just let it be, and it can completely ruin your beautiful crochet projects.
Thus, we believe a journey to successful crochet design begins with the selection of the right crochet hook size. Since many find it hard to decode the numbers and letters on their crochets, our list of crochet hook size chart conversions will help them.
You can now go to a shop, look at the crochets, and figure out which one to use for different crochet projects.
Let us know in the comment section which crochet hook you use the most. Others will know too!

Also, don't forget to share our article with your friends and use the correct crochet size together!