When sewing a seam, make sure to place the stitching in the hoop and pull it taut. Adjust the stitches as necessary so that they are secure and tightly attached to both fabric pieces.
Finally, tighten the hoop securely to ensure a strong stitch line.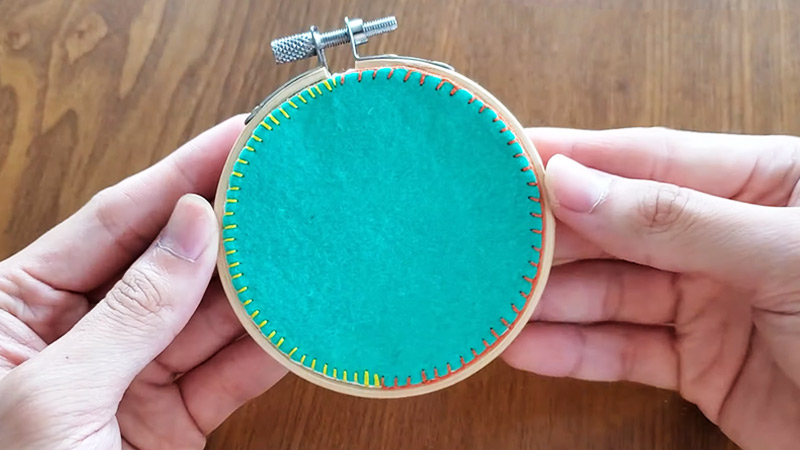 How Do You Use An Embroidery Hoop Frame?
When you're stitching a garment, it's important to take care with the placement of your stitches so they don't stretch or pull apart. To get started, place the fabric in the hoop and pull it tight against the stiching thread.
Next, adjust the stitch length by pulling on either end of the thread until you have achieved the desired look and feel for your seam. Finally, secure your stitch using a knot or tapestry needle before tightening up your hoop evenly around all sides.
Be sure to keep your stitching in good shape by regularly adjusting and tightening its hoops as needed.
Place Stitching in the Hoop
To use an embroidery hoop frame, first place the stitching in the hoop. Then, hold the fabric taut and trace around it with a pencil or pen. Finally, cut out the traced circles using a sharp blade or scissors.
Be sure to smooth out any rough edges that may have formed during cutting. You can now start stitching your designs onto your fabric using a needle and thread (or regular sewing machine if you prefer).
Pull Taut and Adjust
To use an embroidery hoop frame, first pull the taut cord until it's tight and then adjust it to the size of your hoop. Be sure to keep your hands slightly away from the needle while you work so that you don't get stitched with thread instead of fabric.
If the hoops start getting loose or if they seem too large or small, you can fix them by tightening or loosening the cords accordingly. Don't forget to replace your hoops as needed – often times a worn-out hoop will cause stitching errors on your project.
Always be safe when working with scissors and needles – take precautions like using appropriate cutting surfaces and wearing gloves when necessary.
Secure Hoop Tightly
Secure the hoop tightly to your work surface using clamps or by tying it down with string. Make sure you have the right size hoop for your project and that the frame is firmly attached to your work surface.
Position the fabric so that it overlaps one side of the hoop, then pull up on both ends of the fabric to secure in place. Embroider away. The hoops will keep your stitches tight and accurate while you're working on a big project.
Be careful not to over-stitch—a little bit of fray will look cute in an embroidered piece.
Is it better to cross stitch with or without a hoop?
Cross stitching without a hoop is possible, but it will be more difficult and time-consuming. If you are new to cross stitch, using a hoop is highly recommended because it makes the process easier and faster.
There are also many designs that can be completed using just the hands if you don't have a hoop or needlework frame handy. Ultimately, it depends on what type of stitcher you are: some people prefer not to use one at all while others find them indispensable for their embroidery projects.
Do you leave cross stitch in the hoop?
Cross stitch can be a great activity to do on your free time, but it can also be dangerous if you don't take care when handling the needle and thread. Cross stitching in a hoop is much safer than doing it without one, but make sure to remove the stitches after each completed piece so they don't tangle up and get stuck in the hoop.
Leaving cross stitch projects in the hoop for a short period of time can cause them to become squished or distorted. This is because the fabric will stretch and deform over time, which affects how well the stitches look when finished.
Cross stitch projects should be small enough to fit in the hoop when finished so that they don't distort or lose their shape. If your project is too large, it may not fit properly and you risk losing detail or symmetry.
It's important to take cross stitch projects out of the hoop as soon as you finish them so that they don't get stretched out or squished in any way. If you wait too long, it may be difficult to remove them cleanly without damaging your work.
Why does my embroidery hoop keep falling off?
One of the most common reasons embroidery hoops fall off is because the adhesive used to hold them in place starts to wear down. This can happen over time if you're not using your hoop often enough or if it's exposed to water or other harsh chemicals. In some cases, a missing hoop may just need a new adhesive strip.
Imperfection in Hoop
Embroidery hoops are often made from a thin or smooth fabric which makes them prone to slipping off the pole. If the hoop is not securely attached, it will constantly be falling down.
Thin or Smooth Fabric
If your embroidery hoop is made from a very thin or smooth fabric, it will be more likely to slip off of the pole due to its lack of grip. This type of material also doesn't hold up well against wear and tear, so it might fall apart after only a few uses.
Wooden Embroidery Hoopprone to Slipping
Wooden embroidery hoops are susceptible to slipping because they don't have as much give as metal hoops do. When you try tighten the screws on a wooden hoop, it can cause it to crack and ultimately break – this is especially common when using thicker fabrics with large stitches. 4 Hardwood Vs Softwood Embroidery Hops.
Hoppers that are made out of hardwood are typically much stronger than those that are made out of softwood materials like pine boards or bamboo poles – but both types have their weaknesses and should be treated with care when using them for embroidering purposes. 5 Replacement Hops For Embroidered Projects.
There aren't many specific replacement hops available for embroidered projects – but there are some generic options that may work just fine.
How do you display finished embroidery?
When you're done embroidering a project, it's important to display it in the best way possible. You can choose to hang it on the wall or frame it using some complementary materials.
Place Embroidery on a Shelf
If you want to display your embroidery in an area that is out of the way, placing it on a shelf can be the best option. This will keep it organized and easy to access.
Lean Against Wall or Add to Gallery Wall
If you have enough space, leaning your embroidery against a wall can be an effective way to store it. Adding it to your gallery wall can also give your artwork some extra visual impact.
Should you wrap your embroidery hoop?
There is no right or wrong answer when it comes to whether or not you should wrap your embroidery hoop. Ultimately, the decision depends on a few factors, including how often you embroider and what kind of fabric your hoop is made from.
If you're just starting out, it's probably best to avoid wrapping your hoop altogether. This will help prevent it from becoming damaged over time. If you do choose to wrap your hoop, be sure to use a sturdy material that can handle wear and tear.
When you are working with embroidery hoops, it is important to keep a tight hold on the hoop so that it does not move around and damage your work. You can do this by wrapping the outer hoop around the inner hoop several times. This will help to maintain a grip and protect your stitches from being pulled out.
It is also important to clean your embroidery hoop regularly in order to ensure that it is ready for next project. Use a mild soap and water combination or an antibacterial cleaner, and make sure to dry it completely before storing away again.
Finally, wrap the outer hoop of your embroidery hoop tightly in order to enhance its gripping power when stitching delicate fabrics or threading large beads onto the fabric surface.
Keep your embroidery hoops stored in a dust-free environment so they remain free from dirt build-up which may cause them wear prematurely over time.
To Recap
Embroidery hoops are great for a variety of projects, including making cushion covers, quilts and more. To use an embroidery hoop frame, you'll need to gather the materials you will need: an embroidery hoop (or two), batting or fabric to go around the inside of the hoop and some thread.
Once you have gathered your supplies, follow these steps: 1) Place the embroidery hoop on a flat surface so that it is in the center of the circle drawn on top-side down with a pencil or pen. This helps keep track of where each piece goes when you start stitching. 2) Remove any excess fabric from around the edges of your embroidery hoop – this will help prevent fraying while stitching.
3) Cut a piece of batting or fabric that is slightly bigger than your embroidered design – this will be used as a backstop when sewing If you're looking for ways to embellish your designs using an embossing machine or other techniques then check out our blog posts about how to do just that.