Crocheting a basic beanie hat is not only a fun and creative endeavor but also a practical one.
Whether you're a seasoned crocheter or just starting out, crafting your own beanie allows you to explore various stitches and techniques while fashioning a cozy accessory.
In this concise guide, we'll take you through the step-by-step process of creating a simple yet stylish beanie.
With just a few essential materials and some patience, you'll be able to craft a customized hat that suits your style or make a thoughtful handmade gift.
Get ready to embark on a rewarding crochet journey as we unravel the art of crocheting a basic beanie.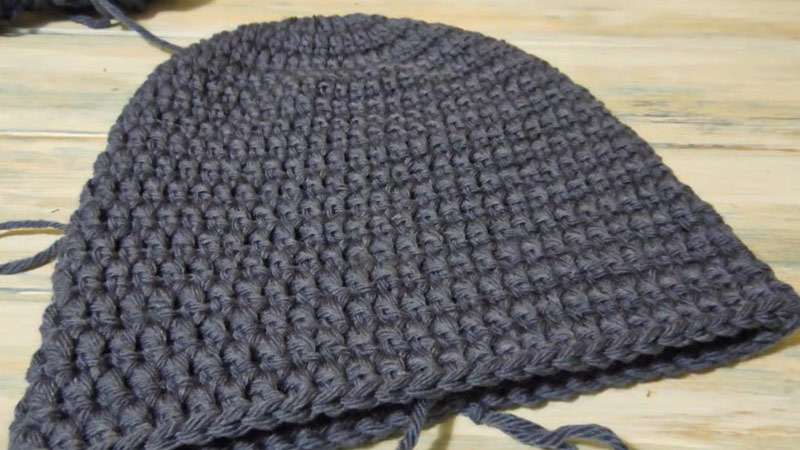 6 Easy Steps to Crochet a Basic Beanie Hat
Crocheting a basic beanie hat is a wonderful project for beginners and experienced crocheters alike. Not only is it a practical item to wear, but it also allows you to explore various stitches and techniques.
In this step-by-step guide, we will walk you through the process of crocheting a simple beanie hat.
Materials You'll Need:
Yarn
Crochet Hook
Scissors
Yarn Needle
Step 1: Measure and Gauge
Before you start crocheting, it's essential to determine the size of the beanie you want to make. Measure the head circumference of the person who will be wearing the hat. For an average adult-sized head, this is usually around 21-23 inches.
You should also create a gauge swatch by crocheting a small sample to ensure that your stitches match the desired size. This helps you adjust your tension and hook size if necessary.
Here's a basic size chart that provides head circumferences and the corresponding stitch counts for various hat sizes:
| | | | |
| --- | --- | --- | --- |
| Hat Size | Head Circumference (inches) | Stitch Count (Crown) | Crown Diameter (inches) |
| Newborn | 12-13 | 4-5 | 4-4.5 |
| Infant | 13-15 | 5-6 | 4.5-5 |
| Toddler | 15-17 | 6-7 | 5-5.5 |
| Child | 17-19 | 7-8 | 5.5-6 |
| Teen/Small | 19-21 | 8-9 | 6-6.5 |
| Adult Small | 21-22 | 9-10 | 6.5-7 |
| Adult Medium | 22-23 | 10-11 | 7-7.5 |
| Adult Large | 23-24 | 11-12 | 7.5-8 |
Step 2: Begin with a Magic Ring (Adjustable Ring)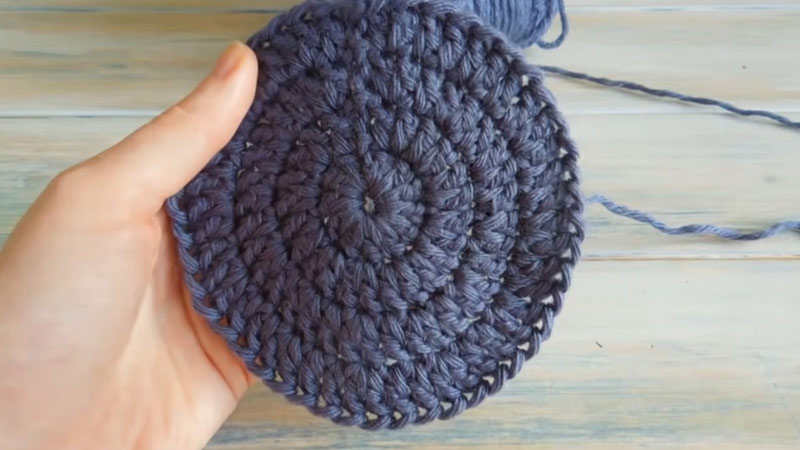 The magic ring creates a neat and adjustable center for your beanie.
Here's how to make one:
Hold the end of the yarn against your fingers, leaving a short tail.
Wrap the yarn around your fingers to form a loop, and then insert your hook under the first strand.
Pull up a loop through the loop you've created.
Chain 1 to secure the loop.
Step 3: Crochet the Crown
Now, you'll work on the crown of the beanie, which is the top part.
Chain 2 to act as the first half-double crochet (hdc).
Make the required number of hdc stitches into the magic ring. The number will depend on your gauge and the desired size of the beanie.
Pull the tail of the magic ring to tighten it, closing the hole in the center.
Slip stitch to the top of the first hdc to join the round.
Step 4: Increase Rounds
To shape the beanie, you'll need to increase the number of stitches in each round.
Here's how:
Chain 2 (counts as your first hdc).
Make 2 hdc stitches into the same stitch as the chain 2.
Hdc in the next stitch, 2 hdc in the following stitch. Repeat this pattern until you reach the end of the round.
Slip stitch to the top of the chain 2 to join the round.
Repeat this increase round, adding an extra hdc between increases in each round until your beanie reaches the desired width. For most adult-sized beanies, you'll want to increase by 3-4 inches from the center.
Step 5: Work the Body of the Beanie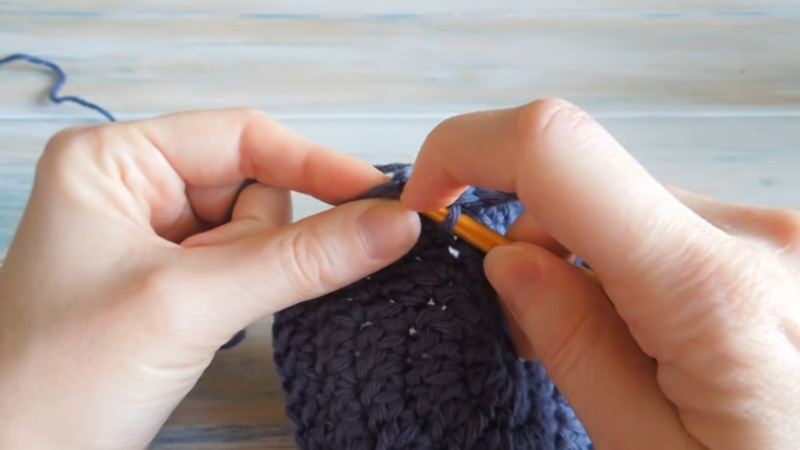 Once the crown is the desired size, continue crocheting without increasing to create the body of the beanie. Simply hdc in each stitch around in a spiral without slip stitching to join.
Continue this pattern until the beanie reaches the desired length. You can make it as long as you like, typically between 6 to 8 inches for an adult-sized beanie.
Step 6: Finish and Fasten Off
To finish your beanie:
Cut the yarn, leaving a tail of about 6 inches.
Yarn over and pull the tail through the loop on your hook to secure it.
Use a yarn needle to weave in the loose ends to hide them inside the stitches.
20 Simple Knit Hat Pattern Free
Knitting a hat is a rewarding and practical project, especially for those new to knitting.
Whether you're making it for yourself or as a thoughtful gift, our 20 simple knit hat patterns(which are absolutely free!) will guide you through the process of creating a warm and stylish hat.
Here are 20 simple and free knit hat patterns for you to enjoy:
1. Classic Ribbed Beanie
The Classic Ribbed Beanie is a timeless favorite for its elegant simplicity. The ribbed brim not only adds a touch of sophistication but also ensures a snug fit that comfortably stretches to accommodate various head sizes.
This pattern is a must-have in your collection for its versatility and classic appeal.
2. Simple Stockinette Hat
Simplicity meets style in the Simple Stockinette Hat. This beanie features a clean and smooth stockinette stitch pattern throughout, making it a perfect canvas for showcasing your favorite yarn colors or accessorizing with a pom-pom. Its understated design makes it suitable for everyday wear.
3. Cozy Cabled Beanie
If you're looking for a hat with a bit of texture and warmth, the Cozy Cabled Beanie is an excellent choice. Its intricate cable stitches create a visually appealing and tactile pattern that not only looks great but also traps warmth, making it perfect for colder climates.
4. Easy Garter Stitch Beanie
Beginners, rejoice! The Easy Garter Stitch Beanie is a straightforward project that results in a soft and squishy hat.
Knitted entirely in garter stitch, it's an ideal pattern for those just starting to explore the world of knitting, offering a relaxing and satisfying knitting experience.
5. Chunky Basketweave Hat
Embrace warmth and coziness with the Chunky Basketweave Hat. This beanie uses bulky yarn and showcases a captivating basketweave pattern that stands out beautifully. It's perfect for chilly days when you want to stay both stylish and snug.
6. Seed Stitch Slouchy Beanie
The Seed Stitch Slouchy Beanie combines a relaxed, slouchy fit with the charming texture of seed stitch. This hat exudes comfort and casual elegance, making it a favorite choice for those who appreciate a laid-back yet stylish look.
7. Double Brim Knit Hat
For the ultimate in warmth and comfort, the Double Brim Knit Hat is designed with a double-layered brim that keeps your ears cozy and shields you from the cold wind. This feature makes it a winter essential, perfect for outdoor adventures in the snow.
8. Beginner's Bobble Beanie
Add a touch of whimsy to your wardrobe with the Beginner's Bobble Beanie. Bobbles are easy to knit and create playful texture on this hat. This pattern is an excellent introduction to bobble knitting for those looking to expand their knitting skills.
9. Quick and Easy Crochet Beanie
Crocheters can enjoy a speedy project with the Quick and Easy Crochet Beanie. This pattern results in a warm and stylish hat, perfect for last-minute gifts or when you want a fashionable accessory in no time.
10. Striped Stratum Hat
The Striped Stratum Hat is all about color and depth. With colorful stripes that create a layered effect, this beanie offers endless possibilities for combining your favorite hues. It's an excellent way to experiment with color and add a pop of brightness to your winter wardrobe.
11. Baby Alpaca Beanie
Elevate your winter wardrobe with the Baby Alpaca Beanie. Crafted from luxurious baby alpaca yarn, this hat offers unmatched softness, warmth, and comfort.
The gentle fibers of baby alpaca create a cozy haven for your head, making this beanie a must-have for chilly days.
12. Brioche Bliss Beanie
Dive into the world of brioche knitting with the Brioche Bliss Beanie. This hat showcases the reversible and textured beauty of the brioche stitch.
The result is a hat that not only keeps you warm but also adds a touch of artistry to your winter ensemble.
13. Colorful Chevron Hat
Unleash your creativity with the Colorful Chevron Hat. This beanie features lively chevron stripes in a variety of colors, creating a visually dynamic and striking pattern.
It's a fantastic project for using up yarn scraps and expressing your personal style.
14. Textured Tweed Beanie
The Textured Tweed Beanie boasts the charm of tweed without the added bulk. Its textured stitch pattern mimics the look of traditional tweed fabric, giving the hat a classic and sophisticated appeal. It's perfect for those who appreciate timeless elegance.
15. Fair Isle Fantasy Hat
Explore the art of colorwork knitting with the Fair Isle Fantasy Hat. This beanie incorporates the Fair Isle technique, allowing you to create intricate and beautiful patterns using multiple colors. It's an opportunity to showcase your knitting skills and produce a work of wearable art.
16. Lacy Laceweight Beanie
Transition between seasons in style with the Lacy Laceweight Beanie. This delicate and lightweight hat features lace patterns that are both intricate and airy. It's an ideal accessory for adding a touch of elegance to your spring or fall outfits.
17. Bulky Bulge Beanie
When you need instant warmth and coziness, turn to the Bulky Bulge Beanie. Crafted with bulky yarn, this hat envelops you in softness and comfort. It's the go-to choice for braving the coldest of days while staying fashion-forward.
18. Retro Ripple Beanie
Reminiscent of vintage styles, the Retro Ripple Beanie brings a touch of nostalgia to your wardrobe. Its ripple or wave pattern gives it a timeless look, making it a versatile accessory for both casual and dressier occasions.
19. Mock Cable Mania Hat
Achieve the look of cables without the complexity in the Mock Cable Mania Hat. This pattern uses mock cable stitches to create a visually striking design.
It's an excellent choice for those who love the look of cables but prefer an easier knitting experience.
20. Faux Fur Fluff Beanie
Elevate your winter fashion game with the Faux Fur Fluff Beanie. This trendy hat features faux fur accents that add a touch of glamour and luxury. It's the perfect accessory to make a statement and stay warm in style.
FAQS
Can I Add a Ribbed Edge to My Crocheted Beanie?
Yes, you can add a ribbed edge to your beanie by crocheting rows of alternating front post double crochet (FPDC) and back post double crochet (BPDC) stitches.
What's the Best Stitch Pattern for a Textured Beanie?
To achieve a textured look, consider using a stitch pattern like the half-double crochet front loop only (HDC FLO) or the popcorn stitch.
How Do I Resize a Beanie for a Child or Baby?
To resize a beanie for a child or baby, you can reduce the number of initial stitches and rows during the crown shaping and body section.
Can I Crochet a Beanie Using Variegated Yarn for a Unique Look?
Absolutely! Variegated yarn can create striking patterns and color combinations in your beanie.
Are There Any Tips for Crocheting a Slouchy Beanie?
To crochet a slouchy beanie, simply extend the length of the body section beyond the typical 6-8 inches.
To Recap
Mastering the art of crocheting a basic beanie hat is a rewarding journey for both beginners and experienced crafters.
Throughout this guide, we've delved into the fundamentals of choosing materials, measuring, creating the magic ring, shaping the crown, and working through the body.
The beauty of crocheting a beanie lies not only in the final product but also in the creative freedom it offers.
Whether you're crafting for yourself or someone special, the possibilities for customization are endless.
So, pick up your yarn and crochet hook, embark on this delightful project, and revel in the satisfaction of creating a handmade accessory that keeps you warm and stylish during the chilly months.