Crocheting a cylinder is a versatile skill that forms the foundation for creating an array of practical and decorative items. Whether you want to craft cozy coffee cup sleeves, elegant pencil holders, or even stuffed toy bodies, mastering the art of crocheting a cylinder is a valuable endeavor.
This simple yet essential technique involves working in the round and seamlessly increasing or decreasing stitches to achieve your desired size and shape.
In this guide, we'll take you through the steps to crochet a basic cylinder, offering a clear and comprehensive tutorial for both beginners and experienced crocheters.
With the right materials and these easy-to-follow instructions, you'll soon be crafting cylindrical wonders with confidence and creativity.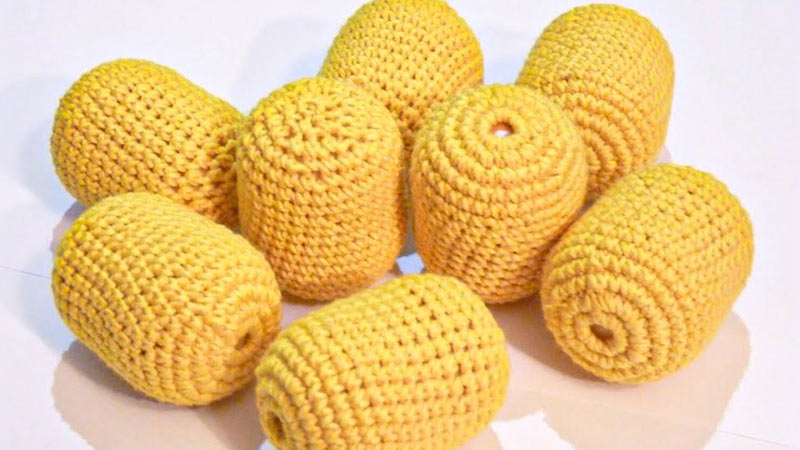 How to Crochet a Cylinder? 8 Steps
Crocheting a cylinder is a fun and versatile project that can be used to create various items like coffee cozies, pencil holders, or even stuffed toys.
It's a simple crochet shape that involves working in the round and gradually increasing or decreasing the stitches to achieve the desired size and shape.
Here is the Step-by-Step Guide to Crocheting a Cylinder:
Materials You'll Need:
Yarn
Crochet Hook
Scissors
Yarn Needle
Steps:
1. Start with a Magic Ring (Adjustable Ring)
The journey to crocheting a cylinder begins with creating a magic ring, also known as an adjustable ring. To make one, form a loop with your yarn, leaving a tail of about 4 to 6 inches. This tail will be used later to secure the ring. Insert your crochet hook through the loop, yarn over, and pull up a loop through the loop, effectively creating a slipknot. To secure the ring, chain one.
2. Create the Base
The base of your cylinder is a crucial foundation for its stability. Depending on your project's requirements, crochet a specific number of single crochet (sc) stitches into the magic ring.
The exact count will depend on your specific pattern, but commonly used counts include 6, 8, or 12 stitches.
3. Begin the Rounds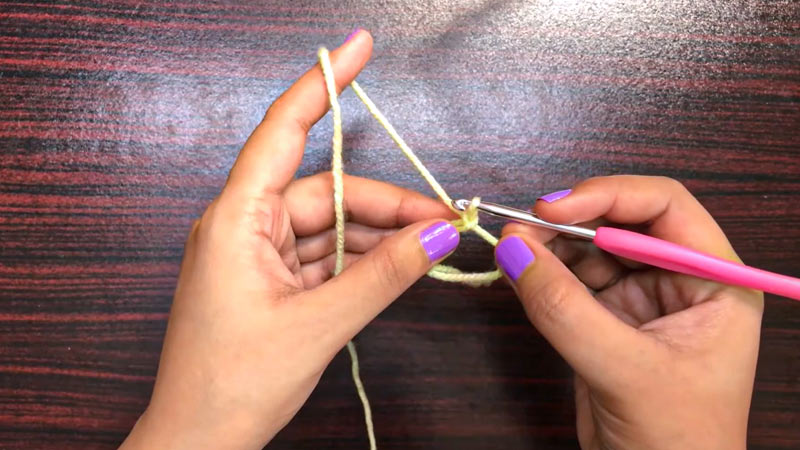 To transition from forming the base to building the sides of your cylinder, insert your crochet hook into the first single crochet you made (not the chain one) to join the round.
Work a single crochet in each stitch around, ensuring that you maintain the same stitch count in each round. If necessary, use a stitch marker to identify the first stitch and keep track of your progress.
4. Increase Rounds
Should your project require a wider cylinder, you'll need to incorporate increased rounds. This involves crocheting two single crochets into each stitch in the round, effectively adding stitches and expanding the width of your cylinder.
5. Continue to Work Even
If your project demands a cylinder with a consistent width, simply continue to work single crochets in each stitch without increasing or decreasing. Keep crocheting in rounds until your cylinder reaches the desired height.
6. Decrease Rounds
To create a tapered top for your cylinder, introduce decreased rounds. These rounds involve spacing decreases evenly by crocheting two stitches together (single crochet two together or sc2tog) at regular intervals. This effectively reduces the stitch count in each round and narrows the top.
7. Finish the Cylinder
Once your cylinder reaches the desired height and shape, it's time to complete it. Simply cut the yarn, leaving a tail of a few inches, and pull the tail through the last stitch to secure it.
8. Weave in Ends
For a polished and neat appearance, thread the yarn tail through a yarn needle. Carefully weave the tail in and out through the stitches on the inside of your cylinder to conceal it. Trim any excess yarn.
Advanced Tips and Techniques for Embellishing Crochet Cylinders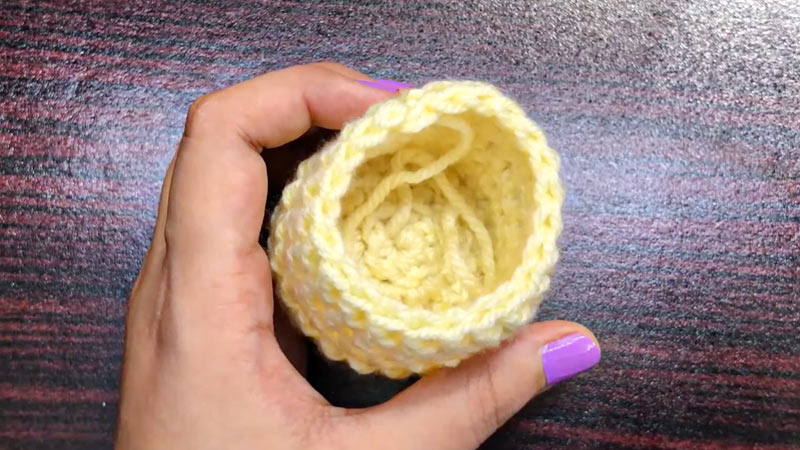 Embellishing crochet cylinders allow you to showcase your creativity and elevate your crochet projects to the next level.
Here are advanced tips and techniques for adding flair and unique touches to your crochet cylinders:
Surface Crochet
Surface crochet is a versatile technique that allows you to create decorative patterns, letters, or images on the surface of your crochet cylinder.
Start by pulling up a loop through your work, then yarn over and pull through to create slip stitches on the surface. You can use different colors to make your designs stand out.
Colorwork and Stripes
Experiment with colorwork to add complexity and visual interest to your crochet cylinders. Techniques like tapestry crochet or intarsia allow you to incorporate intricate patterns and stripes.
Changing colors at the beginning of each round or using the "invisible color change" method ensures seamless transitions between colors.
Embroidery
Embroidery offers endless possibilities for embellishing crochet cylinders. Utilize various embroidery stitches like satin stitch, French knots, or chain stitch to add flowers, animals, or intricate designs. Embroidery can give your project a unique and personalized touch.
Beadwork
Incorporating beads into your crochet cylinders can add elegance and texture. String beads onto your yarn and then work them into your project at desired intervals. Be sure to use a crochet hook that matches the bead size for smooth integration.
Applique and Motifs
Create small crochet motifs or appliqué pieces that complement your cylinder's design. These motifs can range from flowers to stars or any shape you desire. Attach them to the surface of your cylinder using whipstitch or slipstitch to add dimension and style.
Textured Stitches
Textured stitches such as popcorn, bobble, or shell stitches can lend depth and visual interest to your crochet cylinder. Experiment with these stitches to create raised patterns and a 3D effect.
Lace Inserts
Integrate delicate lace strips or motifs into your cylinder for an elegant touch. Crochet the lace separately and then sew or slip-stitch it onto the body of the cylinder. This technique creates a lovely contrast between solid and lacy sections.
Fringe and Tassels
For a playful or bohemian look, consider adding fringe or tassels to the bottom of your cylinder. Vary the colors and lengths of yarn to create unique fringe designs that suit your project's style.
Blocking and Shaping
Don't underestimate the power of blocking to enhance the appearance of your crochet cylinder. Wet blocking or steam blocking can help define stitches, even out tension, and give your project a more polished finish. Shaping with starch or wire can also create distinctive forms.
Experiment with Yarn Textures
Explore the world of specialty yarns, such as bouclé, chenille, or eyelash yarn, to create cylinders with unique textures. These yarns can add a tactile and visually interesting element to your project, making it truly one-of-a-kind.
10 Unique Yarn Options for Crocheting a Cylinder
Crocheting a cylinder can be a fun and creative project, and choosing unique yarn options can make your creation even more special.
Here are 10 unique yarn choices you can consider:
1. T-shirt Yarn
T-shirt yarn, also known as "tarn," is made by cutting old T-shirts into strips and stretching them. It's a sustainable choice that's both thick and sturdy, making it ideal for crocheting baskets, tote bags, or storage cylinders. You can choose from a wide range of colors by using different T-shirts.
2. Sari Silk Yarn
Sari silk yarn is a colorful and luxurious option created from recycled silk sari fabric. Its vibrant, jewel-toned hues make it perfect for crocheting decorative cylinders or jewelry holders that add a touch of opulence to any space.
3. Ribbon Yarn
Ribbon yarn is characterized by its flat, wide structure, which gives crochet projects a unique texture. Crocheting with ribbon yarn can be a fantastic choice for creating decorative cylinder covers, vase cozies, or even stylish belts.
4. Bamboo Yarn
Bamboo yarn is eco-friendly, soft, and silky. It's an excellent choice for crocheting cylinders like pencil holders, cosmetic brush organizers, or plant pot covers. Its natural sheen and softness make it a joy to work with.
5. Raffia Yarn
Raffia is a natural fiber derived from palm leaves. Crocheting with raffia yarn gives your cylinders a rustic and organic appearance.
Consider using raffia yarn for projects such as beach-themed storage containers, sun hats, or picnic utensil holders.
6. Recycled Plastic Bag Yarn
To make plarn, you cut plastic grocery bags into strips and fuse them together. Plarn is durable, waterproof, and suitable for outdoor use.
You can crochet plarn cylinders for items like outdoor plant pot covers, beach totes, or even durable storage bins.
7. Sparkle or Metallic Yarn
Add a touch of glamour to your crochet projects with sparkle or metallic yarn. These yarns have a subtle shimmer that can make your cylinders stand out, making them perfect for decorative items for special occasions, like holiday-themed centerpieces or party decorations.
8. Hemp Yarn
Hemp yarn is known for its strength and durability. It's an excellent choice for crocheting sturdy cylinders like water bottle carriers, market bags, or beach-themed storage containers. Hemp yarn has a natural, earthy look that complements outdoor and rustic settings.
9. Paper Yarn
Craft paper yarn is a unique and lightweight option. Crocheting with paper yarn can create decorative cylinders, lampshade covers, or even delicate jewelry organizers. It adds a creative and artistic touch to your crochet projects.
10. Velvet Yarn
Velvet yarn is plush and velvety, giving your crochet cylinders a luxurious feel. It's great for making soft and elegant items such as jewelry organizers, small pouches, or decorative pillow covers. Velvet yarn is available in various rich colors.
FAQS
Can I crochet a cylinder using different stitch patterns?
Yes, you can! While we've discussed single crochet for simplicity, you can use various stitch patterns like half-double crochet, double crochet, or even more intricate designs to create textured or lacy cylinders.
What if my cylinder turns out too narrow or too wide?
If your cylinder isn't the desired width, you can adjust it by adding or subtracting increased rounds during the initial stages or using different hook sizes to achieve the correct tension.
How can I make a seamless color change in my cylinder?
To achieve a seamless color change, simply introduce the new color in the final yarn over of the last stitch of the old color.
Can I crochet a cylinder with multiple colors or stripes?
Absolutely! You can create colorful cylinders with stripes by changing yarn colors at the start of a round or even by carrying both colors and switching between them as needed.
To Recap
Crocheting a cylinder is a fundamental crochet skill that opens the door to endless creative possibilities. We've walked you through the step-by-step process, from creating a magic ring to finishing off your project with finesse.
With practice, you can customize your cylinders in terms of size, color, and stitch pattern to suit your unique projects, whether they're practical or decorative.
Crocheting a cylinder is a building block for many crochet projects, and mastering this technique is a valuable addition to your crafting repertoire.
So, gather your materials, follow the instructions, and embark on a journey of crafting cylindrical wonders that reflect your creativity and skill in the world of crochet.