Crocheting a flower is a delightful and creative craft that adds a touch of handmade elegance to your projects.
Whether you're a seasoned crocheter or a beginner, making crochet flowers is a versatile skill that can be applied in various ways, from adorning accessories like hats and scarves to crafting decorative bouquets.
In this step-by-step guide, we'll explore the art of crocheting a basic flower. With just a few materials and some simple stitches, you can create beautiful, customizable flowers that add a personalized charm to your handmade creations.
Join us as we embark on this colorful and rewarding crochet journey to bring nature's beauty to your crochet projects.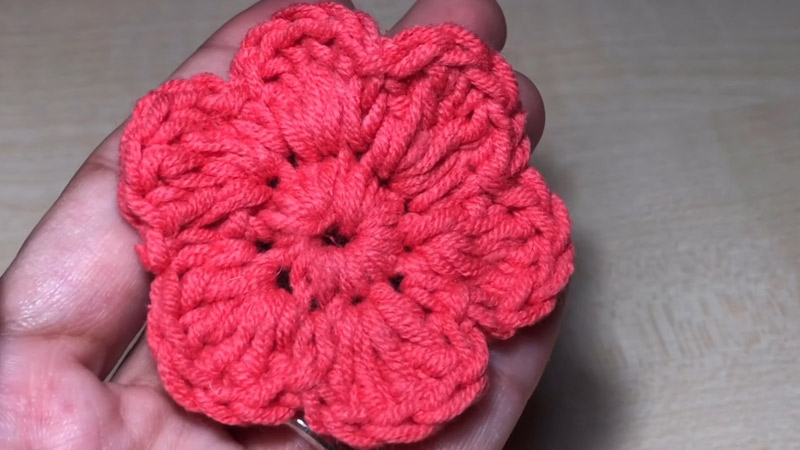 Easy 8 Steps to Crochet a Flower
Crocheting flowers is a delightful and creative way to add a touch of handmade charm to your projects.
Whether you want to embellish a hat, scarf, or blanket, or create a lovely bouquet, crocheted flowers are versatile and fun to make.
Here is the step-by-step guide on how to crochet a flower:
Materials You'll Need:
Yarn
Crochet Hook
Scissors
Yarn Needle
Instructions:
Step 1: Make a Slip Knot
To begin, create a slip knot by making a loop with your yarn. Leave a tail of about 4-6 inches. The slip knot forms the starting point of your crochet work, and the tail will be used later to secure the flower.
Step 2: Chain Stitch (Ch)
Chain stitches create the foundation for your flower. The number of chains you make determines the flower's size. For a small flower, start with 4-6 chain stitches. Adjust this number to suit your desired size.
Step 3: Join the Chain to Form a Ring
Insert your hook into the first chain (the one closest to the slip knot), yarn over, and pull through both loops on the hook. This forms a ring, which will be the center of your flower.
Step 4: Make the First Round of Petals
Begin by chaining 2 (this counts as your first double crochet) and then work 11 double crochets into the center of the ring.
To make a double crochet, yarn over, insert your hook into the center of the ring, yarn over again, pull through, yarn over, and pull through two loops on the hook, yarn over, and pull through the remaining two loops. Repeat this process until you have 12 double crochets in total.
Step 5: Create the Second Round of Petals
In the second round of petals, chain 2 (this counts as your first double crochet). Next, work 1 double crochet in the same stitch where you made the chain 2. In the next stitch, make 2 double crochets.
Continue this pattern (1 double crochet in one stitch, 2 double crochets in the next stitch) all the way around. By the end of this round, you should have 18 double crochets.
Step 6: Finish the Flower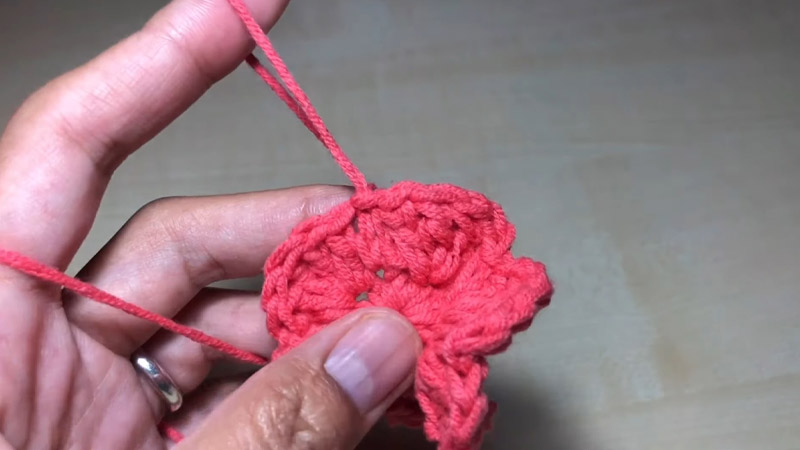 To complete your flower, cut the yarn, leaving a tail of a few inches. Pull the yarn through the loop on your hook and tighten it to secure it. Thread the yarn tail onto your yarn needle and weave it through the back of the flower to hide the end.
Step 7: Secure the Tail
Utilize the initial tail (from the slip knot) to sew the flower securely onto your project. You can also create a knot at the back of the flower to hold it together. Trim any excess yarn for a neat finish.
Step 8: Weave in Ends
To secure your work, thread the yarn tail through a yarn needle. Then, weave the yarn tail under the stitches on the back (wrong side) of the flower. 
Weave it horizontally and diagonally to anchor it securely. Avoid pulling too tightly, and trim any excess yarn.
Tips to Crochet a Flower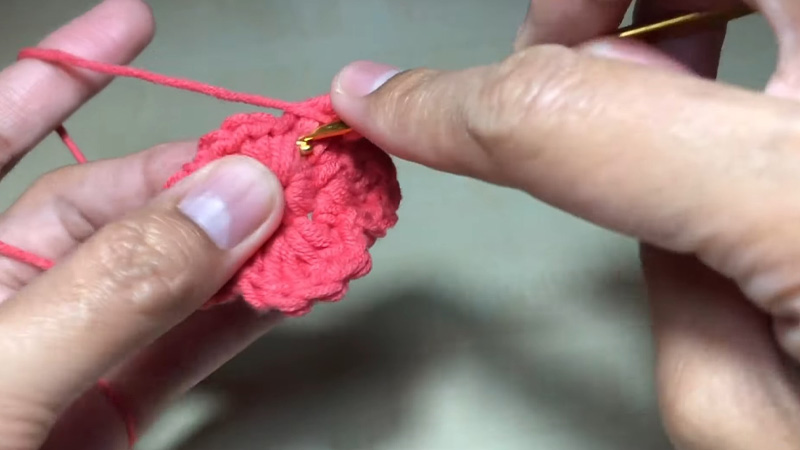 Crocheting flowers can be a fun and creative way to add decorative elements to your projects.
Here are some tips to help you crochet a beautiful flower:
Choose the Right Yarn and Hook Size
When selecting yarn and hook size for your crochet flower, think about the desired outcome.
Lighter-weight yarns paired with smaller hooks produce delicate and intricate flowers, while thicker yarns and larger hooks result in more substantial blooms.
Your choice of materials will significantly influence the final look and feel of your crocheted flower.
Read the Pattern Carefully
Before you begin, thoroughly read and comprehend the crochet pattern for the flower. Pay close attention to specific stitch instructions, color changes, and stitch counts mentioned in the pattern.
Understanding the pattern in advance will make the crocheting process smoother and more enjoyable.
Practice Basic Stitches
Before diving into a flower pattern, ensure you have a solid understanding of fundamental crochet stitches like single crochet, double crochet, and slip stitches.
Practicing these stitches separately will help you tackle more complex flower patterns with ease.
Use Stitch Markers
Place stitch markers strategically in your pattern, such as at the start of rounds or the center of the flower. These markers act as visual guides, helping you maintain the correct stitch count and stay organized as you crochet.
They're especially useful when working on patterns with multiple rounds or sections.
Color Selection
Experiment with various colors to create unique and eye-catching flowers. Different color combinations can yield striking results.
Consider using variegated or gradient yarns for captivating color transitions within your flower petals. Your color choices can infuse personality and vibrancy into your crochet projects.
Tension Control
Consistent tension in your yarn is essential for ensuring your flower has a uniform and polished appearance. Be mindful of your yarn tension throughout the project.
If your stitches feel too tight or too loose, adjusting your crochet hook size can help you achieve the desired tension for your flower.
Blocking
After completing your flower, consider blocking it to shape and flatten the petals. Blocking is a process that helps refine the appearance of your flower and ensures all elements lie flat and evenly. Follow the specific blocking instructions that correspond to the type of yarn you used.
Experiment with Petal Shapes
Get creative with the shapes of your flower's petals. Try your hand at pointed, rounded, or irregular petal shapes to achieve a unique and visually appealing floral design. Exploring various petal styles can open up new possibilities for your crochet projects.
Embellish the Center
The center of your flower provides an opportunity to add a personal touch. Consider sewing in buttons, beads, or embroidering a different color to create an eye-catching focal point.
The center embellishment can elevate the overall look of your flower and make it truly unique.
Assembly Techniques
If your flower pattern involves multiple pieces that need to be assembled, take your time with the assembly process.
Neatly sew or join the pieces together, ensuring that the final appearance of your flower is tidy and professional. Well-executed assembly can enhance the overall quality of your crochet project.
Add Leaves or Stems
To increase the realism of your crochet flower, consider adding crocheted leaves or stems. Green yarn works well for leaves, and you can shape them by increasing or decreasing stitches as needed.
Leaves and stems can lend a more natural and complete look to your floral creations.
Experiment and Customize
Feel free to modify existing flower patterns or create entirely new designs. Crocheting flowers is a creative endeavor, so don't hesitate to experiment with different stitches, color combinations, and techniques to achieve the exact look and feel you desire.
Customization allows you to express your unique style and creativity in your crochet projects.
Practice and Patience
Like any skill, crocheting flowers may require some practice to master. Don't be discouraged if your initial attempts don't turn out as expected.
With dedication, patience, and consistent practice, your crochet skills will improve over time, leading to more satisfying results in your projects.
Enjoy the Process
Ultimately, crocheting flowers should be a joyful and creative process. Have fun selecting colors, experimenting with different patterns, and watching your beautiful creations come to life.
Embrace the journey of crocheting, and remember that the more you enjoy the process, the more satisfaction your crochet projects will bring. Let your creativity flow and revel in the beauty of your handmade crochet flowers.
25 Easy Crochet Flower Patterns for Beginners
Simple and charming crochet flower patterns can be used to embellish various items, from hats and scarves to blankets and home decor.
With a few basic crochet stitches and some colorful yarn, you can create beautiful flowers to brighten up your world.
Here are some easy crochet flower patterns for beginners to get you started:
1. Basic Crochet Flower
This is a fundamental crochet flower pattern featuring ten elegant petals created with double crochets. It's an excellent choice for adding a touch of timeless charm to hats, scarves, and more.
2. Six-Petal Flower
Craft a delicate flower with six half double crochet petals arranged gracefully in a circular formation. It's perfect for providing subtle, understated accents.
3. Layered Flower
Elevate your crochet with a 3D effect by making two identical flowers and stacking them. This technique adds depth and a visually pleasing aspect to your projects.
4. Scalloped Flower
This charming crochet flower showcases scalloped edges, achieved by skillfully combining basic crochet stitches. It's an ideal choice when you want to infuse intricate details into your work.
5. Button-Centered Flower
Personalize your flower by incorporating a button or bead at its center. This versatile design allows you to customize your creations for different styles and purposes, whether for decoration or attachment.
6. Popcorn Stitch Flower
Add intriguing texture to your crochet with a flower pattern using popcorn stitches. The result is a distinctive, puffy appearance that draws attention and adds character.
7. Puff Stitch Flower
Craft a fluffy flower by employing puff stitches. The resulting texture provides a soft and playful aesthetic, making it perfect for embellishing baby items or adding a touch of whimsy to your projects.
8. Ruffled Flower
Enhance your creations with ruffled petals, imparting a whimsical and playful charm to your crochet pieces. It's an excellent choice for embellishing baby blankets, accessories, or feminine garments.
9. Simple Rosette
Craft an elegant rosette by crocheting a simple spiral pattern. This design exudes sophistication and is well-suited for adorning headbands, hair accessories, or special gifts.
10. Daisy Flower
Capture the timeless allure of daisies with this crochet pattern. Featuring a sunny yellow center and pristine white petals, it's a classic choice for adding floral motifs to your projects.
11. Tulip Flower
Shape your crochet into a tulip, complete with a long stem. This design is perfect for creating bouquets, floral arrangements, or elegant embellishments for various items.
12. Star Flower
Infuse uniqueness into your projects with a crochet flower boasting star-shaped petals. This design is sure to stand out and add a touch of originality to your work.
13. Picot Edged Flower
Elevate your crochet flower with delicate picot stitches around the edges, creating a dainty and decorative finish. This is an ideal choice for lacy and intricate projects.
14. Heart-Shaped Flower
Craft a crochet flower with charming heart-shaped petals, lending a romantic and whimsical touch to your creations, making them perfect for heartfelt gifts and special occasions.
15. Sunflower
Brighten up your crochet projects with a cheerful sunflower featuring a rich brown center and vibrant yellow petals. It brings the warmth and radiance of a sunny day to your work.
16. Rainbow Flower
Embrace a burst of color with a crochet flower pattern that showcases a rainbow of hues. This vibrant design adds a playful and eye-catching motif to your work, ideal for projects that need a pop of cheerfulness.
17. Granny Square Flower
Combine the beloved granny square pattern with a floral design for a retro and charming aesthetic. It's a versatile choice, suitable for blankets, throw pillows or nostalgic-inspired projects.
18. Posy Flower
Crochet dainty posy flowers with tiny stems, allowing you to create a lovely bouquet of miniature blooms. These are ideal for special occasions, such as weddings, or as decorative accents for table settings.
19. Pansy Flower
Capture the intricate beauty of pansies with this crochet pattern. It features distinct markings on its petals, adding an elegant touch to your projects.
Pansies are known for their unique, "face-like" appearance, and this crochet pattern beautifully recreates that charm.
20. Hibiscus Flower
Transport your crochet to tropical locales with a large, crochet hibiscus flower. This design evokes the exotic beauty of the hibiscus plant, making it perfect for summer-themed projects or adding a touch of the tropics to your creations.
21. Buttonhole Flower
Craft a flower with a built-in buttonhole in the center, simplifying attachment to various items like headbands, scarves, bags, or other accessories. This practical design adds both functionality and beauty to your work.
22. Layered Daisy
Create a playful and multi-layered daisy flower, offering added dimension and visual interest to your crochet projects. This design adds depth and whimsy to your creations, making it a versatile choice for various applications.
23. Ribbon Flower
Experiment with different textures by using ribbon yarn to crochet a textured flower. The result is a tactile and unique addition to your creations, perfect for projects that require a soft and luxurious feel.
24. Flower Applique
Craft small crochet flowers to use as appliques. These charming motifs add a touch of whimsy and charm to clothing, accessories, or home decor items.
They're a versatile choice for customizing your projects and adding a personalized touch.
25. Flower Garland
String together a series of crochet flowers to create a vibrant and colorful garland. This versatile decorative element is ideal for special events, celebrations, or simply for brightening up living spaces.
The garland adds a festive and cheerful atmosphere to any setting, making it a delightful addition to your crochet repertoire.
FAQS
Can I use different crochet stitches to make a flower?
Absolutely! While we discussed double crochets in this guide, you can experiment with other stitches like single crochets, half-double crochets, or even combinations to create unique flower textures and appearances.
How can I make larger or smaller crochet flowers?
To adjust the size of your crochet flower, simply change the number of initial chain stitches and rounds.
Are there special tips for making multi-colored crochet flowers?
To create multi-colored flowers, you can switch yarn colors at any round to achieve the desired effect.
Can I stiffen my crochet flowers for a more structured look?
Yes, you can use a fabric stiffener or a mixture of water and glue to stiffen your crochet flowers.
What are some creative ways to use crochet flowers in projects?
Besides embellishing accessories, consider sewing crochet flowers onto pillows, tablecloths, or tote bags.
They can also be attached to hairpins or used as appliques on children's clothing for a whimsical touch. Explore different ideas to incorporate crochet flowers into your crafts!
To Recap
Crocheting a flower is not only a creative and enjoyable endeavor but also a wonderful way to infuse your handmade projects with a touch of nature's beauty.
Through this step-by-step guide, we've demystified the process, making it accessible to both beginners and experienced crocheters.
The versatility of crocheted flowers allows you to explore various yarn types, colors, and sizes, offering endless possibilities for personalization.
Whether you choose to embellish a hat, or scarf, or create a bouquet, these handmade blooms carry a unique charm that can brighten up any creation.
So, pick up your crochet hook, select your favorite yarn, and let your imagination bloom as you craft these delightful floral accents to add a special touch to your crochet repertoire.