You are a crochet beginner and want to surprise people around you? The granny square can be just the right one for you!
At first look, the granny square may look too difficult to do! But don't worry, it's quite simple.

With a little bit of focus and patience, you can do it all. So, don't you want to know how to crochet a granny square? We will offer and guide you all the way.
Today, we will learn how you can make a granny square. Have you selected the right crochet hook before you read this article?

If you haven't, read this article and figure out the right crochet hook size for your work.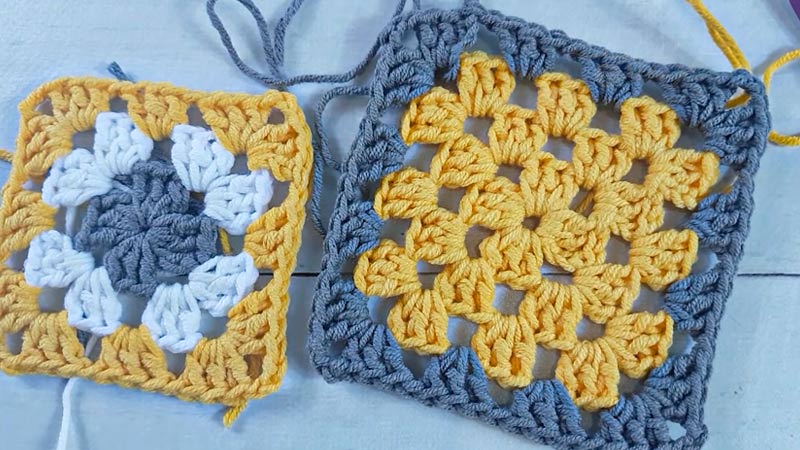 What Is Granny Square?
In colors and sewing, the granny square is one of the most classic and beginner-friendly crochet patterns. Filled with beautiful charming motifs, it's only made of basic crochet stitches, similar to chain stitch and double crochet stitch.
Not only great for honing your crochet skills but it also sets the base for larger projects like blankets, scarves, and even garments.
The granny crochet has been around since the late 1800s and with time, it only became more popular. You can see the granny square motifs from the catwalk of London to New York.
Plus, it's fun to learn and build up the granny crochet! Keep reading with us and find out how to crochet a granny square.
How to Crochet A Granny Square?
Before you start crocheting, here are a few things you will need.
Yarn: Choose any color you like in a medium-weight yarn (worsted or aran weight).
Crochet Hook: Use an appropriate crochet hook size for your chosen yarn. A G/6 (4.0 mm) hook is a common choice. For beginners, we suggest H/8 5 mm crochet.
Scissors: For cutting yarn.
Yarn Needle: To weave in the yarn ends.
Now, follow the steps with us and make your granny square!
Step 1: Make A Slip Knot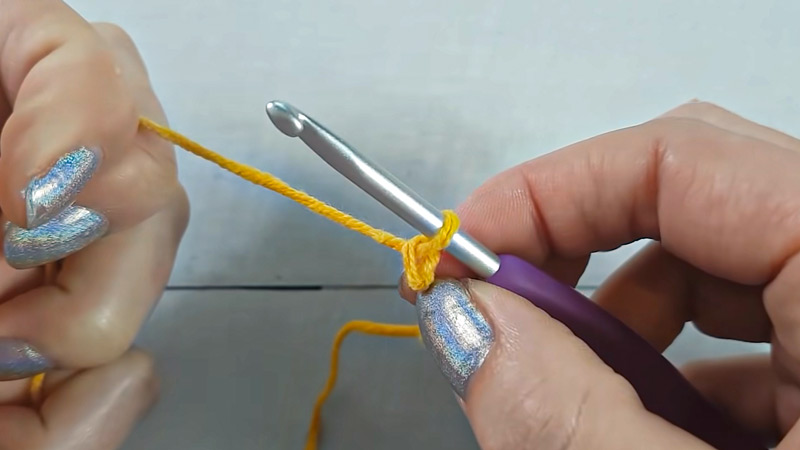 To start the Granny Square, you must create a slip knot first. Leave a tail of around 4-6 inches for weaving in later. Have your crochet hook through the slip knot loop.
Step 2: Chain Stitch for the Center Ring
Yarn over and pull through the loop on the hook. You will have Chain 4. Now again, yarn over and pull through the loop on the hook three times to make three chains.
Next, to form a ring, you have to place the hook into the first chain (the one closest to the hook) you've made. Also, pull the yarn through both loops on the hook to create a slip stitch. It will form a ring.
Step 3: Start the First Round
Here, you have to complete a few essential steps one by one. Follow them with us,
Let's start with Chain 3.
Chain 3: Wrap the yarn around your hook and place the hook into the center of the ring. You will have to yarn three times over here.

(1) Yarn over again and pull up a loop.
(2) Yarn over and pull through the first two loops on the hook.
(3) Yarn over once more and pull through the remaining two loops.

Do this and it will be your first double crochet stitch. Now, Chain No. 2 will create the corner space of the granny space.
Next, you have to make three double crochet stitches in the ring. Chain 2 will be your next corner space.
At last, make three more double crotchet stitches and Chain 2 for the corner space. Repeat this two more times to create a total of four groups of 3 double crotchet stitches with corner spaces in between.
Step 4: Join the Round
After finishing the last corner space, Chain 2, place the hook into the top of the beginning of Chain 3 of this round.
You are almost done! Cut off the yarn and leave a tail. Pull the tail through the loop on the hook to secure it.
Repeat as many rounds as you may need. Each round will have corner spaces and groups of double crochet stitches along the sides.
Be a little creative and use the same or different colors to create versatile patterns. When the Granny Square is of the size you want, thread the tail onto a yarn needle and weave it through the stitches to secure it.
And it's done.
Variations of Granny Square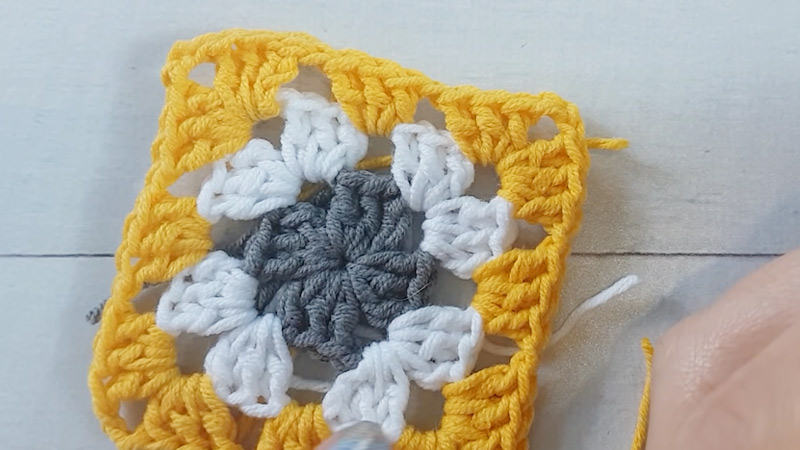 You won't believe it! There are more than hundreds of granny square variations! So, not only the grannies but also the young generation is also loving the beautiful motifs and rounds of granny squares.
Some popular variations of Granny Square are,
Solid Granny Square
No Gaps Solid Granny Square
Sunburst Granny Square
Granny Circle
Granny Hexagons
Texture Twist and more!
In this article, we have worked with the initial rounds of granny crochet. You can create your granny square with any number of rounds! It depends on how big the project is you are working on!
Note:
Often crochet experts use short terms to have a flawless discussion on crochets. Even though we haven't stated any short terms here for the convenience of our beginner friends.

When you find out the abbreviations somewhere else, don't get confused. Here's what they mean,
Chain: Ch
Chain Space: Ch-sp
Double Crotchet: Dc
Slip Stich: Sl-st
Stitch(es): st(s)
Final Words
We are almost at the end of our article. Crochet can be both fun and creative! For many, it's an ideal means of meditation too.
The granny square can be a great point to start, even for beginners. It would be silly to underestimate the simplicity of this crochet style. Now, it's used worldwide as a symbol of fashion.
If you want to start with the granny square, our article can be a good point to start! For more, stay tuned with us.

Leave a comment below to know and let us know how far you are with your granny square.
Also, don't forget to share this article with your friends and help them learn this beautiful crochet!