Machine embroidery on tulle fabric is a delicate and intricate art that adds a touch of elegance to various creations, from bridal veils and evening gowns to home decor and accessories.
Tulle's sheer, ethereal quality makes it a popular choice for achieving a lacy and sophisticated look. However, embroidering on tulle requires special techniques and considerations due to its fragile nature.
This guide will walk you through the steps and provide valuable tips to help you master the art of machine embroidery on tulle fabric.
Whether you're a seasoned embroiderer or a beginner looking to expand your skills, you'll discover how to create stunning, professional-quality embroidery on this beautiful and ethereal material.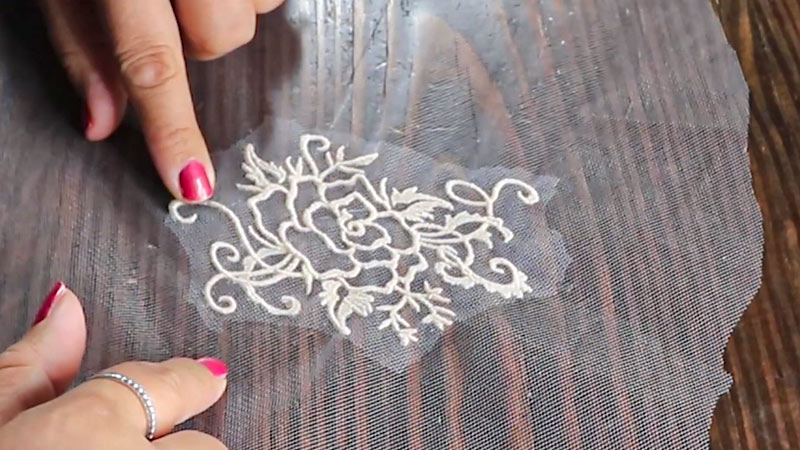 How to Do Machine Embroidery on Tulle Fabric?
Machine embroidery on tulle fabric can add a touch of elegance and intricate detailing to your projects, whether you're creating bridal veils, evening gowns, or delicate home decor items.
Tulle is a sheer, lightweight fabric known for its fine net-like appearance, making it perfect for adding a layer of sophistication to your embroidery work.
Here's a step-by-step guide on how to do machine embroidery on tulle fabric:
Step 1: Gather Your Materials and Tools
Materials and Tools Needed:
Tulle fabric
Embroidery machine
Embroidery design or pattern
Stabilizer (water-soluble or tear-away)
Appropriate embroidery thread (polyester or rayon)
Embroidery needle (size 75/11 or 80/12)
Embroidery hoop
Temporary adhesive spray
Scissors
Bobbin thread
Design template (optional)
Step 2: Prepare the Tulle Fabric
Choose the tulle fabric that suits your project, considering color and stiffness. If the tulle fabric is washable, gently wash it and then press it to remove any wrinkles.
Ensure that the fabric is completely dry before you proceed to prevent any issues during embroidery.
Step 3: Choose and Prepare the Design
Select an embroidery design that complements your project and works well with sheer fabric like tulle. Ensure that the design is digitized and compatible with your embroidery machine.
Resize and position the design using embroidery software if necessary to fit your project's dimensions.
Step 4: Hoop and Stabilize
Prepare your embroidery hoop by securing a piece of stabilizer. Choose either a water-soluble or tear-away stabilizer based on your preference and the design complexity.
Apply a light layer of temporary adhesive spray on top of the stabilizer. Carefully place the tulle fabric on the hooped stabilizer, ensuring it's smooth and evenly stretched without wrinkles.
Step 5: Thread and Needle Setup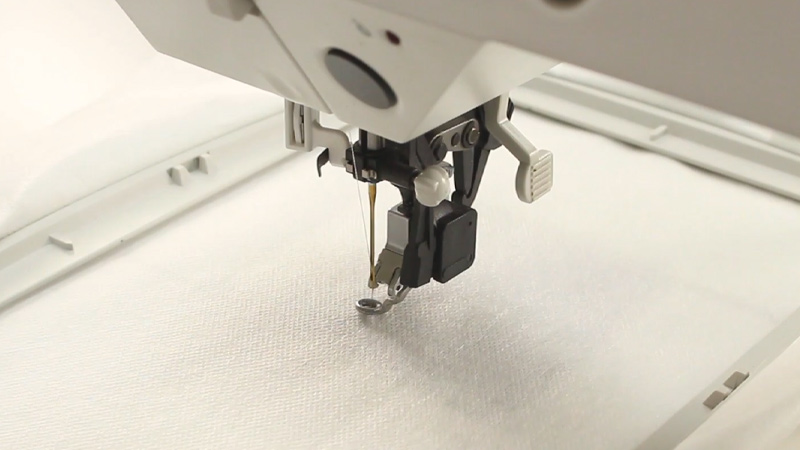 Thread your embroidery machine with the appropriate embroidery thread on the top and bobbin, following the manufacturer's instructions. Insert an embroidery needle (size 75/11 or 80/12) that's suitable for lightweight fabrics like tulle.
Step 6: Adjust Machine Settings
Take the time to adjust your embroidery machine settings to match the specific design and fabric you're working with. This includes setting the stitch speed, tension, and stitch density according to the requirements of your project.
Step 7: Begin Embroidery
With everything set up, lower the presser foot and start the embroidery machine. Keep a close eye on the process, especially when working with delicate tulle fabric, to ensure that the stitching is accurate and smooth.
Step 8: Secure Edges
If your embroidery design has an outline or border, consider using a narrow satin stitch or a delicate overlock stitch to secure the edges of the tulle fabric around the design. This extra step can help prevent fraying.
Step 9: Remove Excess Stabilizer
After completing the embroidery, it's time to remove any excess stabilizer. If you used a tear-away stabilizer, gently tear it away from the fabric edges.
If you used a water-soluble stabilizer, follow the manufacturer's instructions for dissolving it completely, ensuring no residue remains.
Step 10: Final Touches and Project Completion
Gently press the embroidered tulle with a low-heat iron. Use a pressing cloth to protect the delicate fabric from direct heat. 
Once the embroidery is well-pressed, incorporate your embroidered tulle into your project, whether it's for a bridal veil, dress, or a beautiful home decor item.
Tips to Machine Embroidery on Tulle Fabric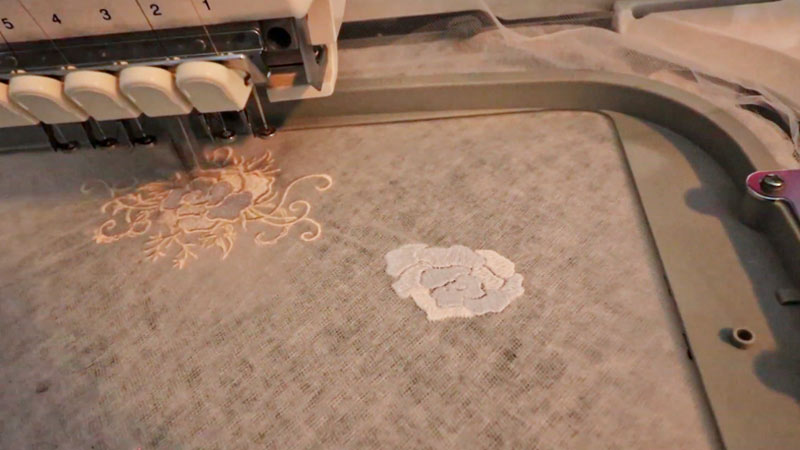 Machine embroidery on tulle fabric can be a bit challenging due to its delicate nature, but with the right techniques and careful attention, you can achieve beautiful results.
Here are some tips to help you successfully machine embroider on tulle fabric:
Select the Right Tulle Fabric
When choosing tulle, consider the project's requirements. Pay attention to color, stiffness, and texture. Stiffer tulle can be easier to work with for certain projects, such as structured garments, while softer tulle may be better suited for ethereal, flowing designs.
Use the Appropriate Needle
Opt for a size 75/11 or 80/12 embroidery needle specifically designed for lightweight fabrics. This needle choice minimizes the risk of damaging the tulle and ensures your stitches are smooth and even.
Choose the Right Stabilizer
Stabilizers play a crucial role in preventing fabric distortion during embroidery. Depending on your project's complexity, select either tear-away or water-soluble stabilizers. Conduct tests on scrap tulle to determine which type works best for your specific project.
Practice on Scrap Fabric
Before embarking on your main project, take the time to practice on a scrap piece of tulle using the same settings as your final design. This practice run allows you to fine-tune settings, such as thread tension and stitch density, to achieve the best results.
Hooping and Stabilizing
Proper hooping is essential. Use an appropriately sized embroidery hoop to secure the tulle and stabilizer. Ensure that the tulle is held taut within the hoop, but avoid excessive tension that could lead to distortion.
Temporary Adhesive Spray
Applying a light mist of temporary adhesive spray on the stabilizer before positioning the tulle can greatly assist in keeping the fabric in place during embroidery. It helps to prevent shifting without leaving any sticky residue.
Slow Down Stitch Speed
Reduce the stitch speed of your embroidery machine when working with tulle. Slower stitching allows for better control and reduces the risk of the fabric shifting or bunching up as the needle passes through it.
Thread Tension Adjustment
Tulle is delicate, so it's often necessary to lower the thread tension slightly. This adjustment helps prevent puckering or pulling of the fabric during embroidery. Test the tension on a scrap piece of tulle to find the optimal setting.
Secure the Edges
If your design includes outlines or borders, consider using a narrow satin stitch or a delicate overlock stitch to secure the edges of the tulle fabric. This step prevents fraying and adds extra stability to your embroidered design.
Monitor the Embroidery Process
Pay close attention during the embroidery process, especially in the initial stitches. Ensure that the needle isn't causing the tulle to bunch up or snag on the embroidery foot. Make any necessary adjustments promptly.
Trim Excess Threads
After completing the embroidery, carefully trim any loose threads on both the front and back of the fabric. Be meticulous in your trimming, but take care not to accidentally cut the tulle itself.
Careful Removal of Stabilizer
When removing the stabilizer, do so gently and gradually. If you used a tear-away stabilizer, carefully tear it away from the fabric edges to avoid any damage.
If a water-soluble stabilizer was used, dissolve it following the manufacturer's instructions, ensuring no residue remains.
Press with Caution
Use a low-heat setting on your iron when pressing the embroidered tulle. Always place a pressing cloth between the iron and the tulle to protect the delicate fabric. Excessive heat can cause the tulle to melt or lose its shape.
Experiment and Practice
The key to success in machine embroidery on tulle is practice. Start with simpler designs and gradually work your way up to more complex projects as you become more comfortable with the fabric.
As you gain experience, you'll develop a better understanding of how tulle behaves and how to achieve outstanding results with this delicate material.
FAQS
Can I use a stabilizer on both sides of the tulle fabric?
Using a stabilizer on both sides of the tulle is not recommended. 
It can lead to excessive stiffness and may affect the delicate appearance of the fabric.
How do I prevent thread tension issues on tulle?
Tension issues can occur when embroidering on tulle. 
To avoid this, make sure your machine is well-maintained, use a high-quality embroidery thread, and experiment with different tension settings on scrap fabric before starting your project.
Can I use an embroidery design with a lot of fill stitches on tulle?
While it's possible to use designs with fill stitches on tulle, it's important to be cautious. 
How do I clean and care for machine-embroidered tulle fabric?
To clean embroidered tulle, gently hand wash it in cold water with mild detergent and avoid wringing or twisting. 
What types of projects are best suited for tulle embroidery?
Tulle embroidery is versatile and can be used in various projects, including bridal veils, evening gowns, home decor, and accessories.
To Recap
Machine embroidery on tulle fabric is a captivating craft that offers endless creative possibilities. While it presents its unique challenges, the results are nothing short of enchanting.
With the right materials, techniques, and practice, you can transform ordinary tulle into extraordinary embroidered masterpieces.
Whether you're crafting a dreamy bridal ensemble, embellishing delicate home decor, or adding a touch of elegance to your wardrobe, the tips and steps provided in this guide will serve as your roadmap to success.
As you navigate the intricacies of tulle embroidery, remember that patience and persistence are your allies.
Embrace each project as an opportunity to refine your skills, and soon, you'll be crafting exquisite, one-of-a-kind creations that showcase the beauty and versatility of machine embroidery on tulle fabric.