Preserving watercolor paintings is a vital endeavor for artists and art enthusiasts alike, as it ensures that these delicate and intricate artworks retain their vibrancy and beauty for generations to come.
Watercolors, known for their transparency and luminosity, require special care to protect them from fading, yellowing, and damage over time.
This comprehensive guide outlines essential steps, from using quality materials and creating an ideal working environment to proper handling, framing, and storage techniques.
By following these guidelines, you can safeguard your watercolor creations, ensuring that their aesthetic appeal and cultural significance remain intact, serving as a testament to your artistic expression and creativity, while also enriching the artistic heritage for future generations to appreciate and admire.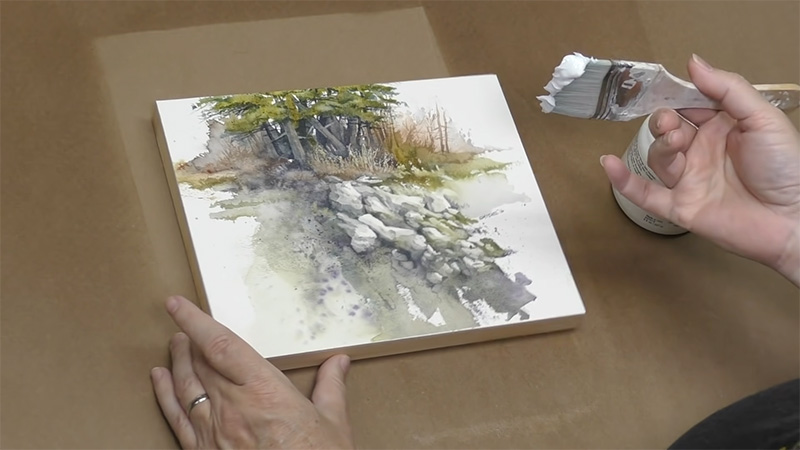 How to Preserve Watercolor Painting?
Preserving watercolor paintings is crucial for maintaining their beauty and ensuring they last for generations. Watercolors are delicate and require special care to prevent fading, yellowing, and damage.
Here's a comprehensive guide on how to preserve watercolor paintings:
Start With Quality Materials
Begin by selecting top-quality materials for your watercolor artwork. Opt for professional-grade watercolor paints, brushes, and acid-free watercolor paper.
These materials provide a sturdy foundation for your painting, helping it withstand the test of time.
Create an Ideal Working Environment
Establish a controlled workspace free from dust and pollutants. Maintain consistent temperature and humidity levels, aiming for around 50% relative humidity and 70°F (21°C).
This controlled environment will minimize the risk of paper warping and paint issues during creation.
Handle With Care
Practice gentle handling when working on your watercolor painting. Prior to touching the artwork, thoroughly wash your hands to prevent the transfer of oils and dirt.
Use clean brushes and tools, and hold the painting by its edges to avoid leaving fingerprints on the painted surface.
Allow Proper Drying Time
Ensure each layer of paint is completely dry before adding the next. Rushing the drying process with heat sources can lead to cracks or other damage.
Patience is key in this step to maintain the integrity of your colors.
Matting and Framing
If you intend to frame your watercolor painting, choose acid-free matting and framing materials. These prevent deterioration over time. Consider using UV-protective glass or acrylic to shield the artwork from harmful UV rays that can cause fading.
Proper Storage
When storing your watercolor paintings, protect them from environmental factors. For framed paintings, keep them in a cool, dark location, away from direct sunlight and temperature fluctuations.
For unframed works:
Flat Storage: Place them between acid-free foam core or cardboard sheets to maintain their flatness.
Portfolio: Utilize acid-free portfolio cases for organized and secure storage.
Flat File Cabinet: Invest in a flat file cabinet with acid-free folders for convenient and safe storage.
Regular Inspection and Maintenance
Regularly inspect your stored watercolor paintings for any signs of damage or deterioration. Gently remove dust or dirt with a soft brush or compressed air.
Maintain a stable and pest-free storage environment to ensure the artwork remains in pristine condition.
Shield From Direct Sunlight
If you decide to display your watercolor painting, place it in a location where it won't be exposed to direct sunlight. Prolonged exposure to UV rays can lead to color fading and damage over time.
Consider Conservation Framing
For particularly valuable or irreplaceable watercolor paintings, consult a professional conservator for conservation framing. This specialized framing technique offers the highest level of protection and preservation.
What's the Significance of Humidity and Temperature Control in Preserving Watercolor Paintings?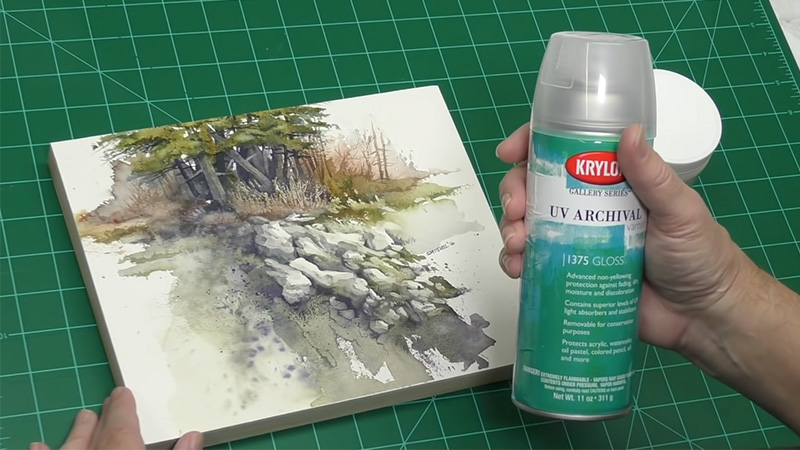 The significance of humidity and temperature control in preserving watercolor paintings cannot be overstated. Watercolor artworks, with their delicate pigments and paper surfaces, are particularly vulnerable to environmental fluctuations.
Here's the significance of maintaining proper humidity and temperature levels:
Prevention of Paper Warping
Watercolor paper is sensitive to changes in humidity. High humidity can cause the paper to absorb moisture and warp, while low humidity can lead to paper shrinking and curling.
Maintaining a consistent humidity level helps prevent these issues, ensuring that the paper remains flat and stable.
Avoidance of Mold and Mildew
High humidity levels create a favorable environment for mold and mildew growth on paper surfaces. Mold and mildew not only damage the paper but can also affect the pigments and colors in the painting.
Controlling humidity helps prevent the development of these harmful microorganisms.
Color Stability
Fluctuations in temperature and humidity can cause pigments in watercolor paintings to expand and contract. This can result in cracking, flaking, or other forms of paint damage.
Consistent conditions help preserve the stability of the colors and prevent these types of damage.
Prevention of Foxing
Foxing refers to the development of small brown or reddish-brown spots on paper surfaces. These spots are often caused by the presence of microorganisms or metal impurities in the paper.
Controlling humidity can help mitigate the conditions that lead to foxing.
Longevity of Framing Materials
Temperature and humidity fluctuations can also impact the framing materials used to display the watercolor painting. Wooden frames can warp, and matting materials can deteriorate if exposed to extreme conditions.
Maintaining a stable environment extends the life of framing components.
Preservation of Paper Quality
Over time, exposure to high humidity can cause acid-free paper to become acidic, leading to yellowing and deterioration. Proper humidity control helps prevent this degradation, preserving the quality and appearance of the paper.
Benefits of Preserving Watercolor Paintings for Future Generations?
Preserving watercolor paintings for future generations carries numerous benefits, both cultural and artistic.
Here are some compelling reasons why it's important to protect and conserve these artworks:
Cultural Heritage
Watercolor paintings often capture the essence of a time, place, or culture. Preserving them allows future generations to connect with and learn from historical and cultural contexts.
These artworks provide valuable insights into the past, offering a window into the traditions, landscapes, and societies of bygone eras.
Artistic Legacy
Many watercolor artists leave behind a significant body of work that contributes to the art world's legacy. By preserving their creations, we ensure that the artistic contributions of these individuals are not lost to time.
Future artists can draw inspiration and learn from these masters, fostering artistic evolution.
Aesthetic Enjoyment
Watercolor paintings, with their delicate and translucent qualities, often evoke a sense of beauty and serenity. Preserving these artworks allows future generations to enjoy their aesthetic value, providing a source of inspiration and pleasure.
Historical Documentation
Watercolor paintings frequently serve as historical documents. They depict architectural landmarks, landscapes, and scenes that may no longer exist or have undergone significant changes.
Preserved artworks offer valuable references for historians, architects, and urban planners studying the past.
Technique and Skill
Watercolor is a challenging and versatile medium. Preserved paintings can serve as educational tools, showcasing various techniques, styles, and approaches to the medium.
Future artists and art students can study these works to enhance their own skills and creativity.
Emotional Connection
Watercolor paintings often evoke emotions and feelings. Preserving these artworks allows future generations to connect with the emotions and experiences of the past, fostering empathy and understanding across time periods and cultures.
Cultural Diversity
Watercolor paintings represent diverse artistic expressions from around the world. Preserving this diversity ensures that a broad range of voices and perspectives are accessible to future generations, promoting cultural understanding and appreciation.
Collective Memory
Watercolor paintings contribute to our collective memory and identity as a society. They are part of our shared cultural heritage, reflecting our values, aspirations, and creativity.
Preserving them is an act of preserving a collective memory.
Financial Value
Some watercolor paintings can become valuable investments over time. Preserving these artworks ensures their continued financial value, potentially benefiting future generations economically.
Environmental Awareness
Watercolor paintings often depict natural landscapes. Preserving these artworks can serve as a reminder of the importance of environmental conservation and the need to protect our natural world for future generations.
FAQs
What are the best practices for preserving watercolor paintings?
Preserving watercolor paintings involves using quality materials, proper handling, ideal storage conditions, and more. Learn how to protect your artwork for generations to come.
Why is it important to use acid-free materials for watercolor paintings?
Acid-free materials prevent yellowing and deterioration in watercolor paintings. Discover why they are crucial for preserving the integrity of your artwork.
How can I prevent fading and color changes in watercolor paintings?
Learn how to shield your watercolor paintings from direct sunlight and harmful UV rays to prevent fading and color changes over time.
How can I prevent fading and color changes in my watercolor paintings?
Prevent fading and color changes in watercolor paintings by storing them away from direct sunlight and using UV-protective glass or acrylic when framing.
Are there any environmental factors that can damage watercolor paintings?
Yes, environmental factors like humidity fluctuations, exposure to direct sunlight, and pollutants can harm watercolor paintings, causing deterioration and color fading.
To Recap
The preservation of watercolor paintings is a meticulous and essential process that goes beyond safeguarding mere pigments on paper. It is about preserving the artist's vision, creativity, and a piece of our shared cultural heritage.
By adhering to the steps outlined in this guide, artists and art enthusiasts can ensure that their watercolor artworks remain as breathtaking and meaningful as the day they were created.
These steps, which encompass using quality materials, maintaining ideal environments, gentle handling, and proper storage, collectively serve as a promise to future generations.
They guarantee that the delicate hues and intricate details of watercolor paintings will continue to inspire, captivate, and contribute to our artistic legacy, enriching the tapestry of human creativity across time.