Quilting and appliqué are two beloved techniques in the world of textile arts. While they each offer unique opportunities for creative expression, many quilters wonder whether it's acceptable to quilt over their meticulously crafted appliqué designs.
This dilemma arises from the desire to enhance the overall aesthetic of a quilt while preserving the integrity of the appliqué work.
In this exploration, we will delve into the considerations that quilters should bear in mind when deciding whether or not to quilt over appliqué.
We'll examine the benefits and potential challenges of this approach, and offer insights to help you make an informed choice. Whether you're a seasoned quilter or a novice, this discussion will shed light on the delicate balance between quilting and appliqué, helping you achieve stunning textile creations.
Is It OK to Quilt Over Appliqué?
If you are asking yourself whether should I quilt over applique, I can answer for you. Yes, it is perfectly okay to quilt over appliqué in quilting projects. Quilting over appliqué can add texture, dimension, and stability to the overall design. However, there are some considerations to keep in mind:
Needle Selection
Use an appropriate quilting needle, such as a sharp or quilting needle, to ensure smooth stitching through the layers.
Quilting Design
Plan your quilting design carefully, taking into account the placement of the appliqué. You can quilt around, over, or through the appliqué, depending on your desired effect.
Thread Color
Choose a thread color that complements both the background fabric and the appliqué. This ensures that the quilting stitches blend harmoniously with the overall design.
Stitch Length
Adjust your machine's stitch length to match your quilting style. Longer stitches may be suitable for larger designs, while shorter stitches work well for more intricate quilting.
Test First
Before quilting your entire project, it's a good idea to create a sample piece with similar fabrics and appliqué elements. This allows you to test your quilting design and settings to ensure the desired result.
Quilting over appliqué can enhance the visual appeal and structural integrity of your quilt, so feel free to experiment with different techniques and designs to achieve the look you desire.
Do You Apply Appliqué Before Quilting?
If you are doing a small, simple project and don't mind quilting it first and then adding the appliqué afterward, go ahead and do it that way.
One consideration of quilting first and appliquéing later is that you will have to put the quilted project into your sewing machine to finish the edges of the appliqué pieces.
Another option would be to just sew all of the pieces together without any added Applique layers, which would save time in the end. Ultimately, what works best for you depends on how detailed your project is and how much time you want to spend on it.
Keep in mind that if there are any areas where there may be overlap or seaming required between appliqués (particularly if they're large), make sure to plan for those steps before beginning your project so as not to get overwhelmed later on
Should You Quilt Over Embroidery?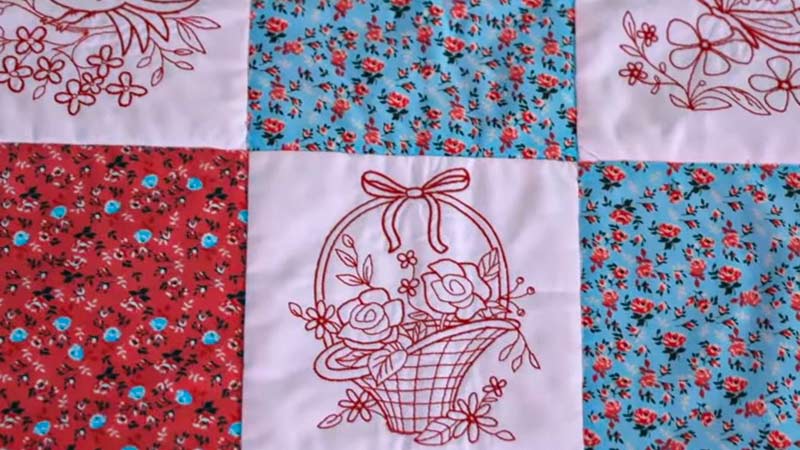 Sometimes stitching over the embroidery is the best option when fabric needs stabilization or the quilt will see heavy use (such as a baby quilt). You can stitch either above or below the design, depending on your preference and what looks best in your project.
Make sure to backstitch securely to avoid any loose stitches and gaps in your quilt top. Be careful not to stretch or pull on the embroidery while you're stitching; this could cause it to tear or fray. Once you've finished stitching, be sure to wash the quilt thoroughly before using it for its intended purpose
How Quilting Is Different From Appliqué?
Quilting and appliqué are two distinct techniques used in the world of textile and fabric crafts. They both involve sewing, but they serve different purposes and have unique characteristics. Here's how quilting differs from appliqué:
Quilting:
Construction Technique: Quilting is primarily a construction technique used to create a layered fabric structure. It involves sewing together two or more layers of fabric with a filling material (batting) in between. The layers are typically secured using a running stitch pattern.
Purpose: The primary purpose of quilting is to create warm and functional fabric items, such as quilts, blankets, and bedspreads. Quilting stitches not only hold the layers together but also add decorative patterns and texture to the fabric.
Fabric Pieces: Quilting pieces are usually square or rectangular and are often cut into specific shapes or blocks. These pieces are then arranged in a pattern to create the quilt top.
Technique: Quilting involves stitching through all layers of fabric and batting simultaneously. Quilting can be done by hand or with a sewing machine, and there are various quilting techniques and patterns to choose from.
Examples: Traditional quilting techniques include patchwork quilts, log cabin quilts, and star quilts.
Appliqué:
Construction Technique: Appliqué is an embellishment technique where smaller pieces of fabric are stitched onto a larger background fabric to create a decorative design. Unlike quilting, it doesn't involve layering fabrics with batting.
Purpose: The primary purpose of appliqué is to add decorative elements or designs to fabric items. It is often used in quilting projects but can also be applied to clothing, accessories, and home decor.
Fabric Pieces: In appliqué, various shapes and designs are cut out of one fabric and then attached to another fabric surface. These shapes can be intricate and detailed.
Technique: Appliqué involves stitching around the edges of the fabric pieces to attach them to the background fabric. This can be done using different stitches, such as satin stitch, blanket stitch, or straight stitch. Appliqué work can be done by hand or with a sewing machine.
Examples: Appliqué is commonly used in creating designs like flowers, animals, or intricate patterns on quilts, clothing, pillowcases, and wall hangings.
Can You Appliqué with a Walking foot?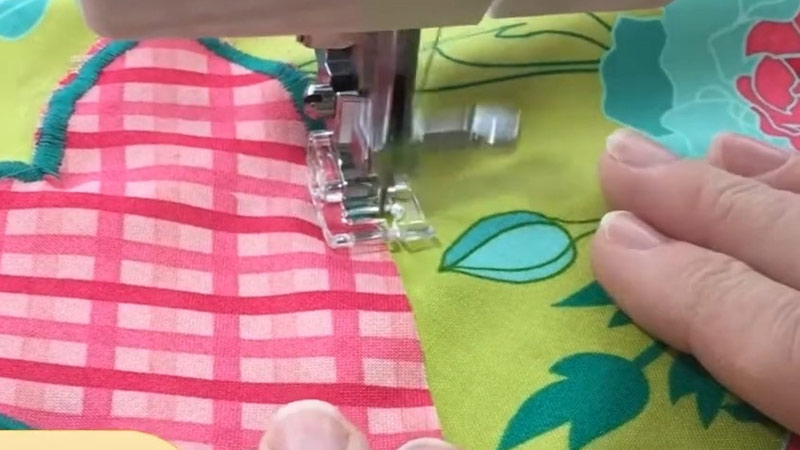 Yes, you can use your walking foot for more than straight stitching – a zig-zag stitch should be just fine. Walking feet make appliquéing easier because the fabric moves forward instead of backward under the needle.
They also help keep fabrics taut so that stitches are close together and the finished piece looks smoother and professional-looking. If you're not sure if a walking foot is right for you, try using it on a sample project first to see how it works in your sewing machine.
There are many different brands of walking feet available, so find one that fits your needs and style of sewing best
What is a whole cloth Quilt?
A wholecloth quilt is a quilt made from a single length of extra-wide fabric. The quilting stitches themselves form the design of the quilt, making it one of the most pure forms of quilting there is.
Early whole cloth quilts were called "linsey-woolsey", and they became popular in the 18th century as an affordable way to display fine fabrics and intricate stitching techniques. Today, whole cloth quilts are still handmade and often used for indoor decorating or special occasions like weddings or births.
If you're interested in trying your hand at making a whole cloth Quilt, be sure to check out some tutorials online before getting started.
Do You Embroider Before or After Quilting?
You can embroider before or after quilting, but it's nice to stitch a simple shape first and let the quilt "puff" nicely around the stitching. Choose a nice, simple design to stitch and use running stitch, backstitch or split stitch to create a beautiful result.
Quilting will help keep your stitches in place and make sure your fabric stays flat while you work on the embroidery. Take your time when stitching so that you have a lovely finished product.
Can You Quilt a Quilt with an Embroidery Machine?
You can use your home embroidery machine to quilt large and small projects—it is ABSOLUTELY possible. Quilting in the hoop is a great way to add structure and detail to your quilts while saving time on tedious tasks like piecing together blocks or creating borders.
There are many types of fabrics that work well for quilting in the hoop, so feel free to experiment with different choices until you find something that's perfect for your project. Be sure to take care when operating your machine; if it's not properly maintained, it could damage both the fabric and your stitches (resulting in an expensive repair bill).
Follow these simple tips for getting started with quilting in the hoop: get an instructional book or online video tutorial, invest in quality supplies, be patient, and have fun.
Frequently Asked Questions
Do you quilt over applique?
Yes, it's common and acceptable to quilt over appliqué in quilting projects. Quilting over appliqué adds texture and stability to the design. Careful needle selection, thread choice, and planning ensure a successful outcome.
What are the different types of appliqué?
There are three main types of appliqué: machine appliqué, hand appliqué, and fused appliqué.
What is an example of appliqué?
There are a few examples of appliqué. For example, on a shirt, the Applique can be used to add many different designs or colors.
Is appliqué the same as embroidery?
Overall, appliqué tends to be bold and graphic less intricate than embroidery because of the cut-and-sew technique. The scale is bigger, thicker, and wider. Oftentimes, the customer who chooses an appliqué style has a vibrant, decorative aesthetic.
To Recap
In the realm of quilting, the decision to quilt over appliqué ultimately boils down to artistic intent, practicality, and the desired effect.
As we've discovered, there are pros and cons to both approaches. Quilting over appliqué can add texture, stability, and visual interest, but it may also require careful planning to avoid damaging the appliqué elements.
Conversely, leaving the appliqué unquilted can create a striking contrast and maintain the three-dimensional quality of the design, but it may lack the cohesive feel that quilting can provide.
Ultimately, the choice is yours, and it's essential to consider your project's goals and your personal style when making this decision. Whether you quilt over your appliqué or not, remember that both techniques are valid and can lead to beautiful and unique quilts.