Taffeta, a fabric with a long history and unique characteristics, has captivated fashion designers, interior decorators, and fabric enthusiasts for centuries.
Known for its lustrous appearance, crisp texture, and versatility, taffeta fabric offers a range of possibilities in both apparel and home decor.
Originally crafted from silk, taffeta has evolved to include synthetic alternatives like polyester and rayon, making it more accessible to a wider audience.
Whether it's the elegant sheen of silk taffeta or the affordability of synthetic taffeta, this fabric continues to entice with its distinctive qualities.
From luxurious evening gowns to stylish curtains, taffeta fabric has found its place in the realms of fashion and interior design.
In this exploration, we delve into the characteristics, uses, care, and considerations associated with taffeta fabric, unveiling the allure and practicality of this timeless textile.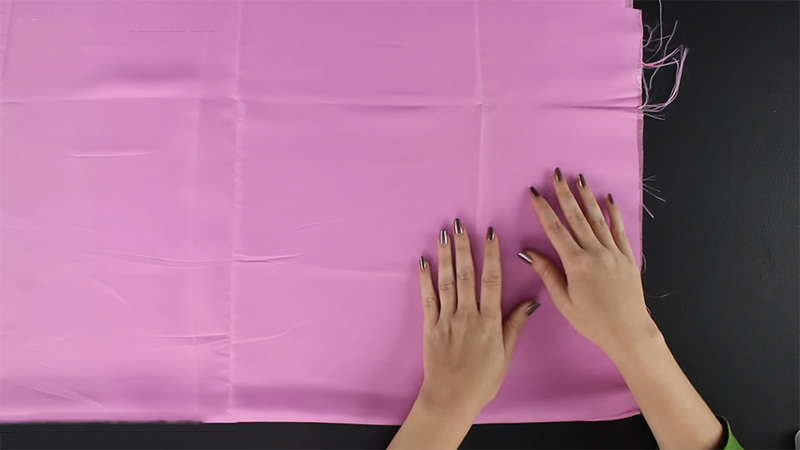 What Is Taffeta Fabric?
Taffeta is a luxurious and versatile fabric known for its crisp and smooth texture, as well as its lustrous sheen. It is commonly crafted from silk fibers, although synthetic materials like polyester can also be used.
Taffeta finds wide application in the world of fashion and interior design, making it a popular choice for dresses, skirts, jackets, and curtains.
The fabric's defining characteristics include its durability and excellent shape retention. Taffeta is known to maintain its structure well, allowing garments to hold their elegant form.
However, it is important to note that taffeta is prone to wrinkling, requiring careful handling and storage to maintain its pristine appearance.
Taffeta is available in various styles to suit different preferences. It can be found in plain or patterned variations, with patterns ranging from delicate floral motifs to bold geometric designs.
Moreover, taffeta can feature different finishes, such as iridescent, moiré, or shot effects, enhancing its visual appeal.
One distinctive aspect of taffeta is its characteristic rustling sound when moved. This auditory quality adds a touch of sophistication and drama to garments made from this fabric.
When Was Taffeta Invented?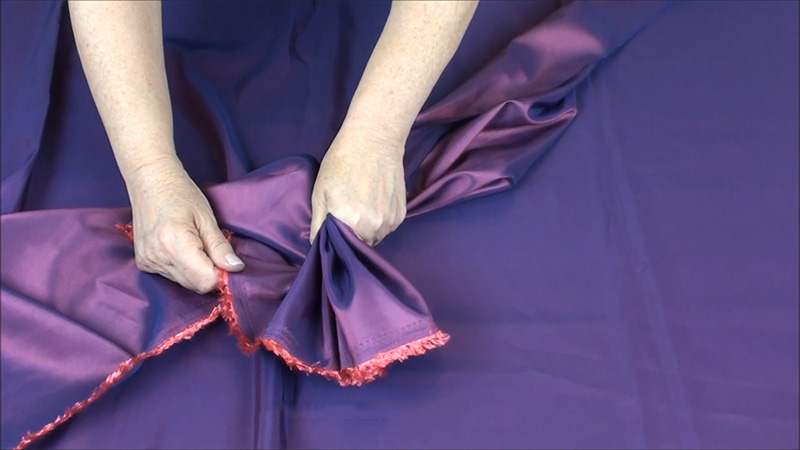 Taffeta, a fabric known for its crisp texture and lustrous appearance, was first invented in the Middle East during the twelfth century. Its origins can be traced back to this period, making it a fabric with a long and rich history.
The invention of taffeta is often attributed to the skilled weavers of Persia (modern-day Iran). The word "taffeta" itself is derived from the Persian word "taftah," which means "crisp, woven."
This term aptly describes the characteristics of the fabric, highlighting its distinctive texture.
During the twelfth century, taffeta quickly gained popularity and became highly sought-after in the regions where it was produced.
Its smooth and lustrous surface, combined with its ability to hold its shape, made it ideal for creating luxurious garments and decorative items.
Over time, the production and popularity of taffeta spread to other parts of the world, including Europe. It became a fabric associated with wealth, elegance, and high fashion, favored by nobility and aristocracy.
The invention of taffeta in the twelfth century marked a significant milestone in the history of textiles, introducing a fabric that combined durability, sheen, and a distinctive rustling sound when moved.
Its appeal and versatility have endured throughout the centuries, making taffeta a beloved fabric choice for various applications in the realms of fashion and interior design.
Taffeta Fabric Characteristics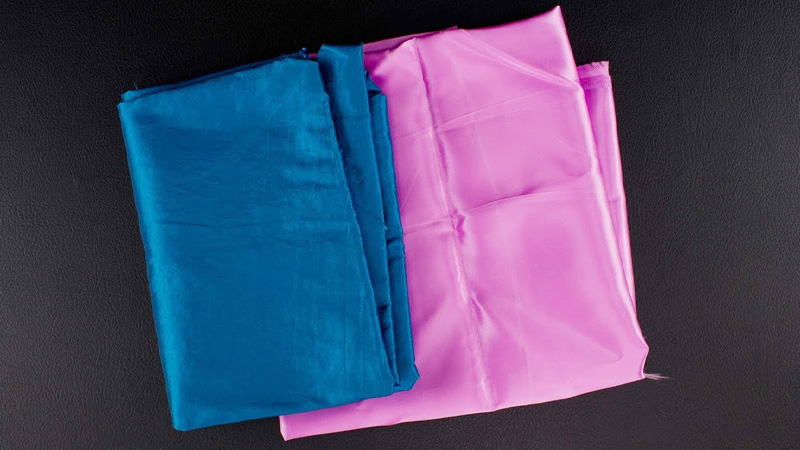 Crisp
Taffeta fabric is known for its crisp texture, which is a result of tightly twisted yarns woven together. This tight construction gives taffeta its characteristic stiffness and enables it to hold its shape well. The crispness adds a structured and elegant quality to garments made from this fabric.
Sheen
One of the defining characteristics of taffeta is its lustrous shine. This inherent sheen is a result of the properties of the silk or polyester fibers used to create taffeta.
The smooth surface of the fabric reflects light, giving it a beautiful, glowing appearance. The sheen enhances the overall luxurious and glamorous look of taffeta.
Smooth
Taffeta fabric has a smooth texture, which contributes to its elegant and refined appeal. The tightly woven yarns create a surface that feels sleek and silky to the touch.
The smoothness of taffeta adds to its comfort and contributes to the fabric's overall aesthetic appeal.
Sound
A distinctive characteristic of taffeta is the sound it produces when moved. Due to its crisp nature, taffeta fabric can make a rustling or swishing sound when it brushes against itself or other surfaces.
This sound adds a sense of drama and sophistication, further enhancing the overall experience of wearing or using taffeta.
Types of Taffeta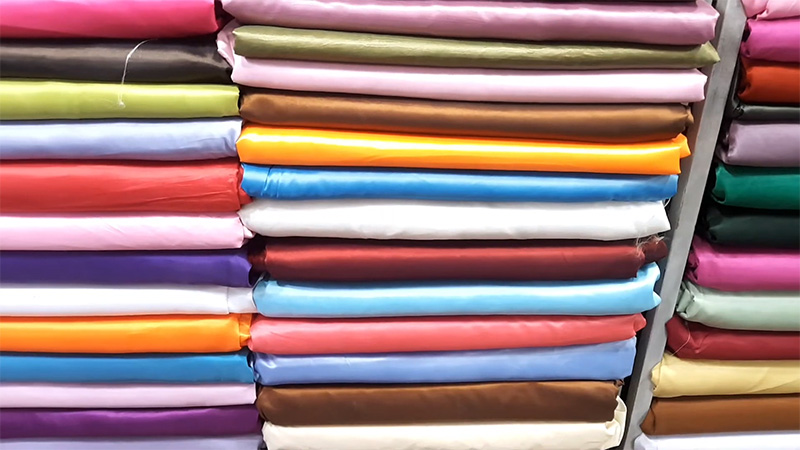 Silk Taffeta
Silk taffeta is crafted from natural silk fibers. It embodies the luxurious qualities of silk, including its softness, smoothness, and beautiful drape. Silk taffeta is highly prized for its exquisite luster and high-end appeal.
Shot Silk Taffeta
Shot silk taffeta is characterized by its unique iridescent effect. It is created by using different-colored threads in the warp and weft, resulting in a fabric that changes color depending on the angle of light. This type of taffeta offers a captivating play of colors and adds depth and richness to garments.
Synthetic Taffeta
Synthetic taffeta is made from synthetic fibers, such as polyester or nylon. It is a more affordable alternative to silk taffeta while still offering a similar appearance and texture. Synthetic taffeta is known for its durability, wrinkle resistance, and ease of care.
Yarn-Dyed Taffeta
Yarn-dyed taffeta is created by dyeing the yarns before weaving the fabric. This technique ensures that both sides of the fabric have the same color and pattern.
Yarn-dyed taffeta often features intricate plaids, stripes, or checkered designs, resulting in visually stunning garments.
Piece-Dyed Taffeta
Piece-dyed taffeta is dyed after the fabric is woven. It is a more straightforward and cost-effective method of coloring the fabric.
Piece-dyed taffeta is available in a wide range of solid colors, making it a versatile option for various applications.
Paper Taffeta
Paper taffeta is a lightweight and crisp type of taffeta that resembles the texture and appearance of paper. It is commonly used for craft projects, millinery, and theatrical costumes due to its unique qualities and ability to hold shapes well.
Antique Taffeta
Antique taffeta refers to vintage or older taffeta fabrics that have acquired a distinct patina or aged look over time. These fabrics may exhibit a slightly faded color or possess a vintage charm that adds character to garments or historical reproductions.
Moiré Taffeta
Moiré taffeta showcases a rippled or watermarked pattern achieved through a special finishing process. It involves subjecting the fabric to heat and pressure, resulting in a unique wavy or undulating effect. Moiré taffeta adds a touch of elegance and visual interest to garments and home decor.
Faille Taffeta
Faille taffeta features a distinctive ribbed texture created by using heavier yarns in the weft. The ribbed effect gives the fabric a pronounced and structured appearance. Faille taffeta is often used for creating tailored garments, eveningwear, and formal attire.
Warp-Printed Taffeta
Warp-printed taffeta refers to a type of taffeta fabric where the design or pattern is printed onto the warp threads before weaving.
This technique allows for intricate and detailed patterns that span the width of the fabric, resulting in eye-catching and visually striking designs.
What Is Taffeta Fabric Made Of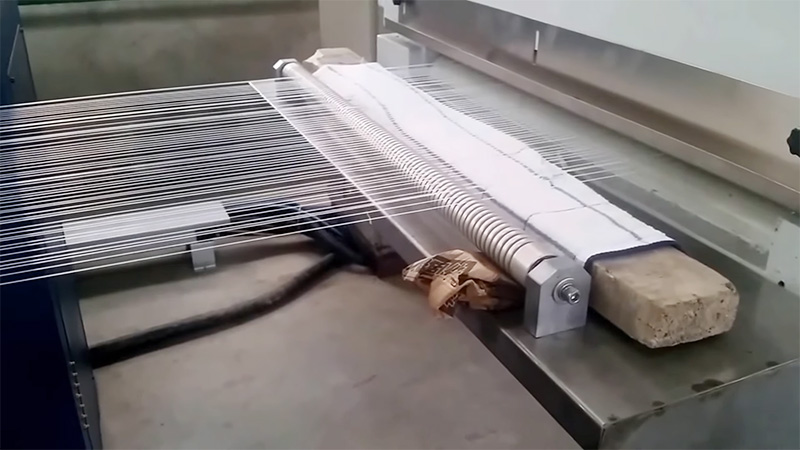 Traditional Material
Taffeta fabric was originally made from silk, which is a natural protein fiber produced by silkworms. Silk taffeta is highly regarded for its luxurious feel, smooth texture, and lustrous sheen.
Synthetic Fibers
With the advancements in textile technology during the 20th century, synthetic fibers emerged as an alternative to silk in taffeta production. Materials such as rayon and polyester became commonly used to create taffeta fabric.
Rayon
Rayon is a semi-synthetic fiber derived from natural sources like wood pulp. It is processed to create fibers that closely resemble silk.
Rayon taffeta offers a more affordable option with similar characteristics to silk taffeta, including its softness, drape, and sheen.
Polyester is a fully synthetic fiber made from petrochemicals. It is widely used in the textile industry due to its durability, wrinkle resistance, and ease of care. Polyester taffeta is known for its affordability, colorfastness, and availability in a wide range of colors and finishes.
Blends
Taffeta fabrics can also be made from blends of natural and synthetic fibers. For example, a taffeta blend may consist of silk and polyester, combining the luxurious properties of silk with the enhanced durability and wrinkle resistance of polyester.
Weaving
Regardless of the material used, taffeta fabric is typically woven using a plain weave construction. In this weaving technique, the warp and weft yarns interlace over and under each other in a simple crisscross pattern. This creates a tight, closely woven fabric with a smooth and crisp texture.
What Is Taffeta Fabric Used For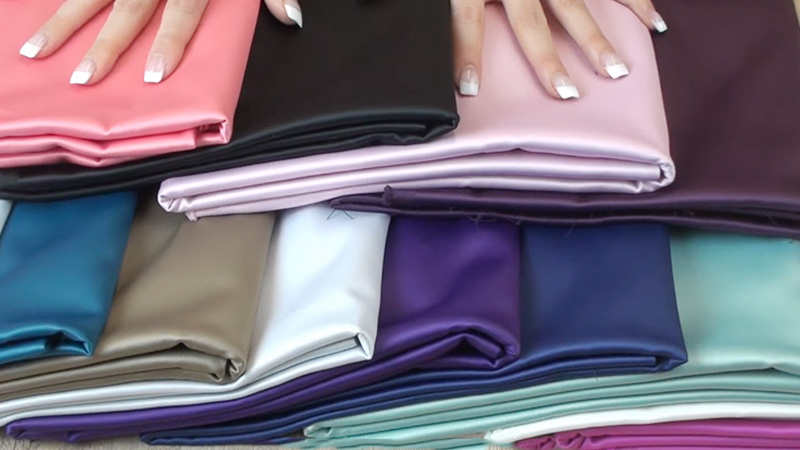 Apparel
Taffeta fabric is widely used in the fashion industry for creating elegant and luxurious garments. It is commonly employed in the making of dresses, skirts, jackets, blouses, and eveningwear.
Taffeta's crisp texture, lustrous sheen, and ability to hold its shape well make it a popular choice for creating formal and special occasion attire.
Lining Material
Due to its softness and smooth texture, piece-dyed taffeta is often used as a lining material for jackets and coats. Taffeta linings add a touch of sophistication, aid in sliding garments on and off, and help with moisture absorption and insulation.
Home Decor
Taffeta fabric is also used in interior design to create stylish and opulent home decor items. It can be found in curtains, drapes, upholstery, and decorative pillow covers. Taffeta's lustrous sheen and crispness contribute to an elegant and luxurious ambiance in living spaces.
Accessories
Taffeta fabric is utilized in the production of various accessories. It can be found in items like handbags, clutches, belts, bowties, and hair accessories.
Taffeta's smooth texture and ability to hold shapes well make it suitable for creating structured and eye-catching accessories.
Umbrellas
Taffeta fabric's water-resistant properties make it a suitable material for umbrella canopies. The tightly woven fabric helps repel water, keeping users dry during rainy weather. Taffeta's durability and ability to resist fading also contribute to its use in umbrella construction.
Insulation
Certain forms of taffeta fabric, particularly those made with synthetic fibers, are utilized in the production of insulation.
Taffeta insulation can be found in jackets, sleeping bags, and outdoor gear. Its lightweight nature, coupled with its ability to retain warmth, makes it a practical choice for outdoor activities.
Is Taffeta Expensive
The cost of taffeta fabric can vary depending on the type of material used. Silk taffeta tends to be more expensive compared to polyester taffeta.
This is primarily due to the higher cost of silk as a natural fiber. Silk production involves a complex and time-consuming process, making it a luxurious and sought-after material.
As a result, silk taffeta garments or fabrics are often associated with high-end fashion and luxury markets.
On the other hand, polyester taffeta is significantly more affordable. Polyester is a synthetic fiber that can be produced at a lower cost compared to silk.
Polyester taffeta offers a cost-effective alternative that replicates some of the desirable characteristics of silk taffeta, such as its lustrous sheen and crisp texture.
Overall, the price of taffeta fabric is influenced by the type of fiber used, with silk taffeta being more expensive and polyester taffeta being a more budget-friendly option.
Is Taffeta Waterproof
Taffeta fabric itself is not inherently waterproof. Traditional taffeta, made from silk or synthetic fibers, does not have natural waterproof properties.
However, there are specialized variations of taffeta known as waterproof taffeta that is designed to repel water and provide protection against the elements.
Waterproof taffeta is typically made from polyester material with a polyurethane (PU) coating. This coating creates a barrier that prevents water from penetrating the fabric, making it 100% waterproof. The PU coating adds a layer of protection, ensuring that the fabric does not absorb moisture.
The waterproof properties of taffeta make it a popular choice for outdoor applications, such as umbrella canopies, raincoats, and certain types of outdoor gear. It provides reliable protection against rain and wet conditions, keeping the user dry and comfortable.
It's important to note that the term "taffeta" is used to describe a type of fabric, and its waterproofness is determined by the specific treatment and coating applied to it. Traditional taffeta fabrics without waterproof treatments do not offer the same level of water resistance.
How to Iron Taffeta
Ironing taffeta fabric requires a delicate approach to avoid damaging the fabric. Here's a step-by-step guide on how to iron taffeta:
Preheat the Iron
Set your iron to the appropriate temperature for taffeta. Consult the care label or instructions provided by the manufacturer for the recommended heat setting. Generally, a low to medium heat setting without steam is suitable for taffeta.
Prepare the Ironing Area
Clear a clean, flat surface for ironing. Ensure your ironing board is clean and free from any dirt or residue that may transfer onto the fabric.
Use a Pressing Cloth
Place a clean, lightweight pressing cloth, such as a cotton handkerchief or muslin fabric, over the taffeta. This will provide a protective barrier between the iron and the fabric, preventing direct contact that could damage the delicate fibers or leaves shiny marks.
Position the Fabric
Lay the taffeta fabric on the ironing board with the right side facing up. Smooth out any wrinkles gently by hand.
Start Ironing
Place the heated iron on top of the pressing cloth, pressing lightly. Move the iron in smooth, straight strokes across the fabric, working from one end to the other. Avoid applying too much pressure, as it can cause the fabric to stretch or create shiny marks.
Lift and Re-position
Once you have finished ironing one section, lift the pressing cloth and move it to the next wrinkled area. Repeat the process of lightly pressing the iron on top of the pressing cloth and moving it in straight strokes until you have ironed the entire fabric.
Focus on Troublesome Areas
Pay extra attention to any stubborn wrinkles or creases. You can hold the iron slightly above the fabric and use steam (if your iron has a steam function) to gently mist the problem area. Be cautious not to let the iron touch the fabric directly.
Cool and Hang
After ironing, allow the taffeta fabric to cool completely before handling or folding it. Hang the fabric on a padded hanger to prevent new wrinkles from forming.
Advantages and Disadvantages of Taffeta Fabric
Advantages of Taffeta Fabric
Lustrous Appearance: Taffeta fabric, particularly silk taffeta, has a beautiful, shiny surface that adds an elegant and luxurious look to garments and home decor items.
Crisp Texture: Taffeta has a crisp and smooth texture, which gives garments a structured and polished appearance. It holds its shape well, making it ideal for creating structured dresses, skirts, and jackets.
Durability: Taffeta is known for its durability and strength. It is resistant to tearing and abrasion, which ensures that garments made from taffeta can withstand regular wear and last for a long time.
Versatile: Taffeta fabric is versatile and can be used for a wide range of applications, including apparel, home decor, and accessories. It can be dyed in various colors and patterns, allowing for diverse design possibilities.
Disadvantages of Taffeta Fabric:
Wrinkling: Taffeta, especially silk taffeta, has a tendency to wrinkle easily. It can develop permanent creases when folded or crushed, which may require special care and attention during storage and handling.
Rustling Sound: The tightly woven nature of taffeta can create a rustling sound when the fabric moves. This characteristic may be undesirable for individuals seeking a quieter fabric option.
Sensitivity to Water: While some variations of taffeta can be made waterproof with specific treatments, traditional taffeta fabrics, especially silk taffeta, are not inherently water-resistant. They can be damaged or stained by water, requiring extra care when exposed to moisture.
Cost: Silk taffeta, due to the high cost of silk production, can be relatively expensive compared to other fabric options. However, synthetic alternatives like polyester taffeta offer a more affordable option with a similar visual appeal.
How to Clean Taffeta Fabric?
Cleaning taffeta fabric requires a gentle approach to preserve its delicate texture and appearance. Here's a step-by-step guide on how to clean taffeta fabric:
Read the Care Instructions: Start by checking the care label or instructions provided by the manufacturer. It will provide specific guidance on how to clean the taffeta fabric and any precautions to take.
Spot Test: Before proceeding with cleaning the entire fabric, perform a spot test in an inconspicuous area to ensure the cleaning method will not damage or discolor the fabric.
Remove Surface Dirt: Gently brush the taffeta fabric with a soft-bristle brush or use a lint roller to remove any loose dirt, dust, or debris.
Hand Wash Method: Fill a basin or sink with lukewarm water and add a mild detergent specifically recommended for delicate fabrics. Swirl the water to create a gentle soapy solution.
Soak and Agitate: Place the taffeta fabric in soapy water and gently agitate it with your hands. Allow it to soak for a few minutes to loosen any stains or dirt.
Rinse Thoroughly: Drain the soapy water and rinse the fabric under cool running water until all traces of detergent are removed.
Squeeze Out Excess Water: Be very gentle when handling wet taffeta fabric. Press it lightly between your palms or use a clean, dry towel to absorb excess water. Avoid wringing or twisting the fabric, as it may cause wrinkles or damage.
Air Dry: Lay the taffeta fabric flat on a clean, dry towel or hang it on a padded hanger to air dry. Avoid direct sunlight or heat sources that can cause fading or shrinkage.
Ironing: If necessary, use a low heat setting on the iron or a garment steamer to remove wrinkles from the taffeta fabric. Ensure the iron does not touch the fabric directly. It's advisable to place a clean, cotton cloth between the iron and the fabric to protect it.
Professional Cleaning: If the taffeta fabric is heavily soiled or has intricate embellishments, it's best to take it to a professional dry cleaner experienced in handling delicate fabrics. They will have the expertise to clean the fabric safely and effectively.
Comparison Table Between Taffeta and Other Fabrics
Here's a comparison table between taffeta and other fabrics with similar properties:
| Fabric | Taffeta | Organza | Satin |
| --- | --- | --- | --- |
| Appearance | Lustrous and crisp | Sheer and lightweight | Smooth and shiny |
| Texture | Crisp and smooth | Lightweight and slightly stiff | Smooth and slippery |
| Durability | Durable and strong | Delicate and prone to snagging | Moderate durability |
| Draping | Moderate drape | Stiff and holds its shape well | Fluid and drapes well |
| Sheen | Lustrous | Subtle sheen | High sheen |
| Usage | Formalwear, home decor | Formalwear, sheer overlays | Formalwear, lingerie |
| Wrinkling | Prone to wrinkles | Prone to wrinkles, but can be steamed out | Less prone to wrinkles |
| Breathability | Moderate breathability | Breathable | Moderate breathability |
| Water Resistance | Can be made waterproof | Not water-resistant | Not water-resistant |
| Cost | Varies (silk taffeta can be expensive) | Moderate | Varies (silk satin can be expensive) |
FAQ
Can taffeta fabric be machine-washed?
It depends on the specific taffeta fabric and its care instructions. While some taffeta fabrics may be suitable for machine washing, it is generally recommended to follow the care instructions provided by the manufacturer. Delicate taffeta fabrics may require hand washing or professional dry cleaning to maintain their quality.
Can taffeta fabric be used for outdoor upholstery?
Traditional taffeta fabrics, especially silk taffeta, are not typically recommended for outdoor upholstery. They are not inherently designed to withstand prolonged exposure to harsh outdoor conditions. However, specialized outdoor taffeta fabrics or waterproof taffeta may be available for outdoor upholstery applications.
How do I remove wrinkles from taffeta fabric?
To remove wrinkles from taffeta fabric, use a low heat setting on iron or a garment steamer. Place a clean, cotton cloth or a pressing cloth over the fabric and iron lightly. Alternatively, you can hang the fabric in a steamy bathroom or use a fabric steamer to gently release the wrinkles. Always perform a spot test and refer to the fabric's care instructions before applying heat.
Can taffeta fabric be altered or tailored easily?
Taffeta fabric can be altered or tailored like many other fabrics. However, its crisp texture and stiffness may require specific techniques and skills from a professional tailor. It is recommended to consult a skilled tailor who has experience working with taffeta fabric to ensure proper alterations and a satisfactory outcome.
Are there eco-friendly or sustainable options for taffeta fabric?
Sustainable options for taffeta fabric include choosing fabrics made from recycled polyester or seeking out organic silk taffeta, which is produced without harmful chemicals or pesticides. Additionally, considering second-hand or vintage taffeta fabric can contribute to a more sustainable approach by reducing waste and extending the fabric's lifespan.
To Recap
Taffeta fabric, with its inherent beauty and remarkable properties, has proven itself to be a staple in the world of textiles.
From its origins in the twelfth century to the present day, taffeta has remained a sought-after choice for creating garments, accessories, and home furnishings.
Its crisp texture, lustrous sheen, and durability have made it a favorite among designers and consumers alike. Whether it's the fine silk taffeta that exudes elegance or the more affordable polyester options that offer accessibility, taffeta continues to captivate with its versatility and charm.
While it may require some care and attention to maintain its pristine appearance, the allure of taffeta fabric lies in its ability to elevate any creation with its distinctive presence.
So, whether you're adorning yourself in a luxurious taffeta gown or using it to enhance your living space, taffeta fabric will undoubtedly leave a lasting impression of timeless elegance.