Blocking in knitting is a transformative art, where the magic of crafting truly comes to life. It's a meticulous process that elevates a seemingly ordinary knitted piece into a work of art.
This essential post-knitting ritual involves carefully shaping and setting the fabric to achieve precise dimensions, impeccable stitch definition, and a professional finish.
By immersing your completed project in a gentle bath, coaxing the fibers into submission, and patiently allowing them to settle into their intended form, blocking becomes the secret ingredient to knitting success.
Whether it's ensuring a garment fits perfectly, enhancing the beauty of lacework, or simply elevating the overall quality of your knitting, blocking is the final touch that breathes life and elegance into your creations.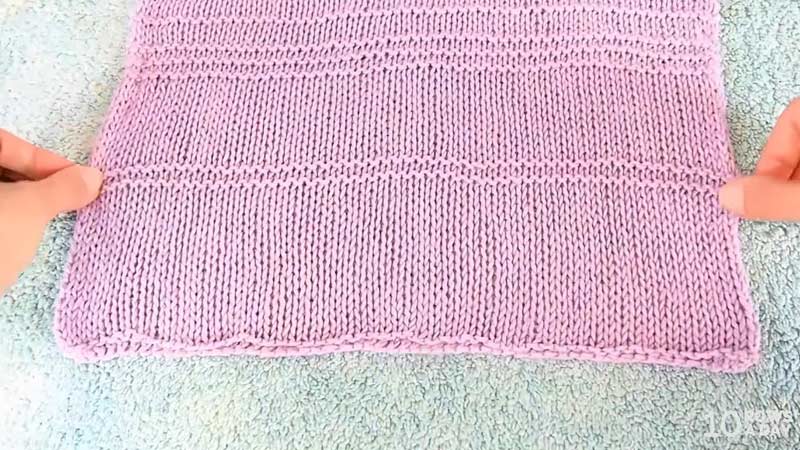 What is Blocking in Knitting?
Blocking in knitting is a post-knitting process that plays a pivotal role in transforming your completed project into a polished and professional-looking piece.
It involves shaping and setting the fabric to achieve the desired size, shape, and overall finish. To block, you typically soak your knitted item in lukewarm water, often with a gentle detergent or wool wash, to relax the fibers.
Then, you gently squeeze out excess water and carefully lay the item flat on a surface where it can be stretched and pinned to the correct dimensions.
As it dries, the fabric settles into place, stitches even out, and any irregularities or variations in tension are corrected.
Blocking is essential for several reasons. It ensures that your project meets the pattern's specified measurements, which is particularly crucial for achieving a proper fit in garments.
It also enhances the drape and texture of the fabric, making it more comfortable to wear. Additionally, blocking can help hide minor knitting mistakes and gives your work a professional finish, making it appear well-crafted and refined.
Overall, blocking is a valuable technique that enhances the overall quality and aesthetic appeal of your knitted creations.
Why is Blocking Important in Knitting?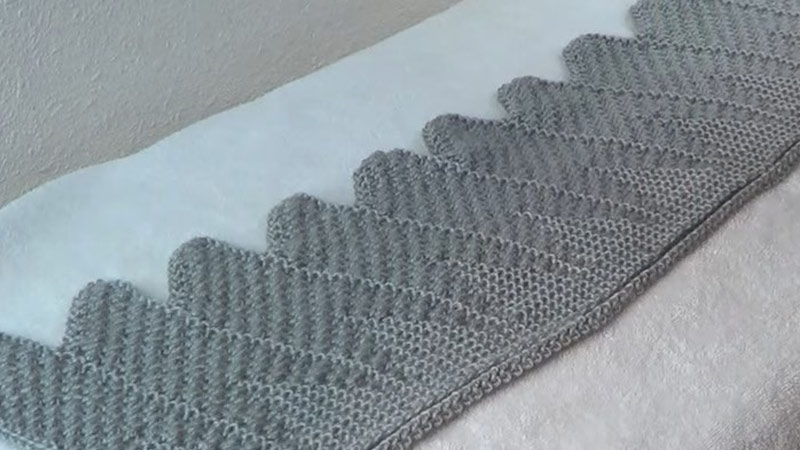 Blocking is a crucial and often underestimated process in the world of knitting. It involves treating a finished knitted item to shape it, even out stitches, and set its final size.
Understanding why blocking is important can help knitters appreciate its significance in creating polished, professional-looking projects.
Here are several reasons why blocking is an essential step in knitting:
Achieving Proper Sizing
One of the primary purposes of blocking is to ensure that your knitted piece matches the intended dimensions specified in the pattern. Knitting tension can vary, and yarn can behave unpredictably.
Blocking allows you to control the size and shape of your project, ensuring it fits as intended. This is particularly critical for garments, where a proper fit is essential.
Evening Out Stitches
During the knitting process, variations in tension can lead to uneven stitches. Blocking helps smooth out these irregularities, creating a more uniform and aesthetically pleasing fabric.
It is especially valuable for intricate stitch patterns or lacework, where precise stitch definition is essential.
Enhancing Drape and Texture
Blocking softens the yarn fibers and allows the stitches to relax and settle into place. This improves the overall drape and texture of your knitting, making it more comfortable to wear and giving it a luxurious feel.
Items like shawls and scarves benefit significantly from enhanced drape.
Disguising Mistakes
While knitters strive for accuracy, mistakes can occur. Blocking can help minimize the visibility of errors, such as dropped stitches or uneven tension, and create a more polished appearance.
Professional Finish
Blocking is the final step that elevates your knitting from looking homemade to appearing professionally crafted. It gives your work a clean and polished finish, showcasing the effort and care you put into your project.
Setting Lace and Openwork
For lace knitting and openwork projects, blocking is essential. It opens up the lace patterns, defines the holes, and highlights the intricacy of the design.
Without blocking, lacework can look cramped and lose its delicate charm.
Ensuring Color Fastness
If you're using hand-dyed yarn or multiple colors in your project, blocking can help set the dyes and prevent color bleeding or fading when the item is washed in the future.
Removing Odors and Relaxing Fibers
Many knitters choose to wash their projects during blocking, which can help eliminate any odors or residual chemicals from the yarn. Additionally, it allows the fibers to relax and settle into their natural positions, enhancing the overall quality of the fabric.
What Are the Different Methods of Blocking in Knitting?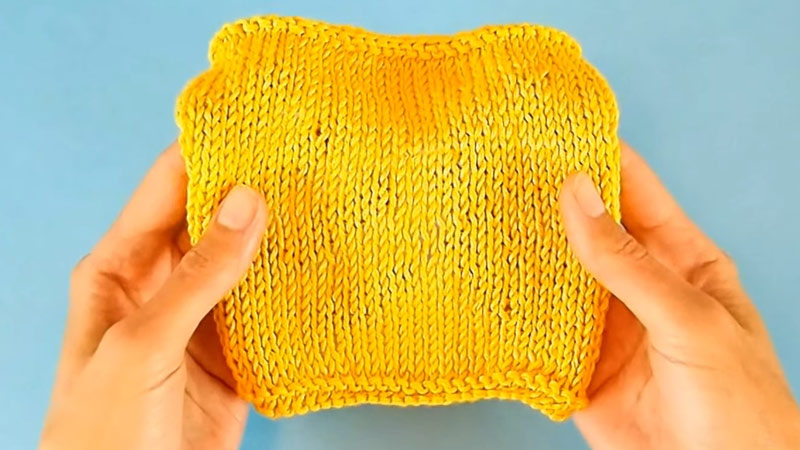 Blocking is a crucial step in knitting that helps shape and set your finished project, ensuring it looks polished and professional. Different methods of blocking are employed depending on the type of yarn, the project's size, and personal preference.
Here are the four main methods of blocking in knitting:
Wet Blocking
In wet blocking, a finished knitted item is submerged in lukewarm water with wool wash or detergent, soaked for 15-30 minutes, and gently squeezed to remove excess water.
Then, it's laid flat on a blocking surface, shaped to the desired dimensions with pins or wires, and left to air dry completely. This method evens out stitches, corrects sizing, and enhances the overall appearance, making it suitable for most knitting projects and yarn types.
Steam Blocking
Steam blocking is ideal for delicate or heat-sensitive fibers. Using an iron or handheld steamer, hover it above the knitted item without direct contact, applying steam evenly.
While applying steam, gently shape the item into the desired dimensions. Let it cool and dry in the shaped form, avoiding movement until it's completely dry.
Steam blocking is effective for setting shape and enhancing stitch definition, particularly for sensitive yarns.
Spray Blocking
Spray blocking is a quick method suitable for projects needing minimal adjustments. Lightly mist the knitted item with water using a spray bottle until it's damp but not soaked.
Lay it flat on a blocking surface and use pins or blocking wires to shape it according to the desired measurements. Allow the item to air dry completely, and it will set in the blocked shape as it dries.
Spray blocking is convenient when you want to avoid full immersion in water.
Dry Blocking
Dry blocking is used for minor adjustments or quick fixes. Dampen a clean cloth or towel and gently press it onto the fabric to reshape small areas. Use the damp cloth to manipulate the fabric into the desired shape, focusing on specific regions that need correction.
Allow the item to air dry, and the reshaped areas will maintain their new form. Dry blocking is less common but can be effective for small fixes.
How to Block Your Knitting?
Blocking your knitting involves several steps, and the method you choose depends on the project and yarn you're using.
Here's a general guide on how to block your knitting using the wet blocking method, which is the most commonly used and versatile technique:
Prepare Your Item
Before beginning the blocking process, make sure your finished knitted item is clean and free from any dirt, oils, or residues. If necessary, gently hand wash it with lukewarm water and a wool wash or mild detergent.
Rinse thoroughly to ensure there's no lingering soap residue.
Soak Your Item
Fill a basin or sink with lukewarm water. If you're using a wool wash or detergent, add it to the water and mix it gently. Submerge your knitted item in the water, making sure it's fully saturated.
Allow it to soak for about 15-30 minutes. This soaking period helps the yarn fibers absorb water and relax.
Gently Remove Excess Water
After the soaking time is complete, gently squeeze the knitted item to remove excess water. Be careful not to wring or twist it, as this can damage the delicate fibers and affect the shape of your knitting.
Prepare Your Blocking Surface
Lay out clean towels or a dedicated blocking mat on a flat surface. Ensure that the chosen surface is large enough to accommodate your knitted item and won't be damaged by moisture.
Shape Your Item
Lay the damp knitted item flat on the blocking surface. Use your hands to gently shape it into the desired dimensions, smoothing out any wrinkles, and ensuring even tension across the fabric.
Pay close attention to maintaining symmetry, especially for items like shawls.
Secure With Pins or Wires
Use rust-resistant T-pins or blocking wires to secure the fabric in place. Begin by pinning along the edges of your item, and then use additional pins or wires to stretch and shape it as needed.
The pins or wires provide a guide for your knitting to follow as it dries.
Allow to Air Dry
Leave your knitted item on the blocking surface and allow it to air dry completely. The drying time can vary depending on the thickness and size of the item.
It's crucial to exercise patience and ensure that your knitting is entirely dry before moving on to the final step.
Finish and Enjoy
Once your knitted item is completely dry, gently remove the pins or wires. Your item will have taken on the blocked shape, and the stitches will appear more even and defined.
You can now proudly display or wear your beautifully finished knitting project.
How Long Does It Take to Block Knitting?
The time it takes to block knitting varies based on factors like the size, thickness, and fiber content of the knitted item, as well as the chosen blocking method.
Wet blocking, involving soaking, usually takes 15-30 minutes for soaking and several hours to overnight for drying. Steam blocking is faster, as it only requires the time it takes to apply steam and then cool and dry.
Spray blocking is quicker than wet blocking, but drying time depends on humidity. Dry blocking, the fastest, involves reshaping small areas and typically dries quickly.
Overall, blocking times can range from a few hours to overnight, so plan accordingly.
FAQs
Do I need special blocking tools, or can I use household items?
Specialized blocking tools like T-pins and blocking mats can make the process easier, but you can improvise with household items like sewing pins and clean towels if necessary.
Can I block multiple knitting projects at once?
Yes, you can block multiple projects simultaneously if you have enough space and blocking materials. Ensure that each project is adequately separated and pinned to maintain its shape.
Do I have to re-block my knitting every time I wash it?
Not necessarily. If your project hasn't lost its shape or become soiled, you may not need to re-block it with every wash. Re-blocking is typically necessary when you want to restore the item's original shape or finish.
Can I block knitting that incorporates non-yarn materials like beads or sequins?
Special care is needed when blocking knitting with embellishments. It's often better to spot clean or steam block these areas to avoid damaging the non-yarn elements.
Is there a right and wrong side to my knitting when blocking?
Blocking typically focuses on the right side (the side meant to be seen) of your knitting. Ensure that this side faces up when shaping and pinning.
To Recap
In the world of knitting, blocking is the finishing touch that turns a labor of love into a masterpiece. It's the last act of creativity in a project, where you coax yarn and stitches into their best possible form.
Through soaking, shaping, and drying, blocking refines the fabric, making it drape beautifully and showcasing intricate details. Whether it's a cozy sweater, an elegant lace shawl, or any knitted creation, blocking ensures it reaches its full potential.
It corrects imperfections, creates uniformity, and imparts a professional finish. So, next time you complete a knitting project, remember that blocking is the secret ingredient that elevates your work from good to great, allowing you to proudly showcase your craftsmanship and artistic flair.