The colour red is a powerful and attention-grabbing hue that carries both cultural significance and emotional resonance. When it comes to fashion, understanding what colours go with red clothes is key to creating stylish and harmonious ensembles.
Red is a versatile colour, and its compatibility with other shades can yield striking and sophisticated looks. From classic pairings like black and white to unexpected combinations like turquoise or pink, the possibilities are endless.
The choice of colour can convey a specific mood, highlight certain aspects of your outfit, or tone down the intensity of red, depending on your styling objectives.
In this exploration of "What Colours Go With Red Clothes," we delve into the art of colour coordination, offering insights into which colours complement red and how to create fashion-forward outfits that showcase the vibrancy and allure of this iconic shade.
What Colours Go With Red Clothes?
Red is a bold and attention-grabbing colour that can be both versatile and complementary when paired with other colours. Here are some colours that go well with red clothing:
White
White is a classic and timeless choice to pair with red. It creates a fresh and crisp contrast that allows the vibrant red to stand out. A white top or accessory can balance the boldness of red and create an effortlessly chic look.
Black
Black and red together exude sophistication and drama. The deep contrast between the two colours is a powerful combination, often seen in formal attire. A black dress with red accents or a black blazer over a red dress can make a bold fashion statement.
Navy
The Navy is an excellent choice for a more subdued and refined look. The deep, rich tones of navy provide a sophisticated backdrop for red, making it a popular combination for a nautical or preppy style.
A navy skirt with a red blouse or a red tie paired with a navy suit are both classic examples.
Grey
Grey and red offer a harmonious pairing that is both contemporary and stylish. Light grey softens the intensity of red, while dark grey adds a touch of elegance.
Grey slacks with a red blouse or a grey blazer over a red dress can create a polished look.
Pink
Combining red with various shades of pink can create an eye-catching and playful ensemble. Light or pastel pinks can balance the vibrancy of red, while hot pink can add a pop of colour for a fun and youthful look.
Mixing red and pink in dresses, skirts, or accessories can result in a delightful combination.
Gold
Red and gold create a regal and opulent pairing. The warm, metallic tones of gold complement the richness of red, often seen in traditional and cultural attire. Gold accessories, embroidery, or metallic accents can enhance the overall glamour of red clothing.
Turquoise
For a striking and unexpected contrast, red and turquoise can create a vibrant and lively look. The cool, refreshing tones of turquoise offset the warmth of red, making for a visually dynamic combination.
A red dress with turquoise accessories or a turquoise top with red pants can offer a bold and modern statement.
Red clothing can be beautifully complemented by a range of colours, allowing you to express your style and create different moods with your outfits. The key is to balance the intensity of red with other colours to achieve a harmonious and visually appealing ensemble.
What Colours Don't Go With Red Clothes?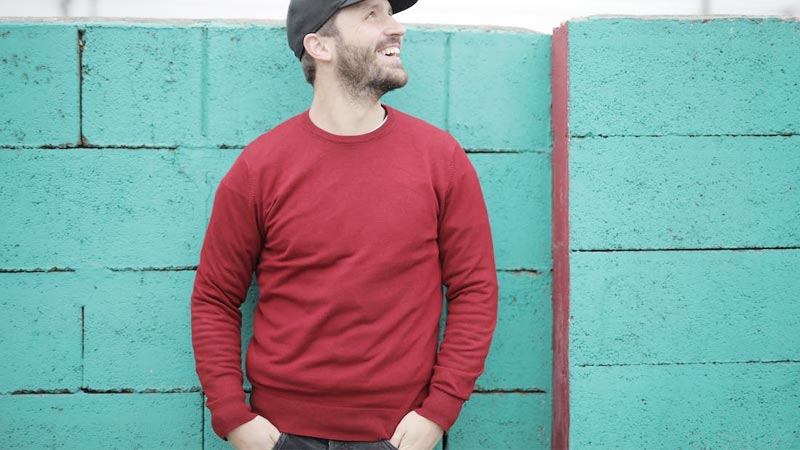 While red is a versatile and bold colour, some combinations may not be as visually appealing. Here are some colours that can be challenging to pair with red clothing:
Orange
Orange can create an overwhelming clash of warm, fiery tones when paired with red. The intense combination of these adjacent colours can be jarring to the eye. It's often better to choose a cooler contrast or complementary colour.
Green
Green and red, when paired, can evoke holiday-themed associations, such as Christmas. This combination may appear clichéd outside of a festive context. Opting for a more harmonious colour choice can often yield better results.
Brown
Brown and red can create an earthy, warm palette that, while not inherently unpleasant, may lack contrast and vibrancy. It can result in a somewhat dull or subdued appearance, making it less exciting for many fashion choices.
Yellow
Red and yellow can be reminiscent of fast-food chains or cautionary signs. This combination can be visually overwhelming and may not always yield a harmonious or fashion-forward look. It's typically best to choose complementary colours to red.
Hot Pink
Hot pink and red, while in the same colour family, can sometimes clash when worn together. The intense vibrancy of both colours can create a visually jarring effect.
It's often more effective to pair red with softer shades of pink or colours like white or black.
Purple
Purple, especially when it leans more towards cool or blue-toned purples, can create a discordant contrast with red. The clash of warm and cool undertones can be visually challenging.
If you do wish to pair these colours, it's best to experiment with various shades to find a suitable balance.
Bright Neon Colours
Bright neon colours, such as neon green or neon yellow, can create an overly intense and distracting combination when paired with red. The high saturation of both colours can be too bold for most fashion choices.
Opt for more balanced and complementary colours to red in such cases.
While red is a versatile colour, it's essential to be mindful of colour combinations to create a visually pleasing and stylish look. By avoiding these colour combinations, you can create outfits that are more harmonious and aesthetically pleasing.
Outfit Combinations For The Colour Red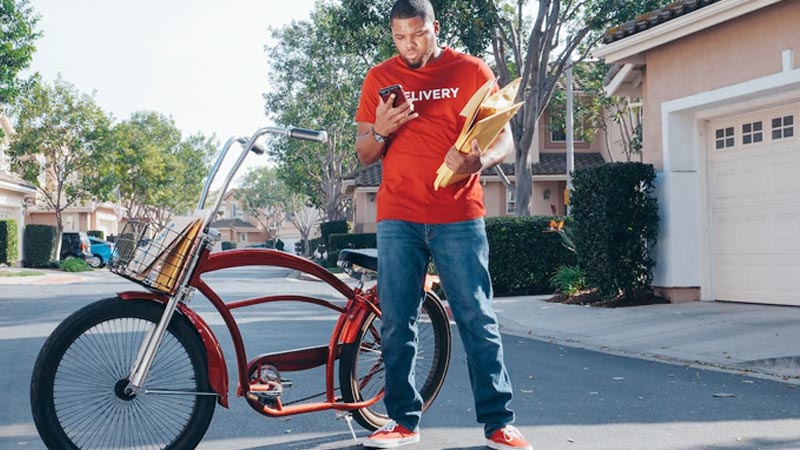 Red is a bold and attention-grabbing colour that can make a powerful statement when combined with the right pieces. Here are some outfit combinations that showcase the versatility of the colour red:
Red Dress with Neutral Accessories
A classic choice, a red dress paired with neutral accessories such as beige or nude heels and a matching clutch is both elegant and eye-catching. The red dress takes centre stage, while neutral accessories provide balance, allowing the dress to shine.
Red Blazer with Denim
A red blazer worn with a pair of well-fitted jeans creates a sophisticated yet casual look. Add a simple white blouse and sneakers for a chic ensemble that effortlessly transitions from day to night.
Red Skirt with a Striped Top
A red skirt paired with a black and white striped top is a timeless combination. This pairing exudes a nautical or Parisian vibe, making it perfect for various occasions, from brunch to casual outings.
Red Pants with a White Blouse
Red pants, particularly in a tailored style, can be paired with a crisp white blouse for a polished and professional look. This outfit works well for office settings and can be enhanced with statement accessories.
Red Coat with All-Black Ensemble
A red coat over an all-black outfit is a classic winter look that adds a pop of colour to dreary days. The red coat becomes the focal point of the ensemble, creating a striking contrast with the black base.
Red Jumpsuit with Metallic Accessories
A red jumpsuit paired with metallic or gold accessories is a glamorous choice for evening events. The metallic accents complement the vibrancy of red, adding a touch of luxury and sophistication.
Red Trousers with a Denim Shirt
Red trousers, when paired with a denim shirt, offer a playful and contemporary look. This combination balances the boldness of red with the casual appeal of denim, making it suitable for casual outings or date nights.
Red can be styled in various ways to suit different occasions and moods. Whether you opt for a red dress, blazer, pants, or coat, the key is to consider the overall style and accessories to create a cohesive and fashionable ensemble that makes a statement.
What To Wear With A Red Shirt?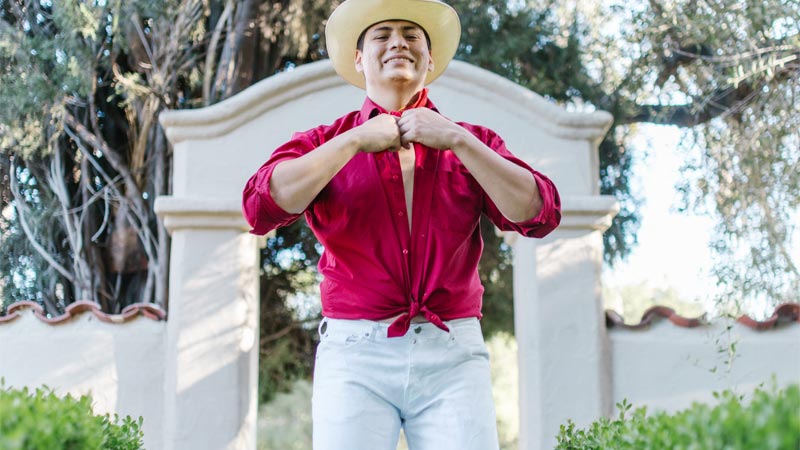 A red shirt can be a versatile and bold addition to your wardrobe. Here are some clothing items that pair well with a red shirt:
Blue Jeans
Blue jeans and a red shirt create a classic and timeless combination. This casual look offers a great balance between the boldness of the red shirt and the simplicity of denim. It's perfect for everyday wear and can be dressed up or down with accessories.
Black Pants
Red and black create a striking and stylish contrast. Pairing a red shirt with black pants is an excellent choice for a polished and sophisticated outfit. It's versatile enough for both business casual and evening attire.
Khaki Shorts
For a relaxed and comfortable summer look, combine a red shirt with khaki shorts. This pairing is ideal for outdoor activities and warm-weather occasions. Add some sandals or sneakers to complete the ensemble.
White Skirt
A red shirt with a white skirt creates a fresh and vibrant look. This combination is perfect for a summer day out or a beach vacation. It exudes a cheerful and casual vibe that's both stylish and comfortable.
Grey Blazer
For smart-casual or business attire, pair your red shirt with a grey blazer. The grey blazer tones down the intensity of the red, creating an ensemble that's suitable for professional settings or semi-formal occasions.
Olive Green Trousers
Red and olive green can create a stylish and unexpected pairing. Olive green trousers or chinos add a touch of earthy contrast to the boldness of the red shirt. This combination is perfect for a trendy and urban look.
Navy Skirt
A red shirt with a navy skirt offers a versatile and sophisticated combination. Navy complements red beautifully, creating a balanced and elegant ensemble. This outfit is great for various occasions, from a day at the office to a dinner date.
A red shirt can be styled with a range of clothing items to create diverse and fashionable outfits. The key is to consider the formality of the occasion and the overall aesthetic you wish to achieve when selecting the accompanying garments.
FAQs
Can I wear red with other bright colours, or is it too overwhelming?
Red can be worn with other bright colours, but it's important to balance the overall look. Consider colours like hot pink, turquoise, or sunny yellow. These combinations can be visually striking when used in moderation.
What are the classic colour combinations for red clothes?
Classic combinations for red include black and white. Black creates a bold contrast with red and adds sophistication, while white offers a fresh and timeless pairing. These classic duos are ideal for formal events or creating chic everyday looks.
Can I mix patterns with red clothing?
Yes, mixing patterns with red clothing can be fashionable and fun. Stripes, polka dots, and floral patterns in coordinating colours can complement a red garment. Just ensure that one of the patterns has a dominant colour in harmony with your red piece to maintain a cohesive look.
How can I tone down the intensity of a red outfit for a more subtle look?
To soften the intensity of a red outfit, pair it with neutral colours like beige, grey, or camel. These tones can help create a more balanced and subdued appearance.
Use neutrals in your accessories, such as shoes or a handbag, to achieve a chic, understated look.
Are there specific colours that are not recommended for red clothes?
While many colours can complement red, some combinations might not be visually appealing. Colours like neon green, bright orange, or neon yellow can create overwhelming contrasts.
Conclusion
In the world of fashion, the question of what colours go with red clothes is met with a diverse array of answers, reflecting the endless creativity and individual style preferences of fashion enthusiasts.
As we conclude our exploration, it's clear that red is a versatile and bold colour that can be paired with a wide spectrum of hues to achieve a range of looks, from classic to contemporary.
The key to mastering the art of colour coordination with red is to consider the occasion, the mood you want to convey, and the overall aesthetic you desire.
Whether it's creating a dramatic contrast with black or adding a playful touch with pink, the harmony of colours in your ensemble can be a powerful tool for self-expression and making a fashion statement.
Ultimately, the world of fashion celebrates experimentation and personal style, making the pairing of red with other colours an exciting and dynamic journey of self-expression.