Crochet is a beautiful form of art. Whether you bring a newborn baby home, add an extra layer of cushion cover, or simply a shawl gift to your dear one, the first word to come to your mind is, crochet.
You can buy one or two crochet works. That will cost you some bucks! Or you can follow our basic crochet stitches guide and make your own!
It may take some time, but the heartwarming message you deliver with it is priceless, cutting you the production cost!
Today, Let's learn the basic crochet stitches and how to master them. If you follow our article to your mind, by the end you will know how to make the base of your first crochet project.
Let's begin.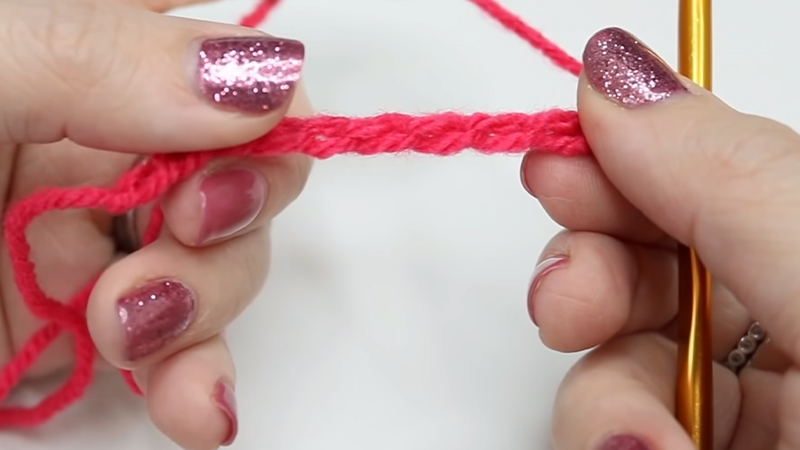 A Brief on Crochet
Crochet is an old form of crafting, not the oldest! It dates back to the early 19th century and is still popular today.
The word Crochet is a French word. It means hook.
Crochet and Knitting are not the same. Knitting uses two needles, and crochet is done with a single hook.
The largest blanket of crochet ever recorded is over 30,000 square feet. There's a world record for that.
It can work as a meditation for you. Crochet has therapeutic benefits, it can reduce stress and let you relax.
You can use crochet for a variety of purposes – both functional and decorative.
Don't limit yourself to the basics only. There are countless crochet stitches and techniques to explore.
Top 5 Basic Crochet Stitches
You must learn the basic crochet stitches first before you can move on to other detailed projects. With determination and focus, you can master each basic crochet stitch in less than 30 minutes. Yes! You heard right!
Before you begin, here's the list of materials you would need. Don't worry they will cost you less than a ready-made crochet garment.
Yarn: As a beginner, you should start with budget-friendly acrylic yarns. Lion Brand Vanna's Choice or Brava Worsted would be ideal options to start.
Crochet Hook: It is a good idea to start with the basics of the Crochet Hook Size Chart. Our article will guide you with different hook sizes, ideal for your projects.

Yarn Needle: Also known as Tapestry Needle. One end is blunt and it helps to weave in the yarn.

Scissors: You will need a pair of good scissors to cut additional thread ends.
Stitch Marker: This comes in handy when you want to mark the end or beginning of your crochet project.
Hook Box (Optional): Helps you organize different arrangements, so you don't lose the hooks.
The Basic Crochet Stitches Guide: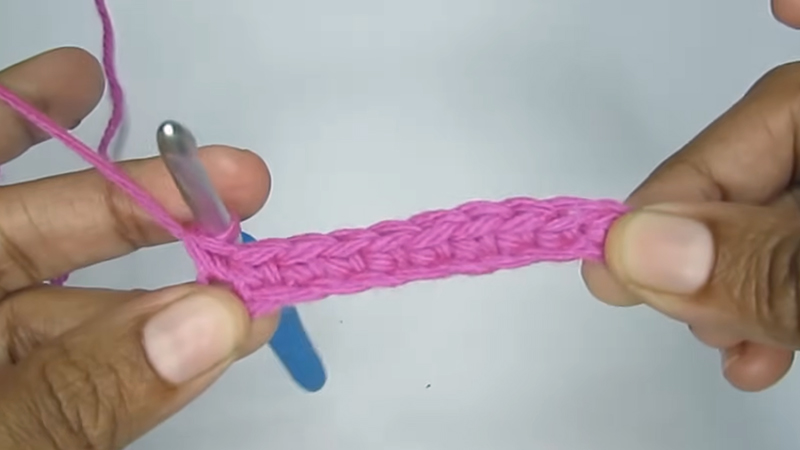 What's included in the basic crochet stitch? You will find out here. There are hundreds of beginner crochet styles to try from. But here are some of the most first-time-friendly crochets you can consider to start.
Also, our simple 'how to' instructions are added to the list. We have tried to keep it as simple as possible for you, so you have no issue understanding it!
A) Slip Knot
Every crochet project begins with a slip knot. It is one of the most basic crochet stitches. Take two steps to complete it,
Hold the tail end (the loose end) of your yarn with your right hand.
Hold the other end between your thumb and the first two fingers with the other hand.
Create a small loop with the other end that's connected to the yarn. It should be on top.
Pull the working end through the loop. It will create a slip knot.
B) Chain Stitch
Another basic must to learn stitch is the Chain Stitch. It is called the building block of crochet and involves only a straightforward process. Here's how you should do it,
Pull the yarn through to make a new loop. But don't tighten the one before it. Instead, place the crochet hook through the slip knot.
Yarn over – YO (wrap the working end of the yarn around the hook from back to front).
Repeat the early steps and create as many chain stitches as you need. It is wise to remember chain stitches are different from slipknots. And you can't count it the same.
C) Single Crochet (SC)
It is one of the most basic crochet stitches. Skipping it would create a hollow! Here's how you can make a single crochet.
Remember the series of chain stitches we created above? Well, this is the foundation chain of your first crochet project.
Place the yarn hook into the second chain. Work from front to back, under the top loop.
Yarn over (YO), and pull the yarn through the chain.
Yarn over again and pull the yarn through both loops on the hook.

Now, you have your first single crochet stitch. Congratulations! You are in the transition phase of becoming an intermediate crocheter.
Practice hard and master the three basic crochet stitches first. And then, we will move on to the next one.
D) Half Double Crochet (HDC)
It is slightly more complicated than a single crochet stitch and forms a lovely taller stitch. Here's what you have to do,
We believe you already have your foundation chain. Yarn over (YO), wrap the yarn from back to front over the hook.
The first two chains count as the turning chains, and you would skip them for the HDC. Place the hook into the third chain from the hook.
Yarn over again and pull the yarn through the chain. You will now have three loops on your hook.
Yarn over once more and pull through all three loops on your hook.
Now, you have your first Half Double Crochet Stitch. After you learn it, move forward to Double Crochet.
E) Double Crochet (DC)
Our basic crochet stitches guide completes with the double crochet. The stitches are slightly taller than the half-double crochet. Here's how to begin it,
Here, you have to leave at least three chains as your turning chain and start from the fourth.
Yarn over, and wrap the yarn from back to front over your hook. Insert your hook into the fourth chain from the hook.
Yarn over once more and pull the yarn through the chain. You will have three loops on your hook.
Remember crochet is all about Yarning Over. Yarn over again and pull through the first two loops on your hook. It will leave you with two more loops.
Finally, yarn over once more time and pull through the last two loops. You will have a complete double crochet stitch.
That's it! We have completed our basic crochet stitches guide with 5 essential startup crochets! All you need to do is practice and hone it so it becomes simply a breeze for you.
Final Words
Crochet is fun and a creative time pass. Or, it can be a serious profession when you put it that way!
If you are just starting out, let's keep it to the simple phase for now and master the basic crochet stitches first. Once you know the stitches better, we can move on to the next phase.
Let us know in the comment section how our article has helped you. Also, take a few seconds to share our article with beginners like you and let them know about us! We will come back soon with another exciting tip on crochet and crafting.