The compatibility of oil and acrylic paints is a subject of intrigue for artists seeking diverse and dynamic effects in their artwork. The question of whether oil paint can seamlessly overlay acrylics is a common query in the creative world.
Both mediums offer unique characteristics; acrylics dry rapidly, while oil paints have a more leisurely drying pace. Understanding the interplay between these two materials is vital for artists looking to blend them harmoniously.
In this exploration, we delve into the nuanced considerations, techniques, and precautions necessary when contemplating the application of oil paint over acrylics. Unraveling this artistic fusion opens doors to a world of possibilities.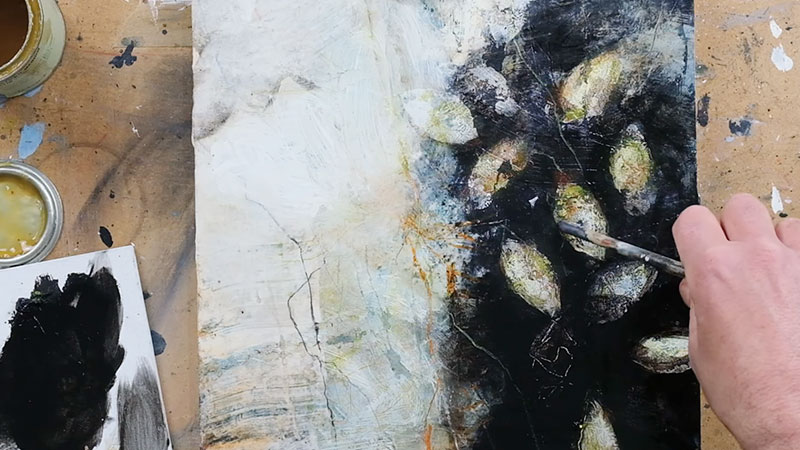 7 Consideration Whether Oil Paint Go Over Acrylic Paint or Not?
Can you paint oil over acrylic? -It is a very common question among beginner painters or DIY enthusiasts and the answer is yes, you can oil paint over acrylic paint, and using oil paint over acrylic paint is a common practice in painting.
However, there are certain considerations and techniques that artists should keep in mind to ensure a successful outcome.
Here are 7 things you should take into consideration:
1. Drying Time
Acrylic paint dries relatively quickly, often within minutes to hours, depending on the thickness of the layers.
In contrast, oil paint has a much slower drying time, often taking days or even weeks to fully cure.
It's crucial to let the acrylic layers dry completely before applying oil paint on top to prevent issues with adhesion and drying.
2. Surface Preparation
Ensure that the acrylic surface is clean and free from any dust, dirt, or contaminants before applying oil paint.
If the acrylic layers are not fully cured, there's a risk that the solvents in the oil paint can interact with the still-drying acrylic, potentially causing cracking or other problems.
3. Compatibility
While it is possible to paint with oils over acrylics, they are different mediums with distinct properties. Acrylics are water-based, while oils are solvent-based.
Some artists prefer to use a thin layer of acrylic medium or an isolation coat as a barrier between the two types of paint to ensure they don't interact negatively.
4. Priming
To create a suitable surface for oil paint, some artists choose to apply an oil-based primer or gesso over the acrylic layers.
This helps improve the adhesion of the oil paint and minimizes the risk of the oil being absorbed by the acrylic, which can lead to discoloration or other issues.
5. Layering
When working with oil paint over acrylics, it's advisable to start with thin layers of oil paint.
This gradual buildup allows for proper drying and minimizes the risk of cracking or wrinkling as the oil paint cures. Allow each oil paint layer to dry thoroughly before applying additional layers.
6. Varnishing
Once your oil painting is complete and fully dry (which can take several months), you can apply an appropriate varnish to protect the artwork and unify the sheen across the surface.
This is important because acrylic and oil paints can have different levels of gloss when dry.
7. Testing
It's always a good idea to conduct a small test or experiment on a separate surface before starting a larger artwork.
This helps you understand how your specific acrylic and oil paints interact and how they perform together.
Why Use Oil Over Acrylic?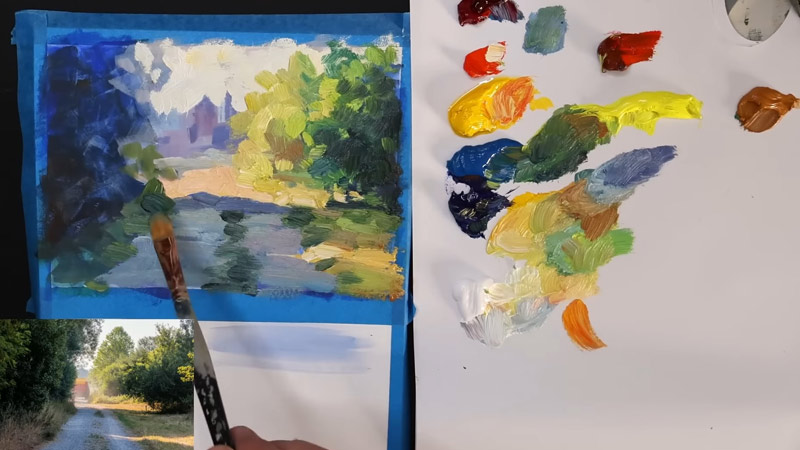 Using oil paint over acrylics can be advantageous for several reasons, and it offers artists a range of creative possibilities.
Here are some key reasons why artists might choose to use oil paint over acrylics:
Blending and Mixing Time
Oil paints have a slower drying time compared to acrylics, which can be a significant advantage for artists who prefer more extended periods to blend, mix, and work on their compositions.
This extended open time allows for smoother transitions between colors and greater control over gradients and fine details.
Layering and Texture
Oil paints are well-known for their ability to create rich and layered textures. Artists can build up multiple layers of oil paint, allowing for greater depth and dimension in their artwork.
This makes oil paint an excellent choice for impasto techniques and creating three-dimensional effects.
Color Intensity and Depth
Oil paints often exhibit more intense and saturated colors when compared to acrylics. The slow drying time of oils can also result in deeper, more nuanced color blends, making them ideal for achieving a wide range of tonal values and color harmonies.
Glazing
Oil paints are particularly well-suited for glazing techniques. Artists can apply thin, translucent layers of oil paint over existing layers to create luminous and highly detailed effects. This can be challenging to achieve with acrylics, which tend to dry quickly.
Altering and Correcting
Oil paints allow artists to make changes and corrections to their artwork over an extended period. If a mistake is made or if an adjustment is needed, oil paint can be reworked, scraped, or painted over without causing significant damage to the underlying layers.
Consistency and Blendability
Oil paint's smooth, buttery consistency makes it easier for artists to achieve seamless blends and transitions. 
This is especially useful for creating realistic skin tones, landscapes, and other subjects that require smooth gradations of color.
Traditional Artistic Traditions
Many art styles and techniques, such as classical realism and the techniques of the Old Masters, are traditionally associated with oil painting.
Artists who wish to work in these styles may prefer the qualities and methods associated with oil paints.
Can You Paint Oil Over Acrylic House Paint?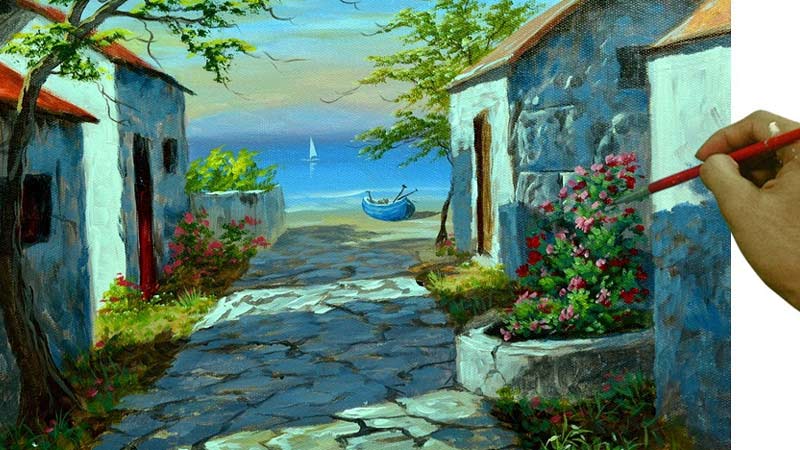 Yes, you can paint oil-based paint over acrylic house paint, but it's important to follow specific steps to ensure good adhesion and a durable finish.
Here are some key considerations:
Surface Preparation
Before applying oil-based paint over existing acrylic house paint, it's essential to ensure the surface is clean and free of any contaminants. This step is crucial for good paint adhesion.
Use a scrub brush and a mixture of water and mild detergent to clean the surface. Rinse it thoroughly and allow it to dry completely. Any residual dirt, dust, or grime can affect the adhesion of the new paint.
Scuff Sanding
To enhance adhesion, lightly scuff-sand the acrylic house paint using fine-grit sandpaper, such as 220-grit.
This sanding not only helps create a rougher surface for the new paint to grip onto but also removes any glossy finish, which may inhibit adhesion. Be sure to wipe away the dust created by sanding before proceeding.
Primer
Apply a high-quality oil-based primer compatible with both oil and acrylic paints. The primer serves as a bridge between the different paint types and ensures strong adhesion.
Follow the manufacturer's instructions regarding application, drying times, and the number of coats required. Allow the primer to dry thoroughly before proceeding with the topcoat.
Paint
Choose a high-quality oil-based paint formulated for exterior surfaces. Oil-based paints are more durable and weather-resistant, making them suitable for outdoor applications.
Apply the oil paint evenly in thin coats, using a suitable brush or roller. Avoid overloading the brush, as this can lead to drips or uneven coverage.
Allow each coat to dry completely before applying the next one. Follow the manufacturer's recommendations for drying times between coats.
Drying Time
Keep in mind that oil-based paints have a longer drying time compared to acrylics.
It's essential to be patient and allow sufficient time for the oil paint to dry fully between coats and before exposing the painted surface to moisture or harsh weather conditions. Rushing the drying process can result in a less durable finish.
Cleanup
After painting, clean your brushes and any equipment used with oil-based paint promptly. Use an appropriate solvent, such as mineral spirits, to remove paint from brushes and other tools.
Follow safety precautions, including proper ventilation, when working with solvents. Dispose of any used materials and solvents according to local regulations.
Maintenance
Regularly inspect the painted surface for signs of wear, peeling, or damage. Depending on the climate and weather conditions, you may need to perform maintenance touch-ups periodically.
Promptly address any areas that require attention to maintain the appearance and protection of the painted surface.
Can You Use Acrylic and Oil Paint Together?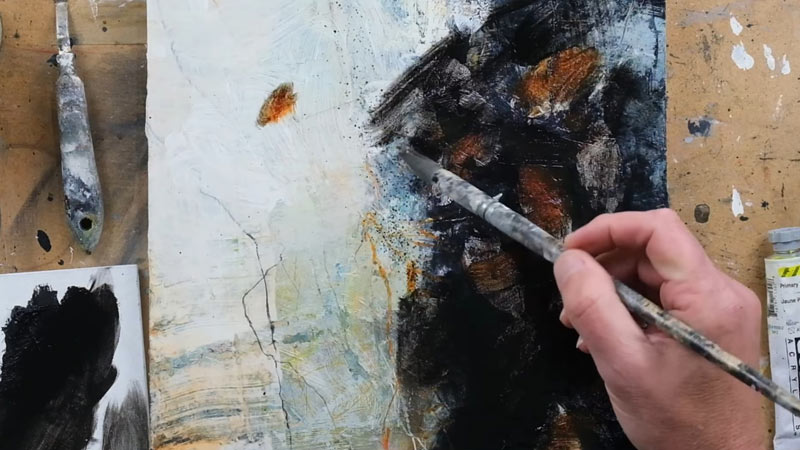 Yes, you can use acrylic and oil paint together in the same artwork, but there are some important considerations to keep in mind when combining these two mediums.
The primary challenge when using them together is that they have different properties, drying times, and requirements.
Here are some key points to consider when working with acrylic and oil paint in the same artwork:
Layering Sequence
When using both acrylic and oil paint in a single artwork, it's crucial to decide on the layering sequence. Acrylic paint should be applied before oil paint. Start with acrylic as the base layer, as it dries quickly.
Once the acrylic layers are completely dry (which can take several days or weeks), you can add oil paint on top.
Compatibility
Acrylic paint is water-based, while oil paint is solvent-based. Although they can be used together, there can be compatibility issues.
To minimize these issues, some artists prefer to use a thin acrylic isolation coat over the dried acrylic layers before applying oil paint. This creates a barrier between the two paint types.
Oil Over Acrylic
It's generally easier to apply oil paint over acrylic than the reverse. Oil paint adheres well to dry acrylic layers, but acrylic paint does not adhere as effectively to oil paint.
Therefore, if you want to combine both mediums, it's usually best to have the oil layers on top.
Drying Time
Keep in mind that acrylic paint dries much faster than oil paint. The differences in drying times can be used to your advantage for specific effects and techniques, but it also means you must wait for the acrylic layers to dry before adding oil paint.
Varnishing
After completing your artwork and ensuring that both the acrylic and oil layers are fully dry, you can apply an appropriate varnish to protect the entire piece and provide a consistent sheen. Varnishing helps unify the appearance of the painting.
Experimentation
Before working on a final piece, it's a good idea to conduct experiments or create small studies to understand how acrylic and oil paint interact and how they affect your desired artistic outcome.
Can I Paint Without Gesso?
Yes, you can paint without gesso, but whether or not you need to use gesso depends on several factors, including the type of surface you're painting on, the type of paint you're using, and the desired outcome of your artwork.
Here's some information to consider:
Surface Type
Canvas: If you're painting on a pre-stretched canvas that is specifically designed for acrylic or oil painting, it often comes pre-primed with gesso. In such cases, you can start painting directly on the canvas without applying additional gesso.
Wood, Paper, or Other Surfaces: If you're painting on surfaces like wood, paper, or unprimed canvas, applying gesso is advisable. Gesso creates a suitable, absorbent surface that helps paint adhere better and prevents it from soaking into or damaging the surface material.
Type of Paint
Acrylic Paint: Acrylic paint can be applied directly to a gessoed or un-gessoed surface. It adheres well to most surfaces, so gesso is not always necessary. However, gesso can enhance the paint's performance and color vibrancy.
Oil Paint: For oil paint, it's generally recommended to apply gesso to your surface, especially if you're working on canvas. Gesso creates a barrier that prevents the oil in the paint from being absorbed by the canvas fibers, which can cause deterioration over time.
Artistic Intent
Texture and Absorption: Gesso can be used to create texture on your surface or to control how absorbent the surface is. Depending on your artistic goals, you might apply multiple layers of gesso and sand between layers to achieve a smoother surface or a specific texture.
Aesthetic Considerations: Some artists choose to leave parts of their canvas unprimed or use transparent gesso to create unique effects in their artwork.
FAQS
Can I use any type of oil paint over acrylics?
While most oil paints can be used over acrylics, it's recommended to use traditional oil paints rather than water-mixable oil paints for better compatibility.
Is it necessary to apply an isolation coat before using oil paint over acrylics?
Applying an isolation coat is not always necessary but can provide an extra layer of protection between the acrylic and oil layers, reducing the risk of chemical interactions.
Can I mix oil and acrylic paint on the same palette or canvas?
It's generally not advisable to mix oil and acrylic paints directly on the same surface because of their different drying times and properties.
Is it possible to create impasto textures when layering oil paint over acrylics?
Yes, you can create impasto effects when using oil paint over acrylics by applying thick layers of oil paint, but be mindful of the drying time and potential cracking.
What should I do if my oil paint isn't adhering well to the acrylic surface?
If you encounter adhesion issues, consider lightly sanding the acrylic surface or applying an acrylic medium to improve adhesion before adding more oil paint layers.
To Recap
The combination of oil paint over acrylics represents a fascinating fusion of artistic mediums. The careful balance of patience, surface preparation, and knowledge of their distinctive properties is paramount to achieving successful results.
As artists, we have the opportunity to harness the swift-drying nature of acrylics and the lush, slow-drying qualities of oils to create textured, layered, and visually captivating masterpieces.
With an understanding of compatibility, layering techniques, and proper drying times, this blending of mediums offers a diverse palette of creative possibilities.
While it requires attention to detail, the artistry that can emerge from the interplay between oil and acrylic paints is a testament to the boundless innovation within the world of visual expression.