Embroidery, a timeless and intricate art form, has found its way onto a multitude of surfaces throughout history. One such canvas, quite literally, for this artistic expression is the fabric itself.
But can you do embroidery on canvas? The answer is a resounding yes, and the marriage of embroidery and canvas opens a world of creative possibilities. Canvas, known for its durability and versatility, serves as an exceptional medium for embroidery, offering a sturdy foundation that can withstand the demands of needlework.
Whether you're an experienced embroiderer seeking a new canvas or a novice looking for a rewarding creative outlet, the synergy between embroidery and canvas allows for the creation of intricate designs, textured masterpieces, and personalized art that can adorn your walls, furnishings, and accessories.
In this exploration, we uncover the reasons, techniques, and endless opportunities that come with embroidering on canvas.
Can You Do Embroidery On Canvas?
Embroidery on canvas is a creative and versatile technique that offers numerous possibilities.
Here are the reasons why you can indeed do embroidery on canvas:
Durable and Sturdy Canvas Material:
Canvas is a robust and sturdy fabric, making it an excellent choice for embroidery. It can withstand the demands of needlework without tearing or distorting.
Versatile Canvas Types:
Canvas comes in various types, including cotton, linen, and even synthetic blends. You can choose the one that best suits your project's requirements, whether it's for fine art or decorative crafts.
Texture and Depth:
Canvas offers a textured surface that adds depth and dimension to your embroidery. This texture can enhance the visual appeal of your work, creating a unique effect.
Ease of Stitching:
The weave of the canvas is typically open and easy to work with, making it beginner-friendly for embroidery projects. Novices can quickly grasp basic stitching techniques.
Counted Thread Embroidery:
Canvas is well-suited for counted thread embroidery techniques, such as cross-stitch and needlepoint, where stitches are precisely placed in designated holes or squares.
Customizable Designs:
You can create intricate and customized designs on canvas, from small motifs to large masterpieces. This flexibility allows for personalization and artistic expression.
Suitable for Decorative Art:
Canvas embroidery is often used for creating decorative art pieces like wall hangings, cushions, and tote bags. The fabric's durability ensures that your creations last.
Tapestry and Needlepoint:
Canvas is the preferred fabric for tapestry and needlepoint projects, where yarn or thread is used to create intricate pictures and patterns. Its structure provides excellent support for this type of embroidery.
Long-Lasting Results:
Once completed, canvas embroidery projects tend to have a long lifespan. They can be displayed as wall art or incorporated into functional items, offering enduring beauty and functionality.
Embroidery on canvas is a versatile and rewarding craft. With its durability, texture, and suitability for various techniques, canvas provides a canvas, so to speak, for your creativity to flourish, whether you're a seasoned embroiderer or just starting to explore this captivating art form.
What Kind Of Canvas Is Good For Embroidery?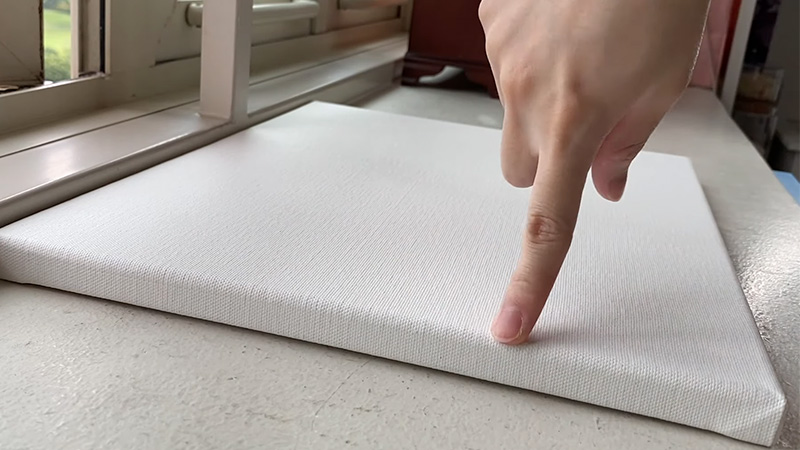 Certainly, there are various kinds of canvas that are suitable for embroidery, each with its own unique qualities.
Here are the types of canvas commonly used for embroidery:
Cotton Canvas:
Cotton canvas is a popular choice for embroidery due to its natural fibers, which offer a soft and smooth surface. It's easy to work with, making it suitable for both beginners and experienced embroiderers.
Cotton canvas is available in different weights, allowing you to choose the thickness that suits your project.
Linen Canvas:
Linen canvas is known for its durability and strength. It has a slightly textured surface that adds depth and character to embroidered designs.
Linen is especially favored for fine needlework and heirloom-quality pieces due to its timeless appeal and resilience.
Aida Cloth:
Aida cloth is a cotton fabric specifically designed for cross-stitch embroidery. It features a grid pattern of regularly spaced holes, making it easy to create uniform stitches.
Aida cloth comes in various counts, allowing you to choose the density of the fabric.
Monk's Cloth:
Monk's cloth is a loosely woven cotton fabric that is commonly used for rug hooking and Swedish weaving but can also be used for embroidery. It has a distinctive grid-like pattern and a plush texture, making it ideal for larger, textured designs.
Vinyl Canvas:
Vinyl canvas is a synthetic option often used for outdoor and marine embroidery projects. It's waterproof and resistant to UV rays and mildew, making it suitable for items like boat cushions and outdoor decor.
Plastic Canvas:
Plastic canvas is a rigid, plastic mesh material that is excellent for crafting three-dimensional and structural embroidery projects. It's frequently used for creating items like tissue box covers, coasters, and ornaments.
Burlap:
Burlap is a coarse, open-weave fabric made from natural fibers. It offers a rustic and textured appearance, making it ideal for embroidery projects with a rustic or country-style aesthetic. Burlap is commonly used for embellishing items like tote bags, table runners, and wall art.
Choosing the right canvas for your embroidery project depends on factors such as the desired texture, project size, and personal preference.
Whether you opt for the softness of cotton, the durability of linen, or the structured nature of plastic canvas, each type of canvas offers its own unique qualities to enhance your embroidery work.
How To Embroider On A Canvas?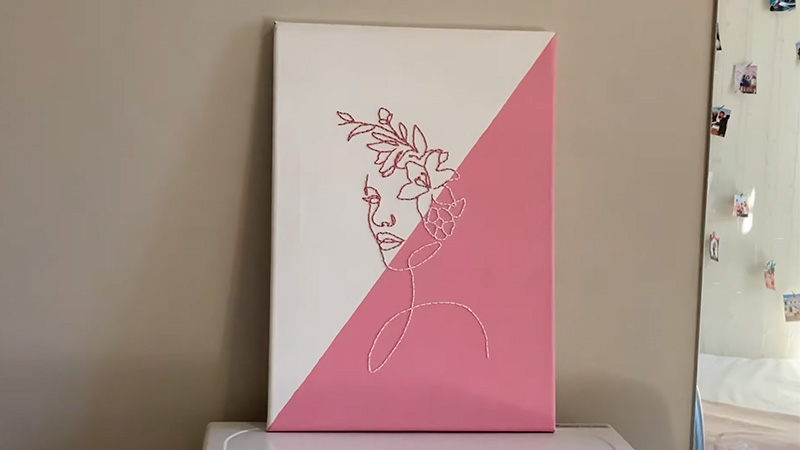 Embroidering on canvas can be a rewarding and creative endeavor. Here are the simple methods to help you get started with embroidering on canvas:
Gather Your Supplies:
Begin by gathering your embroidery supplies, including a canvas fabric of your choice, embroidery hoop, embroidery needles, embroidery floss or thread, and embroidery scissors.
Ensure that your canvas is clean and free from any wrinkles or creases.
Select Your Design:
Choose or create a design that you want to embroider on the canvas. You can transfer the design onto the canvas using methods like tracing, iron-on transfers, or a water-soluble pen. Center the design within your embroidery hoop.
Thread Selection:
Select embroidery floss or thread that complements your design and canvas. Separate the thread strands according to the thickness you desire and thread your embroidery needle.
Start with a Basic Stitch:
Begin with a basic stitch like the backstitch or running stitch. Insert the needle from the back of the canvas to the front, following the design lines. Pull the thread through and repeat the process, creating neat and even stitches.
Experiment with Different Stitches:
Explore various embroidery stitches to add texture and dimension to your design. Stitches like satin stitch, French knots, and chain stitch can be used to fill in areas or create decorative elements.
Secure Loose Ends:
To secure thread ends and prevent them from unraveling, weave them through the backside of your embroidery. Trim any excess thread neatly with embroidery scissors.
Finishing Touches:
Once your embroidery is complete, remove it from the hoop and gently press it on the reverse side with a cloth to remove any creases. You can then frame your canvas embroidery or incorporate it into a sewing project as desired.
Embroidering on canvas is a versatile and enjoyable craft that allows you to express your creativity. With the right supplies, design, and a bit of patience, you can create beautiful and personalized embroidered pieces on canvas fabric.
Experiment with different stitches and techniques to achieve the desired look for your project.
FAQ
Can you do embroidery on canvas as a beginner?
Yes, embroidery on canvas is beginner-friendly. Canvas provides a sturdy and forgiving surface to practice basic stitches and build confidence. It's a great way to start your embroidery journey.
What type of canvas is suitable for embroidery?
Cotton and linen canvas are popular choices due to their durability and ease of stitching. Aida cloth is ideal for cross-stitching. Choose the canvas that suits your project's texture and thickness needs.
Do I need special needles for canvas embroidery?
Standard embroidery needles work well for most canvas projects. However, for very thick or tightly woven canvas, you may opt for larger or blunt-tipped needles.
Can I use different embroidery stitches on canvas?
Absolutely! Canvas is versatile and accommodates various embroidery stitches. Experiment with backstitch, satin stitch, French knots, and more to add texture and depth to your design.
How do I finish and display my canvas embroidery?
After completing your embroidery, you can frame it behind glass to protect the stitches or stretch it onto a wooden canvas frame. Display your canvas embroidery as wall art, incorporate it into home decor, or use it in crafting projects.
Conclusion
Embroidery on canvas is a dynamic fusion of artistry and craftsmanship, offering a canvas for self-expression and creativity.
This versatile craft allows individuals to explore various embroidery techniques, from traditional cross-stitch to contemporary freehand designs, all on the sturdy and texturally appealing backdrop of canvas fabric.
Whether you're embellishing a tote bag, crafting a decorative wall hanging, or undertaking an ambitious needlepoint project, embroidering on canvas invites both beginners and seasoned embroiderers to explore their artistic inclinations.
The enduring allure of this combination lies in the ability to transform a simple piece of fabric into a work of art that not only showcases skill but also conveys personal stories and sentiments.
In the world of needlework, the canvas becomes more than just a surface—it becomes a gateway to imagination and expression. So, whether you're an enthusiast or an aspiring artist, embrace the canvas and let your embroidery journey flourish.
Meta: