Embroidery is an art form and a craft that has captivated and adorned textiles for centuries. Those who are passionate about embroidery are often faced with the decision of whether to use skeins or spooled embroidery thread.
This article delves into the world of spooled embroidery thread, shedding light on its advantages, types, and sizes, and offering insights on where to find it.
From hand embroiderers seeking convenience and versatility to machine embroidery enthusiasts desiring durability, spooled thread provides a wealth of options.
Whether you're a seasoned embroiderer or just starting your journey, understanding the benefits and applications of spooled embroidery thread is a valuable asset to your craft.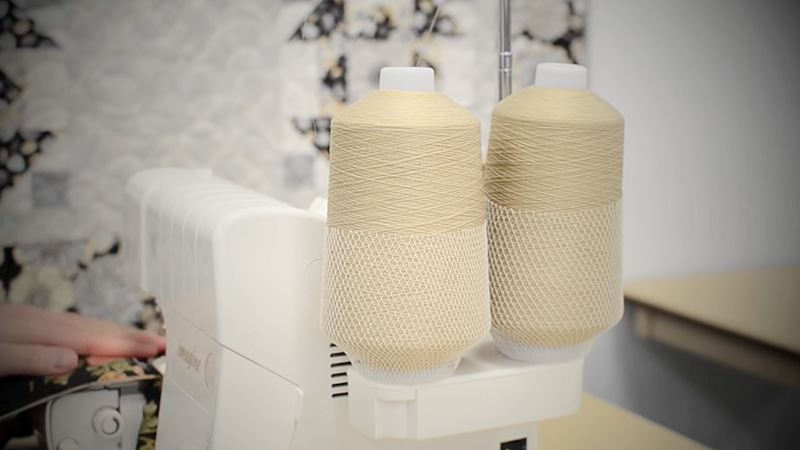 Does Embroidery Thread Come On Spools?
Yes, embroidery thread is available on spools. Spooled embroidery thread offers several advantages, including ease of use, cost-effectiveness, versatility, and high quality.
It eliminates the issues of tangling and knotting associated with traditional skeins. Spools come in various sizes, ranging from 10 meters to 30 meters or more, allowing for less waste and increased savings.
They are suitable for different types of embroidery, such as hand embroidery, machine embroidery, cross stitch, and quilting, and are available in various materials and weights.
You can find spooled embroidery thread from different brands in local craft stores and online, making it a convenient and modern choice for embroidery projects.
What Are the Advantages of Using Spooled Embroidery Thread?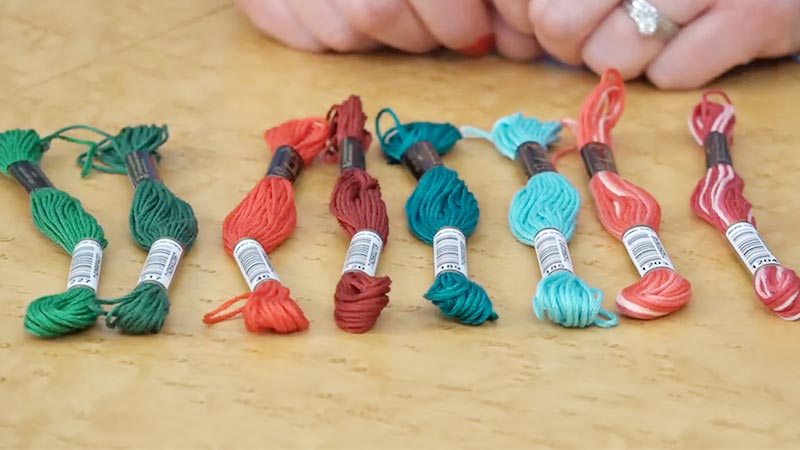 The advantages of using spooled embroidery thread are numerous and make it a preferred choice for embroiderers.
Here are the key benefits:
Ease of Use
Spooled embroidery thread is tangle-free and easy to work with. Unlike skeins, it doesn't tangle, knot, or require time-consuming separation. You can smoothly pull off the length of thread you need and start stitching.
Cost-Effectiveness
Spooled thread is more cost-effective than skeins. It comes in various sizes, allowing you to get more stitches from a single spool, reducing waste and saving money over time. This cost-efficiency is particularly valuable for larger projects.
Versatility
Spooled embroidery thread is highly versatile. It can be used for various types of embroidery, including hand embroidery, machine embroidery, cross stitch, and quilting.
It comes in different weights and materials, from cotton and polyester to rayon and metallic, offering flexibility and creative possibilities.
Quality and Convenience
Many reputable brands offer spooled embroidery thread, ensuring high quality and consistency. The convenience of spools means you can focus on your embroidery work, as it eliminates the frustration of dealing with tangles and snags, making your stitching experience more enjoyable and efficient.
What Are the Different Types of Spooled Embroidery Thread?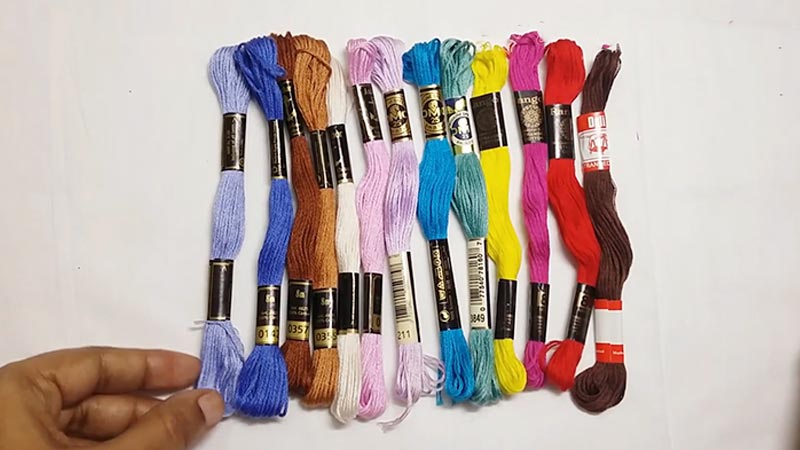 Embroidery thread on spools comes in several different types, each with its unique characteristics. These types are chosen based on the desired finish and application of the embroidery project.
Here are the main types of spooled embroidery thread:
Cotton Embroidery Thread
Cotton thread is known for its natural and matte finish, offering a soft and classic appearance. It holds color well and is ideal for traditional and vintage-style embroidery projects.
Cotton threads are versatile and used in various embroidery techniques, from hand embroidery to cross-stitch and quilting.
Polyester Embroidery Thread
Polyester thread is durable and resistant to fading. It maintains its color vibrancy even after frequent washing, making it suitable for long-lasting designs.
It is commonly used for machine embroidery, especially for items that need to withstand wear and tear, such as work uniforms, outdoor gear, and everyday garments.
Rayon Embroidery Thread
Rayon thread has a vibrant and shiny appearance, adding an elegant luster to your embroidery. It reflects light beautifully, making it perfect for machine embroidery on clothing, accessories, and home decor items. Rayon threads are often chosen to create eye-catching, luxurious designs.
Metallic Embroidery Thread
Metallic embroidery thread incorporates metallic elements, such as metallic-coated polyester or nylon, to produce a dazzling, reflective sheen. It's ideal for creating a bold, shimmering effect in your embroidery.
Metallic threads are commonly used for decorative and ornate designs, including holiday-themed embroidery and special occasion embellishments.
What Are the Common Sizes of Spooled Embroidery Thread?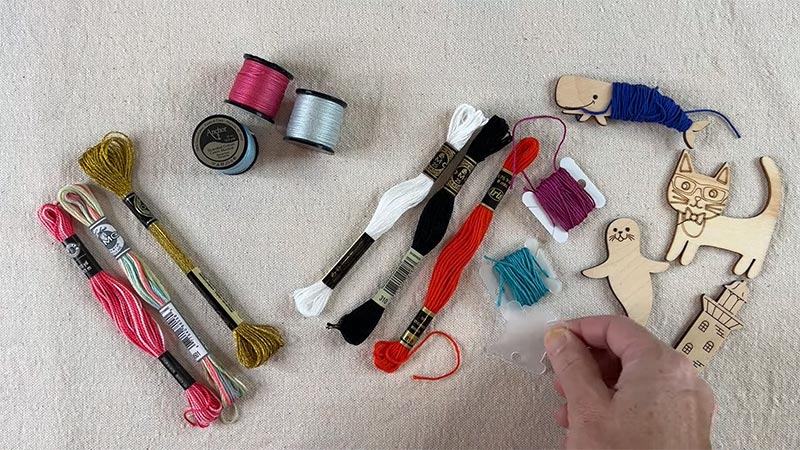 Common sizes of spooled embroidery thread are typically measured in meters or yards, and they vary to accommodate different project needs.
Here are the most common sizes:
10 meters (10.9 yards)
Smaller spools contain approximately 10 meters of thread (equivalent to 10.9 yards). These are ideal for smaller or one-time projects, where you don't require a substantial quantity of thread.
They are cost-effective and ensure you don't end up with excess thread after your project is complete.
30 meters (32.8 yards)
Medium-sized spools contain around 30 meters of thread (approximately 32.8 yards). These are versatile and work well for moderate-sized projects. They strike a balance between quantity and cost, making them suitable for a range of embroidery endeavors.
Larger Sizes
Some spooled threads come in more substantial sizes. The length of thread on these larger spools can vary widely, often extending to hundreds or even thousands of meters or yards.
These larger spools are often chosen for extensive or ongoing projects, such as commercial embroidery or large-scale designs. They provide excellent value and minimize the need for frequent thread replacement.
Where Can You Find Spooled Embroidery Thread?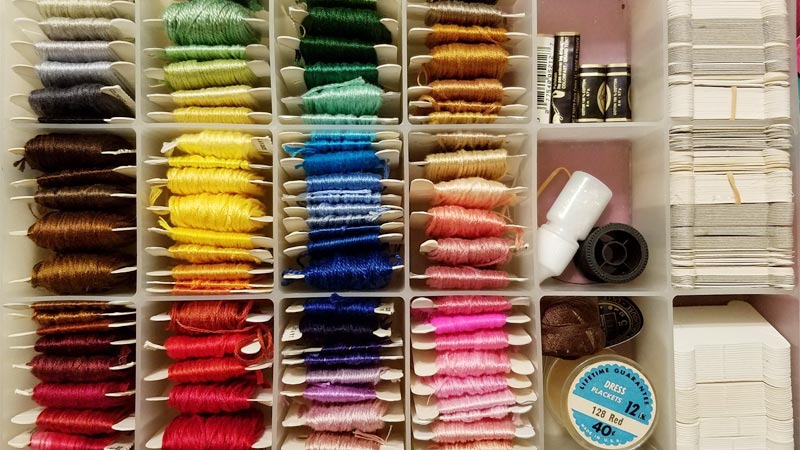 Spooled embroidery thread is readily available from various sources, making it easy for embroiderers to find the thread they need.
Here are some common places where you can find spooled embroidery thread:
Local Craft Stores
Many local craft stores and sewing supply shops carry a selection of spooled embroidery thread. Visit your nearby craft store, and you're likely to find a range of thread types, colors, and sizes.
Specialty Embroidery Shops
Stores that specialize in embroidery often stock a wide variety of embroidery supplies, including spooled thread. These shops may offer a broader selection and expertise to help you find the right thread for your project.
Online Retailers
Online platforms, such as Amazon, eBay, and specialty embroidery supply websites, offer a vast array of spooled embroidery thread. Shopping online provides the convenience of browsing through extensive color palettes and comparing different brands and types of thread.
Brands' Websites
Many reputable embroidery thread manufacturers have their own websites where you can purchase spooled thread directly from the source. This allows you to access their full product range and may offer insights into thread recommendations and usage.
Craft and Sewing Expos
Craft and sewing expos and fairs are excellent places to find spooled embroidery thread. These events often feature numerous vendors selling embroidery supplies, including thread in various forms.
Embroidery Guilds and Associations
Local embroidery guilds and associations may offer resources and recommendations for where to find spooled embroidery thread. They often have connections with suppliers and may even organize group purchases.
Fabric Stores
In addition to craft stores, many fabric shops also stock embroidery supplies. While the selection may not be as extensive as a dedicated embroidery store, you can still find a variety of spooled threads.
Online Marketplaces
Marketplaces that feature handmade and craft items, such as Etsy, often have artisans and sellers offering spooled embroidery thread. This can be an excellent way to find unique and specialty threads.
How Can You Effectively Use Spooled Embroidery Thread?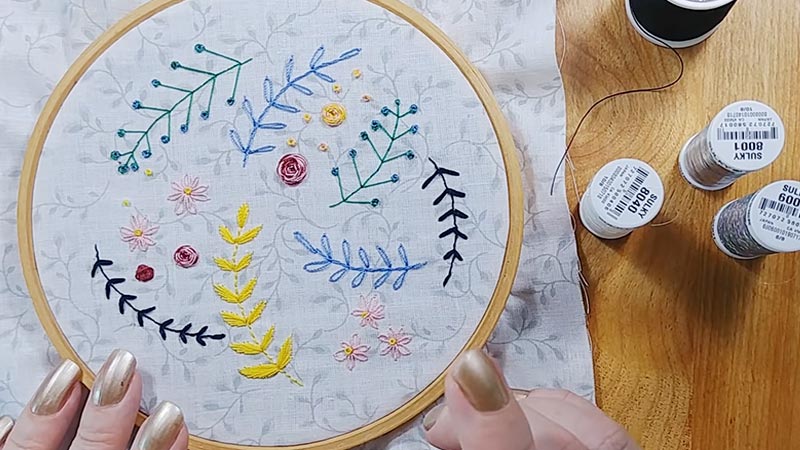 Using spooled embroidery thread effectively is key to creating beautiful and hassle-free embroidery projects.
Here's a comprehensive guide to help you use spooled embroidery thread with ease and success:
Proper Storage and Organization
Store your spooled embroidery thread in a cool, dry place away from direct sunlight. Consider using clear plastic containers or thread storage boxes with compartments to keep threads organized and easily accessible. Label spools or containers with color codes for quick identification.
Use Thread Stands and Spool Holders
Invest in a thread stand or horizontal spool holder to maintain proper thread tension and prevent tangling. These accessories are particularly beneficial for machine embroidery but can also enhance hand embroidery experiences.
Preventing Tangles and Knots
Always thread your needle from the end of the spool where the thread naturally unwinds. Ensure the thread passes through all the necessary guides and tension discs on your sewing machine or embroidery hoop.
Use the right needle size, as a dull needle can lead to thread breakage and tangles. Keep an eye on tension settings, adjusting them as needed for different fabrics and thread weights.
Thread Management
Develop a sense of how much thread you need for your project to minimize waste. Pull off the right length without overdoing it to prevent tangles and dirty thread.
Securing the Thread
At the beginning of your embroidery, secure the thread with a backstitch or a locking stitch to prevent unraveling. This ensures your thread remains in place throughout the project.
Thread Maintenance
Regularly inspect your thread for any imperfections or damage. If you encounter weak spots or knots, trim the affected section and continue using the undamaged thread. This prevents thread breakage and maintains the quality of your embroidery.
Color Selection and Mixing
Experiment with different colors and thread weights to achieve unique effects and textures in your embroidery. Mixing and matching can add depth and dimension to your projects.
Practice and Patience
Using spooled embroidery thread effectively takes practice. Don't be discouraged by occasional tangles or knots. With patience and experience, you'll become more skilled at working with spooled thread.
What Are Some Embroidery Projects That Use Spooled Embroidery Thread?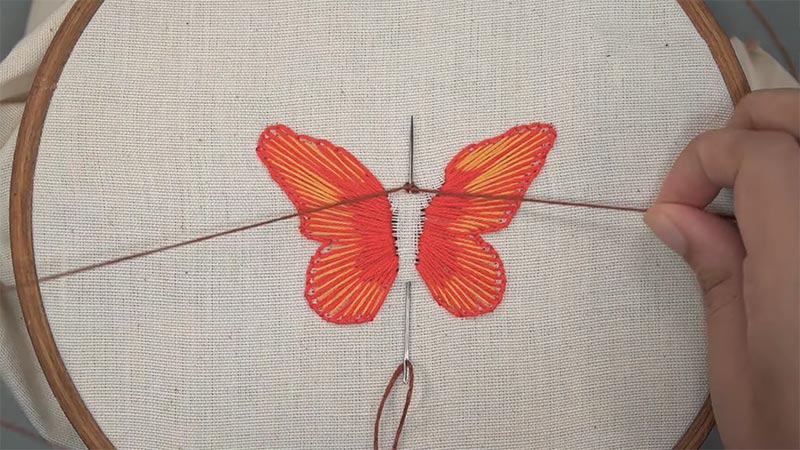 Spooled embroidery thread is a versatile choice for various embroidery projects. Here are some examples of embroidery projects that commonly use spooled embroidery thread:
Hand Embroidery
Spooled embroidery thread is widely used for hand embroidery projects, including traditional embroidery, crewel work, and embroidery on clothing, accessories, and home decor items. Its ease of use and wide color range make it a favorite among hand embroiderers.
Machine Embroidery
Spooled thread is a go-to option for machine embroidery, where precise stitching and consistent thread tension are essential. It's suitable for embellishing garments, creating intricate designs on fabric, and personalizing items like towels and linens.
Cross Stitch
Cross-stitch projects, which involve creating X-shaped stitches to form a pattern, often use spooled embroidery thread. The extensive color options make it easy to find the perfect shades for cross-stitch designs.
Quilting
Spooled thread is frequently used in quilting projects, both for piecing and quilting the layers together. Its durability and colorfastness ensure that quilts remain vibrant and intact even after multiple washes.
Embroidered Art
Artists often use spooled embroidery thread to create detailed and intricate embroidery art. These pieces can range from small, delicate works to large, elaborate wall hangings and art installations.
Embroidered Accessories
Spooled thread is ideal for personalizing accessories like bags, hats, and scarves with monograms, designs, or decorative accents. It adds a unique touch to everyday items.
Home Decor
Embroidery can transform everyday home decor items. Spooled thread is used to embroider pillows, table linens, curtains, and even wall art, allowing you to customize your living space.
Special Occasion Embroidery
Spooled thread is perfect for embellishing special occasion items like wedding veils, ring pillows, and baptismal gowns with delicate and intricate designs.
Pet Embroidery
Spooled thread is used to embroider pet accessories, such as collars, bandanas, and pet beds, offering a personalized and stylish touch to your furry friend's belongings.
Embroidery Kits
Many embroidery kits come with spooled thread, making it a convenient choice for beginners and those looking for all-in-one solutions for specific projects.
FAQs
What is spooled embroidery thread?
Spooled embroidery thread is a type of thread wound on spools, offering several advantages for embroiderers.
Can I use spooled embroidery thread for embroidery machines?
Yes, spooled embroidery thread is commonly used for both hand and machine embroidery. Its smooth unwinding from the spool makes it suitable for machine applications.
Do I need any special tools to work with spooled embroidery thread?
While not necessary, using a thread stand or spool holder can enhance your experience by preventing tangles and ensuring smooth thread flow, especially in machine embroidery.
Are there any eco-friendly options for spooled embroidery thread?
Some brands offer eco-friendly embroidery threads made from sustainable materials, such as organic cotton or recycled polyester. Look for environmentally-conscious options if that's a priority for you.
Can I mix different types of spooled embroidery thread in the same project?
Yes, mixing thread types can create interesting textures and visual effects. Just be mindful of the thread's characteristics and adjust your embroidery technique as needed.
To Recap
The availability of embroidery thread on spools has transformed the world of embroidery, offering convenience, cost-effectiveness, and versatility to artisans and crafters.
Spooled embroidery thread eliminates the hassles of tangles and knots, providing a smooth stitching experience for both hand and machine embroidery enthusiasts.
Its broad range of sizes, materials, and colors opens up endless creative possibilities for all types of projects, from intricate hand embroidery to durable machine designs.
With the ability to find spooled embroidery thread at local craft stores, online sources, and from popular brands, it's easier than ever to access this modern and practical solution for enhancing your embroidery hobby. Explore the world of spooled embroidery thread and elevate your craft to new heights.