The perfect pair of pants can make a powerful statement, but finding that ideal fit off the rack can be a rare occurrence. Fortunately, tailoring is the sartorial secret that can transform any pair of trousers into a customized masterpiece.
However, the cost of tailoring can vary widely, leaving many wondering what to expect when seeking this service. So, how much does it cost to tailor pants?
In this informative guide, we'll delve into the intricacies of tailoring pants, unraveling the factors that influence the cost. Whether you're looking to hem, taper, or alter the waistline of your trousers, understanding the pricing structure is essential.
We'll explore the nuances of tailoring expenses and offer insights into how to make the most of your budget. So, let's embark on this journey to uncover the price of achieving the perfect fit for your pants.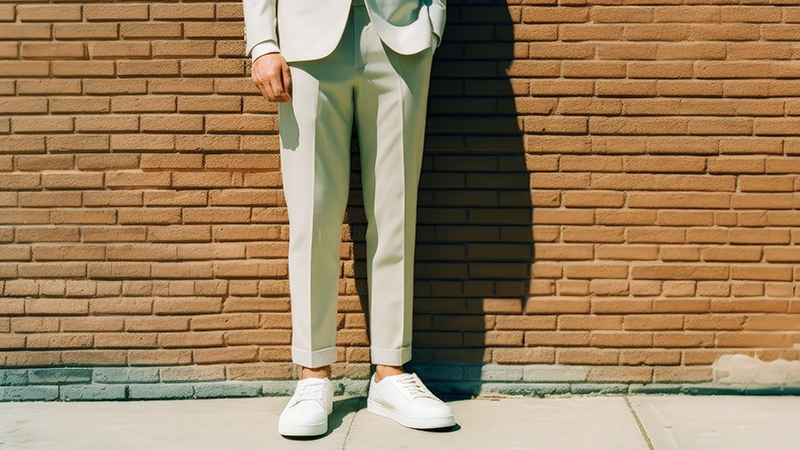 How Much Does It Cost to Tailor Pants?
Tailoring costs for pants can vary depending on several factors, including the type of pants, the complexity of alterations needed, and the location of the tailor.
In this section, we'll explore the factors that affect the cost of tailoring pants and provide an estimate of the average costs you can expect.
Hemming
Hemming is perhaps the most straightforward and frequently requested pants alteration. It involves adjusting the length of the pants to fit your height. The cost of hemming typically falls within the range of $10 to $20.
However, several factors can influence the final price. For instance, if the pants have cuffs, it might add a few extra dollars to the cost, as cuffing requires more precise work.
Additionally, if the pants have a lining, the alteration may become more complex, and thus, more expensive.
Waist Adjustments
Waist adjustments are common when the waistband of your pants is too tight or too loose. This alteration allows for a better fit around the waist. The price for this alteration generally ranges between $15 and $25.
Waist adjustments are a practical solution for achieving comfort in your pants without having to purchase an entirely new pair.
Tapering
Tapering is an alteration that involves narrowing the width of the pants' legs. This alteration is often requested to achieve a slimmer or more tailored look.
The cost of tapering can vary from $20 to $40 or more, depending on the extent of tapering needed. It's important to note that the price may fluctuate based on the number of areas that require tapering.
For instance, if you want the thighs, knees, and calves tapered, it will likely cost more compared to tapering in just one area.
Rise Alterations
Altering the rise of pants is a more intricate and specialized alteration. The rise refers to the distance between the waistband and the crotch of the pants. This alteration can be necessary for achieving a better overall fit.
However, due to its complexity, it tends to be more expensive, ranging from $30 to $50 or even more, depending on the tailor's expertise and the extent of the alteration required.
Cuffing
Cuffing involves adding or removing cuffs at the bottom of the pants. It's a customization option that can add a touch of style to your pants.
The cost of cuffing typically falls within the range of $15 to $25. The price can fluctuate based on factors such as the fabric and the size of the cuffs.
Repairs
Repairing pants with holes, rips, or tears is a service that varies widely in cost. Basic repairs, such as sewing up small holes or fixing minor tears, may start at around $10.
However, extensive repair work, especially on delicate or intricate fabrics, can be more expensive. The price for repairs depends on the extent of the damage and the time and expertise required to mend them.
Custom Tailoring
If you desire a completely personalized pair of pants, custom tailoring is the way to go. Custom-made pants are crafted from scratch based on your measurements and style preferences.
The cost for custom tailoring can be significantly higher, typically ranging from $200 to $600 or more, depending on the choice of fabric, design, and the tailor's reputation. Custom tailoring offers the benefit of perfectly fitting pants tailored to your unique specifications.
What Factors Affect the Cost of Tailoring Pants?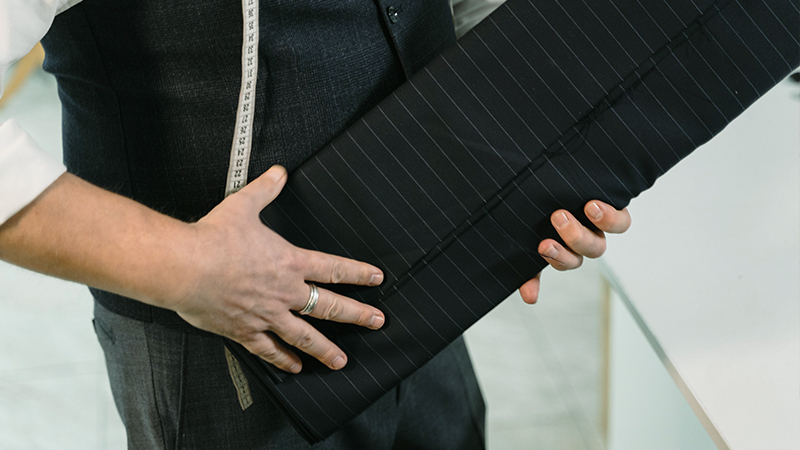 Let's delve into the various factors that influence the cost of tailoring services. The cost of tailoring can vary widely due to a combination of factors, and understanding these influences can help you make informed decisions about your tailoring needs. Here are the key factors:
Type of Clothing
The type of clothing being tailored is a fundamental factor that affects the cost. Tailoring a simple piece of clothing like a t-shirt or casual blouse will typically be less expensive than tailoring a formal suit or a wedding dress.
The complexity of the garment, the fabric it's made from, and its design intricacy all play a role in determining the cost.
Alteration Type
The specific type of alteration required significantly impacts the cost. Common alterations like hemming, taking in or letting out the waist, or shortening sleeves are usually less expensive.
More intricate and time-consuming alterations, such as changing the shape of a garment, modifying collars, or working with delicate fabrics, will generally cost more.
Garment Material
The fabric of the clothing being tailored is a crucial consideration. Working with delicate, luxurious, or thick materials can be more time-consuming and require special care, which can increase the cost.
For example, altering a silk evening gown will likely be more expensive than altering a cotton t-shirt.
Number of Alterations
If you have multiple alterations that need to be done on a single garment, the cost can add up. Tailors often provide discounts for multiple alterations on the same garment, but it's essential to discuss this with your tailor to understand how it affects the final price.
Geographic Location
The cost of tailoring can vary significantly based on your location. Tailors in major cities with higher costs of living tend to charge more for their services than those in smaller towns or rural areas. It's important to consider the regional cost of living when estimating tailoring expenses.
Tailor's Experience and Reputation
The experience and reputation of the tailor you choose can affect the cost. Highly skilled and well-established tailors may charge higher prices for their expertise and the quality of their work.
While you might pay more for their services, the result is often a well-tailored garment that fits perfectly.
Customization
The level of customization you desire plays a significant role in the cost. If you want a garment to be made from scratch, tailored to your exact measurements and design preferences, this will be more expensive than basic alterations.
Custom tailoring often includes selecting fabrics, styles, and unique design elements.
Urgency
If you require a quick turnaround for your tailoring, it may come at an additional cost. Tailors who can accommodate rush orders may charge more due to the expedited work and the need to prioritize your garment over others.
Specialized Services
Some tailors offer specialized services, such as restoring vintage clothing or working on couture pieces. These services often come at a premium, given the level of expertise and care required for unique or historical garments.
Embellishments and Details
The presence of embellishments, intricate details, or decorative elements on a garment can affect the cost. For instance, working on a garment with beading, sequins, or lace may require more time and skill, thus increasing the overall price.
Gender and Size
The gender of the wearer and the size of the garment can also influence the cost. Tailoring men's clothing or smaller sizes may be less expensive than tailoring women's clothing or plus sizes, as the latter often requires more complex alterations.
Pattern Matching
If the fabric of your garment has a specific pattern or print that needs to be matched across seams or alterations, it can add to the cost. Pattern matching requires precision and may result in more fabric wastage.
Garments with linings or interfacing often require more intricate work. Altering or replacing linings and interfacing can contribute to higher tailoring costs.
Pre-existing Damage
If your garment has pre-existing damage, such as stains, tears, or extensive wear, repairing and restoring it may increase the cost of tailoring. Depending on the severity of the damage, additional work and materials may be necessary.
Additional Work
Sometimes, during the tailoring process, additional issues or opportunities for improvement may arise. This can lead to unexpected costs. It's essential to communicate with your tailor and be open to discussing any necessary changes or adjustments.
FAQs
How long does it typically take for a tailor to complete alterations?
The turnaround time for tailoring alterations can vary depending on the complexity of the work, the tailor's schedule, and whether you request rush service. Simple alterations like hemming may be completed in a few days, while more intricate alterations can take several weeks.
What can I do to ensure a successful tailoring experience?
To have a successful tailoring experience, it's essential to communicate your needs clearly to the tailor. Be specific about the alterations you want, and bring any accessories or shoes you plan to wear with the garment to ensure the correct fit.
Is it worth investing in custom tailoring for clothing?
Custom tailoring can be a worthwhile investment for special occasions or when you want clothing that fits you perfectly. Custom-made garments are tailored to your unique measurements and design preferences, ensuring a personalized and comfortable fit.
What's the difference between made-to-measure and bespoke tailoring?
Made-to-measure involves adjusting a pre-existing pattern to fit your measurements and style preferences. Bespoke tailoring, on the other hand, starts from scratch with a new pattern created specifically for you.
Can tailors repair damaged or vintage clothing?
Many experienced tailors are skilled in repairing and restoring damaged or vintage clothing. They can mend tears, replace zippers, reline garments, and handle delicate fabrics.
Conclusion
Tailoring pants is the art of transforming a garment to fit you perfectly, and while the cost can vary, the investment is often well worth it. We've explored the diverse factors that influence the price of tailoring, from the type of alterations required to the material.
It's important to remember that the cost reflects the skill and expertise of the tailor, as well as the quality of workmanship. While seeking budget-friendly options can be appealing, prioritizing quality and a trusted tailor is often the wisest choice.
In the world of fashion, fit is paramount. Tailoring your pants can breathe new life into your wardrobe, ensuring that your clothing not only fits flawlessly but also makes you look and feel your best.
With a little research and a clear understanding of your needs, you can navigate the cost of tailoring and enjoy pants that are as unique and well-fitting as you are.