Dyeing synthetic fabrics at home is a fantastic way to give new life to your old, faded, or outdated garments. Whether you want to refresh the color of a favorite piece or embark on a creative project, the process is easier than you might think.
With the right materials and a little guidance, you can achieve brilliant and long-lasting results. But how to dye synthetic fabric at home? In this guide, we will walk you through the step-by-step process of dyeing synthetic fabric at home.
We'll cover the essential materials you need, the techniques to ensure even color distribution, and tips for maintaining the vibrancy of your newly dyed fabrics.
Whether you're a seasoned DIY enthusiast or a beginner looking for a fun and rewarding project, our instructions will empower you to transform your synthetic fabrics into vibrant, personalized masterpieces.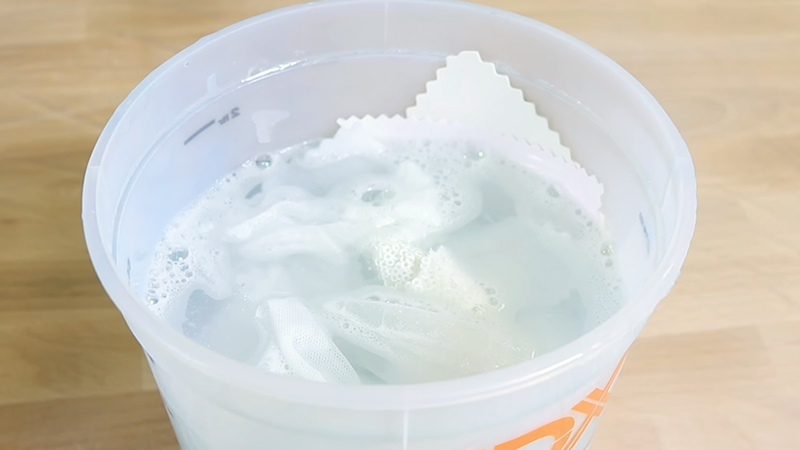 How to Dye Synthetic Fabric at Home? 8 Steps
Want to revamp your wardrobe or customize textiles? Dyeing can be the perfect way to do it. Now, let's dive into the step-by-step process of dyeing synthetic fabric at home.
Step 1: Preparing Your Fabric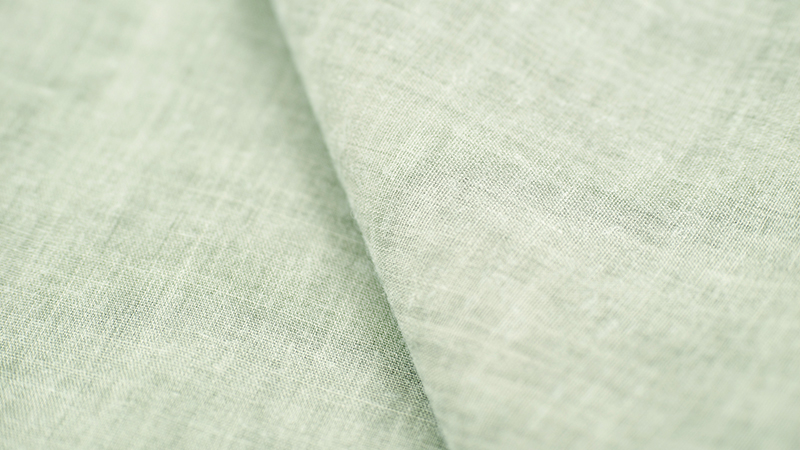 Start by washing the synthetic fabric to remove any dirt, oils, or finishes that might hinder the dye absorption. You don't need to use any special detergent, just a regular wash. After washing, allow the fabric to dry completely.
Step 2: Preparing the Dye Bath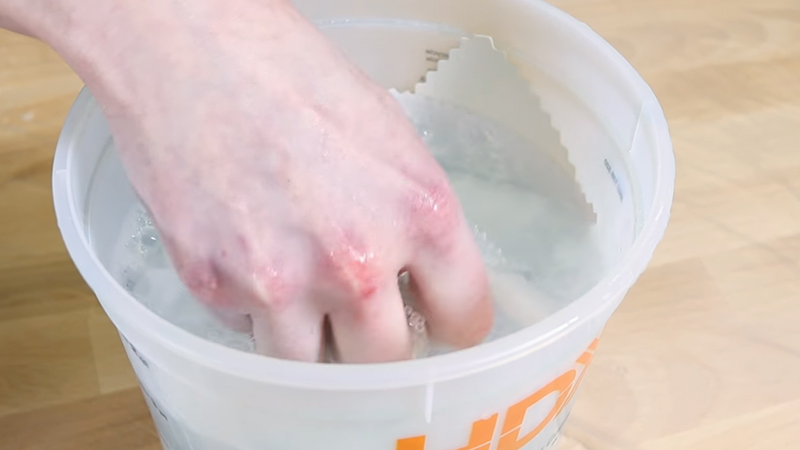 Follow the instructions on your chosen fabric dye to mix the dye bath. The amount of dye, salt (if required), and water needed will vary based on the brand and type of dye you're using. Pay close attention to the manufacturer's guidelines to ensure the right proportions.
Step 3: Pre-Wetting the Fabric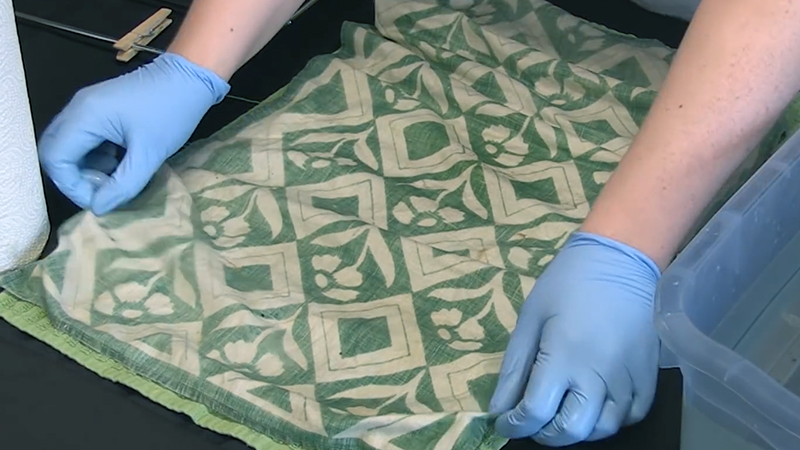 Before placing the fabric in the dye bath, it's a good idea to pre-wet it. Submerge the fabric in warm water, wring it out gently, and then unfold it. It helps the dye to penetrate better.
Step 4: Dyeing Process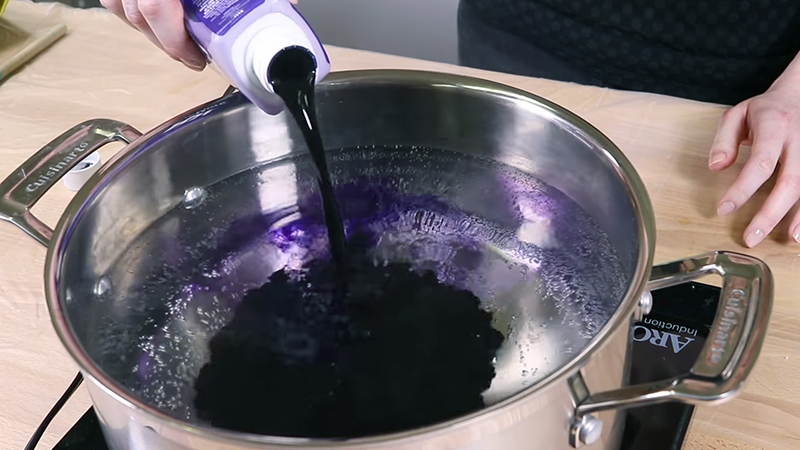 Now, it's time to immerse your pre-wet fabric in the dye bath. Stir the fabric regularly in the dye to ensure even color distribution. The duration of the dyeing process varies, but it typically ranges from 30 minutes to an hour.
The longer you leave the fabric in the dye bath, the deeper the color will be. Keep in mind that synthetic fabrics often take dye more slowly than natural fibers.
Step 5: Rinsing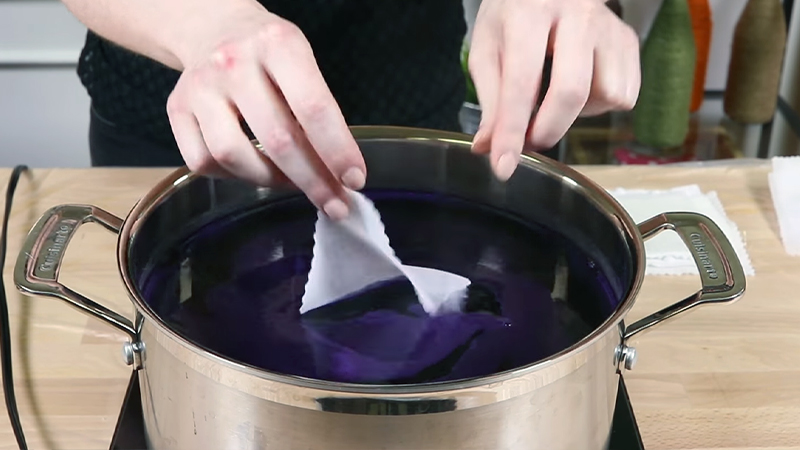 After the desired color is achieved or the recommended time has passed, remove the fabric from the dye bath. Rinse it thoroughly under cold running water to remove excess dye. Continue rinsing until the water runs clear, which indicates that most of the excess dye has been removed.
Step 6: Fixing the Color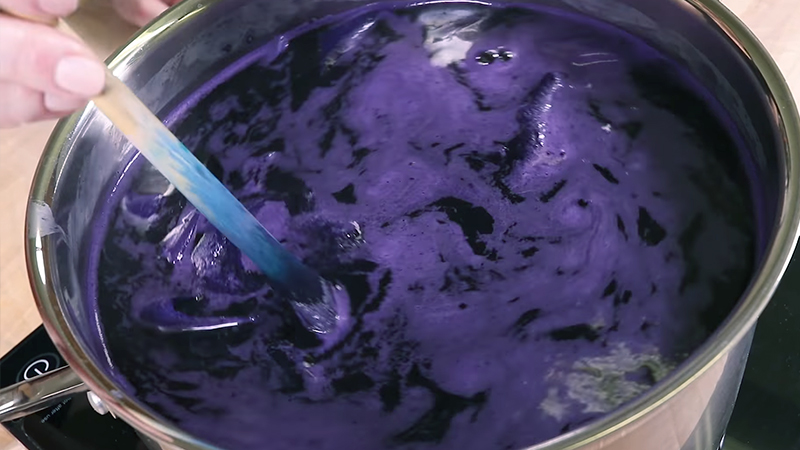 Some synthetic fabric dyes require an additional step to fix the color. This usually involves soaking the dyed fabric in a salt solution for a specified amount of time. Follow the manufacturer's instructions carefully.
Step 7: Curing the Dye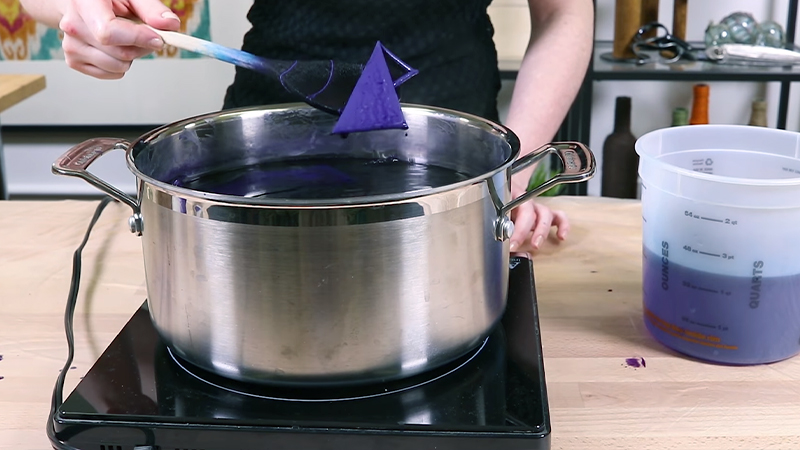 To ensure the color sets properly, wrap the dyed fabric in plastic bags or plastic wrap and let it sit for at least 6 to 8 hours or as per the dye's recommendations. This curing process allows the dye to penetrate and bond with the synthetic fibers.
Step 8: Final Rinse and Drying
After curing, rinse the fabric again under cold water to ensure all excess dye and fixative have been removed. Then, wash the fabric separately in cold water with a mild detergent to get rid of any remaining residue. Once washed, allow the fabric to air dry.
Tips for Successful Dyeing
With careful attention to detail and patience, you can achieve vibrant and long-lasting results that breathe new life into your synthetic fabrics and allow you to express your creativity in unique ways. Here are some effective tips to follow:
Follow the Instructions
Reading and adhering to the manufacturer's instructions is the cornerstone of successful fabric dyeing. Different dye brands and types have specific requirements, including recommended water temperatures, dye-to-fabric ratios, and additional steps for fixing the color.
Always check the dye package for guidance tailored to the dye you're using. Manufacturers often provide valuable insights into the dyeing process, such as the ideal water temperature for dissolving the dye, as well as how to properly mix it with water.
Some dyes may require the addition of salt to help set the color, while others may require different fixatives. Failing to follow these guidelines can lead to uneven or disappointing results.
Wear Protective Gear
Fabric dyeing, particularly with synthetic dyes, can be messy and potentially harmful to your skin. Protect your hands by wearing rubber or latex gloves.
These gloves not only shield your skin from direct contact with the dye but also prevent your hands from absorbing the color. Additionally, it's essential to wear old or protective clothing that you don't mind staining.
Dyeing can result in splatters or spills, and it's much more comfortable to work with the peace of mind that your clothing is not at risk of permanent discoloration.
Dye in a Well-Ventilated Area
Dyeing processes can produce fumes, especially when using heat or strong dyes. To ensure your safety and comfort, choose a well-ventilated workspace.
Working in a space with good airflow helps disperse any fumes and prevents them from accumulating in your immediate vicinity.
If you're dyeing indoors, open windows and doors to promote ventilation. If you're working outdoors, that's even better. Adequate ventilation not only protects your health but also makes the entire dyeing process more pleasant.
Stir Regularly
Achieving even coloring across your fabric requires regular stirring. As the fabric sits in the dye bath, it's easy for the dye to accumulate in certain areas, leading to uneven coloring.
To prevent this, use a large spoon or stirring stick to agitate the fabric in the dye bath frequently. Stirring ensures that the dye reaches all parts of the fabric equally, resulting in a consistent and vibrant color.
Depending on the specific dye and fabric you're working with, stirring every 10 to 15 minutes is generally recommended.
Test on a Swatch
Before committing to dyeing an entire garment, it's a wise idea to test the dye on a small fabric swatch. This allows you to see how the color turns out and ensures you're satisfied with the shade before proceeding with the main project.
The swatch provides valuable insights into how the fabric reacts to the dye and helps you adjust the dyeing process if necessary. To create a swatch, cut a small piece of the same fabric you plan to dye and follow the same dyeing process on a smaller scale.
This way, you can assess whether the color meets your expectations and make adjustments if needed. It's a great practice to avoid any unwanted surprises on your main project.
Be Patient
Achieving the desired color may take time, depending on the fabric, dye, and your personal preferences. It's essential to be patient during the dyeing and curing processes.
If you're aiming for a deep or vibrant color, this might require leaving the fabric in the dye bath for an extended period. Similarly, the curing process, where the fabric is wrapped and left to sit, is crucial for the color to set properly.
Rushing through this step can result in the dye not adhering as well as it should, which might lead to color fading over time. So, allow ample time for the dye to work its magic.
Protect Your Work Area
Dyeing can be a messy endeavor, and accidental spills or splatters can happen. To protect your workspace, cover surfaces with plastic or old newspapers before you begin.
This not only prevents any unwanted staining of your working area but also simplifies cleanup once you're finished. Place the fabric you're dyeing on top of these protective materials to catch any drips or excess dye.
If you're working in a space that you want to keep pristine, taking these precautions will save you time and effort in cleaning up any potential mess. By following these expanded tips for successful dyeing, you'll be well-prepared to embark on your fabric dyeing project.
FAQs
Is it possible to dye synthetic fabrics like polyester, nylon, or acetate at home?
Yes, it is possible to dye synthetic fabrics at home. However, you'll need to use fabric dyes specifically designed for synthetic materials. These dyes are formulated to bond with synthetic fibers and provide vibrant, long-lasting results.
Can I dye a dark-colored synthetic fabric to a lighter color?
Dyeing a dark-colored synthetic fabric to a lighter color is challenging and often not feasible. Dyeing is an additive process, so it's difficult to lighten a fabric's color.
Do I need to rinse the dyed fabric thoroughly after the dyeing process?
Yes, rinsing the dyed fabric thoroughly is crucial to remove excess dye. Rinse the fabric under cold running water until the water runs clear, which indicates that most of the excess dye has been removed.
Can I use regular clothing detergent to wash dyed synthetic fabric?
It's recommended to use a mild detergent specifically designed for hand-washing delicate items when washing dyed fabric. Standard laundry detergents can be harsh and may cause color fading or bleeding.
How can I fix any color fading or bleeding in dyed synthetic fabrics?
To prevent color fading or bleeding in dyed synthetic fabrics, you can follow these steps. Always use a mild detergent for hand-washing when cleaning your dyed fabrics.
Conclusion
The art of dyeing synthetic fabric at home is a versatile and exciting skill that allows you to breathe new life into your clothing and express your creativity. By following the steps and tips provided in this guide, you can achieve vibrant and long-lasting results.
Remember to choose the appropriate dye for synthetic fabrics, prepare your garments properly, and follow the dyeing process meticulously to ensure an even and beautiful outcome.
Through this DIY project, you not only save money but also contribute to a more sustainable and eco-friendly approach to fashion by extending the life of your clothing.
So, whether you're looking to refresh your wardrobe, personalize your textiles, or simply embark on a rewarding creative journey, this guide has equipped you with the knowledge and confidence to get started.
Happy dyeing, and may your synthetic fabrics be transformed into stunning, personalized works of art!