Creating a heart out of paper is a charming and creative craft that transcends age and occasion. This simple yet meaningful DIY project allows you to express your emotions, whether it's to surprise a loved one, adorn a greeting card, or embellish your home with a symbol of love.
In this guide, we will walk you through How to Make a Heart Out of Paper, ensuring that your end result is not only aesthetically pleasing but also carries a sentimental touch.
You'll discover the art of folding, cutting, and decorating paper to fashion a heart that can convey a heartfelt message or serve as a delightful decoration.
From the choice of paper to optional personalizations, this journey into paper heart-making promises to be a delightful experience that taps into your creativity and artistic expression.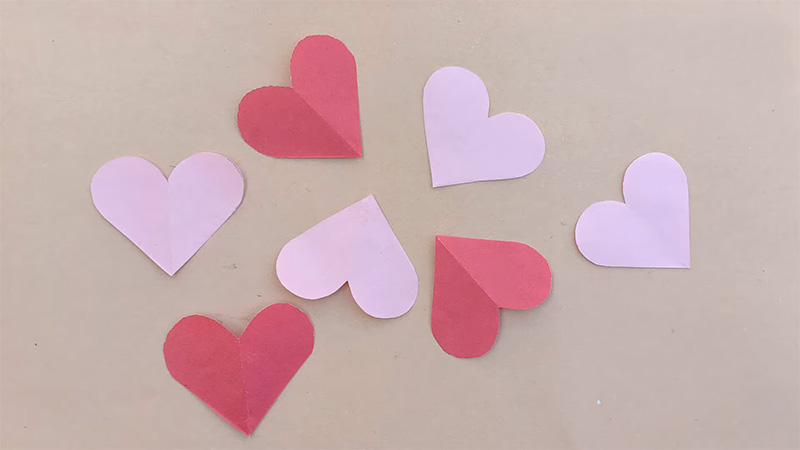 How to Make a Heart Out of Paper?
Creating a heart out of paper can be a delightful and heartfelt craft project.
Whether you want to make a simple paper heart as a decoration, a card embellishment, or a heartfelt gesture, follow these easy steps with accompanying paragraph descriptions to guide you through the process:
Gather Your Materials
Begin by collecting the necessary materials: a piece of colored paper (red or pink works best for a traditional heart), scissors, a pencil, and, optionally, some decorative items like markers or stickers.
Fold the Paper in Half
Take the colored paper and fold it in half horizontally, ensuring that the edges align perfectly. Press down on the fold to create a crease.
Draw Half of a Heart
With the folded edge facing you, use a pencil to draw half of a heart shape along the folded edge. This will be your guide for cutting, ensuring both sides of the heart are symmetrical.
Cut Along the Line
Carefully cut along the pencil line, keeping the paper folded. Take your time to make a smooth, even cut.
Unfold the Heart
Gently unfold the paper to reveal your heart shape. You now have a basic heart made from paper.
Add Decorations (Optional)
If you want to personalize your paper heart, you can use markers, stickers, or glitter to add decorative touches. Write a message, add designs, or make it as fancy as you like.
Create a Greeting Card (Optional)
To turn your paper heart into a card, simply fold a separate piece of paper in half and glue your heart to the front cover. You can write a heartfelt message inside.
Attach a String (Optional)
If you want to hang your paper heart as a decoration, punch a small hole at the top, thread a piece of string or ribbon through it, and tie a knot. Now, you can hang it up wherever you like.
Share Your Heartfelt Creation
Once you've completed your paper heart, it's time to share it with someone special. Whether you give it as a gift, hang it up as decoration, or use it to make a card, your paper heart is a symbol of your creativity and affection.
Creating a paper heart is a simple yet meaningful craft that can be enjoyed by people of all ages.
Feel free to experiment with different colors, sizes, and embellishments to make your heart unique and special for your intended recipient.
Which Color Of Paper Will Look Cute To Make A Heart?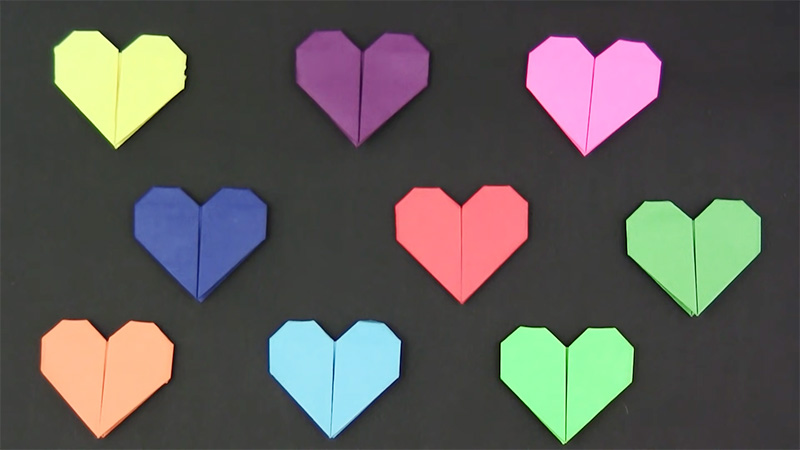 Here are some fun colors:
Red
Red is the classic color of love and passion, and it can make a bold and romantic statement.
Red paper hearts are perfect for Valentine's Day, anniversaries, or any time you want to express your feelings. You can use plain red paper or choose a patterned or textured one for more variety.
Pink
Pink is another popular color for paper hearts, as it symbolizes sweetness, affection, and femininity.
Pink paper hearts can be cute and playful, and they can suit different occasions such as birthdays, baby showers, or weddings. You can use different shades of pink, from light to dark, or mix and match them for a fun effect.
White
White is the color of purity, innocence, and elegance, and it can make a paper heart look simple and sophisticated.
White paper hearts can be used for any occasion, as they can match any theme or style. You can use plain white paper or choose a glossy or glittery one for more sparkle.
Gold
Gold is the color of luxury, glamour, and wealth, and it can make a paper heart look stunning and extravagant.
Gold paper hearts can be used for special occasions such as weddings, anniversaries, or parties. You can use metallic gold paper or choose a foil or sequin one for more shine.
Purple
Purple is the color of royalty, mystery, and creativity, and it can make a paper heart look unique and intriguing.
Purple paper hearts can be used for different occasions, such as Halloween, Mardi Gras, or festivals. You can use different hues of purple, from lavender to violet, or combine them with other colors, such as pink or blue, for a vibrant effect.
Blue
Blue is the color of calmness, trust, and loyalty, and it can make a paper heart look serene and soothing. Blue paper hearts can be used for various occasions such as baby showers, birthdays, or thank you cards.
You can use different shades of blue, from sky to navy, or mix and match them with other colors, such as white or silver, for a cool effect.
Green
Green is the color of nature, growth, and harmony, and it can make a paper heart look fresh and lively.
Green paper hearts can be used for different occasions, such as St. Patrick's Day, Earth Day, or spring celebrations.
You can use different tones of green, from mint to emerald, or blend them with other colors, such as yellow or brown, for a warm effect.
Yellow
Yellow is the color of happiness, optimism, and energy, and it can make a paper heart look cheerful and bright.
Yellow paper hearts can be used for various occasions, such as Easter, summer parties, or get-well-soon cards.
You can use different tints of yellow, from lemon to sunflower, or contrast them with other colors, such as black or purple, for a striking effect.
Rainbow:
The rainbow is the combination of all the colors of the spectrum, and it can make a paper heart look colorful and festive.
Rainbow paper hearts can be used for any occasion that celebrates diversity, joy, and pride.
You can use multicolored paper or choose different colored papers and cut them into strips to make your own rainbow heart.
What Kind Of Paper Is Needed To Make An Origami Heart?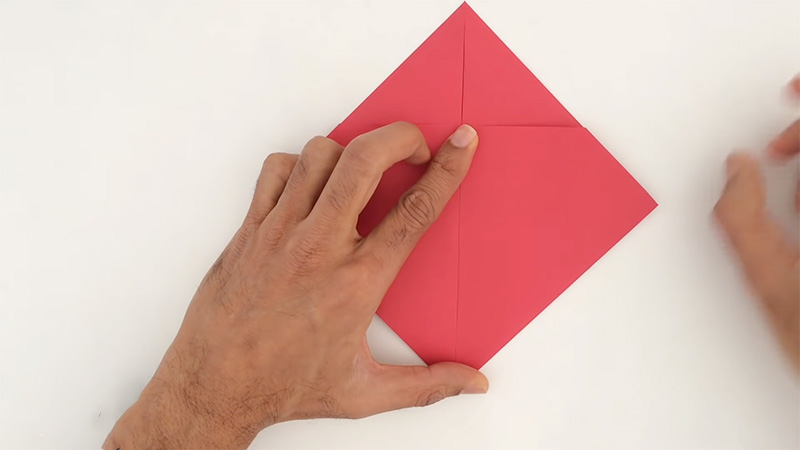 Origami is an art form that often relies on specific types of paper to achieve the desired results.
When making an origami heart, the choice of paper can greatly impact the final appearance and ease of folding.
Here are some kinds of paper commonly used for origami hearts:
Origami Paper (Washi or Kami)
Origami paper, often referred to as Washi or Kami paper, is specifically designed for origami. '
It is square in shape, lightweight, and comes in various colors and patterns. Its thin and crisp texture makes it ideal for intricate folds, and it holds creases well.
Tissue Paper
Tissue paper is another option for creating delicate origami hearts. It is exceptionally thin and lightweight, which allows for graceful folds and a soft, ethereal appearance.
Tissue paper can be found in various shades, making it suitable for crafting colorful hearts.
Metallic or Foil Paper
For a shiny and eye-catching origami heart, metallic or foil paper is an excellent choice.
These papers have a reflective surface that adds a touch of elegance to your creation. They come in a range of colors, including gold, silver, and vibrant hues, making them perfect for special occasions or decorative purposes.
Patterned Scrapbook Paper
Patterned scrapbook paper adds a decorative flair to your origami hearts. These papers come in an array of designs and themes, such as floral, geometric, or holiday patterns.
The thicker texture of scrapbook paper can make the final heart more sturdy and durable.
Recycled Paper
If you prefer an eco-friendly approach, consider using recycled paper for your origami hearts. Old newspapers, magazines, or even discarded book pages can be creatively repurposed.
While recycled paper may not offer the same smooth folding experience as origami-specific paper, it adds a unique and rustic charm to your origami hearts.
When choosing the type of paper for your origami heart, consider the final purpose and your personal preferences.
Origami paper is the classic choice, but experimenting with different paper types can lead to exciting and artistic variations of this iconic shape.
Remember that practice and patience are key to achieving beautifully folded origami hearts, regardless of the paper you choose.
FAQ
How long does it take to make a paper heart? 
Crafting a paper heart typically takes about 15-30 minutes, depending on your experience level and the complexity of your design. 
Simple hearts with minimal decorations may take less time, while intricate ones may require a bit more.
Can I use any type of paper for this project? 
Yes, you can use various types of paper for making paper hearts. Origami paper, tissue paper, metallic paper, scrapbook paper, and even recycled paper are all suitable options. 
The choice of paper will affect the final appearance and texture of your heart.
Is it difficult to make an origami heart for beginners? 
Origami hearts can be made by beginners with a little practice. Start with basic heart designs and gradually work your way up to more complex ones. 
Follow step-by-step instructions and tutorials to build your confidence in folding paper hearts.
Can kids make paper hearts, too? 
Absolutely! Paper heart crafts are an excellent activity for children. Younger kids may need adult supervision, especially when using scissors, but even preschoolers can enjoy simpler versions of this project, fostering creativity and fine motor skills.
How can I personalize my paper heart for special occasions? 
Personalization options are endless. Use markers, stickers, or glitter to add designs or messages. 
Consider incorporating special colors, patterns, or themes that suit the occasion, such as red and pink for Valentine's Day or pastels for baby showers. Tailoring your paper heart makes it even more meaningful.
Conclusion
Crafting a heart out of paper is not just a creative endeavor; it's a heartfelt gesture that can bring joy and warmth to both the creator and the recipient.
As we conclude this guide on how to make a paper heart, we hope you've enjoyed the process of turning a simple sheet of paper into a symbol of love and affection.
Whether you've used traditional origami paper, recycled materials, or colorful patterns, the result is a testament to your creativity and thoughtfulness. Your paper heart can be a token of appreciation, a decoration, or a meaningful addition to a heartfelt message.
It's a reminder that even in this digital age, the simple act of crafting with your hands can convey profound emotions. So, go ahead, share your paper heart with someone special, and let it stand as a tangible representation of your care and creativity.