Dice are essential components of countless games, from board games to role-playing adventures. They add an element of chance and excitement to gameplay.
While traditional dice are made of plastic or wood, you can create your very own paper dice with just a few simple materials and a touch of creativity.
In this guide, we will walk you through the step-by-step process of how to make dice out of paper. Whether you're a board game enthusiast looking for custom dice or a teacher seeking an engaging craft project for your students, this tutorial is perfect for you.
Paper dice are not only easy to make but also customizable, allowing you to design them in various colors and styles to match your preferences or specific game themes.
So, grab your paper, scissors, and glue, and let's roll into the world of crafting paper dice that are both fun to make and a joy to use in your favorite games!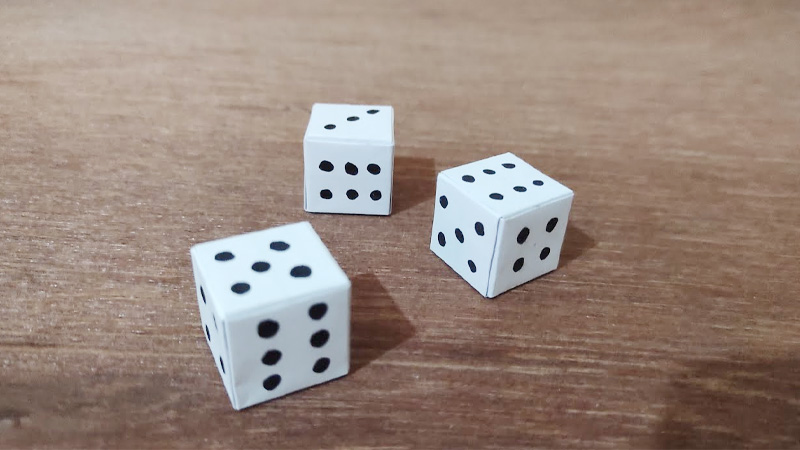 How to Make Dice Out of Paper?
Creating paper dice is a fun and simple craft project that can be customized for various games or activities. Follow these steps to make your own paper dice:
Materials Needed
A sheet of paper (standard printer paper or colored paper)
Scissors
Ruler
Pencil
Glue or tape
Optional: Markers, stickers, or decorative materials for customization
Prepare Your Paper
Start with a square sheet of paper. If you don't have a square paper, you can easily make one by folding a rectangular sheet diagonally and trimming off the excess.
Measure and Mark
Using a ruler and pencil, measure and mark the center of each side of the square. These marks will guide you in creating an even cube.
Draw the Dice Template
On one side of the paper, draw a pattern for your dice, numbering each face from 1 to 6. You can use dots or traditional dice numbers. Make sure the opposite sides of the dice add up to 7 (e.g., 1 and 6, 2 and 5, 3 and 4) for balanced dice.
Cut Out the Template
Carefully cut out the square template, including the numbered or dotted faces. Using the marks you made earlier as a guide, fold the paper along the lines to create a cube. Ensure that each face lines up accurately.
Glue or Tape the Edges
Apply glue or use tape to secure the edges of the cube. Make sure it's tightly sealed, so your dice doesn't fall apart during use. Get creative! Decorate your paper dice with markers, stickers, or any other decorative materials to make it unique or fit a specific game theme.
Let it Dry
Allow the glue to dry thoroughly if you used it. This ensures the cube remains sturdy. Your paper dice is now ready for action! Roll it during your board games, educational activities, or any other fun activities that require dice.
Crafting paper dice is not only enjoyable but also provides a personalized touch to your games. You can create multiple dice with different designs or colors to suit your preferences.
Have fun rolling your homemade paper dice and enjoying countless games with them!
What's the Use of a Paper Dice?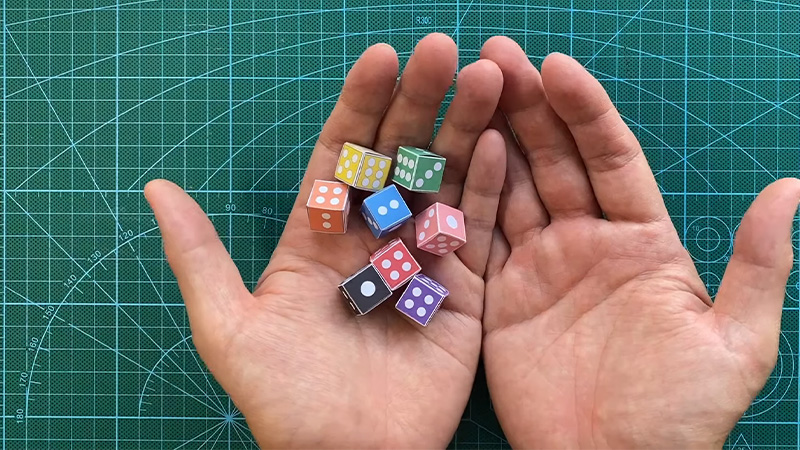 Paper dice can serve various purposes and have several practical uses. Here are some of the common uses of paper dice:
Gaming
Paper dice can be used as a substitute for traditional dice in board games, card games, and tabletop role-playing games (RPGs). They add an element of chance to the gameplay and can be customized to match the theme of the game.
Educational Activities
Teachers often use paper dice in classrooms for educational games and activities. They can be a fun way to teach math concepts, vocabulary, or even foreign languages.
For example, you can write numbers, words, or phrases on the faces of the dice for learning purposes.
Decision-Making
Paper dice can be used to make decisions or settle disputes in a fair and random manner. Instead of flipping a coin or drawing straws, rolling a paper dice can provide an unbiased outcome.
Craft Projects
Creating paper dice is a craft project in itself. It can be a creative and enjoyable activity for kids and adults alike. You can customize paper dice with various designs, colors, and decorations as part of an arts and crafts project.
Math Practice
Paper dice can be used as a tool for practicing math skills. You can create math games where players need to perform arithmetic operations based on the numbers rolled on the dice.
Teaching Probability
Paper dice can be used to teach the concept of probability. By rolling the dice multiple times and recording the results, learners can understand how the likelihood of different outcomes changes with each roll.
Party Games
Paper dice can be used in party games and icebreaker activities. They are lightweight and easy to transport, making them a convenient addition to various social gatherings.
DIY Game Prototyping
If you're designing your own board game or card game, paper dice can be a cost-effective way to prototype and playtest your game mechanics before investing in custom dice.
Travel and On-the-Go Entertainment
Paper dice are portable and can be used for entertainment during travel, camping trips, or any situation where carrying traditional dice might not be practical.
In essence, paper dice are versatile and can be used in a wide range of situations where random chance or decision-making is involved. They are a simple and customizable tool that can add an element of fun and surprise to different activities.
Can I Play with a Paper Dice? How to make it better?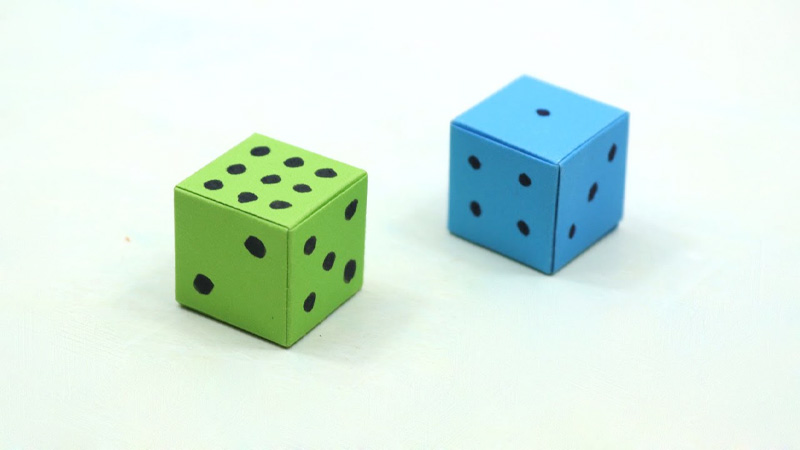 Yes, you can certainly play with paper dice, and there are ways to make your paper dice better for an improved gaming experience. Here are some tips to enhance your paper dice:
Materials
Use sturdy paper or cardstock for your dice to ensure they hold their shape and last longer. Thicker paper will be less prone to wear and tear.
Lamination
Consider laminating your paper dice if you have access to a laminating machine. This will make them more durable and water-resistant, which is especially helpful if you plan to use them frequently.
Size and Precision
Pay attention to the size of your dice and the precision of your cuts and folds. Smaller dice may be more challenging to roll, while larger ones can be unwieldy. Ensure that your folds are crisp and precise for a well-balanced cube.
Weighting
To ensure fairness, make sure your dice are evenly weighted. If one side feels heavier than the others, it can affect the randomness of the rolls.
You can add a small amount of material (like a tiny piece of paper or tape) inside the dice to balance the weight if needed.
Decoration
Customize your paper dice with colorful designs, symbols, or numbers. Sharp, contrasting colors and clear numbering or symbols make your dice more attractive and easy to read.
Smooth Edges
Trim any excess paper and make sure the edges of your dice are smooth. Sharp edges can affect how the dice roll and may lead to inconsistent results.
Testing
Before using your paper dice in a game, give them a few test rolls to ensure they roll freely and produce random results. Adjust the folds or weight if necessary.
Storage
Store your paper dice in a dry, cool place to prevent them from becoming wrinkled or damaged. A small box or bag can help protect them when not in use.
Multiple Dice
If you need more than one die for your game, consider making a set of paper dice with consistent design and size. This ensures fairness and consistency in your games.
Use a Dice Tray
When rolling paper dice, use a dice tray or a soft surface to prevent them from bouncing too much and potentially damaging them or causing them to land unevenly.
Remember that paper dice, while fun and versatile, may not be as durable as traditional dice made from materials like plastic or wood.
However, with careful craftsmanship and attention to detail, you can create paper dice that provide an enjoyable and reliable gaming experience.
How to Make a Printable Paper Dice?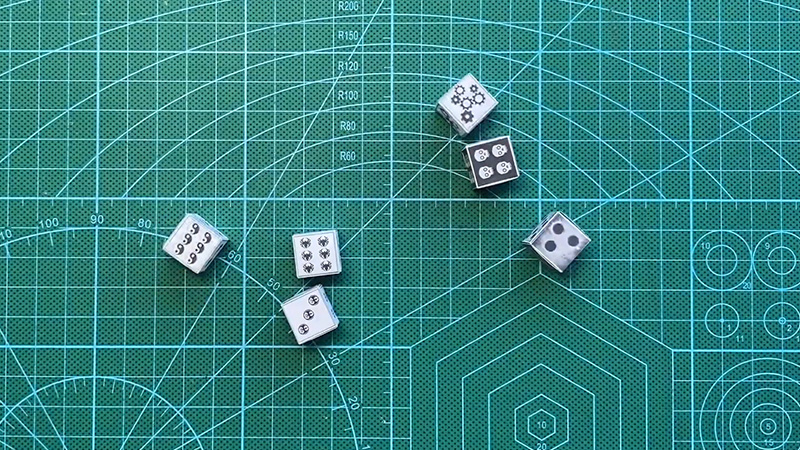 Creating a printable paper dice is a straightforward process, and you can easily design and print your own dice templates. Here's a step-by-step guide:
Materials Needed
Computer with word processing or graphic design software
Printer
Standard letter-sized or A4 paper (8.5 x 11 inches or 21 x 29.7 cm)
Scissors
Tape or glue (optional)
Design Your Dice Faces
Open a word processing or graphic design software on your computer. Create a new document or canvas. Design the faces of your dice.
You can use text, numbers, or graphics, depending on your preference. Ensure that opposite sides of the dice add up to the same number (e.g., 1 and 6, 2 and 5, 3 and 4) for balanced dice.
Create a Cube Template
Draw a cube template with tabs on your document. Each tab should have a number, which corresponds to the face it connects to.
For example, the tab connecting to the "1" face should be labeled "6" since they are opposite sides of the die. Repeat this for all faces.
Resize and Duplicate
Resize your cube template to fit comfortably within the page margins. You may need to adjust the size based on your design. Duplicate the cube template until you have six identical cubes on your document, each with different numbers or faces.
Print the Template
Load your printer with the paper of your choice (standard letter-sized or A4). Print the document with the cube templates. Carefully cut out the cube templates along the outer lines. Make sure to include the tabs.
Fold and Assemble
Score along the lines that indicate where to fold. This makes it easier to create crisp folds. Fold along the lines to create a cube shape. Attach the tabs to the corresponding faces using tape or glue.
Make sure your cube is securely assembled. If you'd like, you can customize your paper dice with colors or decorations using markers or stickers.
Test and Enjoy
Once your paper dice is complete, give it a few test rolls to ensure it rolls smoothly and produces random results. If you need additional dice, you can repeat the process to create more templates and assemble them.
Now you have a printable paper dice ready to use in games or activities. This method allows you to design and print custom dice for various purposes, and you can easily create multiple dice with different designs or themes to suit your needs.
FAQs
Are paper dice as fair as regular dice?
Paper dice can be fair if they are well-constructed and evenly weighted. To ensure fairness, make sure the paper dice are balanced and have uniform dimensions. Test them with multiple rolls to verify their randomness.
Can I make paper dice for different sided dice, like a d20 (twenty-sided die)?
Yes, you can create paper dice with any number of sides, including a twenty-sided die. Designing the faces and assembling the template may require more careful planning and precision due to the increased complexity.
How can I protect paper dice from wear and tear?
Laminating your paper dice or using thicker paper or cardstock can help protect them from wear and tear. Storing them in a dry, cool place and using a dice tray when rolling can also extend their lifespan.
What are some creative ways to use paper dice in educational activities?
Paper dice can be used in various educational games. For math, you can write numbers or equations on the faces. 
In language learning, you can write vocabulary words or phrases. They can also be used for practicing spelling, history facts, or geography questions.
Can I make large paper dice for outdoor games or team-building activities?
Absolutely! You can scale up the size of your paper dice templates to create larger dice suitable for outdoor games or team-building activities. Use larger sheets of paper, such as poster board, and ensure they are securely assembled to withstand outdoor conditions.
Conclusion
Crafting paper dice is a fantastic way to add a personal touch to your gaming experience. With a bit of patience and creativity, you can design dice that are as unique as the games you love to play.
Plus, this DIY project is suitable for all ages and skill levels, making it a wonderful activity for family and friends to enjoy together.
Remember that the possibilities are endless when it comes to decorating your paper dice. You can use various colors, patterns, and even stickers to make them stand out. Additionally, the satisfaction of rolling your handmade dice during game night is truly rewarding.
It's a cost-effective, enjoyable, and creative way to enhance your gaming experience while showcasing your crafting skills. Happy crafting and may your rolls always favor the adventurer in you!