The art of knitting has evolved over centuries, offering creative possibilities that extend far beyond the confines of tradition. One question that often arises is, "Can you knit a hat with straight needles?"
The answer, without a doubt, is a resounding yes.
While hats are typically associated with circular or double-pointed needles for seamless construction, knitting a hat with straight needles is entirely achievable. This method opens up a world of creative opportunities for those who may not have circular needles on hand or prefer the simplicity of straight needles.
In this exploration, we delve into the techniques and steps involved in knitting a hat with straight needles, demonstrating that with a bit of know-how and the right pattern, a cozy and stylish hat can be yours, one stitch at a time.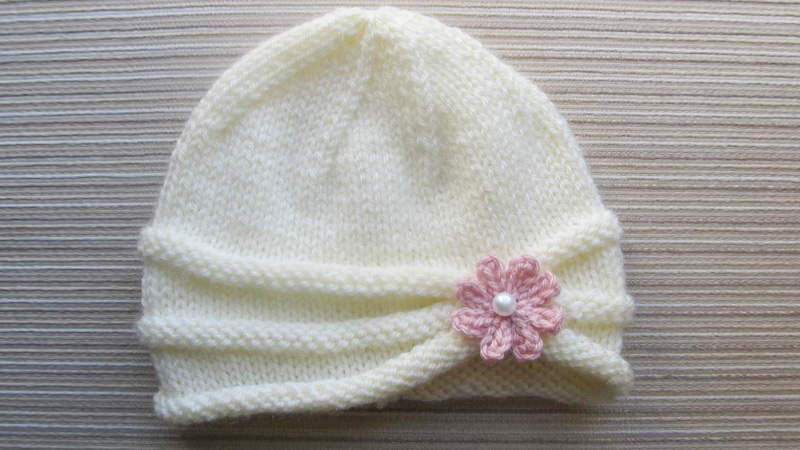 Can You Knit A Hat With Straight Needles?
Knitting a hat with straight needles is indeed possible, although it may require some seaming at the end.
Here are some simple methods to knit a hat using straight needles:
Choose the Right Yarn and Needles
Begin by selecting a suitable yarn and straight knitting needles in the appropriate size for your chosen yarn. The yarn label usually provides needle size recommendations.
Gauge Swatch
Knit a small gauge swatch to determine your stitches per inch. This will help you calculate the number of stitches needed for your hat size.
Calculate Cast-On
Measure the circumference of the head for which you're knitting the hat. Multiply the stitches per inch from your gauge swatch by the desired head circumference to calculate the number of stitches to cast on. Ensure it's a multiple of 4 or 8 for ribbing or a desired stitch pattern.
Ribbing for the Brim
Start by knitting a ribbed brim for your hat. Common ribbing options include K2, P2, or K1, P1. Continue in the ribbing pattern for the desired length, typically 1-2 inches.
Knit the Body
Once the brim is complete, switch to plain knitting (stockinette stitch) or your chosen stitch pattern for the body of the hat. Knit until the piece measures the desired length from the brim to the top of the head, typically 6-8 inches.
Decrease and Shape the Crown
Begin shaping the crown of the hat by decreasing stitches evenly across the row. For example, you can K2 together (knit two stitches together) every 8th stitch. Continue decreasing in this manner until only a few stitches remain.
Seaming and Finishing
Cut the yarn, leaving a long tail, and thread it through a yarn needle. Thread the needle through the remaining stitches, slide them off the knitting needle, and pull tight to close the top of the hat. Seam up the back of the hat and weave in any loose ends.
With these simple methods, you can knit a hat using straight needles. While it involves seaming, it's a great option if you're more comfortable with straight needles and don't have circular or double-pointed needles on hand.
What Types of Knitting Needles Are Best For Hats?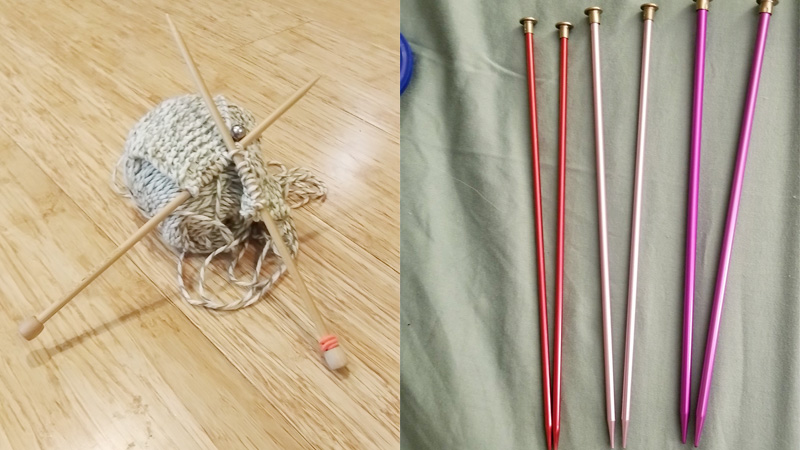 Selecting the right knitting needles for hats is essential to achieve the desired fit and knitting experience.
Here are the types of knitting needles commonly used for hats:
Circular Needles
Circular needles, especially those with shorter cable lengths (around 16 inches or 40 cm), are an excellent choice for knitting hats in the round.
They eliminate the need for seaming and make it easy to work on the entire circumference of the hat. Circular needles also distribute the weight of the project, reducing strain on your hands.
Double-Pointed Needles (DPNs)
DPNs are commonly used for knitting small-diameter items like hats. They come in sets of four or five, allowing you to distribute stitches evenly. DPNs are ideal for knitting the crown of the hat when you decrease stitches.
Interchangeable Needle Sets
Interchangeable needle sets offer versatility, as you can switch needle tips and cable lengths to suit different hat sizes and styles. These sets often come with various needle materials like wood, metal, or plastic.
Fixed Circular Needles
Fixed circular needles are circular needles with a fixed cable length. They are a good choice for hats with standard brim-to-crown construction. Choose a cable length that suits your project's circumference.
Single-Pointed Needles
While less common for hat knitting, single-pointed needles can be used for flat-knit hat patterns that require seaming. They are available in various lengths to accommodate different hat sizes.
Flexible DPNs
Flexible double-pointed needles are a newer innovation that combines the benefits of DPNs and circular needles. They have flexible cables between the needle tips, making them comfortable for knitting small circumferences.
Bamboo or Wooden Needles
Bamboo and wooden needles are known for their grip and warmth, making them ideal for knitting hats, especially in cold weather. They are gentle on your hands and stitches, preventing slipping.
The best knitting needles for hats largely depend on your personal preferences and the specific hat project you're working on. Circular needles and DPNs are popular choices for knitting in the round, while interchangeable sets provide adaptability.
Consider the material and length of the needles that feel most comfortable for your hands and the yarn you're using to create beautiful and cozy hats.
What Can I Knit With Straight Needles?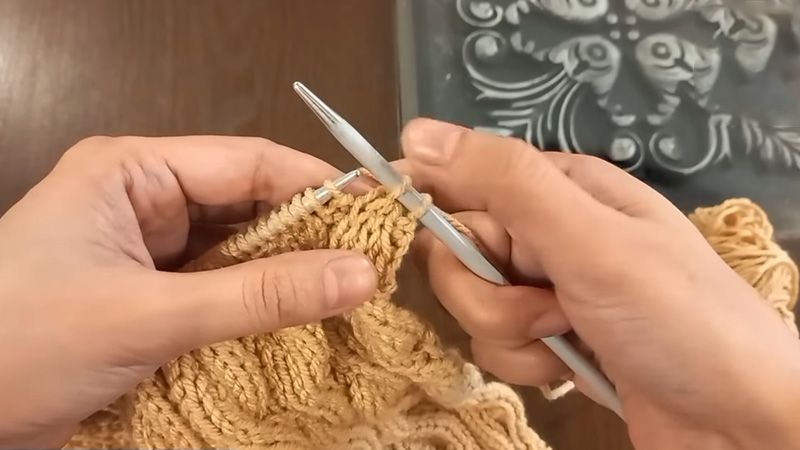 You can knit a wide range of items with straight needles, even though they are typically associated with flat knitting.
Here are the necessary things you can knit using straight needles:
Scarves
Scarves are a classic and straightforward project for straight needles. You can experiment with different stitch patterns, colors, and textures to create a variety of scarf designs.
Blankets
Although larger blankets may require circular needles or long straights, smaller lap blankets and baby blankets are easily knitted with straight needles. Choose a cozy yarn and a simple stitch pattern for warmth and comfort.
Dishcloths
Dishcloths are quick and practical projects. They make excellent gifts and are perfect for practicing various knitting stitches, making them a versatile choice for straight needles.
Potholders
Potholders are another functional and fun project. You can knit a square or rectangular shape and then add a heat-resistant backing for protection against hot pots and pans.
Baby Booties
Knitting baby booties on straight needles is a charming project. These tiny items are perfect for using up leftover yarn and are great for baby showers or gifts.
Headbands
Knitted headbands are fashionable and functional accessories. You can experiment with different stitch patterns, widths, and colors to match your style.
Mittens or Fingerless Gloves
Mittens and fingerless gloves can be knitted flat on straight needles and seamed afterward. They provide warmth and comfort during colder seasons.
While straight needles are commonly used for flat knitting, they offer versatility for creating a wide variety of items. Consider the simplicity and convenience of straight needles, especially if you prefer not to use circular or double-pointed needles.
With the right patterns and techniques, you can craft beautiful and functional knitted projects using this classic tool.
FAQ
Can you knit a hat with straight needles?
Yes, you can knit a hat with straight needles. Although it requires seaming, you can create cozy and stylish hats using straight needles, making them accessible to knitters who may not have circular needles.
How do you knit a seamless hat with straight needles?
To knit a seamless hat with straight needles, follow a pattern that involves seaming the sides and top of the hat after completing the knitting. The seam can be hidden or accentuated depending on your preference.
Are there specific hat patterns for straight needles?
Yes, there are numerous hat patterns designed specifically for straight needles. These patterns include instructions for seaming to create a finished hat. Look for "flat knit" or "straight needle" hat patterns when searching for options.
Can beginners knit hats with straight needles?
Yes, knitting hats with straight needles can be beginner-friendly. Start with simple patterns and gradually work your way up to more complex designs. Practice seaming techniques to create polished and cozy hats.
What are the advantages of knitting hats with straight needles?
Knitting hats with straight needles offers convenience and familiarity for knitters who may not be comfortable with circular needles. It allows for a variety of design options and is an accessible way to create hats with unique stitch patterns and textures.
Conclusion
In the world of knitting, versatility reigns supreme, and the ability to knit a hat with straight needles adds yet another dimension to this beloved craft. While circular needles are the go-to choice for in-the-round projects, the option of using straight needles showcases the adaptability of knitting.
It offers convenience, especially for beginners, and allows you to create hats with unique design elements, whether it's a seamed ribbed brim or an intricate stitch pattern.
Moreover, knitting with straight needles provides an alternative for those who haven't yet ventured into circular knitting or who simply prefer the familiarity of straight needles.
So, as you embark on your knitting journey, remember that while the tools may differ, the end result—a cozy and fashionable hat—is yours to create, regardless of your needle preference.