Puckers in sewing can be a frustrating hurdle for both beginners and experienced seamstresses. These unsightly wrinkles, folds, or gathers that mar fabric during stitching can compromise the quality and aesthetics of any project.
Understanding the underlying causes of puckering is pivotal for every sewing enthusiast. Whether it's issues with thread tension, mismatched needles and threads, or the choice of fabric, these factors all contribute to the vexing problem of puckering.
In this exploration, we delve into the various culprits responsible for puckers, shedding light on the importance of precision, proper equipment, and fabric awareness to maintain the integrity of your sewing creations.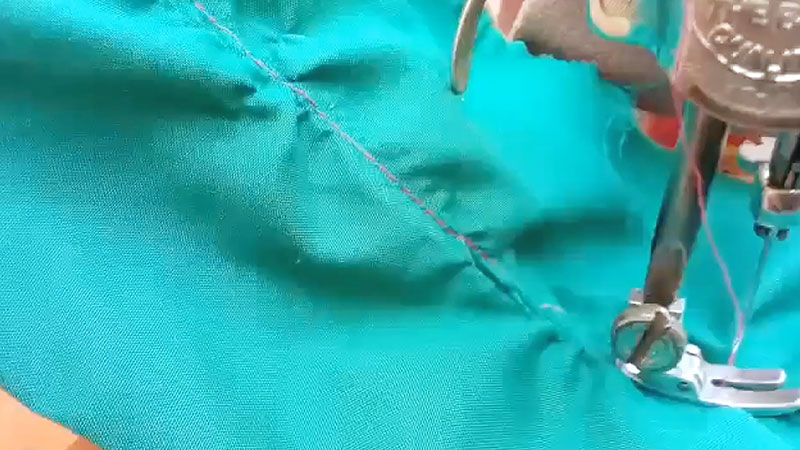 What Causes Puckers When Sewing?
Puckering is a frequent frustration in sewing, characterized by the unsightly gathering, wrinkling, or folding of fabric as it passes through the sewing machine.
These irregularities can significantly detract from the overall quality and aesthetics of your sewing project.
To effectively address and prevent puckering, it's vital to delve into the underlying causes and take appropriate measures.
Tension Issues
Thread tension plays a central role in causing puckers. Incorrect thread tension settings can lead to uneven stitching.
When the upper thread tension is too tight, it forcefully tugs at the fabric as it moves through the machine, causing it to pucker and form unwanted gathers. Conversely, excessive lower bobbin tension can exert the same effect.
Achieving the correct balance in tension, where the upper and lower threads work in harmony, is fundamental to avoiding puckering. Properly adjusting both upper and lower thread tensions is crucial to mitigate this issue.
Needle and Thread Mismatch
Mismatched needles and thread are another common cause of puckering. Needles come in a variety of types and sizes, each specifically designed for different fabrics and sewing techniques.
Using the wrong needle size or type for your fabric can lead to issues. For instance, using a small needle on heavy fabrics or a large needle on delicate materials can disrupt the stitching and result in puckering.
In addition to the needle, the quality of the thread is equally important. Low-quality or aged thread can fray, break, or cause irregular stitching, which, in turn, leads to puckers.
Fabric Selection
The choice of fabric plays a significant role in determining the likelihood of puckering. Lightweight and loosely woven fabrics are particularly susceptible to puckering because they lack the stability required for stitches to hold uniformly.
To mitigate this issue, consider using interfacing to reinforce the fabric or opt for an appropriate needle and thread that complements the specific characteristics of the fabric.
Presser Foot Pressure
The pressure applied by the sewing machine's presser foot can either prevent or exacerbate puckering. Excessive pressure can compress the fabric, causing it to pucker and form irregular gathers.
Conversely, insufficient pressure may allow the fabric to shift during sewing, resulting in irregular stitches and, consequently, puckers.
Therefore, it's essential to adjust the presser foot pressure according to the fabric you are working with.
Stitch Length
The choice of stitch length can impact the likelihood of puckering. A stitch length that is too long may not adequately secure the fabric, allowing it to shift during sewing.
In contrast, a stitch that is too short can create excessive tension in the fabric, leading to puckering. Choosing the right stitch length for your fabric is crucial to avoiding this issue.
Handling the Fabric
The manner in which you handle the fabric during the sewing process can introduce tension and lead to puckers.
Pulling or pushing the fabric through the machine can disrupt the natural flow of the fabric, causing irregularities.
It's important to guide the fabric gently and smoothly through the machine without applying excessive force.
Machine Maintenance
A sewing machine that is not adequately maintained or is dirty can contribute to uneven stitching and, consequently, puckering. Regular cleaning and servicing of your machine are vital to prevent this issue.
A well-maintained machine operates smoothly, promoting even stitches and minimizing the risk of puckering.
What Causes Puckers When Sewing Pants?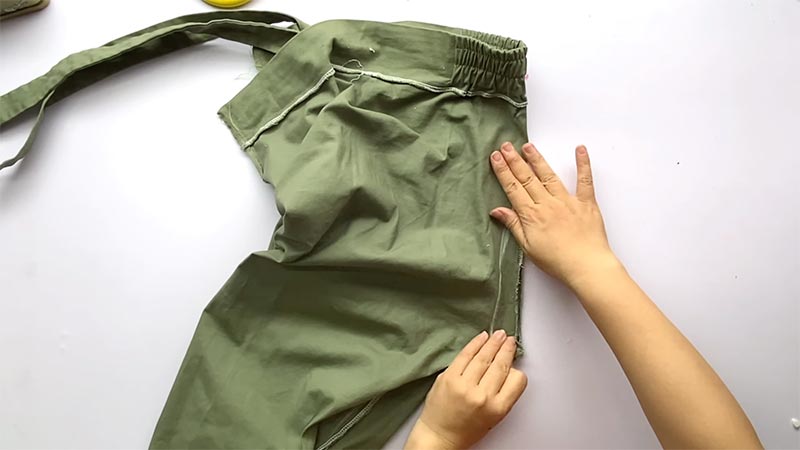 Puckers when sewing pants can be particularly frustrating, as they can disrupt the fit and aesthetics of the garment.
These unwanted wrinkles, gathers, or irregularities in the fabric can occur during the sewing process for various reasons.
Here are some common causes of puckers when sewing pants:
Incorrect Thread Tension
Incorrect thread tension remains a top culprit for puckers in pants, just as in any sewing project.
If the upper thread tension is too tight, it can pull and gather the fabric as it stitches, leading to puckering. Ensure that the upper and lower thread tensions are set appropriately for the fabric you're using.
Mismatched Needle and Thread
Using the wrong needle type or size for the fabric, or pairing it with an unsuitable thread, can result in puckering.
For pants, it's important to use the right needle and thread combination to handle the specific fabric, whether it's denim, cotton, or a stretchy material.
Fabric Stretch and Grain
Pants are often made from stretchy materials or fabrics with a distinct grain direction. Failing to account for these characteristics can lead to puckers.
Adjust your sewing machine settings and techniques to accommodate fabric stretch and grain, ensuring the stitches align with the fabric's natural properties.
Seam Allowance and Stitch Length
Inadequate seam allowance or incorrect stitch length can cause the fabric to pucker when sewing pants. Ensure you're allowing enough room for the fabric to lie flat, and select an appropriate stitch length for the fabric type.
Presser Foot and Walking Foot
Using the wrong presser foot or failing to engage a walking foot (especially for thick or layered fabrics) can contribute to puckers. Choosing the right presser foot and machine attachments can help ensure smooth, even stitches.
Handling and Feeding
How you handle and feed the fabric through the machine is crucial. Avoid tugging or pushing the fabric too forcefully, as it can introduce tension and cause puckers. Let the feed dogs and your guiding hand work together to move the fabric through smoothly.
Machine Maintenance
A poorly maintained sewing machine can result in uneven stitching and puckering. Regular cleaning and servicing can prevent this issue.
How to Stop Fabric Puckering When Sewing?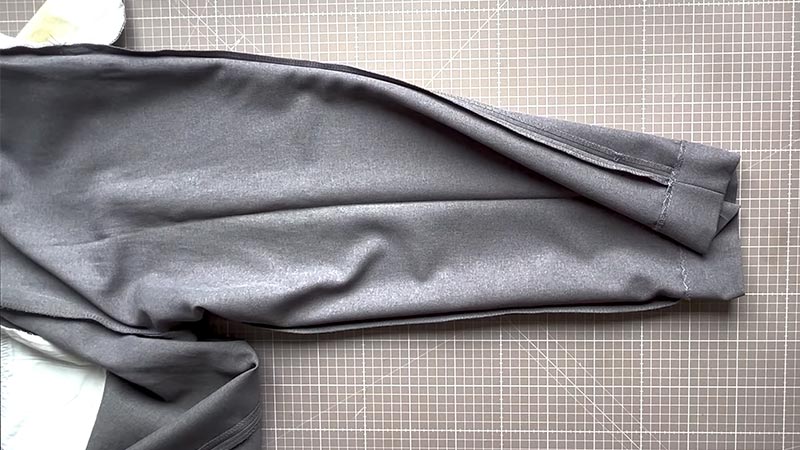 Preventing fabric puckering when sewing is an essential skill for achieving professional-quality projects.
Puckers, those unwanted wrinkles, folds, or gathers in the fabric, can be quite frustrating but can be avoided with the right techniques and practices.
Here are some detailed tips on how to stop fabric puckering when sewing:
Thread Tension Adjustment
Correct thread tension is paramount. Ensure both the upper and lower thread tensions are balanced appropriately. The thread should flow smoothly without being overly tight or loose.
Lighter fabrics typically require lower tension, while heavier fabrics may need slightly tighter tension. Experiment with different settings until you achieve the best results.
Choose the Right Needle
Select the appropriate needle for your fabric. Needles come in various types and sizes, and choosing the right one can make a significant difference.
For example, a universal or ballpoint needle is suitable for most woven fabrics, while a stretch needle is better for knits.
Additionally, fine needles are ideal for lightweight fabrics, and heavy-duty or denim needles are suitable for thicker materials.
Use Quality Thread
Investing in high-quality threads is essential. Inferior or old threads can break easily or cause irregular stitches, leading to puckering. Opt for thread from reputable brands that are designed for your specific sewing project.
Stitch Length
Adjust the stitch length according to your fabric type. Typically, longer stitches work well for lightweight materials, while shorter stitches are ideal for heavier fabrics. You may need to fine-tune the stitch length based on the specific project and fabric characteristics.
Presser Foot Pressure
The presser foot pressure must be tailored to your fabric. Excessive pressure can compress the fabric, resulting in puckering, while insufficient pressure can lead to shifting and irregular stitching.
Consult your sewing machine manual to learn how to adjust the presser foot pressure correctly.
Fabric Stabilization
To prevent puckering in lightweight or stretchy fabrics, use stabilizers or interfacing. These materials provide additional support and reduce the likelihood of fabric stretching or distorting during sewing.
Machine Maintenance
Regularly clean and maintain your sewing machine. A clean, well-maintained machine operates more smoothly, reducing the chances of uneven stitching.
Ensure that the feed dogs, the machine's teeth that move the fabric, are clean and free from lint and debris.
Proper Handling
When guiding the fabric through the machine, handle it gently. Avoid pulling or pushing the fabric forcefully, as this can introduce tension and lead to puckers. Let the feed dogs do their job by evenly advancing the fabric.
Practice
Practice is key to improving your sewing skills. If you're experiencing puckering issues, consider practicing on scrap fabric to get a better feel for how your machine handles different materials and stitch settings.
Pin and Mark
Before sewing, carefully pin and mark your fabric to ensure that seams and hems are correctly aligned. This reduces the chances of fabric shifting during stitching, which can lead to puckers.
Steam and Press
After sewing, use steam and press the fabric with an iron to flatten any minor puckers or wrinkles that may have formed during stitching. Pressing not only eliminates puckers but also gives your project a more polished appearance.
FAQS
Can the type of sewing machine affect fabric puckering?
Yes, the type of sewing machine you use can influence fabric puckering.
Some machines, particularly older or less advanced models, may have more difficulty maintaining consistent tension and stitch quality, which can contribute to puckering.
How do I prevent puckering when sewing very fine, delicate fabrics?
When working with delicate fabrics like silk or chiffon, using a fine needle, lightweight thread, and a small stitch length can help prevent puckering.
Additionally, consider using a walking foot attachment to ensure even fabric feeding.
Can excessive humidity or moisture in the sewing environment cause puckering?
Yes, high humidity or moisture levels can sometimes impact fabric stability, potentially leading to puckering.
What role does the fabric's grainline play in causing puckers?
The fabric's grainline can influence puckering. Stitching off-grain can result in uneven tension, leading to fabric distortion and puckering.
Are there special considerations for preventing puckers when sewing with metallic or specialty threads?
Yes, specialty threads, like metallic or decorative threads, can be more prone to puckering due to their unique characteristics.
To Recap
In sewing, understanding the causes of fabric puckering is paramount in the pursuit of flawless creations. Puckers, those vexing wrinkles, folds, and irregular gathers, are a common nemesis for sewists of all levels.
From tension issues to mismatched needles, fabric choices, and machine adjustments, numerous factors contribute to this vexing problem.
However, with diligence, practice, and a comprehensive understanding of the dynamics at play, sewists can overcome these challenges.
By taking the time to master the art of balanced tension, appropriate thread and needle selection, and recognizing the unique characteristics of different fabrics, one can stitch with precision and finesse.
As with any craft, the journey to mastery is marked by learning, experience, and an unwavering commitment to the pursuit of perfection.