A skein of yarn, a humble yet indispensable entity in the world of fiber arts, is the embodiment of creative potential and craftsmanship.
This elongated bundle of yarn, often wound into a carefully designed shape, serves as the building block of countless knitting, crocheting, and weaving projects.
It is the canvas upon which textile artists weave their imaginations into intricate patterns and cozy garments.
A skein's weight, typically measured in grams, can vary, providing options for projects of all sizes.
From vibrant colors to various textures and materials, skeins offer a diverse palette for artisans to explore.
In this exploration, we uncover the essence of what a skein of yarn truly represents – a world of artistry, innovation, and endless possibilities.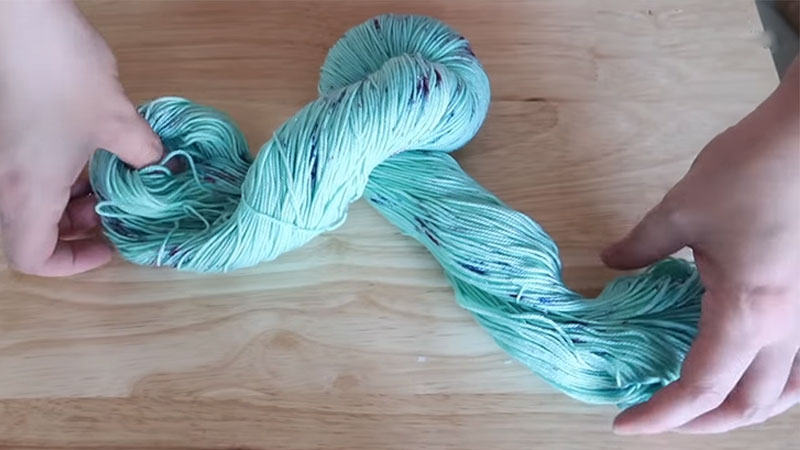 What Is a Skein of Yarn? -The Definition
A skein of yarn is a tightly or loosely wound bundle of yarn, typically in an oblong shape, which serves as a basic unit for yarn packaging and crafting.
Yarn manufacturers wind continuous strands of yarn onto a spool or cone during production, and once the desired length is achieved, they are removed and wound into skeins.
Skeins come in various sizes, often measured in grams, and can contain different lengths of yarn depending on the weight and thickness of the yarn.
Crafters, such as knitters and crocheters, use skeins as a convenient and organized way to access and work with yarn for their projects.
Characteristics of a Skein of Yarn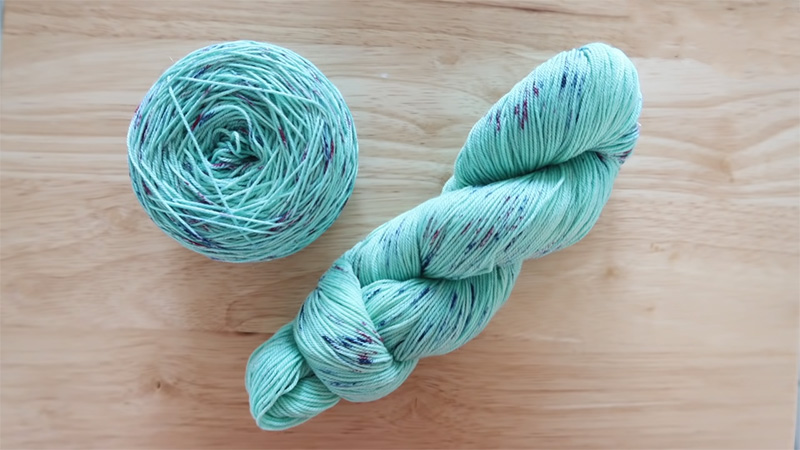 Characteristics of a skein of yarn encompass various aspects that make it a fundamental unit for crafting and textile arts.
Here are the key characteristics:
Shape
A skein of yarn typically has an oblong shape, resembling an elongated oval or a figure-eight. This shape facilitates organized storage and ease of use.
Size and Weight
Skeins come in various sizes, usually measured in grams or ounces, to indicate their weight. Common sizes include 50g, 100g, and 200g, although sizes can vary based on the yarn type and manufacturer.
Length
The length of a skein depends on the thickness of the yarn (weight) and is typically measured in yards or meters. This length information is crucial for determining how much yarn is needed for a project.
Fiber Content
Skeins can be made from a wide range of materials, including natural fibers like wool, cotton, and silk, as well as synthetic fibers like acrylic and nylon. The fiber content affects the texture, warmth, and care requirements of the yarn.
Texture and Twist
Yarn within a skein can have various textures and levels of twist, which impact the look and feel of the finished project.
Smooth, tightly twisted yarns create defined stitches, while loosely twisted or textured yarns add dimension and character.
Color
Skeins come in an extensive array of colors and color patterns. The color of the yarn is often indicated on the label, helping crafters choose the right shade for their projects.
Packaging and Labeling
Skeins are typically labeled with important information, including fiber content, recommended needle or hook size, care instructions, and color information. The label may also feature a barcode for tracking purposes.
Convenience
Skeins are convenient for storage and transport. They can be stacked, hung on hooks, or placed in yarn bins, ensuring that yarn remains tangle-free and easily accessible.
Usage
Crafters can unwind yarn from a skein in various ways, such as center-pull, outer-pull, or by winding it into a ball or cake shape. The method chosen depends on personal preference and project requirements.
Versatility
Skeins are versatile and suitable for a wide range of projects, from clothing and accessories to home decor and art pieces.
The availability of different yarn weights and fibers allows for creativity and customization.
Types of a Skein of Yarn for Knitting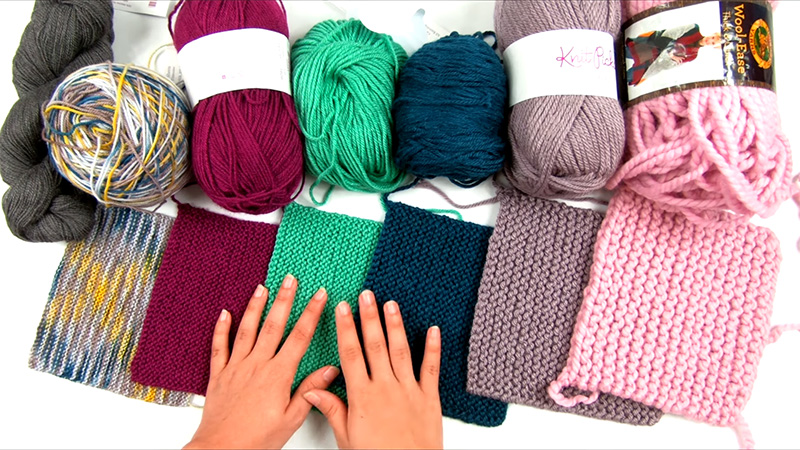 When it comes to knitting, skeins of yarn come in various types, each catering to specific project needs and preferences. Here are some common types of yarn skeins used in knitting:
Solid Color Skein
This is the most basic type of skein, featuring a single, solid color throughout. Solid color skeins are versatile and ideal for creating classic, monochromatic designs.
Variegated Skein
Variegated skeins contain yarn with multiple colors, creating stripes, speckles, or other patterns as you knit.
These skeins add visual interest and complexity to your projects without the need for frequent color changes.
Gradient Skein
Gradient or ombre skeins transition smoothly from one color to another, allowing for beautiful color transitions in your knitting.
They are often used for shawls, scarves, and other projects where a gradient effect is desired.
Self-Striping Skein
Self-striping yarns are designed to create stripes automatically as you knit. They come in various stripe widths and color combinations, making them popular for socks, hats, and garments.
Tweed Skein
Tweed skeins contain small flecks or bits of contrasting color that add a rustic or textured appearance to your knitting. Tweed yarns are often used for cozy, country-style projects.
Hand-Dyed Skein
Hand-dyed skeins are artisanal creations, dyed by hand in small batches. They can feature a wide range of color combinations and unique color effects, making each skein one-of-a-kind.
Bouclé Skein
Bouclé yarns have a looped or textured appearance, creating a bumpy or curly surface. These skeins add texture and dimension to knitting projects and are often used for scarves and wraps.
Chenille Skein
Chenille yarns are velvety and soft, providing a plush and luxurious texture to knitted items. They are commonly used for blankets, pillows, and baby items.
Lace Weight Skein
Lace-weight skeins contain very fine and delicate yarn, perfect for intricate lace knitting. They create delicate and airy fabrics, often used in shawls and lightweight garments.
Super Bulky Skein
Super bulky skeins consist of thick yarn, allowing for quick and chunky knitting. They are ideal for cozy winter accessories like hats and cowls.
Sock Weight Skein
Sockweight yarns are specifically designed for knitting socks. They are usually lightweight and durable, making them suitable for delicate, close-fitting projects.
Cotton Skein
Cotton skeins are made from 100% cotton fibers, providing a breathable and moisture-absorbent option. They are often used for summer garments, dishcloths, and baby items.
Wool Skein
Wool skeins are known for their warmth and elasticity. They come in various types of wool, such as merino, alpaca, and lambswool, each with its unique characteristics.
Blended Skein
Blended skeins combine different types of fibers, such as wool and acrylic, to offer the advantages of multiple materials. These blends can enhance durability, softness, or other qualities.
What Is a Skein of Yarn Used For?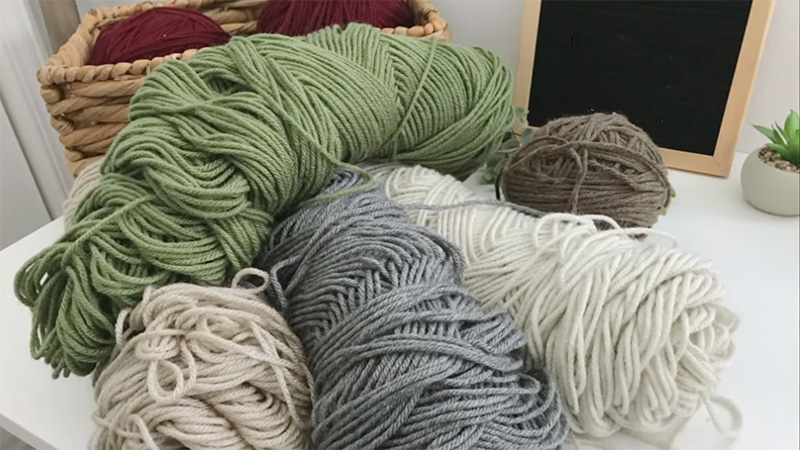 A skein of yarn is a versatile tool used in a wide range of textile and fiber arts. Its primary purpose is to provide the raw material for knitting, crocheting, weaving, and other creative endeavors.
Here's what a skein of yarn is used for:
Knitting
Skeins of yarn are commonly used by knitters to create various items, including clothing (sweaters, scarves, socks), accessories (hats, mittens, shawls), and home decor (blankets, pillow covers).
Knitting involves using needles to create interlocking loops of yarn to form a fabric.
Crocheting
Crocheters also use skeins of yarn to craft a wide range of items, such as blankets, amigurumi, doilies, and garments. Crochet uses a single hook to create loops and stitch patterns with the yarn.
Weaving
In weaving, skeins of yarn are used as the weft (horizontal) threads to create woven fabric. Weavers can produce intricate patterns and textures by combining different yarn colors and types.
Embroidery
Skeins of embroidery floss or thread are used for hand embroidery, cross-stitch, and other forms of needlework to add decorative elements to the fabric.
Embroidery floss is typically made up of multiple strands that can be separated for different thicknesses.
Macramé
Macramé artists use skeins of cord or thicker yarn to create intricate patterns of knots, resulting in decorative wall hangings, plant hangers, jewelry, and more.
Braiding and Kumihimo
Skeins of yarn are used in braiding techniques, such as kumihimo, to create intricate and colorful cords and ropes for jewelry, keychains, and decorative trim.
Rug Hooking and Latch Hooking
Skeins of yarn are employed in rug-making crafts, where loops of yarn are pulled through a base fabric to create rugs, mats, and other textured pieces.
Spinning
Some crafters use skeins of unspun fiber (known as roving) to spin their own yarn using a spinning wheel or drop spindle. This allows for customization in terms of color, texture, and thickness.
Felting
Skeins of wool yarn are often used in wet felting and needle felting projects to create felted fabric and sculptures by matting and compressing the fibers together.
Mixed Media Art
Artists often incorporate skeins of yarn into mixed media artwork to add texture and dimension. Yarn can be used to create three-dimensional elements, collages, and textile-based art pieces.
Decorative Crafts
Yarn can be used in various decorative crafts, such as wrapping gifts, making pom-poms, tassels, and garlands, or creating decorative accents for home decor projects.
Teaching and Learning
Skeins of yarn are valuable teaching tools for knitting and crocheting instructors and are often used in educational settings to introduce beginners to these crafts.
FAQS
What is a skein of wool?
A skein of wool is a length of yarn typically wound into an oblong shape. It's used by knitters, crocheters, and other crafters for various projects.
How much is a skein of yarn?
The amount of yarn in a skein can vary widely depending on the manufacturer and the type of yarn.
What is a skein of yarn in grams?
A skein of yarn is typically measured in grams to indicate its weight. The weight of a skein can vary, but it is commonly found in weights like 50g, 100g, 200g, etc.
How long is a skein of yarn?
The length of a skein of yarn is usually 360 feet but it can vary significantly based on the thickness (or weight) of the yarn and the manufacturer's specifications.
What does 1 skein of yarn look like?
A skein of yarn typically looks like a loosely wound bundle of yarn in an oblong shape.
To Recap
A skein of yarn serves as a fundamental unit in the world of textile crafts, offering convenience and versatility to artisans.
This oblong-shaped bundle of yarn typically wound to various weights in grams, represents the starting point for countless knitting, crocheting, and weaving endeavors.
It not only provides an organized and tangle-free storage solution but also ensures portability for crafters on the go.
With a diverse range of materials, textures, and colors, skeins cater to the artistic expressions of both beginners and experts.
In essence, a skein of yarn is the essential thread that weaves creativity and passion into beautiful, handcrafted fabric creations.