Basting tape, a fundamental tool in the world of sewing, offers a convenient and versatile solution to many common challenges faced by seamstresses and crafters.
This adhesive-backed tape, designed for temporary fabric bonding, eliminates the need for traditional pins or hand basting, providing a secure hold for fabric layers during sewing.
Whether you're working with delicate and slippery textiles, aligning intricate patterns, or seeking precision in various sewing and quilting projects, basting tape proves invaluable.
Its ease of use and temporary nature make it an essential addition to any sewing toolkit, enhancing precision, accuracy, and the overall quality of the finished creations.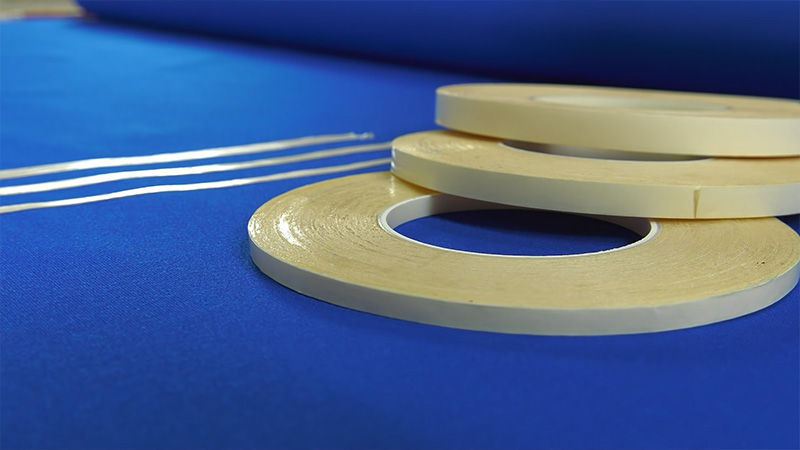 What Is Basting Tape in Sewing? -The Definition
Basting tape is a valuable tool in the world of sewing, commonly used to temporarily hold fabric layers together during the construction process.
This adhesive-backed tape is designed to provide a temporary bond that keeps fabrics in place without the need for pins or traditional basting stitches, making it an essential component in many sewing projects.
The tape is typically double-sided, with one side coated in adhesive and the other protected by a paper or plastic backing. To use basting tape, you simply apply it to the fabric's edge or seam allowance and press the two fabric layers together.
This secures the fabric temporarily, allowing you to sew with greater precision and accuracy. Once your sewing is complete, the basting tape can be easily removed by peeling it away, leaving no residue behind.
How to Use Basting Tape?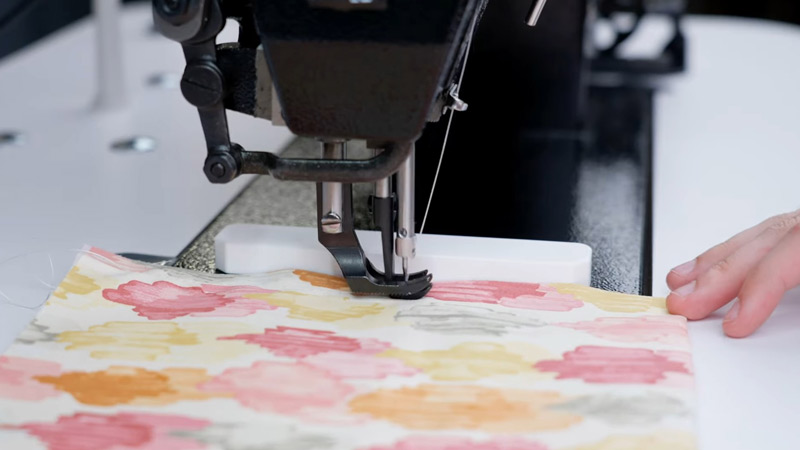 Using basting tape in sewing is a straightforward process that can help you temporarily hold fabric pieces together with precision.
Here's a step-by-step guide on how to use basting tape effectively:
Materials You'll Need:
Basting tape
Fabric pieces you want to join
Sewing machine or hand-sewing supplies
Scissors
Steps:
Prepare Your Fabric
Before applying basting tape, it's crucial to ensure that your fabric pieces are well-prepared. This includes prewashing and ironing your fabric to remove any wrinkles or sizing.
Ensure that your fabric is cut accurately according to your pattern or design, and mark any necessary reference points, such as notches or grainlines, for precise alignment during assembly.
Choose the Right Tape
Selecting the appropriate basting tape for your project is essential. Pay attention to the weight and type of your fabric.
Delicate fabrics like silk may require a gentler adhesive, while heavier materials like denim might need a stronger bond. Additionally, consider the width of the tape to match the seam allowance you intend to use.
Cut the Tape
To make the best use of basting tape, measure and cut it to the exact length you need. A rotary cutter, quilting ruler, or fabric scissors can provide clean, precise cuts. Cutting the tape to the right size minimizes waste and ensures a neat finish.
Apply the Tape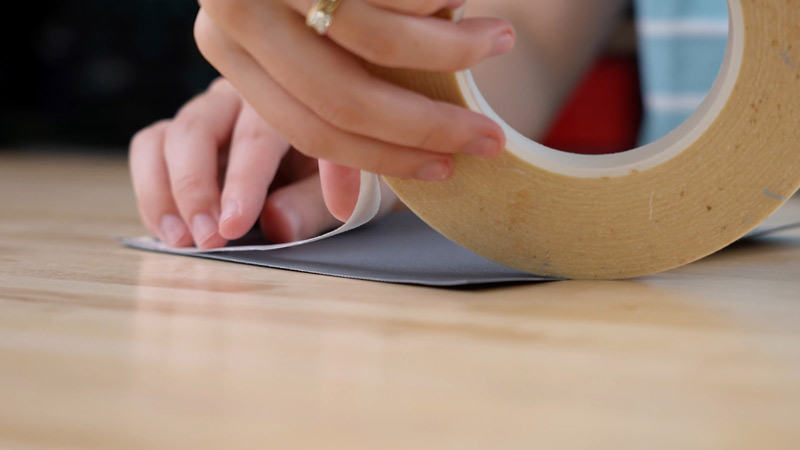 When applying the basting tape to your fabric, take your time to get it right. Remove the backing from one side of the tape, exposing the adhesive.
Align the tape accurately along the seam or fabric edge, following your pattern markings. Press down firmly to secure the tape in place, ensuring that it doesn't shift or wrinkle.
Remove the Second Backing
Carefully peel away the backing from the other side of the basting tape, revealing the adhesive on the opposite side.
Be gentle while doing this, as excessive tugging or stretching could distort the fabric or tape.
Join the Fabric
With the basting tape now in place, align the fabric edges or pieces you wish to join. Ensure they match up precisely, following your pattern or design.
Press the fabric together firmly along the basting tape to create a secure bond. The tape will hold the fabric securely during the sewing process.
Sew the Fabric
Utilize your preferred sewing technique, whether using a sewing machine or hand-sewing.
The basting tape will hold the fabric layers together as you stitch, preventing any shifting or misalignment. Sew your seam or stitch your pieces according to your pattern's instructions.
Remove Excess Tape
After completing your sewing, inspect the seam for any excess basting tape. Carefully peel it away or trim it using fabric scissors. Ensure that no tape remains visible on the finished project, as it should be used for temporary basting only.
Final Touches
Finish your sewing project as required. This may involve trimming seam allowances, pressing the seams open or closed, and adding any final embellishments or closures according to your design.
What Is Basting Tape Used For?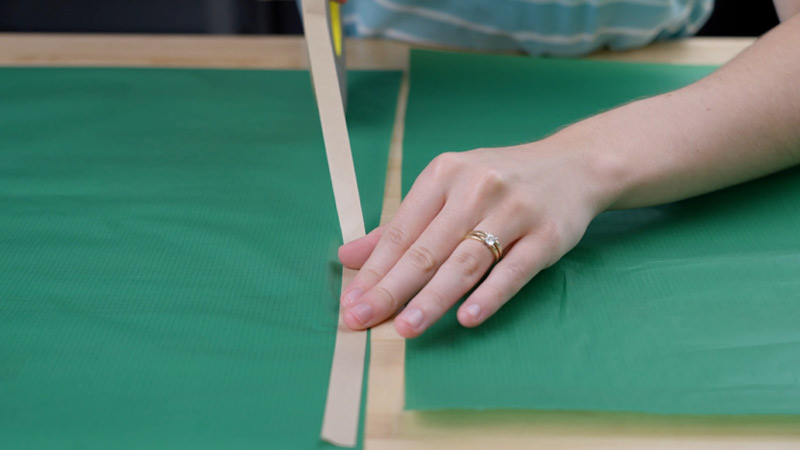 Basting tape, with its gentle but secure adhesive, is primarily used for temporary fabric bonding.
It gracefully takes the place of traditional pins and hand basting, offering a secure hold that keeps delicate and slippery fabrics in perfect alignment during sewing. Basting tape is a versatile tool used in sewing for various purposes.
Here are the uses for basting tape:
Temporary Fabric Bonding
Basting tape is indispensable when working with delicate or slippery fabrics like silk, satin, or chiffon. It allows you to create a secure but temporary bond between fabric layers, eliminating the need for pins or hand basting.
This is particularly valuable when sewing curved seams or intricate designs, ensuring that the fabric doesn't shift during stitching, resulting in precise and professional-looking seams.
Pattern Alignment
Basting tape is a precision tool for aligning fabric pieces accurately when following sewing patterns.
This is especially crucial when dealing with patterned fabrics where matching prints is essential.
It helps you ensure that seams, darts, notches, and other pattern elements align perfectly, leading to a well-finished garment or project with impeccable pattern placement.
Hemming
For achieving a neat and even hem, basting tape is a go-to choice. It holds the folded fabric in place as you sew, ensuring that the hemline stays consistent and doesn't shift while stitching.
This is particularly useful for lightweight or slippery fabrics, where maintaining the hem's shape can be challenging.
Applique
Basting tape is a must-have tool for appliqué work. It secures the appliqué pieces precisely where you want them on the fabric surface before permanent stitching.
This ensures that your appliqué elements are symmetrically placed and well-spaced, enhancing the overall aesthetic of your project.
Zipper Installation
Installing zippers, especially concealed or invisible zippers, requires precise positioning. Basting tape holds the zipper tape securely in place, eliminating the need for pins that can sometimes cause fabric distortion or misalignment.
This results in a cleaner and more professional zipper installation, with the zipper teeth perfectly hidden beneath the fabric.
Quilting
Quilters frequently rely on basting tape to secure the layers of fabric and batting temporarily before the quilting process.
This is especially valuable in large quilts, where maintaining the alignment of multiple layers can be challenging.
Basting tape ensures that the layers stay precisely where they should be, preventing shifting or puckering during quilting. It results in smooth, evenly stitched quilts with minimal distortion.
Pocket Placement
Adding pockets to garments can be a precise task, especially to ensure that they are perfectly positioned and symmetrical.
Basting tape aids in this process by holding the pockets in place while you sew the edges securely. It eliminates the risk of pockets shifting during stitching, ensuring a professional and polished finish.
Binding
Basting tape is a fantastic aid for binding edges, whether you're working on quilts, placemats, or garments. It holds the binding strip securely in position along the edge of the fabric while you stitch it down.
This helps maintain even and precise attachment, resulting in a clean and tidy finish, especially when binding curved or intricate shapes.
Stabilizing Seams
When working with stretchy or loosely woven fabrics prone to stretching or distortion, basting tape becomes a valuable ally.
By temporarily stabilizing seams with basting tape, you prevent the fabric from elongating or puckering during sewing.
This ensures that your seams remain consistent, even when dealing with challenging materials.
Creating Pleats and Tucks
Basting tape offers a unique advantage in fashion and fabric experimentation. It allows you to create temporary pleats or tucks in your fabric, holding them securely in place for evaluation before permanent sewing.
This innovative approach permits you to test various design elements and fabric manipulations, ensuring that your final project reflects your creative vision accurately.
Pinning Alternative
Basting tape serves as a superb substitute for traditional pins, particularly when working with delicate or easily damaged fabrics.
Fabrics like silk, lace, or leather can be marred by pinholes, leaving permanent marks or snags.
Basting tape provides a secure hold without the risk of damaging the material. It ensures that fabric layers stay in place during sewing, eliminating the need to pin and reducing the chances of fabric distortion.
Fixing Mistakes
In sewing, mistakes can occur, whether it's a misaligned seam or a stitching error. Basting tape offers a practical solution for correcting these mistakes without causing further damage to your fabric.
It provides a temporary bond that allows you to reposition a seam or adjust an element of your project easily. Once the correction is made, the basting tape can be removed cleanly, leaving no trace or damage on the fabric.
FAQS
Is basting tape safe for all fabric types?
Basting tape is generally safe for most fabric types, but it's essential to choose the right type of tape based on your fabric.
Can basting tape be left in the fabric permanently?
Basting tape is designed for temporary use and should not be left in fabric permanently.
Does basting tape leave residue on fabric?
High-quality basting tapes are formulated not to leave residue on fabric. However, the residue issue can vary depending on the brand and type of tape, so it's advisable to test a small area first, especially when working with sensitive fabrics.
Can basting tape be used for machine quilting?
Yes, basting tape is commonly used in machine quilting to hold the quilt layers together temporarily.
Is basting tape reusable?
Basting tape is typically not reusable because it loses some of its adhesive properties after the initial application.
Conclusion
Basting tape stands as an indispensable ally in the world of sewing. Its ability to temporarily secure fabric layers, patterns, and various elements eliminates the challenges associated with pins and traditional basting, ensuring precision and accuracy in every project.
Whether you're a novice or an experienced sewer, this adhesive-backed tape simplifies tasks, from aligning patterns and attaching zippers to creating temporary hems and stabilizing seams.
Furthermore, basting tape offers a lifeline for correcting errors without causing permanent damage to fabrics, adding to its versatility and reliability.
As a go-to tool for achieving professional-level results, basting tape is a must-have in every sewing enthusiast's repertoire.