Punch needle embroidery is an ancient and versatile craft that has stood the test of time, offering a unique blend of artistic expression and tactile delight.
With roots tracing back hundreds or possibly thousands of years, this technique weaves a rich tapestry of tradition and innovation.
At its core is a specialized tool, the punch needle, which distinguishes it from traditional embroidery. Rather than stitching through the fabric, the punch needle pushes thread or yarn into the material's surface, creating loops that result in a highly textured design.
From decorative wall art to functional rugs, punch needle embroidery spans a wide spectrum of creative possibilities, connecting the past with the present in a vibrant and textured tapestry of artistry.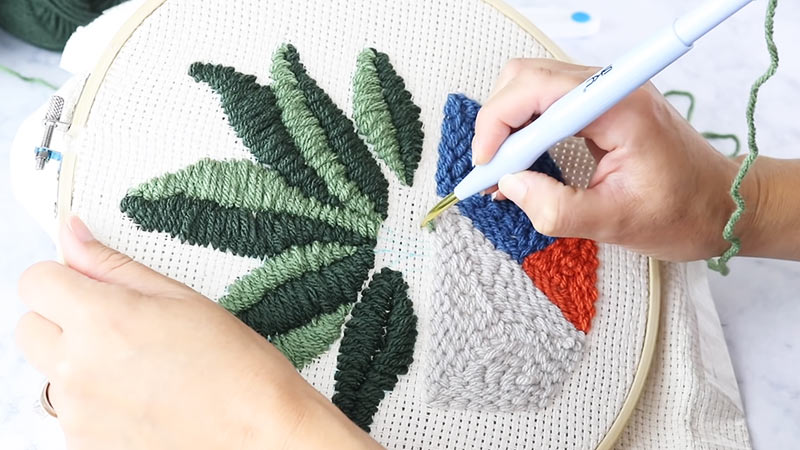 History of Punch Needle Embroidery
The history of punch needle embroidery is a rich and diverse tapestry that spans centuries and crosses cultural boundaries. While the exact origins of punch needle embroidery are challenging to pinpoint, it is clear that this technique has a deep and varied history.
Here are some key historical points and insights:
Ancient Beginnings
Punch needle embroidery's roots extend deep into history, with evidence of its practice found across the globe, including in Asia, the Middle East, and Europe. Early artisans created this art using basic tools made of materials like bone or wood.
Cross-Cultural Influence
Punch needle embroidery transcended cultural boundaries, adapting to the artistic sensibilities of various societies. Different cultures wove their artistic elements and symbolism into the technique, using it for both decorative and functional purposes.
European Popularity
During the Middle Ages and the Renaissance, punch needle embroidery gained prominence in Europe. It flourished in countries like France and England, where artisans created intricately designed and highly decorative textile pieces.
Colonial America
As settlers voyaged to the New World, they brought their embroidery traditions with them, and punch needle embroidery found its place in Colonial America.
The craft became an integral part of early American textile art, featuring motifs inspired by patriotic symbols, nature, and daily life.
Folk Art and Rural Traditions
Punch needle embroidery continued to thrive in rural and folk art traditions. In rural communities, it remained a cherished craft, often used to create functional items like rugs and mats, blending both artistic and practical elements.
Modern Resurgence
In the 20th century, punch needle embroidery faced a decline due to industrialization and changes in textile production. However, in recent years, there has been a remarkable resurgence of interest in this traditional technique, as contemporary crafters and artists rekindle the art.
Artistic Significance
Punch needle embroidery is celebrated for its ability to create textured, tactile designs, often resembling miniature rugs. Artists can manipulate loop density and height, producing a wide range of visual effects.
This has given rise to a new generation of artists pushing the boundaries of punch needlework.
Cultural Preservation
Efforts to preserve and promote punch needle embroidery as a cultural heritage are ongoing. Museums, artisans, and craft organizations play a pivotal role in safeguarding this traditional art form, ensuring its rich history endures for future generations.
What Is Punch Needle Embroidery?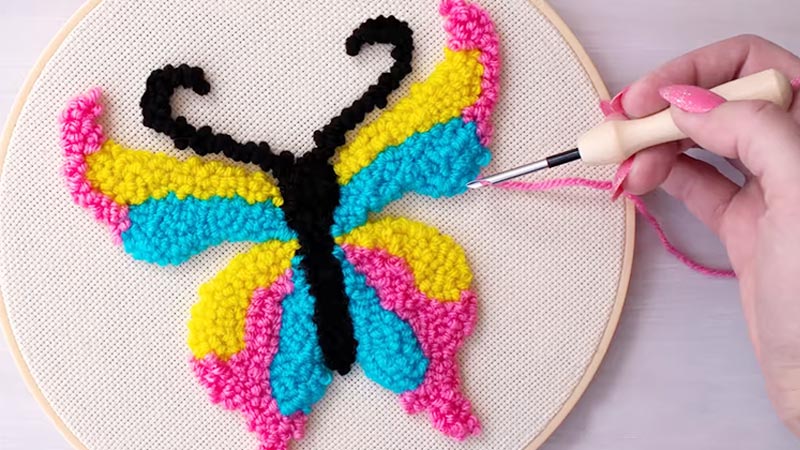 Punch needle embroidery is a textile art form where a specialized tool, the punch needle, is used to create textured designs on fabric. The needle, with a threaded yarn, forms loops on the fabric's surface, resulting in a unique and tactile finish.
This technique allows for intricate patterns and diverse textures. The choice of thread or yarn thickness determines the design's look, from delicate details to bold, three-dimensional textures.
Common fabrics include monk's cloth or burlap, secured in an embroidery hoop. Finished pieces can be framed or incorporated into various textile projects.
Punch needle embroidery provides an accessible and creative outlet for artists and crafters, offering endless design possibilities.
How Does Punch Needle Embroidery Create Textured Designs?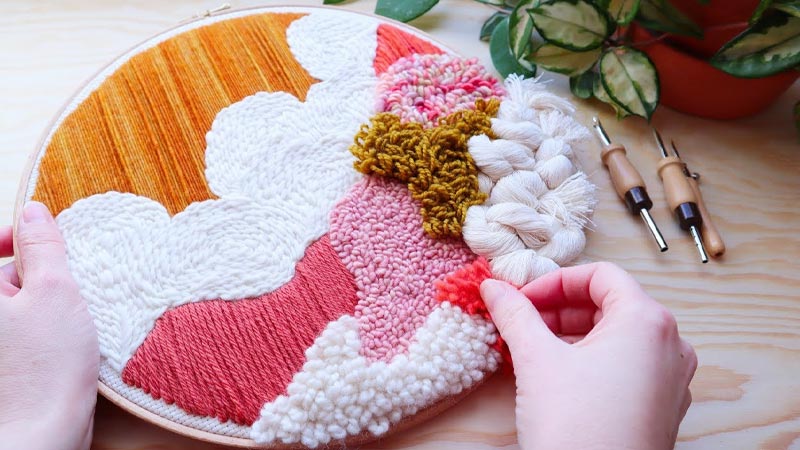 Punch needle embroidery achieves textured designs through a distinctive and creative process. This technique, known for its ability to produce visually captivating and tactile artworks, employs a specialized tool called a punch needle.
Let's delve into how punch needle embroidery creates those unique textured designs:
Tool and Materials
To begin, you'll need a punch needle, characterized by a pointed tip and a handle. Alongside the punch needle, essential materials include a fabric canvas (commonly monk's cloth or burlap) and a variety of threads or yarns.
The fabric is typically stretched and secured in an embroidery hoop or frame to maintain stability.
Threading the Punch Needle
The process commences by threading the punch needle with the chosen thread or yarn, ensuring that it's securely attached to the needle.
Punching Technique
To create the design, insert the punch needle from the back of the fabric to the front at the starting point of your choice. As you push the needle through the fabric, it forms a loop on the front side of the canvas.
Loop Formation
The hallmark of punch needle embroidery is the loop creation process. As the punch needle pushes the thread or yarn through the fabric, loops are formed on the front side. The length of these loops can be adjusted based on the punch needle's mechanism.
Building Rows and Patterns
Progress through your design row by row, moving the punch needle from one end to the other. Overlapping loops slightly is essential to ensure there are no gaps, giving the design a polished appearance.
Changing Colors
If your design involves multiple colors, transitioning between them is straightforward. Simply thread the new color through the needle's channel and continue punching. Secure the end of the previous color on the back of the fabric.
Texture and Depth Control
Experiment with loop length and density to create a diverse range of textures and patterns within your design. Longer loops contribute to a more pronounced three-dimensional effect, while shorter loops offer a flatter appearance.
Reverse Punching for Unique Effects
To introduce distinctive textural effects, consider the technique of reverse punching. This entails flipping the fabric and working from the back side, yielding a different texture and visual impact.
Final Touches
After completing your design, flip the fabric over to the back side and secure any loose threads to prevent unraveling. For a polished look, you can wash and block the fabric to even out the loops and enhance the final appearance of the design.
Showcasing Your Artwork
With your textured punch needle embroidery piece complete, it's time to display your creative work. Options include framing it as wall art or incorporating it into various textile projects such as decorative pillows, cushions, or even wearable art.
What Types of Projects Can You Create With Punch Needle Embroidery?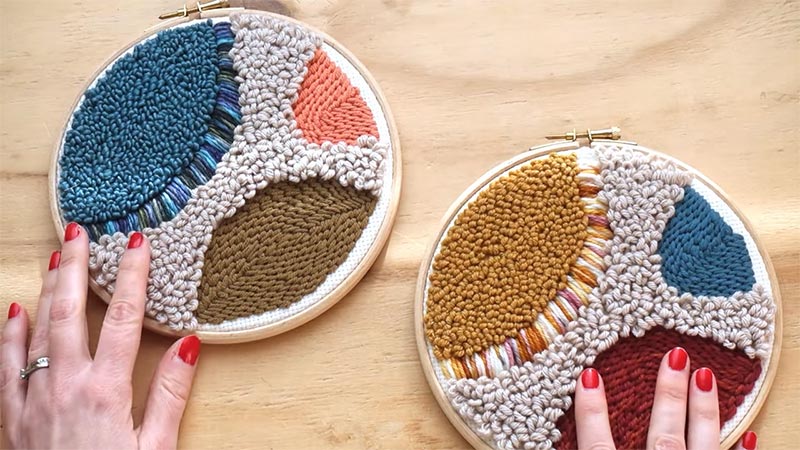 Punch needle embroidery is a versatile and creative craft that offers a wide range of project possibilities.
Here are some of the types of projects you can create with punch needle embroidery:
Wall Art
Punch needle embroidery can transform your walls into an art gallery. Craft intricate and textured designs that, when framed, make for striking wall art pieces. The three-dimensional quality of punch needlework adds depth and character to your living spaces.
Decorative Pillows and Cushions
Give your plain cushions and pillows a makeover with punch needle embroidery. The tactile and visually appealing designs not only enhance the aesthetics of your home but also provide extra comfort, making these pieces both beautiful and functional.
Rugs and Mats
Historically, punch needle embroidery was closely associated with rug making. You can create rugs, mats, or even larger area rugs with punch needles, infusing warmth and personality into your home while keeping your toes cozy.
Wearable Art
Express your creativity through fashion by incorporating punch needle designs into your clothing. Sweaters, cardigans, scarves, and more can be adorned with punch needle embroidery, allowing you to wear your artistic creations.
Table Linens
Elevate your dining experience by adding punch needle-embroidered table runners, placemats, and napkins to your table settings. The textured designs bring elegance and charm to your meals.
Tote Bags and Purses
Customize tote bags and purses with punch needle embroidery to make stylish and unique accessories. These personalized items become fashion statements and can even spark conversations.
Walls and Room Dividers
Go beyond traditional wall art and use punch needle embroidery to create larger-scale wall hangings or room dividers. This unconventional use of the craft can lend an artistic and distinctive touch to your living spaces.
Ornaments and Home Decor
Craft punch needle ornaments, lampshades, or decorative panels to add a personal and artistic touch to your home decor. These smaller projects can create focal points and spark visual interest.
Gifts
Share your punch needle artistry with loved ones by creating personalized gifts. Monogrammed towels, baby blankets, or keepsakes can become cherished presents for special occasions.
Textile Art and Mixed Media
Combine punch needle embroidery with other creative techniques to produce unique textile art and mixed media projects. The texture and depth it offers can add dimension and visual impact to your artwork.
Seasonal Decor
Adapt your punch needle designs for various seasons and holidays. Create versatile pieces that can be easily swapped out to reflect the changing time of year, bringing a festive touch to your home.
Fashion Accessories
Design and craft fashion accessories such as headbands, brooches, or patches using punch needle embroidery. These items add an elegant and distinctive flair to your personal style.
Pet Accessories
Treat your furry friends to personalized pet accessories, including beds and mats adorned with punch needle designs. These items add comfort and style to your pets' living spaces.
Greeting Cards and Stationery
Enhance your correspondence by embellishing greeting cards, stationery, and invitations with punch needle embroidery. The unique, tactile quality of these designs adds a special touch to your communication.
FAQs
Is punch needle embroidery beginner-friendly?
Yes, punch needle embroidery is beginner-friendly, with its straightforward technique and forgiving nature, making it accessible and enjoyable for those new to the craft.
What materials and tools are essential for starting punch needle embroidery projects?
Essential materials and tools include monk's cloth or fabric, a punch needle, an embroidery hoop or frame, and threads or yarns of choice for punch needle embroidery.
What are the unique design possibilities with punch needle embroidery?
Punch needle embroidery allows for intricate three-dimensional textures and patterns. Create designs ranging from traditional to modern, offering endless creative potential for crafters.
What types of threads and yarns are suitable for punch needle embroidery?
Punch needle embroidery accommodates a range of threads and yarns, from embroidery floss to bulky yarn, allowing for diverse textures and colorful designs.
What are the maintenance and care tips for preserving punch needle embroidery pieces?
To preserve punch needle embroidery, avoid harsh washing; gently spot clean if necessary. Frame or display pieces away from direct sunlight to maintain their vibrant appearance.
To Recap
Punch needle embroidery stands as a testament to the enduring allure of traditional craftsmanship. Its history, spanning numerous cultures and centuries, showcases its adaptability and capacity for artistic innovation.
This tactile art form, characterized by the use of a unique punch needle tool, creates designs that are both visually captivating and texturally inviting. From wall art to wearable fashion, punch needle embroidery offers a diverse range of creative outlets, connecting the past and the present.
As the craft experiences a resurgence in popularity, it's evident that the art of punch needle embroidery continues to inspire and captivate both seasoned artisans and newcomers, providing a timeless platform for artistic expression.