Blue, a versatile and timeless colour, graces our wardrobes in various shades, from deep navy to vibrant turquoise. But have you ever wondered what colours go with blue clothes?
In this style guide, we'll embark on a journey through the world of colour, exploring the art of pairing and coordinating to help you unlock the endless possibilities of your blue wardrobe.
Whether you're aiming for a casual, professional, or standout look, understanding the harmonious colour combinations for blue is essential.
We'll unravel the secrets of colour theory, sharing insights into what colours beautifully harmonize with blue, allowing you to express your unique style confidently. The journey will reveal the significance of thoughtful pairings.
So, let's dive into the diverse realm of fashion and discover how the right colour choices can elevate your blue clothing into captivating ensembles that truly stand out.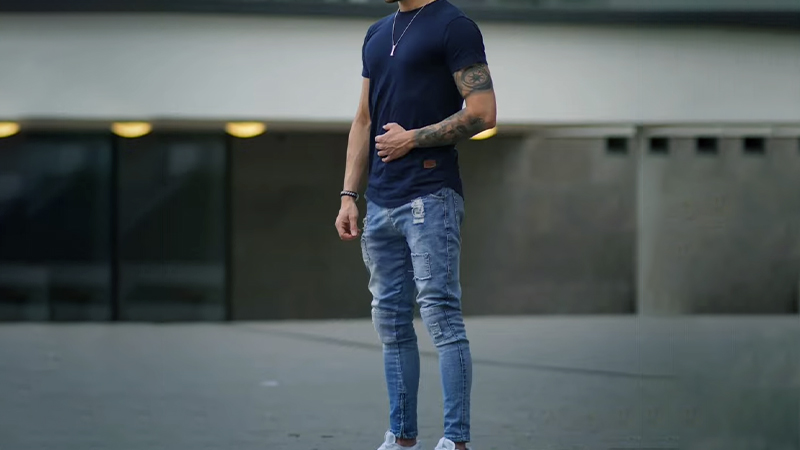 What Colours Go With Blue Clothes?
From neutrals to bold colours, blue can be paired with numerous different colours. Let's explore what colours you can wear to make the blue pop and catch everyone's attention.
Classic Neutrals: The Timeless Companions
When it comes to versatile and foolproof pairings, neutrals are your best friends. Neutrals like white, black, grey, and beige create a classic, elegant contrast with blue.
Pairing blue with white generates a crisp, fresh look that's perfect for summer or when you want your blue piece to take centre stage. A white blouse with blue trousers or a blue dress with white accessories can be effortlessly chic.
Blue and black together create a sophisticated and bold statement. This combination is ideal for professional settings or when you want to make a fashion-forward impact. Think of a navy blue suit with black shoes or a black top with dark blue jeans.
Soft grey shades, such as dove grey, offer a subtle and understated contrast with blue. This combination works wonders in professional and formal settings, and it can add a touch of sophistication to your look.
Combining beige with blue evokes a sense of calm and serenity. It's perfect for creating a relaxed, boho-chic style. Try a blue skirt with a beige top or vice versa for an effortlessly stylish look.
Complementary Colours: Energizing Contrasts
On the colour wheel, complementary colours are positioned directly opposite each other, creating bold and vibrant contrasts. For blue, the complementary colour is orange. Combining blue with shades of orange can result in a striking and dynamic look.
A softer shade of orange, coral pairs beautifully with various blue hues. This combination is ideal for spring and summer, exuding a lively and cheerful vibe.
For a more energetic and bold statement, consider tangerine. A tangerine top or accessories paired with blue jeans can create a powerful and visually appealing outfit.
Pretty in Pastels: Soft and Soothing
Pastel colours are known for their gentleness and subtlety, making them a wonderful match for blue. These combinations create a sweet, romantic, and soothing look.
Baby pink paired with blue creates a dreamy and romantic combination. It's perfect for a soft and feminine look, ideal for date nights and special occasions.
Mint green and blue together evoke a sense of freshness and playfulness. This duo is perfect for a light and airy look, often associated with spring and summer.
Lilac, with its soft and serene charm, creates a lovely and elegant combination with blue. This pairing is suitable for a refined and timeless style.
Bold and Vibrant Contrasts: Making a Statement
If you're looking to make a bold statement, consider pairing blue with vibrant and contrasting colours. These combinations can be visually stimulating and attention-grabbing.
Yellow and blue create a high-contrast and bold look. A royal blue dress with yellow accessories or a yellow top with blue trousers can add a dynamic and daring touch to your style.
Red, with its fiery energy, can create a powerful and passionate contrast with blue. This pairing is often seen in patriotic designs and bold fashion statements.
Monochrome Elegance: Staying Within the Blue Spectrum
Creating monochrome outfits with different shades of blue can result in a sophisticated and cohesive look. By mixing various blue hues, you achieve a layered and elegant effect.
For instance, a navy blue blazer paired with light blue trousers or a royal blue blouse with indigo jeans can make a stylish and impactful ensemble.
Denim on Denim: A Timeless Favorite
Denim is a versatile material that pairs wonderfully with blue. Whether it's a pair of blue jeans or a denim jacket, the combination with blue clothing creates a cool, casual, and contemporary look.
Nautical Vibes: Blue and White Stripes
Blue and white stripes, often associated with nautical themes, offer a timeless and fresh combination. A blue and white striped top with blue shorts or a blue and white striped dress can give you a classic and summery appearance.
Patterns and Prints: Mixing It Up
Incorporating patterns and prints that feature blue can add a fun and creative dimension to your outfits. Stripes, florals, and plaid often include blue as a prominent colour.
The key to success is finding patterns that balance the intensity of blue with other colours, creating a harmonious and visually appealing look.
Metallic Accents: Adding Shine to Blue
For a touch of glamour, consider metallic accents with blue. Silver, gold, and metallic blues can create a luxurious and eye-catching combination. Whether it's metallic accessories, shoes, or clothing, they can make your blue outfit stand out.
What Makeup Goes with Blue Clothes?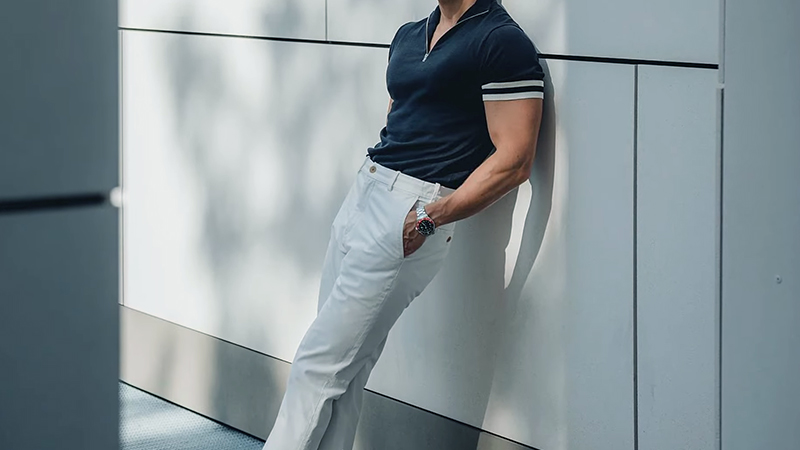 Makeup plays a crucial role in completing your overall look, and the right makeup choices can beautifully complement your blue clothing.
The key to successful makeup when wearing blue clothes is balance. You want to achieve a harmonious look that enhances your features and coordinates with your outfit. Here are some makeup tips and colour choices to consider when wearing blue clothes.
Neutral Makeup: The Timeless Classic
Neutral makeup is always a safe and timeless choice when wearing blue clothing. This approach includes earthy tones like beige, taupe, and soft browns. Here's how to achieve a neutral makeup look.
Start with a foundation that matches your skin tone for a flawless canvas. Opt for neutral eyeshadows like beige, taupe, or soft matte brown shades.
A subtle smoky eye with these colours can add depth to your look without overpowering the blue outfit. Use a light hand when applying eyeliner and mascara to keep the focus on your clothes.
Choose a nude or soft pink lipstick or lip gloss. This adds a touch of colour without drawing attention away from your outfit. A soft, natural blush complements neutral makeup beautifully. Shades like soft peach or rose work well.
Neutral makeup is versatile and can be worn with a wide range of blue shades, from navy to baby blue. It keeps the overall look balanced and is suitable for various occasions, from everyday wear to formal events.
Monochromatic Makeup: Embracing Blue
For a bold and cohesive look, you can match your makeup to your blue clothing. Monochromatic makeup involves using shades of blue on your eyes, lips, or both.
Here's how to achieve a monochromatic makeup look. Choose blue eyeshadows that complement the shade of your outfit. Light blue shades work well with pastel or sky blue clothing, while deeper blues or navy shades can be matched with darker blue outfits.
Apply the eyeshadow to your eyelids, and consider using a slightly darker shade in the crease for depth. Finish with blue eyeliner and mascara.
If you're opting for a monochromatic lip look, select a blue lipstick or lip gloss. However, be mindful of the shade and intensity. A lighter blue lip colour can be more wearable and trendy, while a dark blue lip can make a bold statement.
Keep the blush subtle to avoid overloading your face with blue. A soft, rosy blush can complement the blue makeup without competing with it.
Monochromatic makeup can be an exciting choice when you want to make a fashion-forward statement.
Just ensure that the blue makeup complements the specific shade of your blue clothing, and balance it with a neutral outfit or accessories.
FAQs
What emotions do blue and red evoke when used together?
When blue and red are used together, they can evoke a mix of emotions. Blue is often associated with calm, trust, and stability, while red represents passion, energy, and excitement.
Can blue be used in formal settings and events?
Yes, blue can be used in formal settings and events. The key is to choose the right shades and proportions. Darker blues are often favoured for formal occasions, and the combination can create a sophisticated and elegant look.
Are there cultural variations in the symbolism of blue?
Yes, the symbolism of blue can vary across cultures. In some cultures, blue may symbolize tranquillity healing, luck, and celebration. In others, the meanings can be different.
How can I incorporate blue into my home decor without overwhelming the space?
To incorporate blue into your home decor without overwhelming the space, consider using the colour as an accent rather than a dominant feature. You can use blue in throw pillows, artwork, or decorative items.
Can blue be used in everyday fashion?
Blue can certainly be used in everyday fashion, depending on the shades and styles you choose. Lighter shades and more casual clothing can make this combination suitable for daily wear.
Conclusion
Exploring the world of colour combinations for your blue clothes has opened up a realm of endless style possibilities. Whether you're dressing for everyday comfort or a special occasion, understanding which colours complement blue empowers you to create eye-catching outfits.
From the classic elegance of neutrals to the bold creativity of complementary colours, the palette of choices for enhancing blue garments is vast.
The right colour combinations not only add depth and flair to your outfits but also convey your mood and message to the world.
So, the next time you stand in front of your closet, contemplating what colours go with your blue clothes, remember the valuable insights from this guide.
Fashion is a canvas for self-expression, and the way you combine colours is a form of art. Embrace the possibilities, and with confidence and creativity, you can make your blue wardrobe shine like never before.