Selecting the right colours to pair with sage green clothing is an art that allows you to create stylish and visually pleasing ensembles. Sage green, a soft and muted hue inspired by the natural world, serves as a versatile canvas for a wide range of colour combinations.
Understanding what colours go with sage green clothing opens the door to endless fashion possibilities, whether you're looking to create a tranquil and harmonious look or add a pop of contrast and vibrancy.
This guide explores various colour options that complement sage green attire, helping you mix and match to express your personal style and adapt to different occasions.
From classic neutrals to bold and exciting choices, the harmonious interplay of colours with sage green can transform your wardrobe into a rich tapestry of fashion choices.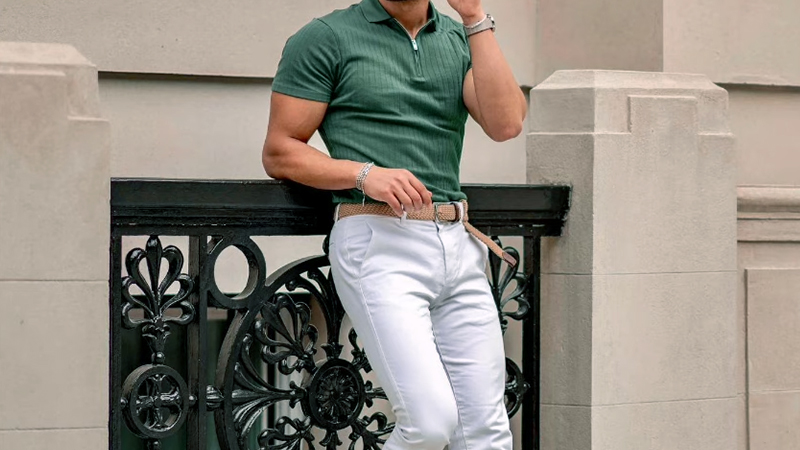 What Is Sage Green?
Sage green is a muted and sophisticated shade of green that derives its name from the soft, silvery-grey leaves of the sage herb. It falls within the green colour spectrum but carries a subtle and calming quality.
Sage green is often described as a greyish-green or a greyish-olive hue, making it a versatile and neutral colour choice. Its subdued and earthy nature lends itself well to interior design, where it is frequently used to evoke a sense of serenity and harmony.
Sage green complements a wide range of colours, making it an excellent choice for wall paint, furniture, and decor accents. Its timeless and understated elegance has made it a popular option for creating tranquil and inviting living spaces with a touch of natural beauty.
What Colours Go With Sage Green Clothing?
Sage green clothing offers a versatile and nature-inspired palette, making it easy to pair with a variety of colours.
Here are some colours that go well with sage green clothing:
Soft Neutrals (Beige and Ivory)
Soft neutrals like beige and ivory create an elegant and harmonious look when paired with sage green. These shades complement the earthy and calming qualities of sage green, providing a balanced and timeless ensemble.
Crisp White
White is a classic choice that brightens and freshens the overall appearance of sage green clothing. Whether it's a white top with sage green pants or vice versa, this combination exudes a clean and light feel.
Navy Blue
Navy blue offers a striking contrast to sage green, creating a balanced and visually appealing colour scheme. It adds depth and richness to the outfit while maintaining a sense of sophistication.
Blush Pink
Blush pink complements sage green beautifully, creating a soft and romantic look. This combination is perfect for a gentle, feminine, and delicate appearance.
Coral
Coral is a vibrant choice that adds a pop of energy to sage green. This pairing balances earthy and energetic tones, creating a lively and eye-catching ensemble.
Golden Yellow
Golden yellow is a warm and inviting choice that pairs well with sage green. It adds a touch of brightness and cheerfulness to the outfit, making it ideal for a sunny and fresh appearance.
Charcoal Gray
Charcoal grey provides a modern and chic contrast to sage green. The combination of these two muted tones results in a sophisticated and versatile look suitable for a range of occasions.
When combining sage green clothing with other colours, consider your personal style and the specific context, whether it's for casual wear, formal attire, or interior decor. These versatile pairings offer a multitude of opportunities to create stylish and attractive outfits.
What Clothing Can I Wear With Sage Green Pants?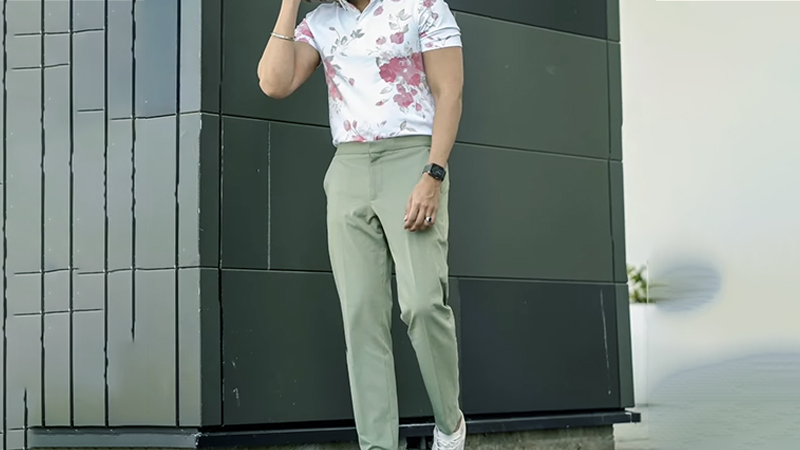 Sage green pants offer a versatile base for various outfit combinations. Here are some clothing items that can be paired with sage green pants:
White Blouse
A crisp white blouse complements sage green pants beautifully, creating a fresh and sophisticated look. Whether it's a button-up shirt or a flowy blouse, the combination exudes elegance and simplicity, making it suitable for both casual and semi-formal occasions.
Denim Jacket
A classic denim jacket adds a touch of casual charm to sage green pants. The rugged texture of denim contrasts nicely with the softness of sage green, creating a balanced and stylish ensemble. This combination is perfect for a relaxed and trendy vibe.
Navy Blue Sweater
A navy blue sweater paired with sage green pants offers a harmonious blend of muted tones. The deep richness of navy blue complements the subtlety of sage green, creating a cosy and sophisticated outfit.
It's an excellent choice for fall or winter, providing warmth and style.
Striped T-shirt
A striped T-shirt in neutral tones like white and grey enhances the versatility of sage green pants. The combination of stripes and sage green adds a playful and casual touch to your outfit, making it ideal for weekends or outings with friends.
Blush Pink Blazer
For a chic and feminine look, pair sage green pants with a blush pink blazer. The softness of blush pink contrasts elegantly with the muted green, creating a sophisticated and trendy ensemble.
This combination is perfect for events where you want to make a stylish statement.
Olive Green Utility Jacket
Combining sage green pants with an olive green utility jacket creates a cohesive and earthy outfit. The similar tones create a monochromatic look that is effortlessly chic and on-trend.
Add a white top underneath to balance the earthy tones, and complete the ensemble with stylish accessories.
Black Off-the-Shoulder Top
A black off-the-shoulder top adds a touch of glamour to sage green pants. The combination of black and sage green creates a high-contrast, chic outfit perfect for evening events or a night out.
Accessorize with statement jewellery and heels to elevate the look further.
Pairing sage green pants with these clothing items allows you to create a range of stylish outfits suitable for various occasions, ensuring you look both trendy and tasteful.
Some Accessories Goes With Sage Green Clothing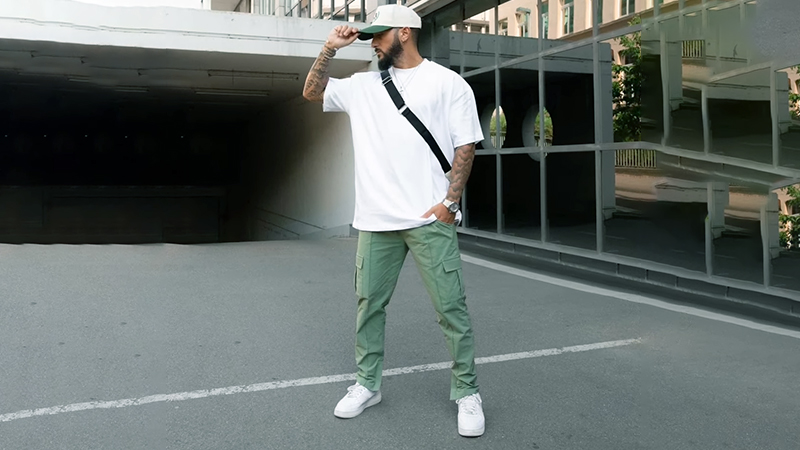 Accessorizing sage green clothing can elevate your look and add a personalized touch. Here are some accessories that pair well with sage green clothing:
Brown Leather Belt
A brown leather belt complements sage green clothing with a rustic and earthy charm. It defines your waist and adds a touch of warmth to your ensemble, making it an ideal choice for casual or bohemian-inspired looks.
Gold Statement Earrings
Gold statement earrings provide a touch of luxury and sophistication when paired with sage green attire. The metallic accents add a bit of glamour while enhancing the overall elegance of your outfit.
Nude Wedge Sandals
Nude-coloured wedge sandals offer both comfort and style. They create an elongating effect on your legs and seamlessly blend with sage green, making your outfit appear effortlessly chic and well-coordinated.
Long Pendant Necklace
A long pendant necklace draws attention to the neckline and adds a sense of fluidity to your look. The pendant can feature various designs, from a simple gemstone to a more intricate piece, adding a personal touch to your outfit.
Oversized Sunglasses
Oversized sunglasses are a timeless accessory that adds a touch of glamour and mystery. They offer UV protection and elevate your style, making them an excellent choice to complete your look when wearing sage green clothing on a sunny day.
Canvas Tote Bag
A canvas tote bag in a neutral or complementary colour, like tan or beige, pairs well with sage green clothing. It offers a casual and practical accessory for everyday use while maintaining a coordinated and relaxed appearance.
Layered Bracelets
Layered bracelets or bangles add a bohemian or eclectic touch to your outfit. Mixing metals, beads, or leather bracelets creates a personalized and playful style, enhancing the versatility of your sage green attire.
These accessories not only enhance your sage green clothing but also reflect your personal style. By carefully selecting and coordinating accessories, you can create a complete and fashionable look that suits various occasions and moods.
FAQs
What colours can I pair with sage green for a fresh, nature-inspired look?
For a fresh and nature-inspired appearance, consider pairing sage green with earthy tones such as soft browns, tans, and deep forest greens. These colours create a harmonious, nature-inspired palette that reflects the calming qualities of sage green.
How can I create a vibrant and contrasting look with sage green clothing?
To add vibrancy and contrast to sage green, opt for bold, complementary colours like coral, mustard yellow, or deep plum. These vibrant choices create striking, eye-catching combinations that stand out against the subtlety of sage green.
Are there classic neutrals that pair well with sage green clothing?
Yes, classic neutrals like beige, ivory, and white create a timeless and elegant pairing with sage green. These neutral hues offer a clean and sophisticated look, making them a versatile choice for various occasions.
Can I experiment with pastel colours when wearing sage green clothing?
Absolutely, pastel colours like blush pink, lavender, and soft gray work well with sage green. These delicate hues create a gentle and feminine appearance, perfect for a soft and romantic style.
How do I achieve a monochromatic look with sage green clothing?
To create a monochromatic ensemble, use different shades of sage green, ranging from light to dark. This approach creates a cohesive and modern look, and you can add dimension with varied textures and fabrics for added interest.
Conclusion
In the realm of fashion, the art of colour coordination plays a pivotal role in defining personal style and creating eye-catching looks.
As we've explored the colours that pair well with sage green clothing, it's clear that this gentle and nature-inspired hue provides a versatile foundation for a wide range of ensembles.
The soft and muted quality of sage green harmonizes with classic neutrals like beige and white, offering timeless elegance, while it also embraces contrast with bold options like navy blue or coral for a striking and eye-catching appearance.
As you venture into the world of sage green clothing, remember that the choice of colours should reflect your unique personality and the mood of the occasion.
Whether you're seeking a tranquil, monochromatic style or a vibrant, contrasting ensemble, sage green offers a versatile and stylish canvas for your fashion creativity.