Pink, a color that has transcended its stereotypical associations and emerged as a symbol of versatility and expression in the fashion world, has taken the fashion industry by storm.
Its myriad shades, from soft pastels to vibrant fuchsias, offer endless possibilities for creating stylish and eye-catching outfits. But what colors match pink clothing and enhance the beauty of pink garments?
In this guide, we'll delve into the fascinating realm of color theory and fashion to answer the age-old question: What colors go with pink clothes? Whether you're trying to create a casual, chic, or professional look, we've got you covered.
You'll discover the secrets of mixing and matching, gaining the confidence to experiment with various shades and textures. By the end of this article, you'll have the tools and knowledge to create stunning ensembles that make your pink wardrobe pieces truly shine.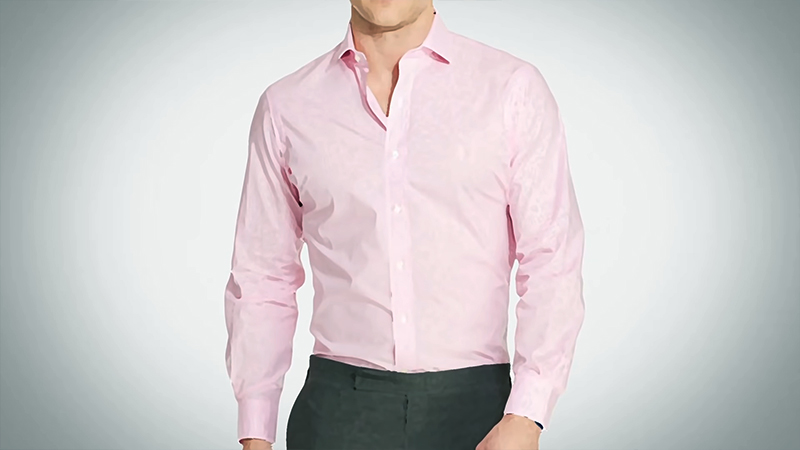 What Colors Go With Pink Clothes?
When it comes to what colors go with pink clothes, the possibilities are endless. Here, we'll explore the art of color coordination and offer insights into creating stunning outfits that make your pink garments pop.
The Timeless Neutrals
When it comes to what colors go with pink, neutrals are an excellent place to start. Colors like white, black, gray, and beige can provide a classic and elegant contrast to pink clothing.
Pairing pink with white creates a fresh and clean look. It's perfect for a summery feel or when you want your pink piece to take center stage. A white blouse with pink trousers or a pink dress with white accessories can be a winning combination.
Pink and black together make a bold, edgy statement. Black can add a touch of drama and sophistication to your outfit. Think of a little black dress with pink heels or a pink top with black leather pants for a chic night out.
Soft gray hues, like dove gray, create a subtle and sophisticated contrast with pink. This combination works well in professional settings or when you want an understated, refined look.
Beige and pink together evoke a sense of calm and serenity. This combination is perfect for a relaxed, boho-chic style. Try a pink skirt with a beige top or vice versa for an effortlessly stylish look.
The Perfect Complements
If you're looking to create a harmonious and visually pleasing outfit, consider complementary colors. On the color wheel, colors that are directly opposite each other are considered complementary. For pink, this means green and shades of green are complementary colors.
Mint green paired with pink creates a refreshing and delightful combination, reminiscent of spring. This duo is perfect for a light and airy look that's perfect for warmer weather.
Olive green is a versatile color that pairs well with various shades of pink. This combination is ideal for a balanced and earthy ensemble, especially in the fall.
Pretty in Pastels
Pastel colors are gentle and soft, making them great partners for pink. The result is a sweet, romantic, and soothing look. Here are some pastel colors that go beautifully with pink.
Lavender and pink together create a dreamy and ethereal combination. This pair is perfect for a romantic date night or a wedding guest outfit.
The softness of sky blue complements pink's warmth, making for a gentle and calming ensemble. It's an excellent choice for casual and everyday looks.
Pink and lemon yellow create a cheerful and vibrant combination that's perfect for sunny days and a cheerful mood. Think of a pink blouse with lemon-yellow shorts for a fun, summer outfit.
Bold and Vibrant Accents
If you want to make a statement and add a bold, vibrant twist to your pink outfit, consider using bold accent colors. These can include.
Red and pink can create a striking and daring contrast. It's a combination that demands attention and works well for those who want to stand out.
Adding gold accents to your pink ensemble can give it a touch of glamour and luxury. Gold jewelry, shoes, or accessories can make your outfit shine.
The Elegance of Monochrome
Monochrome outfits consist of different shades of the same color. When it comes to pink, creating a monochrome look can be surprisingly chic. By mixing various shades of pink, you achieve a sophisticated and layered effect.
For example, pair a light pink top with deep pink trousers and finish with pale pink shoes. This approach allows you to showcase your love for pink while keeping your look elegant and stylish.
Denim Delight
Denim is a timeless and versatile material that pairs beautifully with pink. Whether it's a pair of jeans or a denim jacket, the combination with pink creates a cool, casual, and contemporary look. Light-wash or dark-wash denim both work well with various shades of pink.
Animal Prints
If you're feeling adventurous and want to add a touch of wildness to your pink outfit, consider animal prints. Animal prints, such as leopard or zebra, can add a bold and exotic twist to your pink attire.
However, be cautious with the overall balance, as animal prints tend to be attention-grabbing on their own.
Prints and Patterns
Mixing prints and patterns with your pink clothing can be a fun and creative way to style your outfits. Stripes, florals, polka dots, and plaid can all be incorporated into your pink wardrobe.
Just remember to balance the intensity of the pattern with the shade of pink. For example, a subtle pink blouse can be paired with bold, black-and-white stripes.
Do Pink and Blue Go Together?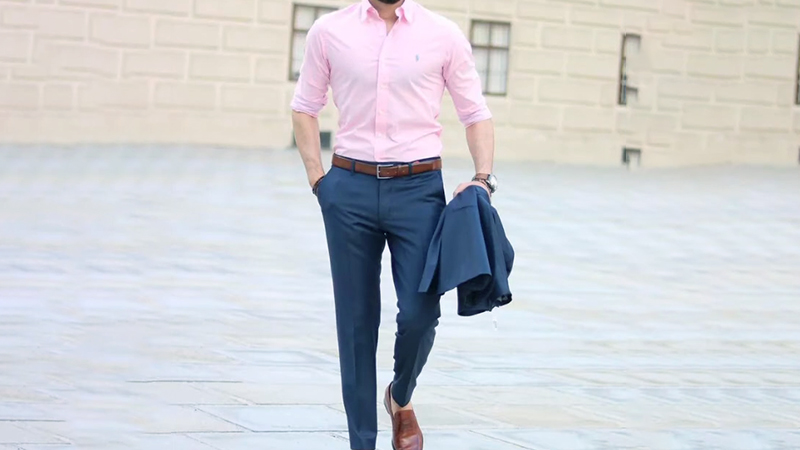 Pink and blue are two colors that are often associated with gender stereotypes: pink for girls and blue for boys. This color pairing offers versatility, allowing you to create a wide range of looks. Let's explore the synergy between pink and blue in various contexts.
Sweet Pastels
When it comes to pairing pink and blue, pastel shades are a popular choice. The combination of light pink and soft blue creates a sweet and gentle look.
This pairing is often used in baby clothing and nursery decor, but it can also work well in adult fashion. Think of a pale pink blouse with light blue jeans or a pink dress with a powder blue cardigan. This combination is ideal for a casual and cheerful style.
Preppy and Nautical
The combination of navy blue and hot pink can create a preppy and nautical-inspired look. This pairing is bold and energetic. Think of a navy blue blazer paired with a hot pink skirt or a hot pink top with navy blue shorts.
It's a combination that exudes confidence and style, making it great for a sophisticated and daring appearance.
Vintage and Retro Vibes
Pink and light blue, reminiscent of the 1950s, can evoke a sense of nostalgia and vintage charm. The softness of these colors can create a lovely retro look.
Consider a pink tea-length dress with light blue accessories, or light blue pants with a pink blouse. This pairing is perfect for those who appreciate a touch of old-school elegance in their fashion.
Complementary Accents
For a striking contrast, pair a rich, dark shade of blue with a bright, vibrant pink. For instance, navy blue with fuchsia creates a visually stimulating combination. This pairing can be used to make a bold statement, especially in formalwear.
Imagine a navy blue evening gown with fuchsia heels or a fuchsia cocktail dress with navy blue accessories. It's a sophisticated and attention-grabbing choice.
Casual Denim with Pink
Denim and pink are a versatile duo. Pairing pink with classic blue jeans creates a casual and contemporary look. Whether it's a pink t-shirt with blue jeans or a denim jacket worn over a pink dress, this combination is ideal for everyday, laid-back style.
Monochromatic Magic
Experimenting with different shades of pink and blue within a monochromatic scheme can lead to elegant and cohesive outfits.
For example, try a light pink top with dark blue pants or a navy blue blouse with pastel pink accessories. Monochromatic styling provides a sophisticated and balanced appearance.
Patterns and Prints
Incorporating patterns and prints that feature both pink and blue can be an exciting way to blend these colors. Floral prints, stripes, and polka dots often include these hues.
The key to success here is finding a pattern that balances the proportions of pink and blue to your liking.
FAQs
Can pink be considered a neutral color?
Pink is not traditionally classified as a neutral color like white, gray, or beige. However, soft and muted pink shades, such as blush pink, can sometimes be used as neutrals in certain contexts.
What are some color combinations with warm pink tones?
Warm pink tones, with their reddish undertones, pair well with other warm colors like orange, coral, and gold. These combinations create energetic and vibrant color schemes.
Are there any rules for mixing warm and cool pinks?
While there are no strict rules for mixing warm and cool pinks, it's essential to consider the desired effect. Combining warm and cool pinks can create a balanced and visually appealing palette.
How does lighting affect the appearance of pink in a room?
The type of lighting in a space can significantly impact how pink is perceived. Warm lighting, such as incandescent bulbs, tends to enhance the warmth of pink, making it appear cozier and more vibrant.
What emotions are commonly associated with the color pink?
Pink is often associated with emotions like love, affection, and romance due to its connection with Valentine's Day and other romantic occasions. Light and pastel pinks can evoke feelings of tenderness and tranquility, while bold and vibrant pinks can express excitement and energy.
Conclusion
In the world of fashion, the power of color cannot be underestimated. And when it comes to pink, the possibilities are as boundless as your imagination.
We've explored the harmonious pairings and daring contrasts that can bring out the best in your pink wardrobe, whether you're going for a soft, romantic look or a bold, edgy statement. Remember, fashion is a form of self-expression, and there are no strict rules.
The key is to experiment, embrace your unique style, and have fun with your outfits. After all, confidence and comfort are the ultimate fashion accessories. So, go ahead and play with colors, textures, and patterns to create your signature looks.
The next time you stand in front of your closet wondering, "What colors go with pink clothes?" recall the tips and insights from this guide. Be fearless in your fashion choices.