Orange, a vibrant and bold color, is a fashion statement in itself. But the secret to making your orange clothing truly stand out lies in knowing how to pair it with complementary colors.
Want to know what colors match with orange clothing? In this style guide, we'll embark on a colorful journey to explore the world of fashion, revealing the art of color coordination when it comes to orange apparel.
Whether you're donning a fiery tangerine dress, a warm terracotta top, or even a subtle peach accessory, we'll guide you through the spectrum of color combinations that can elevate your orange wardrobe.
From classic neutrals to lively contrasts, you'll discover how to create outfits that express your unique style with flair.
So, let's dive into the world of fashion and uncover the captivating colors that harmonize with orange, helping you radiate confidence and charm with every ensemble.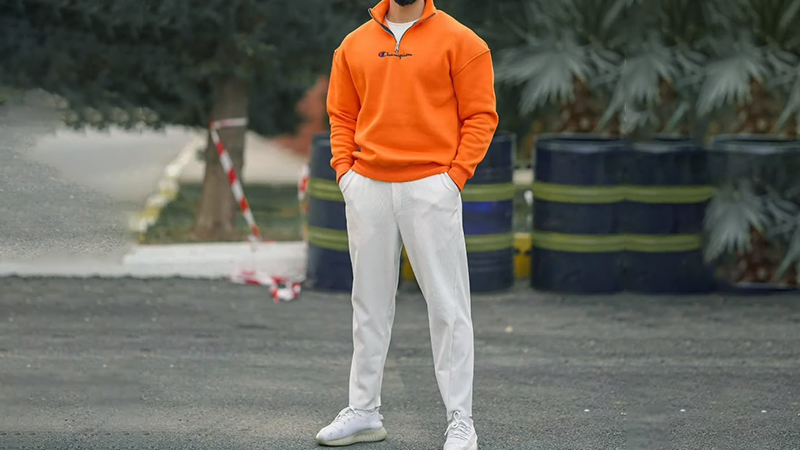 What Colors Match With Orange Clothing?
In this section, we'll dive into the world of colors. Let's explore what colors you can wear to make your orange clothes look fashionable.
Neutrals: The Timeless Companions
Neutrals, such as white, black, gray, and beige, are a timeless choice to match with orange clothing. These shades create a classic and elegant contrast that allows your orange piece to stand out. Here's how to use neutrals effectively.
White
A white top or bottoms paired with orange adds a fresh and crisp touch to your look. It's perfect for summer or when you want to create a clean and modern appearance.
Black
Black and orange create a striking and sophisticated combination. This pairing is ideal for more formal occasions or when you want to make a fashion-forward statement. Think of a little black dress with orange accessories.
Gray
Light gray or dove gray can offer a soft and understated contrast with orange. It's suitable for creating a subtle and elegant style, often seen in business attire.
Pairing orange with beige adds a touch of warmth and tranquility to your outfit. It's perfect for creating a relaxed and boho-chic look.
Complementary Colors: Energizing Contrasts
Complementary colors are those that sit directly opposite each other on the color wheel, creating bold and vibrant contrasts. For orange, its complementary color is blue.
Here's how to incorporate complementary colors effectively. Shades of turquoise or teal pair wonderfully with orange. This combination is lively and dynamic, perfect for creating a vibrant summer look.
Navy blue with orange is a classic and timeless duo. The rich depth of navy complements the vibrancy of orange, creating a balanced and elegant outfit.
Earthy Tones: Warm and Grounded
Earth tones, like olive green, terracotta, and mustard yellow, can bring warmth and depth to your orange clothing. These colors evoke a natural and down-to-earth vibe.
Pairing olive green with orange creates an earthy and harmonious combination, perfect for a bohemian or casual look.
Terracotta and orange harmonize to form a warm and sun-kissed pairing, ideal for a cozy and inviting outfit. Mustard yellow adds a pop of color to your orange clothing. This combination is playful and perfect for brightening up your look.
Analogous Colors: Harmonious Blends
Analogous colors are those that sit next to each other on the color wheel, creating a harmonious and fluid transition between shades.
When it comes to orange, colors like red-orange and yellow-orange can be matched to create a smooth and balanced look. Combining red-orange with a pure orange shade can create a vibrant and energetic ensemble. It's great for a bold and confident style.
Pairing yellow-orange with your orange clothing can add a sunny and cheerful touch, ideal for a playful and summery appearance.
Pastels: Soft and Delicate
Soft pastels can create a gentle and romantic contrast with orange clothing. Consider these options. Baby pink adds a touch of softness and femininity to your orange outfit, perfect for a sweet and romantic look.
Mint green paired with orange creates a fresh and airy combination, often associated with spring and summer styles.
Bold Contrasts: Making a Statement
For those who love to make a statement, consider bold and high-contrast color combinations. Red and orange create a lively and high-energy contrast. This combination is perfect for a daring and attention-grabbing look.
Purple with orange is a vibrant and unique pairing that can convey creativity and individuality. It's often seen in eclectic and artistic fashion.
Metallic Accents: Gold and Silver
For a touch of glamour and elegance, consider incorporating metallic accents into your orange outfit. Gold accessories or accents can add a luxurious and regal touch to your orange clothing, suitable for special occasions or evening wear.
Silver complements orange beautifully and adds a modern and sophisticated element to your look.
Patterns and Prints: Adding Depth and Texture
Patterns and prints featuring orange can add depth and texture to your outfit. Whether it's floral patterns, stripes, or geometric designs, make sure that the patterns harmonize with the other colors in your outfit.
Final Tips
The specific shade of orange in your clothing can influence the color pairings. Brighter oranges often pair well with vibrant complementary colors, while softer shades of orange can work beautifully with pastels and earthy tones.
The occasion and your personal style should guide your choices. Subtle and soft color pairings are great for everyday wear, while bold and high-contrast combinations are ideal for making a fashion statement.
Balance is key. If you choose bold and vibrant color pairings, make sure to balance your outfit with neutral or subtle elements to avoid overwhelming the look.
Experiment, mix and match, and have fun with color. Fashion is a form of self-expression, and there are no strict rules. Let your personality shine through your style choices.
When to Wear an Orange Outfit?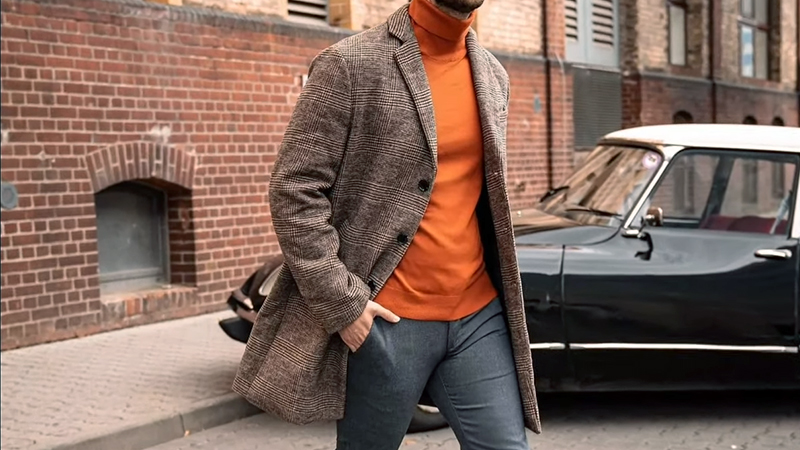 Wearing an orange outfit can be a bold fashion choice that makes a statement. The vibrant and energizing color of orange can be both striking and versatile, suitable for various occasions and seasons.
In this section, we will explore when and how to wear an orange outfit, providing guidance on this unique color choice.
Casual Occasions
Orange is a great choice for casual outings. A casual orange T-shirt or a pair of orange shorts can be a fun and cheerful choice for a day at the beach, a picnic, or a weekend shopping trip. It's perfect for adding a pop of color to your casual wardrobe.
Summer Fashion
Orange is often associated with the warmth and vibrancy of summer. During the summer months, you can confidently wear orange sundresses, swimwear, or light orange tops and shorts. This color complements the sunny weather and outdoor activities.
Festivals and Celebrations
Orange is frequently used in various cultural and religious festivals. It symbolizes joy, enthusiasm, and celebration. If you're attending such an event, consider wearing an orange saree, kurta, or shirt as a sign of respect and participation.
As the leaves change color in the fall, you can embrace the autumn palette by wearing shades of orange. A burnt orange sweater or a rust-colored dress can be both stylish and seasonally appropriate.
Halloween Costume and Sporting Events
Orange is, of course, a prominent color during Halloween. Whether you're dressing up as a pumpkin, a tiger, or any other Halloween character, an orange costume can be the perfect choice.
If you're supporting a team with orange in their colors, wearing an orange jersey or T-shirt can be a great way to show your spirit and enthusiasm during a game.
Corporate and Professional Settings
While orange may not be the most common color in corporate attire, it can be incorporated subtly. A touch of orange in a tie, scarf, or accessory can add a touch of personality without being too overpowering.
In creative fields, such as art, design, or entertainment, wearing orange can be a way to express your individuality and creativity. It can help you stand out in a sea of more traditional colors.
Beach or Resort Vacation and Gardening
Orange, with its tropical vibes, can be a perfect choice for beach vacations. A flowing orange maxi dress or a swimsuit with orange accents can be a striking choice for a beach getaway.
If you're spending time in the garden or engaging in outdoor activities, orange gardening gloves or an orange hat can be a practical and stylish choice.
Date Nights and Graduations
An orange dress or blouse can be an attention-grabbing option for a date night. It's a color that exudes confidence and optimism, which can make you feel great on a special evening out.
Celebrate significant life achievements in style by wearing an orange outfit. It can symbolize your enthusiasm and the bright future ahead.
FAQs
Can I wear pink and orange together for a formal event or professional setting?
While pink and orange can make a striking combination, it may not be the first choice for formal or professional settings. If you wish to incorporate these colors, consider using muted or pastel shades like a coral dress with a soft pink blazer or a salmon blouse with a muted orange skirt.
Are there certain skin tones that look better with orange clothing combinations?
Orange can complement various skin tones, but the choice of shades is crucial. Individuals with warmer undertones may find that warmer shades of orange. Cooler undertones may prefer softer, pastel versions of these colors.
Can I mix patterns with pink and orange clothing?
Certainly! Mixing patterns with pink and orange clothing can add depth and interest to your outfit. Look for patterns that incorporate these colors, like floral prints or stripes, and ensure they harmonize well with your other clothing items.
What accessories go best with an orange outfit?
When wearing an orange outfit, consider accessories in neutral colors, like beige or metallics, to provide balance and a classic touch. Alternatively, choose accessories in shades found within your outfit, such as white, or even bold colors like teal or yellow, to create a cohesive and stylish look.
Can I wear orange during the winter months?
Absolutely. While orange is often associated with spring and summer, you can adapt them for the winter season by choosing deeper and richer shades, like magenta and pumpkin orange.
Conclusion
Exploring the delightful world of color combinations for your orange clothing has opened the door to endless style possibilities.
From the energetic vibrancy of complementary contrasts to the timeless elegance of neutrals, you now possess the knowledge to make your orange wardrobe shine.
The key takeaway is that orange is a versatile color, adaptable to various occasions and moods. The right color pairings not only enhance your outfit but also communicate your personality and the ambiance you wish to create.
The next time you open your closet, pondering the question of what colors match with your orange clothing, remember the valuable insights from this guide.
Fashion is a canvas for self-expression, and with the right color choices, you can paint a vivid, personalized picture of your style. Embrace the possibilities, mix and match, and confidently create captivating outfits that reflect your unique personality.