The art of printing T-shirts at home has become a popular and accessible creative outlet for many. Whether you're looking to express your unique style, start a small business, or make personalized gifts, home T-shirt printing offers a world of possibilities.
However, diving into this craft requires some essential knowledge and materials to ensure your designs come out as intended.
Understanding what you need to print T-shirts at home is the first step on this creative journey. It involves gathering the right tools, from blank shirts and transferring paper to a reliable heat press or iron.
Beyond equipment, you'll need to consider the design aspects, such as choosing colors, fonts, and graphic elements that reflect your vision.
In this guide, we will explore what do I need to print t-shirts at home, helping you turn your ideas into wearable art.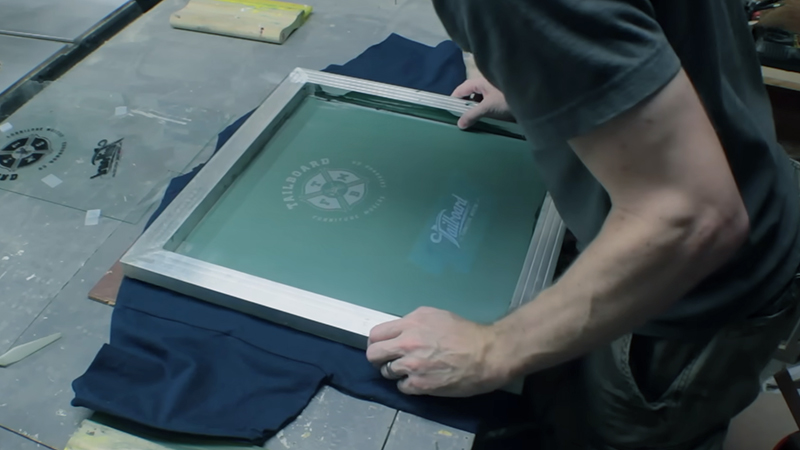 What Do I Need To Print T-Shirts At Home?
To print T-shirts at home, you'll need a few essential materials and equipment. Here are some key items:
Blank T-Shirts
The foundation of your project is, of course, the T-shirts themselves. You can choose from various styles, sizes, and colors to suit your design and personal preferences.
Ensure they are pre-washed and made of suitable fabric for printing, such as cotton or a cotton blend.
Heat Transfer Paper
If you plan to create designs for light-colored shirts, heat transfer paper is a must. This special paper allows you to print your design using an inkjet or laser printer and then transfer it onto the shirt using a heat press.
For dark-colored shirts, you'll need specific transfer paper designed for dark fabrics.
Heat Press Machine
A heat press is a crucial piece of equipment for applying your design to the T-shirt. It uses heat and pressure to transfer the image from the transfer paper onto the fabric.
You can choose between flatbed or clamshell-style heat presses, depending on your needs.
Computer and Printer
A computer with graphic design software, like Adobe Photoshop or CorelDRAW, is essential for creating and editing your T-shirt designs. Additionally, you'll need a quality inkjet or laser printer to print your designs onto the transfer paper.
Cutting Tools
Cutting tools such as scissors, a craft knife, or a vinyl cutter are necessary for trimming the heat transfer paper to fit the design and the shirt's size. A vinyl cutter is especially useful for intricate and precise cuts.
Teflon or Parchment Paper
Teflon or parchment paper is used to protect the heat press and the shirt during the transfer process. It prevents the design from sticking to the press and ensures even heat distribution.
Protective Gear
Safety first. When working with a heat press and other equipment, consider using protective gear like heat-resistant gloves to prevent burns. Proper ventilation in your workspace is also important, especially if you're using a heat press with adhesive materials.
With these materials and equipment in place, you can start your T-shirt printing venture from the comfort of your home. Be sure to follow instructions carefully and experiment with small test prints to perfect your technique before working on your final T-shirt projects.
What Colours Are Good For Printing T-Shirts At Home?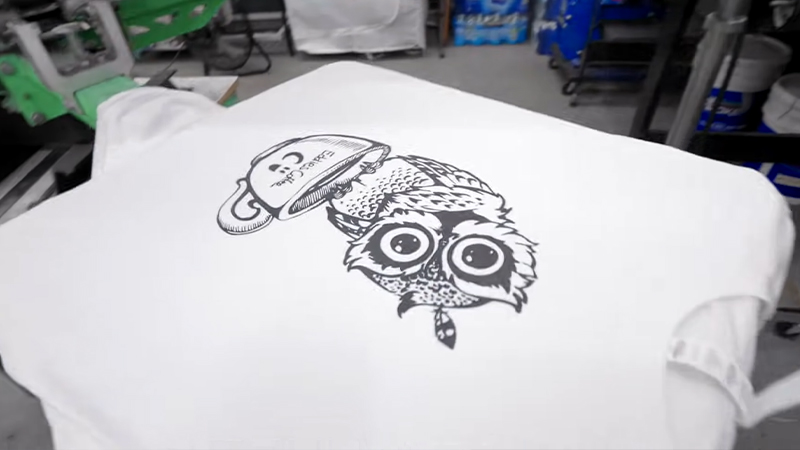 Selecting the right colors for printing T-shirts at home is crucial for achieving the desired look and ensuring that your designs come out vibrant and attractive. Here are some colors that work well for T-shirt printing:
Black
Black is a versatile and classic choice. It provides high contrast for colorful designs and can be used as a base color for various print styles, from simple graphics to intricate details.
White
White is another versatile color that complements virtually any design. It's particularly useful for printing on dark-colored T-shirts, as it creates a striking contrast and allows the design to pop.
Cyan
Cyan is a bright and eye-catching color that works well for summery or aquatic-themed designs. It conveys a sense of freshness and is often used for beach and vacation-related T-shirt prints.
Magenta
Magenta is a vibrant, pinkish-red color that can add a pop of excitement to your designs. It's often used in prints with a feminine or playful aesthetic and can create visually appealing contrasts.
Yellow
Yellow is a cheerful and sunny color that's great for designs that aim to evoke happiness and positivity. It's perfect for summer-themed shirts and can work well in combination with other bright colors.
Royal Blue
Royal blue is a deep and rich shade that exudes sophistication and versatility. It complements a wide range of other colors and can be used for both casual and more formal T-shirt designs.
Forest Green
Forest green is an earthy and calming color that's ideal for nature-inspired or outdoor-themed T-shirt prints. It works well for designs related to camping, hiking, or environmental causes.
When choosing colors for your T-shirt printing projects, consider the message and mood you want to convey, as well as the preferences of your target audience.
Additionally, always take into account the color of the shirt itself, as it will interact with the ink and affect the final appearance of your design.
What Are Some Creative Designs To Print T-Shirts At Home?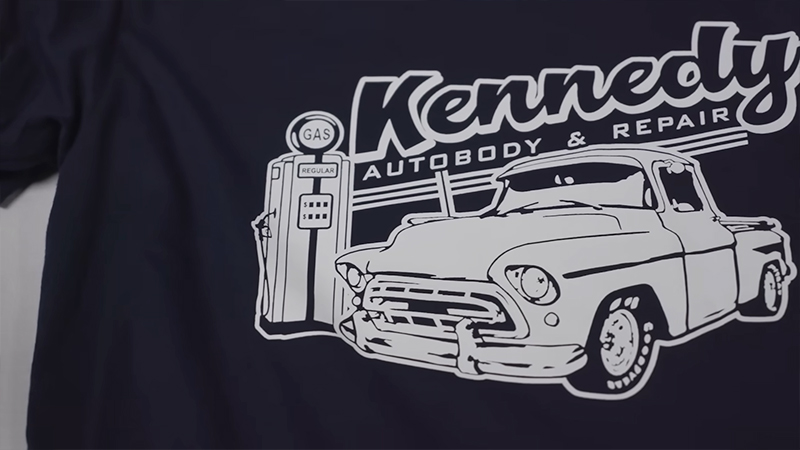 Printing T-shirts at home allows for creative freedom and unique designs. Here are some creative T-shirt design ideas:
Watercolor Blends
Create a watercolor-inspired design by blending multiple colors together. Use fabric paints or inks to create a dreamy, abstract, and painterly effect on your T-shirt.
You can explore various color combinations and application techniques to achieve a unique, artistic look.
Typography Art
Typography is a powerful way to convey a message or showcase your creativity. Experiment with various fonts, sizes, and layouts to create eye-catching text-based designs.
Incorporate quotes, phrases, or your own hand-lettered messages for a personalized touch.
Tie-Dye
Tie-dye is a classic and vibrant technique that adds a burst of color to your T-shirts. Use fabric dyes or even household items like food coloring to create unique patterns and color combinations.
There are numerous tie-dye methods to explore, from traditional spirals to more modern techniques.
Photo Transfer
Turn your favorite photos into wearable art by transferring images onto your T-shirts. You can use image transfer paper and a heat press to create personalized photo tees featuring family pictures, landscapes, or artistic shots.
Stencil and Spray Paint
Stencils allow you to create intricate and repeatable designs. Cut out stencils from cardboard or freezer paper and use fabric spray paint to add detailed graphics, patterns, or motifs to your shirts. Stencils provide precise control over your design.
Geometric Patterns
Experiment with geometric shapes and patterns to create a modern and visually appealing design. Whether it's bold triangles, chevrons, or intricate mandalas, geometric designs offer a contemporary look that suits a variety of styles.
Bleach Art
Create striking and unique designs using bleach on dark-colored T-shirts. By spraying or painting bleach in specific areas, you can achieve a distressed or tie-dye effect.
The bleach removes color, revealing the fabric's original shade, resulting in captivating contrasts.
These creative T-shirt design ideas provide a starting point for your DIY projects. Feel free to mix and match techniques, colors, and styles to create T-shirts that express your individuality and style.
Homemade designs offer a personal touch that sets your tees apart from the mass-produced options.
Mistakes To Avoid When Printing T-Shirts At Home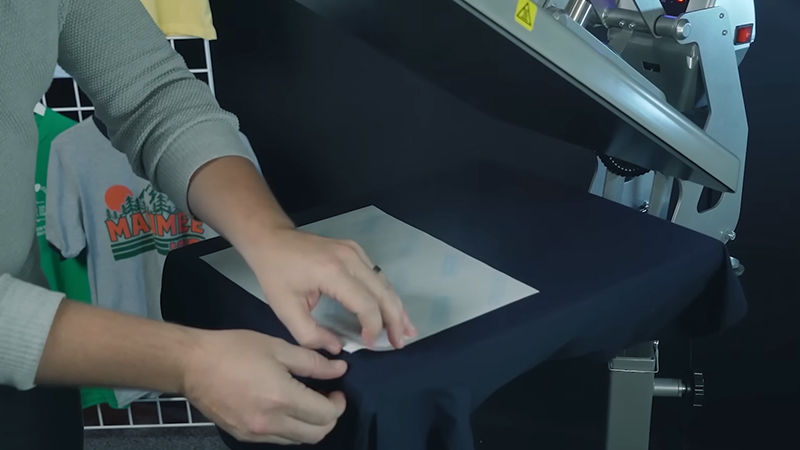 Printing T-shirts at home can be a fun and rewarding DIY project, but it's important to be aware of common mistakes to ensure the best results. Here are some mistakes to avoid:
Lack of Pre-Washing
Failing to pre-wash your T-shirts can lead to problems like shrinkage or fabric distortion after printing. Always wash and dry your shirts before starting your project to prevent unwanted surprises later.
Inconsistent Heat or Pressure
When using a heat press, ensure that you maintain consistent heat and pressure for the required duration. Inconsistent pressure or heat can result in uneven transfers, peeling, or faded designs.
Poor Design Placement
Incorrectly placing your design on the shirt can lead to awkward or unbalanced results. Make sure your design is centered, level, and at the right distance from the neckline and hem to achieve a professional look.
Not Testing First
Skipping test prints on spare fabric or old shirts is a common mistake. Testing your design, colors, and printing technique on scrap fabric helps you identify any issues before printing on your desired T-shirts.
Overloading Ink or Paint
Using too much ink or paint can result in a heavy, rubbery feel on the fabric and may cause cracking over time. Be mindful of the quantity of ink you apply, and don't over-saturate the fabric.
Not Using Proper Materials
Using the wrong transfer paper, ink, or paint for your T-shirt fabric can lead to poor results. Always check the compatibility of your materials with the type of fabric you plan to print on.
Ignoring Safety Precautions
When working with heat presses and chemicals, it's crucial to take safety precautions seriously. Failing to wear protective gear like heat-resistant gloves or working in a well-ventilated space can result in accidents or health risks.
By avoiding these common mistakes, you can enhance the quality of your DIY T-shirt printing projects and achieve professional-looking results from the comfort of your own home.
FAQs
What equipment do I need to print T-shirts at home?
To print T-shirts at home, you'll need a few essential items: blank T-shirts, heat transfer paper, a computer and printer, a heat press machine or iron, and cutting tools like scissors.
What type of T-shirts are best for home printing?
Opt for high-quality blank T-shirts made from cotton or a cotton blend for the best results. Pre-washed shirts are preferred to avoid shrinkage. Ensure that they are a suitable fabric for printing, as certain synthetic materials may not hold the ink or transfer well.
What are the differences between using a heat press and an iron?
A heat press offers precise temperature and pressure control, resulting in more consistent and durable prints. An iron, while cost-effective, may not provide the same distribution of heat and pressure, potentially leading to less professional results.
Can I use any type of ink or paper for T-shirt printing at home?
It's essential to use ink and transfer paper specifically designed for fabric printing. Inkjet or laser printers with suitable inks work best. Make sure the transfer paper matches the color of your T-shirt, using dark transfer paper for dark fabrics and light transfer paper for light-colored ones.
Do I need special software for designing T-shirt graphics?
While professional graphic design software like Adobe Photoshop or CorelDRAW is beneficial, you can also use free or budget-friendly alternatives like GIMP or Canva.
Conclusion
Printing T-shirts at home is a satisfying and versatile craft that opens the door to endless design possibilities.
Armed with the right materials and equipment, you can bring your creative vision to life, whether you're crafting a wardrobe full of unique tees or launching your own brand.
Knowing what you need to print T-shirts at home is the foundation for success, and it encompasses a variety of items, from blank shirts and heat transfer paper to a heat press or iron, depending on your budget and commitment.
As you delve into this creative endeavor, remember that practice and experimentation are key. Don't be discouraged by initial mistakes; they're part of the learning process.
Your DIY T-shirt printing journey is not just about crafting clothing it's about self-expression, creativity, and the joy of seeing your ideas take form on fabric.